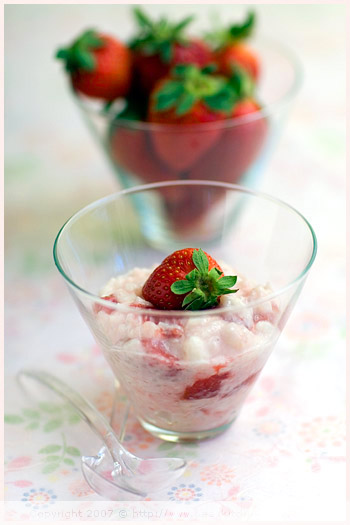 What Happened in May?
In May, there were many things happening on my blog. If I had had to choose one food picture that would have represented a favorite of mine during this past month, I would probably have chosen my strawberry rice pudding.
Or maybe my first cherries of the season: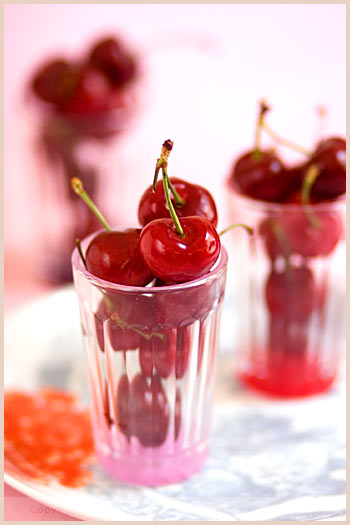 Decision, decision! Are you like me and hate to have to choose?
Well, the good news is that I will not have to choose this time around, and do you know why?
I am happy to announce that I will be hosting this month's Does My Blog Look Good In This? event. What a treat that is! Of course, most of you know the rules, but if for some reason you did not yet, let me refresh them for you.
The rules are:
One food photograph entered per person
The photograph must have been taken by you
The photograph must have been posted on your blog in May of 2007
The deadline to submit your entry is June 27th at midnight EST (U.S.)
A panel of wonderful judges (which will be announced later) will assess the quality of all of your great entries before eventually selecting winners for the pictures, which will fall under the following categories:

o Aesthetics: meaning composition, food styling, lighting, focus, etc.
o Edibility: meaning "Does the photo make us want to die to try and eat the food?"
o Originality: the photograph that catches our attention and makes us want to say "Wow!" because it displays something we might not have seen before
o Overall Winner: the photograph encompasses all of the three previous categories: the best in Aesthetics, Edibility and Originality.
What do you have to do to join the event?
Draft an e-mail with DMBLGiT in the subject line.
Attach one qualifying food or drink photo, preferably that is about 350px wide.
Include the following:

o Your name
o Your blog URL
o The URL of the post where the photo first appeared
o The camera you used

Send the e-mail to bea [at] beaskitchen[dot] com before midnight on June 27th.
So here we are. I look forward to your entries. I will post the pictures as they come, so make sure yours is included once I start publishing them.
Good luck ! Or as we say in French "Merde !" (and it is politically correct, no worries!)
And the gallery can be found here, as also shown by the icon in the right side bar.