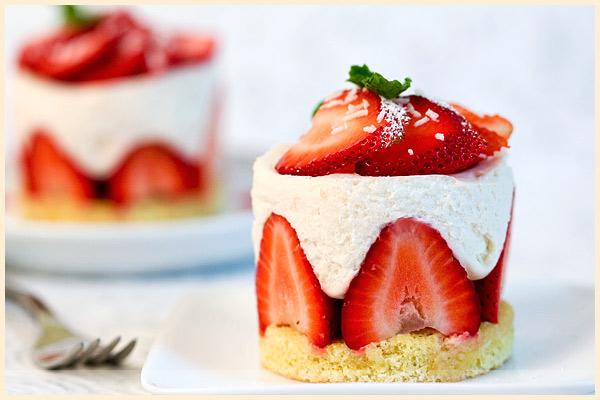 Rhubarb Mousse and Strawberry Cake
Ideas sometimes come to me in the most unexpected places. How could I have imagined that I would end up thinking about the concept of this dessert while doing laps at the pool this past Friday. When my friend R. called to talk about the birthday party she was hosting on Saturday, she laughed when she added casually: "if you want to make something, that would be great". Did I want to make something? I was feeling under the weather from working too many hours, but could I really let R. down on the day of her birthday party? Could I be this bad friend?
I did not think so. I like R. and wanted something special for her day.
After a quick mental scan of possible ideas, I remembered le fraisier that I never managed to bake the year before despite promising to, and thought about the massive amount of rhubarb I had purchased a few days before.
A few more laps and I had my cake idea.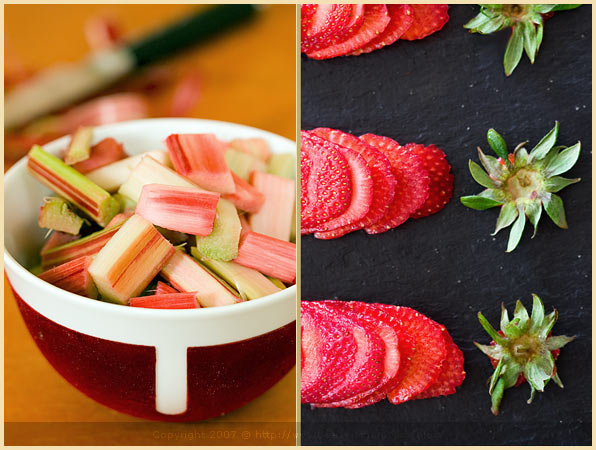 Fraisier: derives from the French word fraise, strawberry.
Le fraisier is a classic French cake made with a basic génoise (sponge cake) sliced in two halves, each of which is brushed with kirsch liqueur. The cake is filled with butter cream and fresh strawberries, and topped with red almond paste or Italian meringue. Although at home we did not eat too many cakes that involved chantilly (whipped cream) or crème au beurre (butter cream) — my mum made a lot of tartes aux fruits (fruit tarts) instead — I have a particular attachment to this cake, especially when we would visit one of my grandmother's. At mémé's, every single cake seemed to always taste better. Or was it because everything was allowed?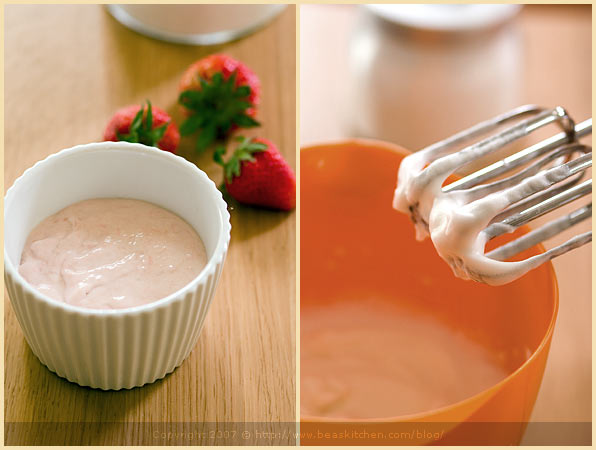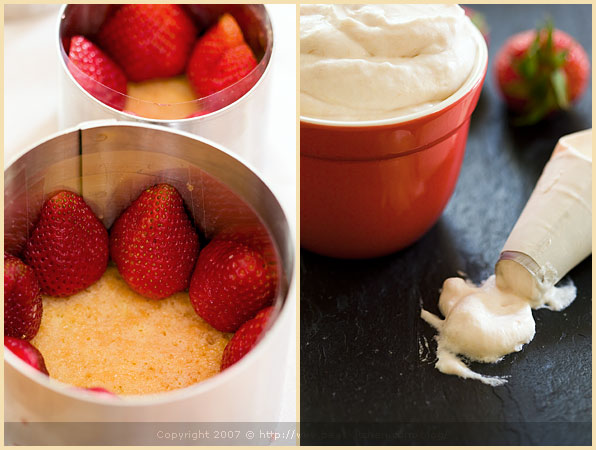 Although the inspiration for this dessert is somewhat derived from the idea of a fraisier — with the génoise and strawberries — it largely differs from it since neither butter cream nor almond paste is used, the two of which I am not particularly fond of. Instead, I prefer to top the génoise and freshly sliced strawberries with a snow-light rhubarb mousse made with mascarpone, rhubarbe purée , egg whites and whipped cream.
————–
Now, I have to hope that R. liked it as much as I enjoyed licking my fingers when making it. Well, I can never go wrong with the classic strawberries and rhubarb combination.
And guess what! I will be this boring. I just do not get tired of these two spring fruit together!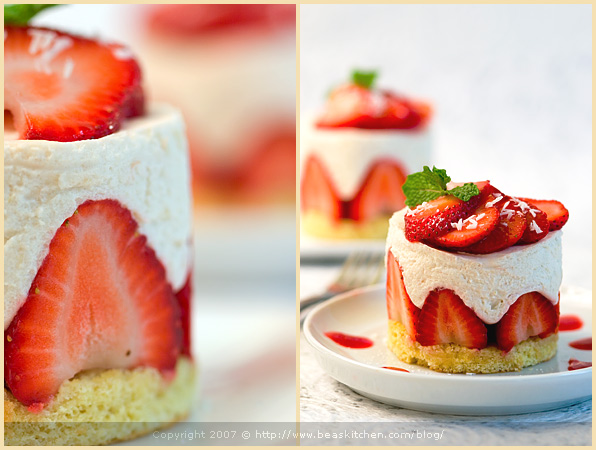 And this will definitely be my Mousse Entry to the Donna Hay Event hosted by the lovely Helen from tempting-as-ever food blog Tartelette.
And I know, I will mention it before you say anything.
No recipe?
Outrage ! Horrible me! Mille excuses !
But it will come. I promise. Hopefully under a form that you will like even more.