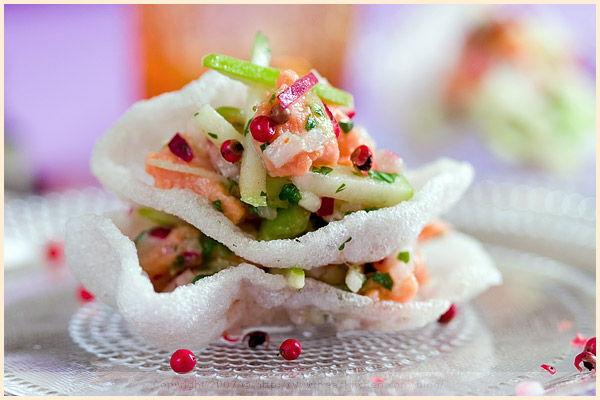 Gingered Salmon Tartar with Radish and Green Apple on Prawn Crackers
I can make this confession. I have a weakness for a type of junk food.
Or, is it really junk food?
It is all about a question of perspective, isn't it?
In fact, no matter what it is, I do not even care. Or mind. I love to eat Prawn Crackers or Whatever You Call Them.
———
When I arrived at the specialized Asian store in Brighton by noon, I was really confident that it would be easy. I mean, like a real piece of cake. My plan was to walk into the large warehouse-looking store, scan quickly the shelf where lines of chips bags were kept, and walk out a few minutes later, happy with prawn crackers in my hands. A ten minute trip, not more complicated than this. And hopefully, I would not even need to ask any question to anyone. On my last visit, I had found out the hard way that only one woman spoke English amongst the staff, which ironically sounded like Chinese to me. I could hardly understand her. But as I walked through every single alley, looking carefully at each one of the shelves, I could not locate my crackers. Reluctantly, I walked back to the front counter where Mrs X. was busy talking to a few Chinese people.
"Excuse me, I am looking for shrimp chips (which I thought was their name)," I told her. She looked back at me somewhat puzzled, and so I repeated my question again. The second time, it seemed to make more sense to her. She took my hand briskly and pulled me over to a tall display loaded with stuff standing by the check-out.
"Ah no no, this is not what I want," I then told her when her finger pointed towards a bag full of pink flat chips."They are white and curvy. They melt in your mouth. Do you know them? I usually have them in Thai restaurants."
"Do you make them?" she replied with a strong accent. Between mine and hers, we made a pretty odd pair.
"Make them? I don't know. I've never made them before. I thought I was going to buy them already made."
Her eyes lit up. She pulled on my hand again and started to take larger steps this time, almost running, and eventually dragged me at the other end of the store. There, she pointed towards a blue rectangular box with a large pink prawn drawn on it.
"This is what you want!" she repeated twice while shoving a box in my hands.
"Are you sure?" I said hesitantly.
"This is what you want!" she insisted.
"All right, all right."
Since it was so cheap, I did not think twice about it and left the store with the box in my hands. Feeling eager to see whether Mrs X. was right, I drove home as fast as I could. Next to Chinese — was it? — a few instructions in both English and French were written on the blue box, making me feel somewhat safer. I would at least have a clue as to what to do. Take a large pot, pour some oil in it and fry the prawns. But when I opened the box, it was my turn to feel puzzled. It contained nothing but one-inch transparent pieces that looked like mere hard plastic. Was it it? Just dip them in the oil and see what happens, I repeated to myself. With my eyes riveted to the pot full of hot oil, I started by dropping one piece into the oil and stood there, waiting. It landed at the bottom. After one min, the thing started to move. It rose to the surface and eventually opened, stretching as a cocoon turns into a butterfly. And, it looked airy and snow white in color. Thrilled, I started again. Faster this time, it happened again. Fall, rise, open, stretch, white-colored and light. Le bonheur ! (Happiness!) How I wished I could have given Mrs X. a hug at that very moment. She was right! I had found my favorite junk food — or call them prawn crackers — and would at last be able to adorn them with one of my second favorite pig out food, a Gingered Salmon Tartar.
It was about time! I had been waiting to make this amuse-bouche for quite a while now.
———–
A few notes how I get inspired to create recipes and why I love this particular tartar:
I never get tired of ginger, and coriander in fish tartars.
How can you go wrong with lime?
The pink peppercorns are not only pretty, but they are a great touch added both in taste and texture. So is cayenne pepper.
The acidic taste provided by the apple comes as a nice contrast to the more neutral taste of the fish. The crunchiness next to the softness of the salmon works in the same way.
The radish enhances the overall gentle spiciness.
I also like my dishes to be balanced in colors, so always think under these terms when choosing ingredients.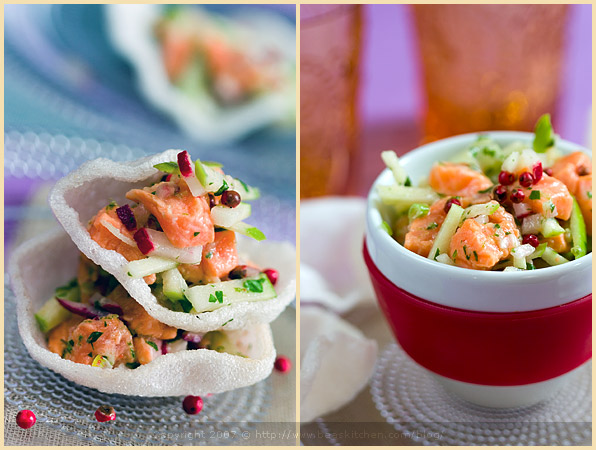 Gingered Salmon Tartar with Radish and Green Apple
(For 4 people as amuse-bouche)
You need:
7 oz (1/2 lb) extra fresh pink salmon, skinned and diced
1/2 green organic apple — Granny Smith — cut in small sticks
1 pink radish, diced thinly
1 spring onion
1 inch ginger grated
1 Tbsp fish sauce
2 Tbsp lime juice
1.5 Tbsp avocado oil (or use a neutral one if you cannot find avocado)
Zest of 1 lime
1 Tbsp coriander, chopped
A dash of cayenne pepper
Lemon juice (for the apple)
Pink peppercorns
Prawn crackers (to make or bought made)
Steps:
In a bowl, mix together the fish sauce, avocado oil, lime juice and zest, ginger and add a dash of cayenne. Keep.
Dice the fish.
Wash the radish and dice it thinly.
Chop the scallion.
Wash the apple and without peeling it, cut it in long sticks (sprinkle with a few drops of lemon juice to avoid oxidation).
Chop the coriander thinly.
Mix all above prepared ingredients together in a bowl, and add the sauce. Toss well and place in the fridge for 30 min.
Take prawn crackers (make them by following the instructions on the package or use already made ones) and serve the tartar on a cracker.
Top with extra coriander and pink peppercorns.
Le coin français
Tartare de saumon au gingembre, radis et pomme verte
(Pour 4 personnes, en amuse-bouche)
Ingrédients :
200 g de saumon extra frais, sans peau et coupé en dés
1/2 pomme verte bio — Granny Smith — coupée en bàtonnets
1 gros radis rose, coupé en petits dés
1 oignon tige
2,5 cm de racine de gingembre, râpée finement
1 càs de sauce nuoc-mâm
2 càs de jus de citron vert
1.5 càs d'huile d'avocat (ou toute huile neutre de goût si vous ne trouvez pas d'huile d'avocat)
Zeste d'un citron vert
1 càs de coriandre, hachée
Une pincée de piment de cayenne
Jus de citron (pour la pomme)
Quelques baies roses
Beignets de crevettes (à faire ou déjà préparés)
Étapes :
Dans un bol, mélangez le gingembre, la sauce nuoc mam, l'huile d'avocat, le jus de citron vert et son zeste et une pincée de cayenne. Réservez.
Coupez le poisson en petits dés.
Lavez le radis et coupez-le en petits dés (brunoise).
Hachez l'oigon tige.
Lavez la pomme et sans la peler, coupez-la en bâtonnets fins (arrosez de quelques gouttes de jus de citron pour éviter qu'elle ne noircisse).
Hachez la coriandre finement.
Mélangez tous les ingrédients ci-dessus dans un saladier. Mettez au frais pendant 30 min.
Prenez vos beignets de crevettes (faites-les en suivant les instructions sur le paquet ou utilisez-en des touts faits) et servez le tartare dessus.
Ajoutez de la coriandre et des baies roses.