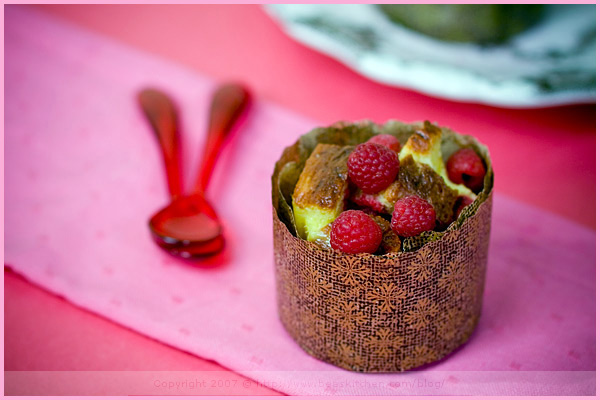 Berry Brioche Pudding
"It's half past twelve, go to bed, you look tired," P. told me as I rubbed my eyes, trying to hide a large yawn that stretched my whole face, making me look like a walrus.
"Yes you are right. But only if you come," I replied.
We turned off the lights in haste, hurrying up the stairs into the freezing bedroom. Gosh, it was cold that night. I tossed my clothes quickly on the floor as I wanted to get in the bathroom first. I knew that we both wanted to fall asleep quickly and sensed it was not going to happen easily and naturally.
"Ah, t'as les pieds gelés," (You have freezing feet) P. told me as I rubbed my long skinny feet against his, trying to steal as much heat from him as I could. We switched off the bed lights and waited, but I kept turning from one side to the other.
"Jesus, what's up with you?" P. asked me. "Stop moving!"
The truth was that I had a lot on my mind.
"I keep thinking about bread pudding."
"What?"
I had had bread pudding on my mind for quite a while. Ever since I met P. for the first time. Because he is a bread-pudding-kind-of guy, or is it his entire family, starting by with his adorable and missed grand-father? I cannot recall how many times he has already begged me to make bread pudding. "Allez, s'il te plait !" (Come on, please!) Many. So naturally, I wanted to understand it. To please him.
I had never made one. I was sure that it was not that difficult but because it was foreign to me, I was overwhelmed by the too many resources I found. What type of bread should I use? How many eggs? Shall I add cream to milk? What oven temperature and how long shall it bake for?
When my friend T. called from Melbourne, I asked her "Do you have a good recipe for bread pudding?" I felt that she should know because her dad is English, and like every English speaker, she must have been raised eating bread pudding all the time. I am often told that I should know how to tie a scarf because I am French, so why can't I believe that every single person with some sort of English background has to know the hows about bread pudding. Logique, non ? But T. did not have a recipe. In fact, she added "my grand-father used to make bread pudding at home, but I never bothered to ask him how he made it. I've actually never made one myself." There ended my hope to have a recipe from her.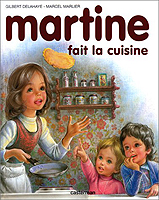 So I decided to improvise, remembering reading about it in some
food magazines and one cookbook I had browsed through quickly
during a leisurely visit to our local bookstore. It should not be that difficult,
I reminded myself.
You see, in France, we have Pain Perdu, literally "Lost Bread" — which
oddly enough is translated as French toast. In two words, the art of
knowing How to Use Stale Bread. Because nothing should be wasted.
Not in my family! I learned how to make pain perdu when I was only
five, after reading Martine, a French children comic book series. I wanted
to be Martine. Martine fait la cuisine (Martine Cooks) was one of my favorites.
In it, I learned how to make crêpes, confiture (jam) and bake pain perdu.
And this was how my first encounter with bread pudding happened,
on a random weekend, about a month ago.
P. came back from work late on that Friday. I had decided to surprise him with bread pudding.
"Wow, this is good!" he exclaimed, closing his eyes after taking the first bite, eagerly continuing to the second. "You should make some for my mum tomorrow when she comes. She will love it." Really? Was I going to be challenged to pass the test on the entire Irish family?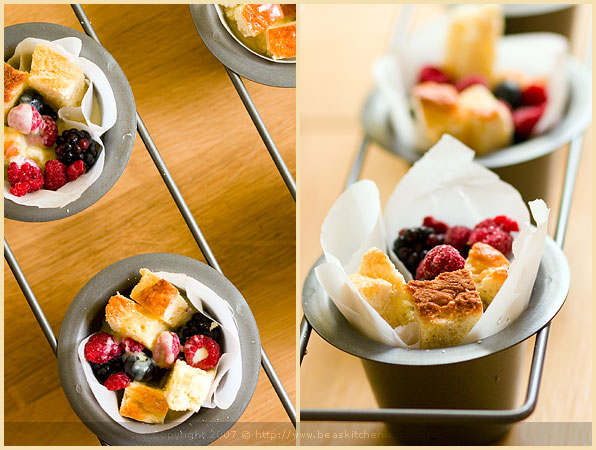 By 2 p.m. on the following day , P. left for the airport to pick his mum up. I had about sixty minutes before they returned to bake a few individual bread puddings. When I heard our car pulling onto the driveway one hour later, the kitchen was still full of the fragrance of my freshly baked puddings.
"Oh this smells good," Patricia said when she walked in. We exchanged a happy and brief hug and before I had time to add anything, she said "I hope you have food, I am starving! I have not eaten anything since this morning."
I smiled back. "I have better than food, I have bread pudding."
Her eyes lit up. "I love bread pudding!" She sat at the kitchen counter while I placed a plate in front of her, anxious to know whether she was actually going to really like it.
"Remember that dinner is at 7 p.m. at Y.'s place,"I added hesitantly. "Make sure that you do not spoil your appetite too much." But she had already started to eat before I was finished.
"This is so good, Béa!" she said with her mouth still full. And, before I could reply, she went on. "What type of bread did you use?"
"Bread?" I was starting to understand the secrets behind bread pudding. "I actually did not use bread," I said smiling. "I used a homemade brioche instead."
"Of course," she burst out laughing, "That obviously did it!"
I thought about the raclette we were going to have at our friends' only a few hours later, and hesitated before adding, more out of politeness, "Do you want another one? I made a few." I was convinced that she was going to decline the offer.
"Oh yes, please!"
I should have known better. I was finally starting to understand better P.'s attachment to bread pudding.
And mine too, as it turned out.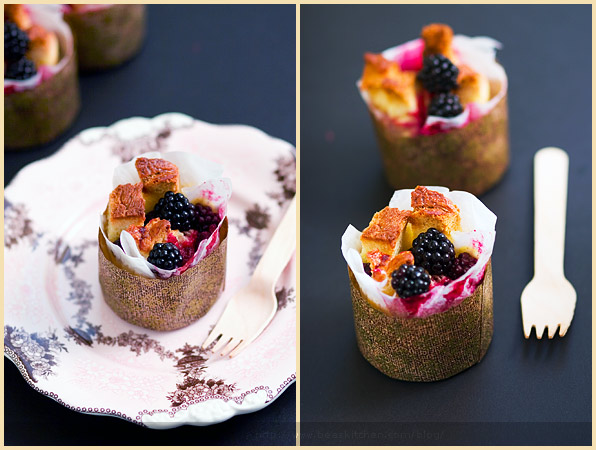 And so, you have now seen why I needed some stale brioche. Using a good brioche obviously is key for a better taste result.


Note on the Comments Section: If for some reason you do not see your comment displayed, it may well be because it was caught by my Spam Filtering System. Drop me a line if this is the case — I receive so many Spam messages that I do no longer have the time to go through all of them. Merci !
Brioche Berry Puddings
(For 4 individual puddings ; inspired but adapted from an idea by Julie Le Clerc)
You need:
4 slices of stale homemade brioche
1 cup milk
2 large eggs
1/4 cup fine sugar
4 Tbsp heavy cream
4 Tbsp melted butter
1 tsp vanilla extract
Berries
Steps:
Cut the brioches slices in long sticks and divide them between the molds lined with parchment paper (1 slice per mold, I used popover molds but you can use tall muffin molds).
Add a few berries, fresh or frozen.
Melt the butter and pour 1 Tbsp per mold.
Whip all other ingredients together in a bowl — eggs, sugar, milk, vanilla and cream — and divide between the four molds.
Let the puddings rest for 20 to 30 min.
Preheat your oven at 330 F.
Place in the oven to cook for 25 to 30 min.
Remove and serve preferably lukewarm (but cooled is also good) .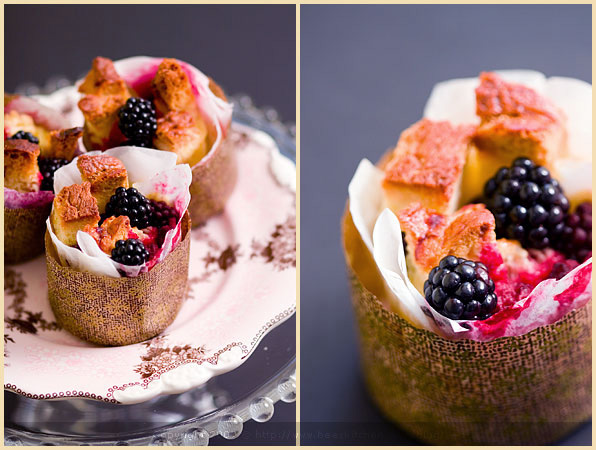 Le coin français
Puddings de brioche perdue aux fruits rouges
(Pour 4 puddings individuels ; inspiré mais adapté d'une idée de Julie Le Clerc)

Ingrédients :
4 tranches de brioche maison rassie
2 gros oeufs
250 ml de lait
4 càs de beurre fondu
50 g de sucre
4 càs de crème liquide
1 càc d'extrait de vanille liquide
Des fruits rouges
Étapes :
Coupez les tranches de briochen en bâtonnets et placez-les dans des moules hauts recouverts de papier sulfurisé (1 tranche par moule, j'ai utilisé des moules à popover).
Ajoutez quelques fruits rouges, frais ou congelés.
Ajoutez 1 càs de beurre fondu sur chaque pudding.
Mélangez bien tous les autres ingrédients — oeufs, sucre, lait, vanille et crème — et divisez entre les quatre moules.
Laissez reposer pendant environ 20 à 30 min.
Préchauffez votre four à 170 C.
Mettez les puddings au four pendant environ 25 à 30 min.
Retirez et servez de préférence tiède (mais refroidi, c'est aussi bon).