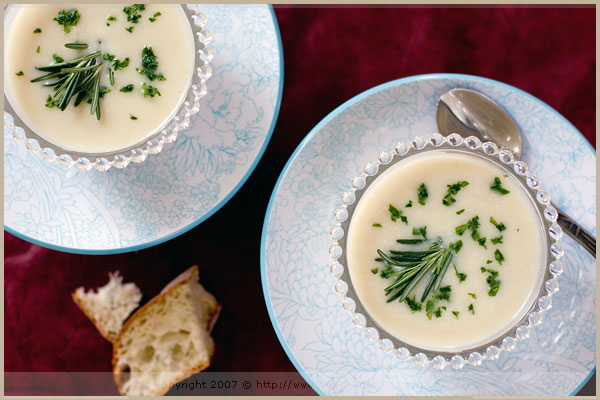 Rosemary Cauliflower Soup
A little something that I wrote before leaving, to keep you company. We are gone in a day. But this was just pretty appropriate for a cold sunny New England day, like today. It must be the coldest day we have had in winter this year! Brrrrrrrr… Signing off.
Bits of England and Cauliflower
At home, we did not really eat cauliflower, and I often wondered why. I suspect that my mum did not think much of it, a fact of life that showed in the few ways she prepared this vegetable. I never told her so but now that I actually think about it, I really found cauliflower a boring and insipid vegetable. It always diffused a strong smell through the kitchen that never appealed to me either. Overpowering! Hence, I never kept good memories of cauliflower, even more so after I started to travel to the UK. At the age of twelve, for the first time, I flew to Reading to stay with my pen friend E. I quickly fell in love with England and its people, its strangeness, double-deck buses, the Clash, apple crumbles with custard, cooked prawns in Island sauce on top of crispy jacket potatoes, but certainly not English cauliflower. Many years later, I made a habit of spending parts of my summers in England, Wales, and Scotland, working as a group leader of French teenagers on a mission to learn English. But between Porthcawl, Workington or Bornemouth, the story I am going to share with you seemed the same, making me think that every single host family I stayed with shared the word. They all seemed to love plain boiled cauliflower. I remember watching pots overflowing with boiling water into which English housewives dumped a sad-looking white vegetable, leaving it there, sadly overcooking and disintegrating almost. I wanted to say something like "look, it is cooking for too long, it will be mushed" "you should reduce the heat, it is too high", but I kept my mouth shut as I was too shy to say anything. I ate it and every time, liked it less.
Thank God, things changed.
I have never liked staying with the sentiment that I do not enjoy certain foods, and before I really say je n'aime pas cela (I don't like this), I am happy to think that at least, I have tried the food in question prepared in other more appealing ways. I slowly started to reconcile myself with cauliflower for the first time after eating a chou-fleur gratin prepared by my mum. At the time, I found the dish so delicious that even believing that it was cauliflower, and nothing else, was a hard thing. Later, over the years, I tasted more excellent dishes in which this forgotten vegetable had been fried with almonds and spices, or sometimes cooked in tasty creamy sauces. Suddenly, the memory of watery overcooked cauliflower I had been left with for so long started to fade away. Dieu merci ! I was then convinced that cauliflower had sides I had not been introduced to, and instead of looking away whenever I saw some at my vegetable market, I would, once in a while, buy it. Most of the time I was uncertain what I was going to do with it, but I nevertheless bought it, as if to challenge myself. Sometimes it would sit in the fridge for a week, untouched but when I suddenly remembered, it would frequently end up in a soup. There, it became brilliant!
If, like me, you are a soup fan, you could very well start a love affair with cauliflower, one that you never imagined possible. I chose to make a homemade vegetable broth flavored with rosemary — very easy to make and so much nicer than store-bought ones — and used pine nuts to add a faint crunchy taste to the soup texture. With a simple vegetable selection, celery branch, a small potato, shallot and garlic, the dominant color stayed white and the taste was fragrant with cauliflower and rosemary, which is exactly what I was after. I did not add either cream or milk since the soup was sufficiently creamy (but you could if you liked it this way).
Cauliflower verdict?
Never say never, you could be surprised. I was, happily so. Cauliflower is something else for me now.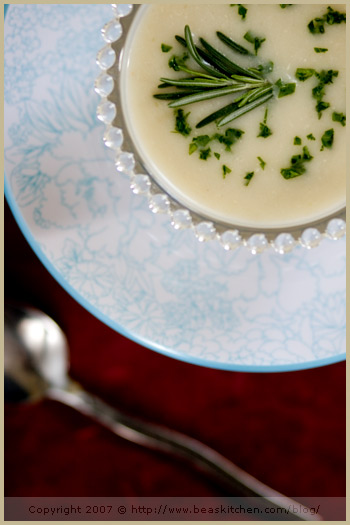 Rosemary Cauliflower Soup
You need:
For the vegetable broth:
1 celery branch
1 carrot
1 tsp coriander seeds
1 tsp fennel seeds
1 twig rosemary
1 onion
1 quart water
For the vegetables:
1 cauliflower (1 lb + 1.5 oz)
1 Yukon Gold potato, diced
1 large shallot, chopped
2 garlic cloves, chopped thinly
1 celery branch, diced
2 Tbsp pine nuts
2 Tbsp olive oil
1 twig rosemary
Dash of nutmeg
Fresh parsley, chopped
Salt and pepper
Steps:
To prepare the broth, heat 2 Tbsp olive oil and cook the onion, celery branch, carrot coriander and fennel seeds in a large pot on low to medium heat, for 10 mns, until tender and fragrant.
Add the rosemary and 1 quart of water. Cover and cook on low heat for 30 mns. Filter and keep warm.
To prepare the soup, heat 2 Tbsp olive oil in a large pot and cook the shallot, garlic cloves, pine nuts and diced celery branch, for 3 to 4 mns.
Add the cauliflower flowers and potato. Cook for 5 mns on low to medium heat, then add the vegetable broth and rosemary. Cover and cook for about 20 to 30 mns, until the vegetables are tender.
Remove the rosemary and pass the soup through a hand mixer or food processor.
Season with salt and pepper, and add a dash of nutmeg and freshly chopped parsley.
Le coin français
Soupe de chou-fleur au romarin
Ingrédients :
Pour le bouillon de légumes :
1 branche de céleri
1 carotte
1 càc de coriandre
1 càc de graines de fenouil
1 brin de romarin
1 oignon
1 litre d'eau
Pour les légumes :
1 chou-fleur (500 g)
1 pomme de terre
1 grosse échalote
2 gousses d'ail
1 branche de céleri
2 càs de pignons de pin
2 càs d'huile d'olive
1 brin de romarin
Soupçon de muscade
Persil frais, râpé
Sel et poivre
Étapes :
Pour préparer le bouillon, faites revenir l'oignon, le céleri, la carotte, les graines de coriandre et de fenouil dans une cocotte, pendant 10 mns.
Ajoutez le romarin, et 1 litre d'eau. Couvrez et faites cuire à feu doux pendant 30 mns. Filtrez et réservez au chaud.
Pour préparer la soupe, faites chauffer 2 càs d'huile d'olive dans une cocotte. Faites-y revenir l'échalote, les gousses d'ail, les pignons de pin et le céleri en branche coupé en dés.
Ajoutez les fleurs de chou-fleur et la pomme de terre coupée en dés. Faites suer pendant 5 mns et couvrez de bouillon de légumes avec 1 brin de romarin. Faites cuire jusqu'à ce que les légumes soient tendres.
Enlevez le brin de romarin et mixez la soupe.
Salez et poivrez et ajoutez un soupçon de noix de muscade et du persil frais haché.