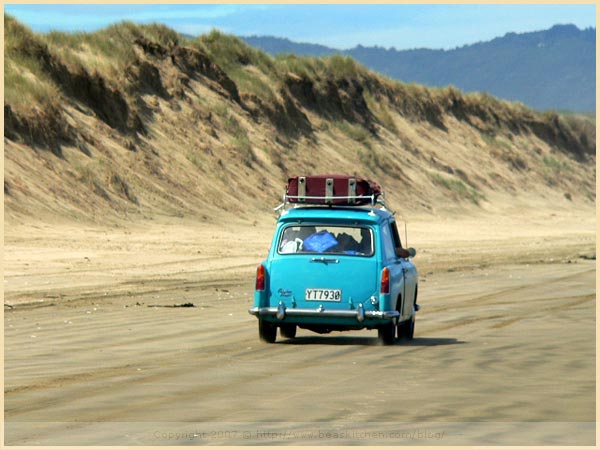 Ninety Mile Beach, New Zealand
Almost D Day!
Who would mind the extremely long journey when it is to visit one of my favorite places, once more. Off for a few weeks down below, to New Zealand, Melbourne and Tasmania. C'est nous ! I packed my camera and the bare minimum, in the hope to be bringing back tons of great memories, pictures and stories. P. and I cannot wait to visit the South Island fjords, Otago, walk to Wineglass Bay, visit local markets and have fun with our dear friends down there. I need this vacation!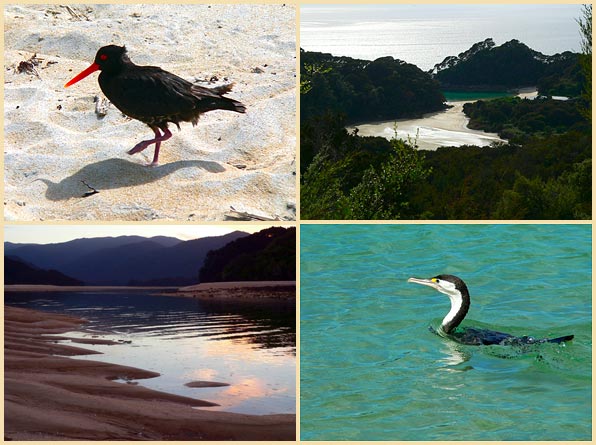 A bientôt !

Abel Tasman National Park, New Zealand, February 2006
And since our flight flights will be numerous and lengthy, so long that you do not want or need to know how much time it will take us before we arrive to our final destination, I thought that, while waiting for way too many hours at the San Francisco airport for example — anyone has a few spare hours to kill? — both P. and I would deserve to nibble on a few batches of these delicious Pierre Hermé's Chocolate Sablés. They are to-die-for! Some of you already know!
Note: Sablé is shortbread in English, hence the texture of these sweet treats.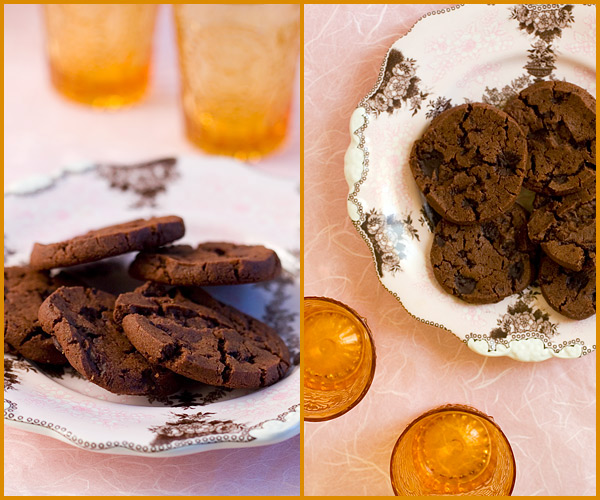 Recipe on Next Page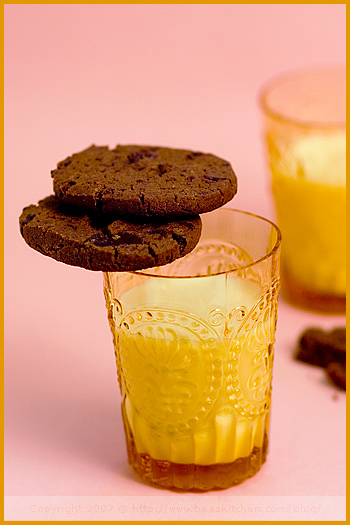 Pierre Hermé's Chocolate Sablés
Chocolate and Fleur de Sel Sablés, Recipe from Pierre Hermé
(For about 25 sablés)

You need:
1 1/4 cup (6 oz) all-purpose flour
5 1/4 oz dark chocolate 70% cocoa (Valrhona)
1 oz unsweetened cocoa powder
11 Tbsp butter, at room temperature
2/3 cup (4 1/4 oz) packed light brown sugar
1/4 cup (1 3/4 oz) fine sugar
1/2 tsp Fleur de Sel
1/2 tsp baking soda
1 tsp vanilla extract

Steps:
Chop the chocolate coarsely.
In a large bowl, sift and mix together the flour, cocoa and baking soda.
In the bowl of a stand mixer fitted with a paddle attachment (or a hand mixer), beat the butter until soft and creamy. Add the two sugars, the salt and vanilla extract and beat for 2 min or so.
Add the flour and chocolate, and mix together until all the flour is absorbed. Do not overwork the dough, just enough until all the flour is well incorporated.
Divide the dough in two halves and shape two logs, 1 1/2 inches in diameter, and place them in plastic wrap. Place in the fridge for about 2 hours (I even left them longer as I went out).
Take the logs out of the fridge and remove the plastic wrap. Make slices 1/2 inch wide and place them on a baking sheet lined with parchment paper.
Cook for about 11 to 12 mns in a preheated oven at 330 F. Remove and let cool on a rack (the sablés are fragile and will only get hard when cooling).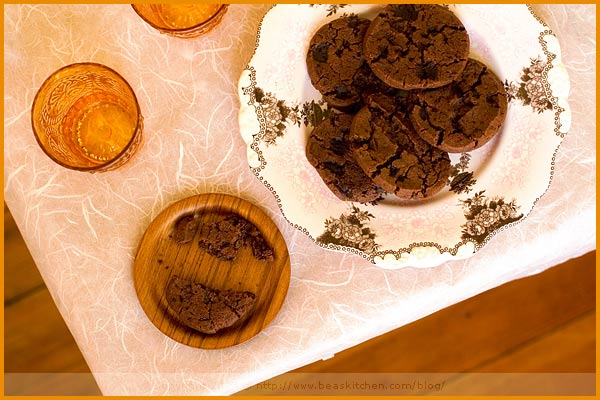 Le coin français
Sablés au chocolat et à la fleur de sel, recette de Pierre Hermé
(Pour environ 25 sablés)
Ingrédients :
175 g de farine
150 g de chocolat noir à 70% de cacao (Valrhona)
30 g de cacao en poudre non sucré
150 g de beurre, à température ambiante
120 g de sucre brun
50 g de sucre fin
1/2 càc de Fleur de Sel
1/2 càc de bicarbonate de sodium
1 càc d'extrait de vanille liquide
Étapes :
Hachez le chocolat grossièrement.
Tamisez et mélangez la farine, le cacao et la bicarbonate de sodium dans un saladier.
Travaillez le beurre en pommade (dans un mixeur à pied si vous en avez un, ou un mixeur à main) et ajoutez les sucres, le sel et la vanille. Mélangez bien pendant 2 min avant d'ajouter les farines et le chocolat en morceaux. Travaillez juste assez pour que toute la farine soit bien incorporée.
Façonnez deux boudins de 4 cm de diamètre et enveloppez-les dans du film étirable. Mettez au frigidaire au moins 2 heures (j'ai même laissé plus longtemps car j'étais sortie entre-temps).
Sortez les boudins du frigidaire et enlevez le film étirable. Découpez des tranches d'1 cm d'épaisseur et disposez-les sur une plaque de cuisson recouverte de papier sulfurisé (la pâte est friable, c'est normal).
Mettez au four préchauffé à 170 C pendant 11 à 12 mns. Retirez et laissez-refroidir sur grille (attention les sablés sont fragiles et ne durcissent qu'une fois qu'ils refroidissent).