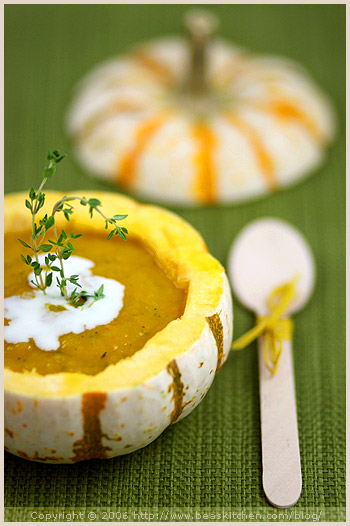 My mum used to make vegetable soups often. Not necessarily the fancy difficult ones, but the good-for-your-health kind of soups, full of nutrients and vitamins. "Mange ta soupe, ça fait grandir", she used to tell my brother B. and me (eat your soup, you will grow taller). Vraiment ? (Really?) When I told P. about this dialogue between my mum and us, he laughed. But in fact, I cannot believe that if he and I ever have children, I might possibly say the exact same thing to nos enfants. Where do parents get this idea that you are going to grow taller if you eat your soup? It surely worked for me as I extend my five feet nine inch height up to the sky. Cela fonctionne bien !


For many, soups are an art in itself, where every ingredient is carefully thought and chosen. These soups are great to try and experiment with as seeing what will happen once everything is assembled in the final complex broth remains a surprise. Asian soups remain amongst my favorites, maybe because they are also more exotic. For us at home however, soups used to be far more simple, with whatever-vegetable-leftovers-there-are in the fridge (Rowena might like this part). If we did not know what else to eat, there was nothing that could beat a homemade vegetable soup. This recipe is an adapted version of the many soups my mum taught me to make, her most common one being une soupe de poireau/carotte/pomme de terre (leek/carrot/potatoe soup). Creamy but not too much, comforting for sure, full of vitamins, ready to boost our immune system for the winter. And we don't want to get that nasty runny nose or that awful virus lurking at the corner get a hold of us, do we?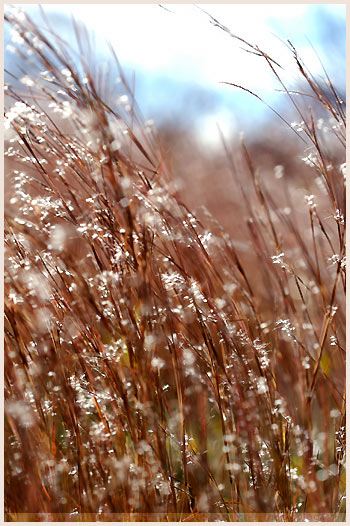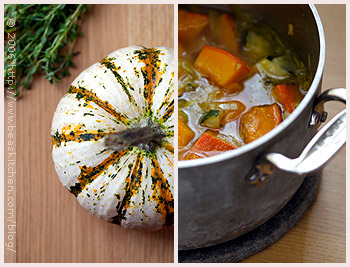 While studying at University, these soups were just a blessing! Since I was living alone in an aparment — worth saying that I was only seventeen –, I had no choice but to cook for myself. So I learned quickly, and my mum's soups were part of what I prepared often. Easy to make, even better the next day, keeping me well-fed for a few meals. I needed this kind of food to stay sane! I might no longer be a student — merci bien ! –, but soups continue to keep me healthy when comes winter and colder days. Forget about the store-bought soups!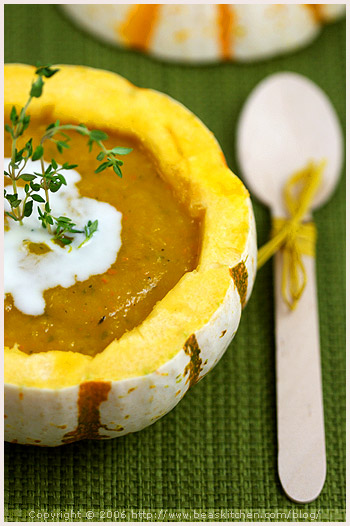 Fall Vegetable Soup, recipe adapted from my mum's

,
You need:
1.5 lb squash, diced roughly, without seeds
1 zucchini (5 oz), diced roughly
1 leek, chopped
1 shallot, chopped finely
Twigs of thyme
2 + 1/8 cups (17 fluid oz) homemade vegetable broth (see recipe here, or bought), or water
Olive oil
Salt and pepper
Crème fraîche
Steps:
Chop the shallot finely.
Heat 2 Tbsp olive oil in a thick-bottomed pot and cook the shallot for a few minutes before adding the chopped leek.
Continue to cook for a few mns and then add the diced zucchini and squash. Cook for a few extra mns.
Pour the warm vegetable broth. Add twigs of thyme, cover and bring to a small boil. Simmer for 20 mns or so, until the vegetables are tender.
Mix them with a hand-held mixer (think of removing the thyme). Season with salt and pepper and add a dash of crème fraîche. Serve hot, in mini squashes if you like.
Note: This soup is rather thick in texture. If you prefer it more liquidy, add more broth or water. If you use water, you need to season the soup more.
Le coin français
Soupe de légumes automnale, recette adaptée de celle de ma mère.
Ingrédients :
700 g de potiron, détaillé en gros cubes, sans pépins
1 courgette (150 g), détaillée en gros cubes
1 poireau, émincé
1 échalote, hachée finement
Brins de thym
500 ml de bouillon de légumes maison (recette ici, ou acheté), ou de l'eau
Huile d'olive
Sel et poivre
Crème fraîche
Étapes :
Hachez l'échalote finement.
Faites chauffer 2 càs d'huile d'olive dans une cocotte et faites-y revenir l'échalote pendant quelques minutes avant d'ajouter le poireau.
Poursuivez la cuisson pendant quelques minutes et ajoutez ensuite la courgette et le potiron. Poursuivez encore pendant quelques minutes.
Versez le bouillon de légumes chaud. Ajoutez les brins de thym et couvrez, en ramenant à ébullition. Faites mijoter pendant environ 20 mns, jusqu'à ce que les légumes soient tendres.
Mixez les légumes avec un mixeur plongeur (pensez à enlever le thym). Assaisonnez de sel et de poivre et ajoutez un soupçon de crème. Dégustez chaud, et servez dans des mini-citrouilles, si vous le souhaitez.
Remarque : la texture de cette soupe est plutot epaisse. Si vous l'aimez plus liquide, ajoutez plus de bouillon ou plus d'eau. Si vous utilisez de l'eau, il sera sans doute nécessaire de plus l'assaisonner.