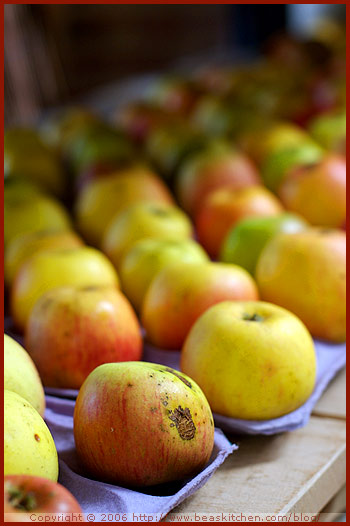 What do you do with so many beautiful apples? You cannot only think about apple pies and cakes. There is more to it!
The Apple Story — L'histoire des pommes
G.: — On doit se dépêcher, on va être en retard !
(We should hurry up, we are going to be late!)
Me: — Je ne suis pas sûre, ça ne doit pas seulement commencer à quatorze heures ? On a le temps.
(I am not sure, isn't it supposed to start at 2pm only? We have some time.)
Back from Germany for a morning shopping in Sarrebrucken — which is only one hour away from my parents' place — G. and I are keen to meet my brother B. We are meeting in Cappel, a tiny village close by where nothing special seems to happen, except for one event which I am really looking forward to witness.
"Prends la deuxième à gauche, c'est là." (Take the next one on the left, it is there), G. tells me.
We drive the short road nearly to the end, and arrive at the cooperative where my brother and G. come every year. But not alone. This is the place where they bring their own apples to make apple juice.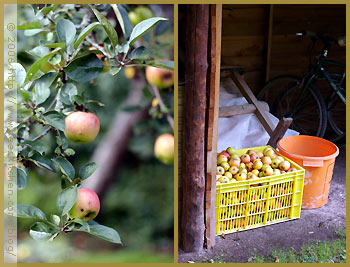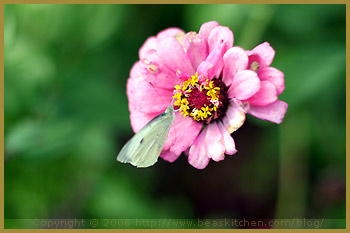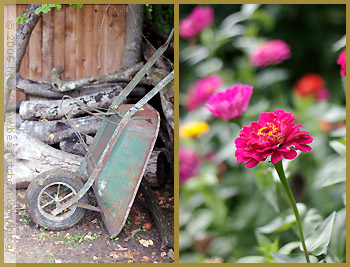 The cooperative is run by volunteers from the village to accommodate the many people who come from villages around to make their apple juice. As opposed to other places that provide the same service, this one offers people the ability to get the juice from their own apples. The connection between your own fruit and drinking its juice is really special, and B. has a strong tie to this being done with way. I quickly understand why. The apples from his orchard used for the juice — two old apple varieties, Reinette and Rambour — are simply delicious.
When I see the large bags that B. brings out of the car, I wonder how many bottles they are going to get from them. He has a lot of apples! A sign at the entrance of the cooperative indicates that we have to drive to the back of the building to drop the crates of empty bottles and the bags of fruit. From the peak I have inside the small building, I get a sense that it could be a laboratory. There is definitely a clinical look to it, with white cold-looking tiled walls and floor, people dressed in long aprons, wearing tall Wellington boots and blue-protecting gloves. But everyone smiles and talks loudly. Une ambiance bon enfant. "C'est un vrai poulailler ce matin !," a woman tells me as she walks briskly by me, mimicking people who talk louder with her hand (It is like being in a hen house this morning). The noise of the machines does not help either.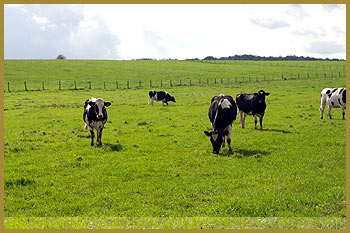 My brother tells me that the whole process takes little time, and he is right. The steps to make apple juices are simple and well organized. Everyone has a task to perform and things move quickly.
Step 1 — Drop the bags of apples in a large hollow container of a first machine in which the apples will be washed and crushed.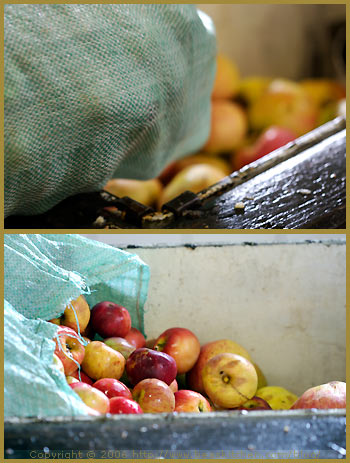 Step 2 — The flesh from the apples is extracted and dropped on flat pieces of framed wood which two people cover with pieces of jute fabric before placing another frame on top. They are compressed to extract the juice.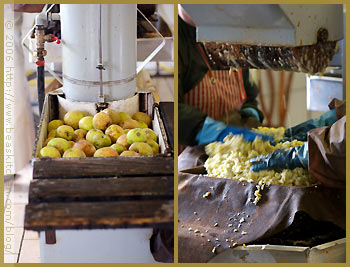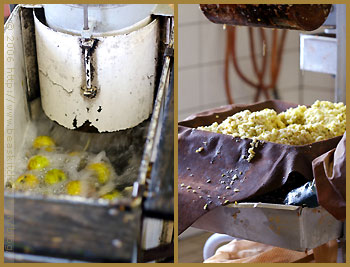 Step 3 — The apple juice is sucked into large labeled white containers through thin pipes.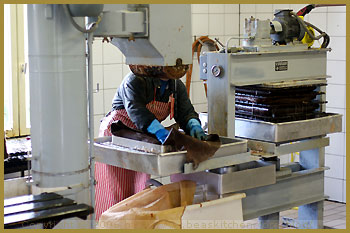 Step 4 — It goes in a juice extractor so as to remove the impurities.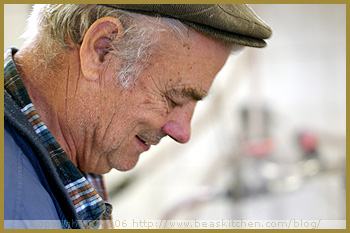 Step 5 — The juice is sucked again into a set of other white containers where it will be heated to 150 F (70 C), to provide un flash de pasteurisation (quick, light pasteurization).
Step 6 — At the other end of the chain, people place the empty bottles used for the fruit juice on a moving belt. They are kept warm by thin but strong streams of water projected on them, to avoid a large temperature difference between the glass and the warm juice. Without this step, the bottles might explode.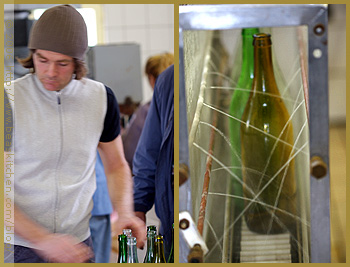 My brother placing bottles on the moving belt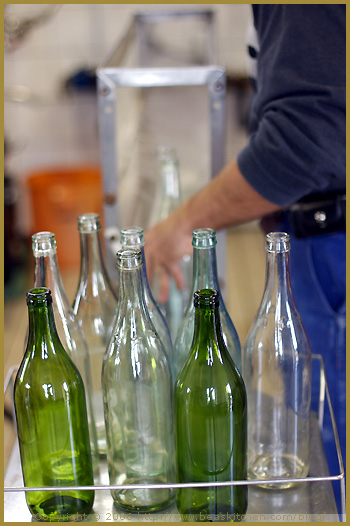 Step 7 — One person is in charge of placing the bottles one next to the other for them to be filled.
Once this is done, they are closed with a metallic cap similar to the ones used on bottles of beer.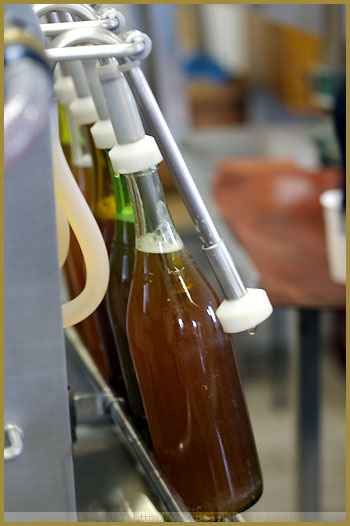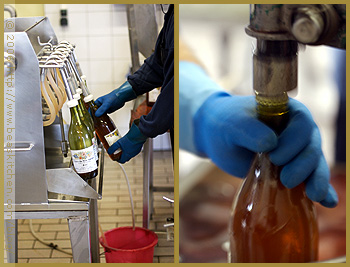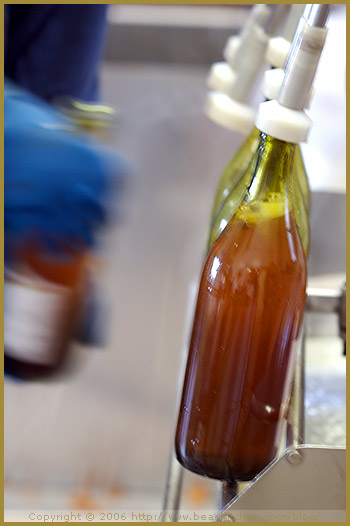 Step 8 — The bottles are placed in the crates and the whole process is completed.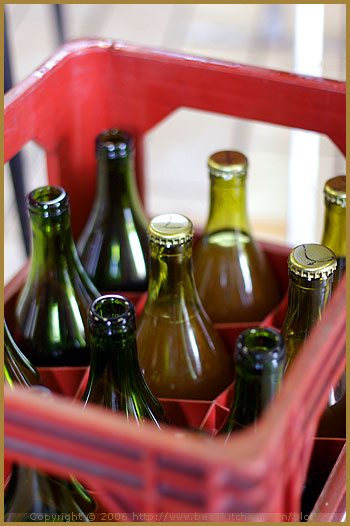 Time involved?
About an hour.
Cost involved?
For 54 liters, 25 Euros, about US$32.
When B. hands a glass of the juice for us to taste, we are far from imagining the world this innocent drink will enable us to enter. It is still warm, but I do not care. The apple juice is not clear, and I like that a lot. Comme de la brume dedans ! (Like mist inside!) I close my eyes and savor every single sip, imagining I am lying on my back at the foot of B's apple trees, on a lazy Indian summer day. The smell is really strong and I wish it never ended.
This apple juice can be kept for about four years maximum, but I already know that it will not last for even one, in view of the speed by which we drink it. I only wished I could have taken some with me, back to Boston. Once more, I hate these agricultural restrictions.
So I promise to myself: one day, I will have to have mon verger à moi (my own orchard). This apple juice is just like nothing else!