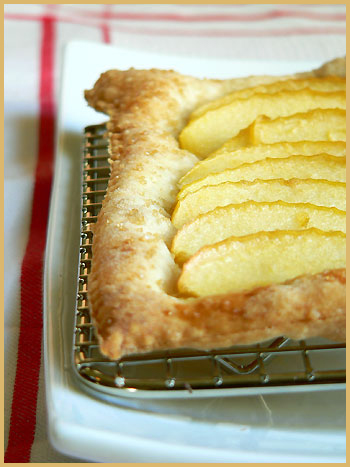 What about a nice easy-to-make apple tart to enlighten your Saturday….
If you liked my green vegetable tart, or simply enjoy to see when the pastry goes "pouf" in the oven, I have another delicious tart for you. I think you had been warned, in Béa's land, there are many tarts.
In the series, "how to use puff pastry leftovers", the ideas abound. In brief, the truth is that you do not always want or need a very complex recipe requiring a huge thinking effort or an endless preparation. Life should be easier on us at times, even when we feel a strong sudden craving for a delightful dessert – come on, it happens! – so let's grab the moment when it is there in front of us.
I always have apples at home- whenever I can, I like to keep a crate of apples in a cool place of the house. With apples, there are many sweet dessert ideas at hand, beside the true pleasure of biting in a fresh raw apple (and the first bite is always the best for me!)
As to the choice of apples, I personally love Jonagold, Reinette, Pink Lady, Mc Intosh, Braeburn, in short most apples (maybe I should have started with saying this?) Choose according to your preferences.
To make a quick apple tart, you only need 3 things, a tiny amount of work, and a lot of enjoyment!
Free form Apple Tart
You need:
Puff pastry
A few apples
Brown sugar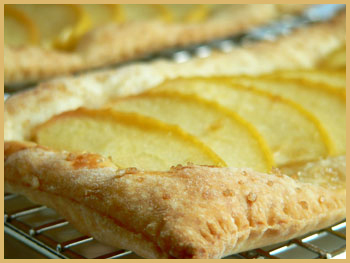 Steps:
Preheat your oven at 425 F (220 C).
Roll your dough in a rectangular, or square. Make little holes at the bottom, and place on a baking sheet.
Slice your apples thinly. Place regularly on top of the dough, following the pattern you like.
Use granulated brown sugar to sprinkle on top.
Place in the oven for about 15 mns, or until the dough has a nice golden colour.
Take out and cool down on a cooling rack.
As simple as it is, what makes this tart delicious is the puff pastry with the apples, and a good quality flavorful sugar. Who said that food needed to be complicated to be the top of the top?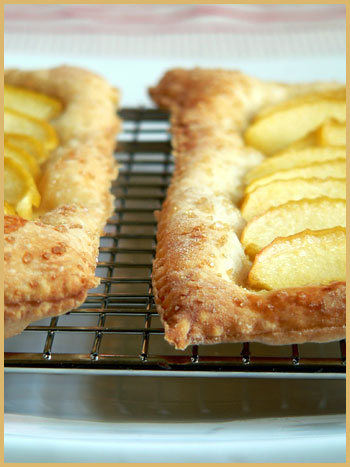 As we say in English, "one apple a day keeps the doctor away" (and we say nothing in French, we stay quiet).
Idea from Donna Hay's recipe