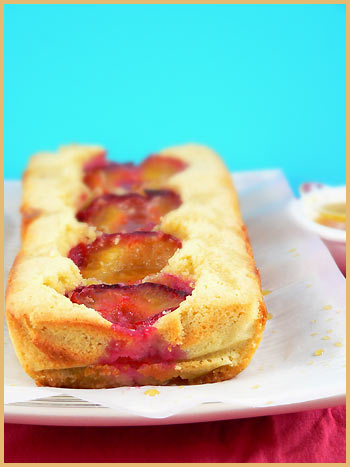 Plum Cake and Orange Sauce
The 2 Rs: Rustic or Refined, that is the question
I do not know about you but I cannot assert that I am solely a lover of elegant, refined, perfect-looking desserts. They obviously attract the visual that I am, but I cannot help loving rustic looking sweets, which in many ways reminds me of my native France and its cuisine du terroir as we call it (the closest translation I would get to is homey, traditional and local cooking). And my mum's cooking was definitely more rustic in general.
Take for example, pastries and delicate sweets from Pierre Hermé. Who can really resist the beautiful creations he does? Hmmm, I have one person! My dad! Thinking about it, he does not have a sweet tooth, and even the most refined sweet is nothing compared to a piece of smelly cheese with le croûton de pain (the end = the best of the bread, did you know that?) Pierre Hermé is la crème de la crème of dessert-making. BUT. Not always. While being in Paris for example, I could very much have an inclination for the total opposite in the genre, with pastries and viennoiseries from the old-fashioned bakery Poilâne (Paris 6ème, rue du Cherche Midi). Desserts do not always have to be too pretty to eat!
While growing up, Saturdays and Wednesdays were days when my mum had more time to devote to baking cakes. And her cakes were rustic, such as a chocolate or a marbré (marble) cake. We never admitted this to each other but both my brother and I were waiting for those days to come impatiently. We loved to be there (dans ses jambes as she would say = hanging out to her apron), to smell the fragrance from the cake in the oven, and mainly just adored to lick the dishes that contained the cake preparation. We would fight over that! I was not always the winner, but I fought hard!
Today I don't have this fight with my brother anymore but probably mainly because we live thousands of miles apart. The little sister has her victory. Victoire! Hourrah! Replacing my mum, I am now the one baking in my own kitchen. Is this what is called being a grown-up? I am pleased to declare that my love for rustic cakes is untouched!
After going to one of my local vegetable suppliers last week, I decided to bake a hybrid between a more solid cake and a fruit tart, to use my lovely plums. Do you remember them?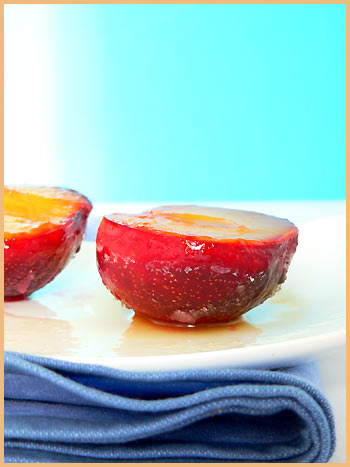 To combine both in one dish was the best compromise I could get. Plums and cake! And why was it a success? The syrup complements beautifully the fruit and the almond batter. Rustic and Refined at the same time. No choice to make between the two since you get both. L'affaire est dans le sac!
Bon appétit, c'est délicieux!
Plum Cake and Orange Sauce

You need:
For the cake:
4 plums (medium to large)
2 eggs
1/4 tsp baking powder
1 cup almond flour *(see note)
1/4 cup all-purpose flour
1 lemon zest
1/2 cup sugar
70 g butter (at room temperature, rather soft)
For the orange sauce:
1 cup orange juice
1/4 cup Cointreau
1/4 cup sugar
Steps:
In a pot, pour the orange juice, Cointreau and sugar and bring to a boil.
Simmer until the liquid has a syrup-like consistency. Remove from heat and allow to cool.
Preheat your oven at 320 F (160 C).
Wash the plums and cut them in halves. Remove the pit.
Take a frying pan and place the plums, face down. Sprinkle with sugar and cook until the sugar is dissolved.
Mix together the butter and sugar in a food processor.
Add the eggs, the almond flour, the flour, lemon zest and baking powder. Do not mix too long.
Grease a rectangular mould and place a sheet of parchment paper at the bottom. Grease well and then pour the preparation.
In the middle, place the plum halves (do not push them down as the preparation will rise).
Cook in the oven for about 30 to 40 mns. Check regularly.
* Note: Almond flour is also commonly called Almond Meal. It comes from whole blanched almonds, after the extraction of almond oil.In cakes and baking, it provides a moist rich nutty touch and taste. It can be found in places such as WholeFoods or any baking suppliers, such as King Arthur.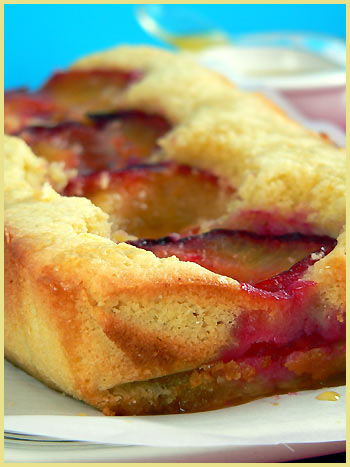 Adapted from a Donna Hay recipe