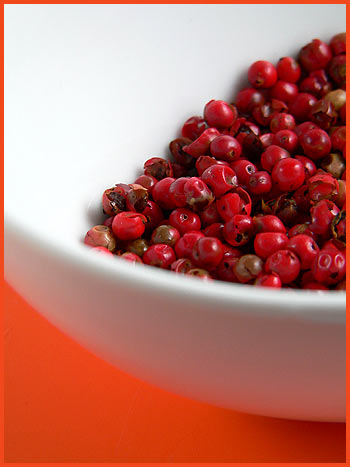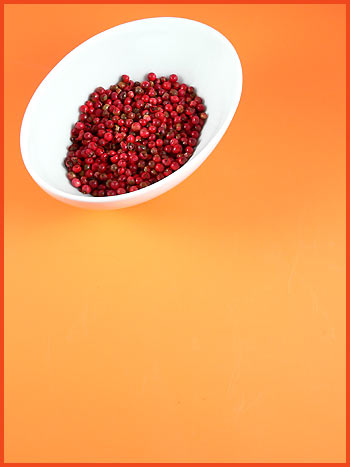 When it comes to bright summery colours, I am an easy target for marketers. As I am writing this however, I realize that I say that about colder colours too, such as blue and green. Well,well! What does it mean exactly? It just means that I like things coloured. Not a few but many coloured things, which does not make our house clutter-free, as I am told by …never mind. But I am working on it. I once asked my incredible artist friend Lena what colours she liked. Her answer was : "I don't know Béa, I am an artist painter, so I just love all colours." In view of her beautifully coloured paintings, I wonder even why I bothered to ask the question. It was just obvious.
So colours and I are long-time friends, even when it comes down to peppercorns.

The story of Pink Peppercorns, or la baie rose de Bourbon (Schimus terebinthifolus)
Take a black peppercorn. Standing proudly on a shelf in a grocery store. It can stay there for hours and I will not notice it.

Take a pink peppercorn. Standing proudly on a shelf in a grocery store. As soon as I walk in, I see it right away.
Because it is pink, or red, in three words, it is coloured.
The logic starts there for me. Add a touch of colour and my eyes get distracted like the hands of a compass approaching a magnet. And so I fell in love with pink peppercorns.
Pink peppercorns are the dried berries from the Baies rose plant. They are cultivated in Madagascar and imported via France (don't ask me why!), which explains partially why they do lighten considerably the consumer's purse: they are an expensive spice. Not only are they colourful BUT they are also used in cooking, such as a variety of sauces, meat and fish dishes, and fruit such as melon or exotic fruit. The seeds have a strong mixed flavor of pepper and anise, with sweet accents.
It took me some time to find my little babies, my baies roses, but after calling around my favorite local suppliers, I felt I had just won the lottery prize when the voice on the other end of the line told me "Pink peppercorns? Hold on…yes we have some!" The next thing I remember was me jumping in my car to drive the short 2 miles to get my babies. And do you know why it was so hard for me to find them? Because for the longest time, I could not find the proper English translation. And let me tell you, I had tried "You know, I am looking for baies roses, I mean, red pepper". I must have gone to the wrong place for them not to understand "red pepper". Not understanding "Baies roses", ok, I can see as I was not trying so hard, but red pepper! In any case, for some odd reason, there exist at least 5 names for this spice. Some call it red peppercorn, some pink peppercorn, I even read pepper rosé and Peruvian pepper tree.
I will now call them my pink peppercorns.
And to do what?
I will show you what soon.