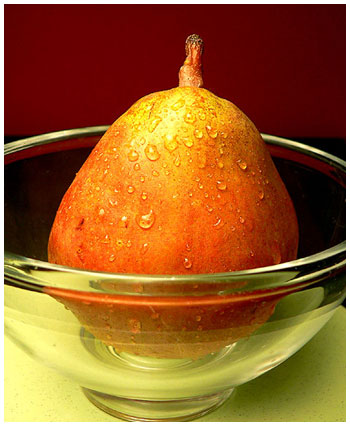 When I started my food blog about over a month ago, I had no real idea what world I was entering. My very first post covered food photography, as I had come across an article P. had sent for me to read. He always knew my strong interest in "you eat with your eyes first", so it was guaranteed I was going to like it. This article is what started my blog adventure. Spontaneously, one evening, I said to P., "Devine quoi, je vais commencer un blog et je vais parler de cet article." (Guess what, I am going to start a blog and talk about this article). "Toi, un blog ?" (You are going to start a blog?) I confess that until then I had not shown much interest in blogs, despite P's many attempts to explain to me the whole concept -he has been maintaining his technology blog for 2 years but I had no idea what he was talking about. "Ah ouais? Sure!" I am a Taurus and can be stubborn. But eh, did he tell me about all this learning I was about to gain, the many great things I was about to discover? Absolument pas!
Of course, I had been maintaining beaskitchen for 2 years, mainly a repository of my recipes, but that was not the same thing at all. So on Nov. 26, I published my first post, and it covered Food Photography ; my blog adventure started there. I was enthusiastic and felt like a real chatterbox that could not stop talking. "Attends, I will talk about this, and about that, and also this" Endless…it continues, cannot shut the box.
What hooked me first

I want to eat what I see first.
I am a total amateur photographer, someone who hates to read manuals and until very recently, someone who would only push down the button without thinking before taking a shot. That was just my story before I came across the Foodography event hosted on Flickr organized by Sam at Becks & Posh and Andrew Barrow from Spittoon.
Let me tell you!
This event has been a real blessing. As shown in the event details, the whole idea is for participants to submit food pictures around a given theme, then get and give comments on the pictures, with suggestions and tips as to how to improve them. No manuals (and when I think I translate them!), no "What? what does step 1 mean? ", "I don't get that, those people who write manuals are so clueless" (that is me on a bad day!), but interactive feedback. Since the start of the event 2 weeks ago, I feel I have already learned so much! So I would like to extend a truly huge Thank you, Merci, Gracias to Sam and Andrew for organizing the event, which I find brilliant. I can already see improvement in my pictures (if you cannot see it, I can! :-)) and definitely gained more awareness – if that is possible – as to the minutes preceding a shot. Sam, Andrew, you taught me to think! 😉 before taking a shot and not after (which is not very typical of the Taurus that I am, ie I act first and think afterwards).
In Dec. 2005, I wish I had already received all this good juicy advice learned from Foodography. Why? I submitted a picture of my beet/ricotta cake for the Does My Blog Look Good In This 2006 #1 food blog event organized by Spittoon (Andrew again!) and other participants/judges (Johanna (Passionate Cook), Nicole Weston (Slashfood), Nic Vignoni (Slashfood). A month ago, I would have thought my picture looked great, today is another story! See what you did Sam? Andrew? It was however what I thought was my best pic of Dec 2005, so be it. If it did not look good, at least it tasted great, for the beet eater that I am!
Some of my favorite photography food blogs, where I get my inspiration are :
And the list is not complete!
And now I wish Santa Claus could do a sales January round for all the little gadgets I want to get to make better food shots. Yeah, I know, I know, it does not replace the photographer, but I have nothing agaisnt les petits trucs, ou les plus grands (small or bigger gadgets) to get better and better. In any case, I enjoy it tremendously and I encourage you to join!