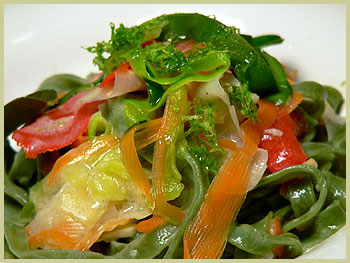 Replenishing in greens and indulging in the sweetness of coconut, with nice zest added by lime. On this past Sunday night, this is exactly what we felt like eating. A really light pasta dish with tons of vitamins. Maybe the weekend had been rough? Lightness, playfulness and easiness were key. I decided to make tagliatelles with greens in a coconut lime sauce.
Pasta is a favorite of mine, well like many foods actually, so this is not a hard choice. I however like pasta a little different from the traditional sauce added to it, and prefer to try new combinations of flavour and texture.
For the recipe below, I wanted to add an Asian touch but also decided to play with colours and texture as I cut the vegetables in long thin strips, so that they looked just like vegetable peels. With lime added it was the perfect meal for our lazy Sunday night mood.
You need
Fresh pasta 12 oz (340 g) – I used Spinach tagliatelles
2 medium carrots
2 small zucchinis
1 small celery root
1 red pepper
5 garlic cloves
Ginger root (about 1 tbsp chopped)
3 Kaffir lime leaves
1 lime and its zest
400 ml coconut milk (2 cups)
1 tbsp sesame oil
2 tbsp fish sauce
Fresh coriander
Fresh pepper to taste
For the vegetables

-1-Take a vegetable peeler, and after washing all vegetables and peeling the celery root and carrots, make long vegetable peels. You will not need all the celery root or pepper, but as much as 1/2 cup of each.

-2-Take a steamer and place the vegetables in the top part. Steam them for about 10 mns or less. Keep them warm on the side.
For the pasta and the sauce

-3-Cook the pasta according to your package instructions and keep it warm on the side.

-4-Peel the garlic and chop it thinly.

-5-Peel the ginger root and chop it thinly.

-6-Take a large saute pan and heat the sesame oil.

-7-Add the ginger and garlic and cook on medium heat until softer .

-8-Then add the coconut milk, lime zest and kaffir lime leaves. Let cook for 10 mns on medium heat. After this time, add the fish sauce and finish with the lime juice.
-9-Season with pepper to taste.
-10-Add the pasta and vegetables to the sauce. Decorate with extra lime zest.
-11-Serve immediately with fresh coriander.