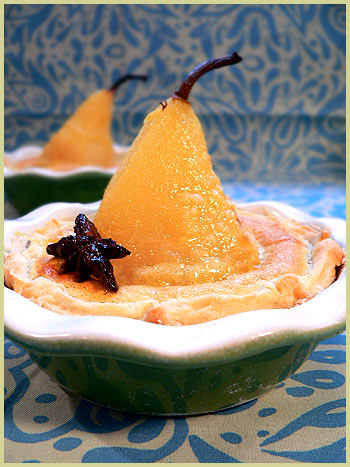 For the longest time, I had a very strong dislike for pears. The riper they were and the more I disliked them. I generally eat most of everything, food even on the verge to be trash-elected I have to confess, but that is mainly because of my crazy horrible I-want-to-lose-it bad habit of not throwing anything. I have been caught a few times with stomachache (yes really!) and promised that it would not happen again. But we all know the saying. Habit learned in a week, lost in ..how many? (I guess I do not know the complete saying).
Then I obviously could not but admired the beautiful Charlotte aux Poires made by Keiko from Nordljus, perfection at its uttermost. So one thing leading to another, I got fully inspired and acknowledge that pears have grown on me. Merci to Keiko, to a recently discovered beautiful food blog with a great inspiring name, A Perfect Pear and also to Philip, the little hubbie. Yes P. loves pears and always complains that there are no pears at home, or that I do not buy or cook them. "Allez, t'as pas envie de me faire cette tarte là, avec des poires ?" (Would you make this tart, please, with pears?) J 'ai pas envie (I don't feel like it). Until yesterday. I discovered a cute recipe in one my French cooking magazines, which I now slightly adapted and adopted.
The recipe seems to require many steps but it is deceiving as it is pretty easy and does not require special pastry tricks and skills. I did it!
Tartelettes aux poires et crème aux amandes
(Pear Tartlet and Almond Cream) – 4 individual tarlets
200 g all-purpose flour
80 g butter at room temperature
1 egg
1 Tbsp evaporated cane sugar
Water
Pinch of salt

For the pears and almond cream:
4 pears (medium to small size and firm texture) ; I used Comice Pears
2 eggs
150 ml heavy cream
280 g almond powder (called also sometimes almond flour, basically almonds crushed so that it looks like a very fluid powder)
50 g sugar

For the syrup:
150 g sugar
2 star anises
Zest of one lemon
500 ml water

For the coulis:
4 tbsp marmalade
4 tbsp (or more depending on how you prefer the consistency) syrup from pears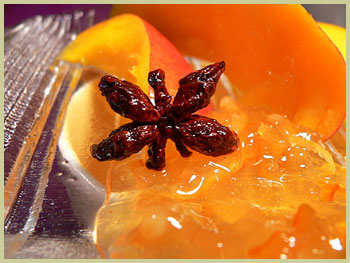 Steps:
Start with the syrup. Mix together the water and sugar, with the lemon zest and star anises. Bring to a boil.
Peel the pears and from the bottom, make a hole in order to be able to remove the inside seeds and harder parts of the pears. Leave the stems on. While doing one, squeeze some lemon juice on it so that it does not darken.
Place the pears in the hot syrup and cook for about 20 mns, until tender but not longer (you want to keep the pears firm). When done, remove them to cool off and reserve some of the syrup for the coulis.
To make the dough, place all the dough ingredients in a food processor ( or by hand), starting with mixing together the flour and butter, then adding the sugar and salt, the egg and the water. Add enough water for the dough to be elastic but not sticky. Place in a covered bowl in the fridge until ready to use.
Preheat your oven at 420 F (210 C).
To make the almond cream, mix together the almond powder and sugar, then add the cream and then the eggs.
Roll your dough in individual buttered molds (with a sufficiently high edge). I use ceramic molds.
Make little holes at the bottom with a fork.
Place one pear in the middle of each mold and pour the cream around.
Place in the oven for about 25 mns, until the crust has a nice golden color.
To make the coulis, take a pot and heat the marmalade with 4 tbsp of the reserved syrup.
Place a tart on each plate with the syrup around.
I had some leftover almond cream which I decided to use for another preparation.
Then came the time of the verdict. Would I be pear approved?
After P. started eating one bite of the tart, he looked up at me, with his mouth full. I was nervous. Suspense. Was I passing the pear tart test? His lips moved, I barely heard words coming out of this mouth, yet it seemed to sound like this : "Béa, hmmmm, I just have to tell you. Hmmmmm, from now on, this will become my favorite dessert".
Smile and relief.
The Oh gran Pear Expert approved.
Perspective
Can it be qualified of the most exquisite dessert? Not reaching the beauty of Keiko's charlotte for sure but because Philip likes pears a lot, winning my family contest was quite easy (no one competed against me! ah!). Besides, P. had been pear-deprived for so long that I had high chances to win his approval . And I have to say, I liked it a lot myself and am ready to do it again. Tested and approved. I can declare : "J'aime les poires!" (I like pears!)