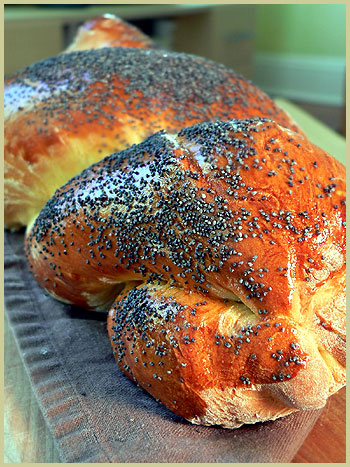 Are you thinking, what the hell is that?
Ah yes, like many, I like bread. What would we do without it I wonder? About 4 years ago, in order to try to solve a health stomach discomfort I suffered from, I "tried" to follow a detox diet recommended to me by my doctor. Why did I even think it could work? Seriously, I was a good student and have full trust in my Russian doctor. The diet principle was easy: eliminate mostly every possible food, that is all the foods I enjoyed eating – including bread – and live on rice, vegetables, fruit, fish and well, nothing more. After following this diet strictly for 3 weeks, you were supposed to reintroduce each food, one by one, in order to possibly isolate the food causing the problem. I lasted on the diet for …about 3 days, if I am even generous. Only rice, rice crackers, vegetables ? No dairy, no wheat, what can I say? It was not meant for me. I was born la baguette sous le bras (wearing the baguette under my arm), so despite my love for rice and vegetables and fish, I just did not make it. Too hard for a girl like me, who enjoys food so much. In the end, I guess I was the stronger anyway since what really made me feel better was resuming my consumption of meat. And the redder, the better. But this is another story I will tell you one day.
So I stayed on bread as it is simply not possible for me to imagine morning breakfast without bread.
When I was a teenager, I just loved to make brioche, plain or with nuts, just like the very one Pascale from C'est moi qui l'ai fait describes here. For those of you who do not speak French, Pascale refers to the hazelnut brioche from a small village bakery in Lorraine, which she loved eating for breakfast while she was a kid (not the village, the bread…ahhhhh, can you tell that I am still struggling with English syntax at times? When people say that English is easy, My taylor is rich!) I should surely ask you the name of this bakery Pascale, since I am from Albestroff in Lorraine and know Seingbouse quite well . To the readers, no need to try, unless really necessary, to see on a map what kind of a big city Albestroff is since it is a tiny village of 600 people, that is counting the cows, goats, oui? ah, no, maybe not. Quand même!
Now of course, as all people who have made brioche know, brioche is not just your average quickly prepared filling a craving food. It requires time. So because I can have some of those cravings that need to be satisfied, and in place of the long process involved with my brioche, I have chosen to make a challah.
Challah is a traditional Jewish egg bread that makes me think of brioche. Perhaps less sweat sweet and less fatty, but still soft and sweet enough. It does take time to make challah, but this is mainly rising time, and certainly less than my brioche! I sometimes use my bread machine to mix the ingredients and do the first rise, or I do it manually. If I use the bread machine, once the dough has risen for about 1 hour first in the machine, I then shape it the way I like, before letting it is rise again for another hour. Then I bake it, (oven at 350 F for 30 mns).
Last night, when I suddenly had this challah urge, I just forgot to make a third piece for the braid, ah, so instead of a traditional 3-braided bread (I have always been more than average at braiding my hair anyway!), my challah had two. At that time of the day, I think I had a good excuse!
Challah Bread
You need:
3 cups bread flour
3/4 cup water
3 tbsp vegetable oil
1 tbsp gluten
1 tbsp honey
2 eggs
1 3/4 tsp yeast
1 1/2 tsp salt
Poppy seeds
1 yellow yolk with water for the glaze
If I decide to do the dough by hand, I proceed this way:
Take a small bowl and dissolve the yeast in it with a bit of warm water and honey. Let rest for a while, until it bubbles.
Then add the vegetable oil, salt, honey and eggs to it.
Continue with adding the flour, one cup at a time.
Turn the dough out onto a well-floured surface and knead until smooth , adding more flour if necessary.
Put into a bowl, cover, and let rise until it doubles (about 1 hour).
Punch down the dough and separate it into three long braids.
Braid the 3 pieces together, and place the bread on a baking tray.
Let it rise until it doubles (about 1 hour).
Mix the egg yolk with water for the glaze, and brush the bread with it.
Add the poppy seeds on top.
Bake the bread in a preheated oven at 350 F for 30 minutes, until the crust has a nice golden color.
Et voilà! Next time, I will present my brioche (yes, I admit, I still prefer the brioche feel under the tongue, melting like snow!)