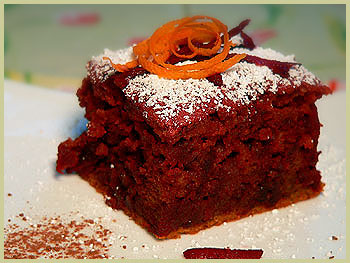 Beet Chocolate Brownies
When I first thought of this chocolate-beet combination, I was a little doubtful this was going to work at all. Des légumes avec mon chocolat préféré ? Ca va pas, non ? (Vegetables with my favorite chocolate, are you nuts?). Now I like dark chocolate a lot, and beets as well, so I thought : Pourquoi pas ? Browsing once more through my numerous cooking sheets lying all on the floor this am (I had the time, yes!) or on the living room chairs, my magazines and books, I discovered a recipe for Dark Chocolate and Beet Brownies (from Cuisine Gourmande). And because today is D Day on SlashFood, I decided to take the jump and make:
Dark Chocolate-Beetroot Brownies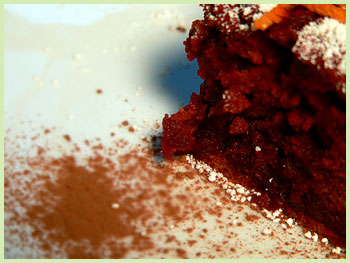 The letter D for Dark Chocolate on D Day !
Here is what to do to make this little treat, if you are courageous enough! Come on. No need to be afraid! I just did a few adjustments to the recipe I had found, because I like my sweets to taste Dark chocolaty and less sweet.
Beet Chocolate Brownies
You need:
3 oz (90 g) Dark chocolate (I used a 75 % cocoa dark chocolate)
3.5 oz (100 g) flour
3.5 oz (100 g) almond powder
3 oz (90 g) sugar
3 oz (90 g) butter (soft)
4 eggs
7 oz (200 g) shredded raw red beetroot
Vanilla extract
Confectioner sugar and cocoa for decoration
Steps
Start by peeling and shredding the beets. Set aside
Melt the chocolate in a double boiler.
Mix together (using a food processor, I use my Kitchen Aid Stand) the butter with the eggs, then add the sugar.
Mix until lighter, then add the chocolate, flour, almond powder, the beets and the vanilla extract, and mix well.
Butter a small mold (argh, grrrgrr, I cannot be consistent, mold, mould, you know what I mean! One of those things I just can not register) (I used a round mould but a square one works well) and placed greased parchment paper at the bottom)
Pour the preparation in it and bake in the oven for about 30 mns in a preheated oven, 350 F (180 C)

Note: Your brownies are cooked once the blade of a knife comes out dry after you insert the blade in the cake.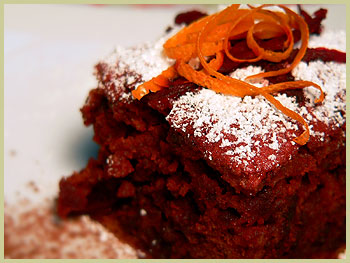 Anything with Dark Chocolate! I say : Yes! But one condition: only if the chocolate is dark enough, that is a minimum of 70%. I personally dislike Lindt 70% (leaves an after taste). I love Michel Cluizel, La Maison du Chocolat, NewTree. Amongst my favorites. With beets in the preparation, I was just happy. I tested it. Moist, sweet, but not too much.
Morale:
Could this be the French-American version of the English carrot cake, I wonder now! The reconciliation between the two stubborn bodies?
Et pourquoi pas! (And why not!)
These are the 3 words to remember from today's lesson. (Béa, you are not teaching French anymore, stop it!)