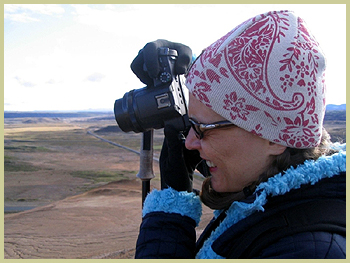 I was tagged by Kiplog to answer this Meme questionnaire, Ten random and interesting facs about yourself (they don't necessarily need to be food-related).
Well, where shall I start? In no order, these are random facts.
I got married on a very stormy day. We were just the two of us and were given the choice to get married either in the church or outside in a park, by the ocean. We chose the latter and the lurking storm started then. When we got back to the town hall to sign the papers, we were told the lightning had hit the church steeple and was on fire.
I did chain work in a cheese factory when I was a teenager.
I cannot snap my fingers but I can whistle with my fingers.
Already said this in a previous Meme, I cannot eat without putting food on my face.
I used to believe (I was a teenager then!) that the coolest job would be to instruct skiing so I took an instruction degree and for years, I could ski a lot for free (teenager dream, you know!)
A Tunisian man once wanted to buy me against 4 camels. I don't know what to think about that.
I cannot sing the real words of English songs.
I have a Computer science degree but cannot program.
I taught French to Anna Paquin back in New Zealand.
I was enrolled in a first year Master's program at a University in Illinois but the only two classes I attended were a Badminton class and a running class.
As for tagging others, hoping they are not going to hate me for passing this on, I will pass this to: