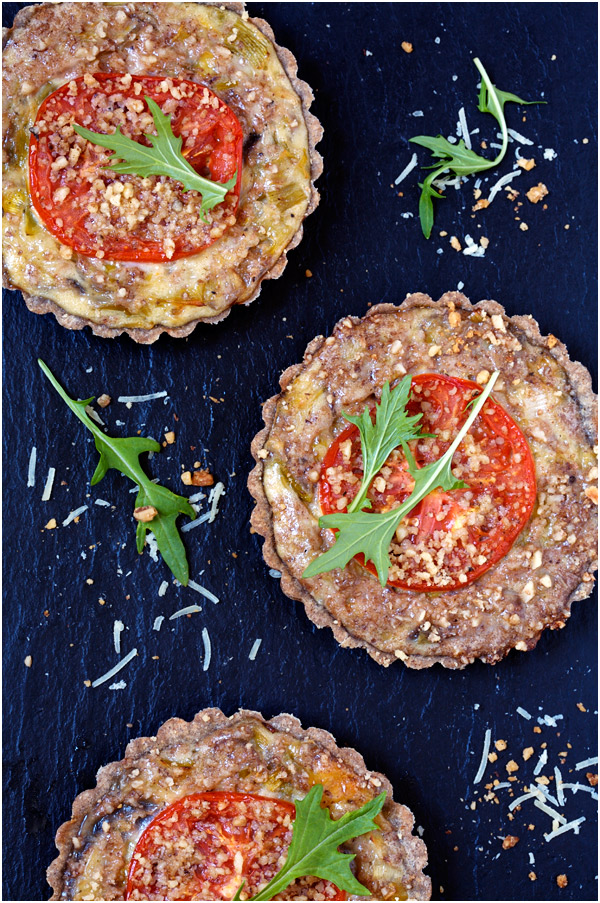 Leek and Comté Tartlets, for lunch
"Regarde ce que fait maman," (Look at what mummy does) I told Lulu. She was staring at me. I could hear her giggle as her feet kicked the yellow frame hung above her head of the play mat where she was lying.
Time flies. Lulu is already a twelve week old baby, playful and smiling as often as she breathes. She's recently discovered that she can grab toys and use her legs and feet to move things around — she loves it. I like to keep her by my side when I prepare my photo shoots, and I know she likes to observe. Her blue eyes become round, a sign that she is trying hard to understand what I am doing. It's really precious.
After I gave her a bath Sunday morning, I told her about our day. We would take a walk in the park; P. and I would read her a few stories; we would play and talk, and we would have a nutritious lunch to brighten the day even more.
"Maman va faire des tartelettes aux légumes pour le déjeuner. Tu aimes cela ?" (Mummy is going to make vegetable tartlets for lunch. Do you like those?)
She smiled again. Of course, about something else. But I liked to imagine that she was excited about lunch.
"Tu verras comme elles sont bonnes," (you'll see how nice they are) I whispered in her ear while kissing it too.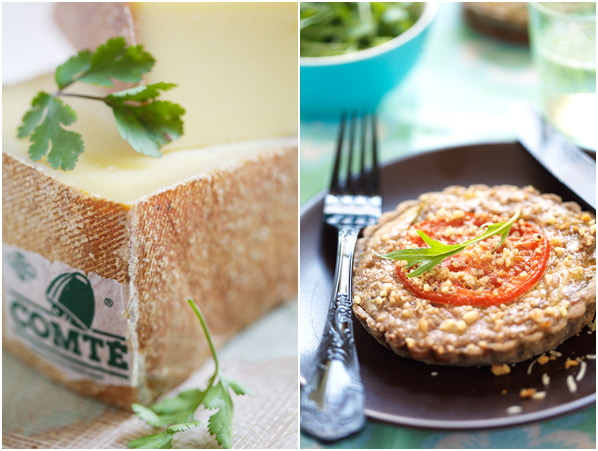 The truth is that we've eaten many tartlets over the last week because I am simply knee deep into the testing of new recipes for the book. In fact, it's a great excuse for me to prepare our meals while working along.
"Mmm, I am trying to figure out the taste," P. said after the first bite. I had really let my imagination go with what I had handy in the fridge, even if I had made a point of making healthy nutritious tartlets.
"Des poireaux ? Du fromage ?" he added after taking a second taste.
"Right. What else?" I went on, curious to know if he could make a better guess.
He paused.
"They really taste better than they look", he said. His face nevertheless showed a look of contentment.
But I had to agree there.
"I know. But can you guess the type of cheese?"
"Du comté ?"
Well, perhaps it was an easy one to find out. We've eaten a lot of Comté cheese lately.
First of all, breastfeeding seems to have me crave cheese to no end. Really, I seem to be eating cheese all day long. Secondly, I've been lucky to receive two large pieces of Comté directly from the beautiful Franche-Comté region in France, where the cheese is made. I am quite a lucky girl since as long as I can remember, Comté has always been a favorite at home.
You know the cheese, don't you? It's fruity, nutty, dense, rich, wonderful as a nutritious snack, perfect in cooked dishes like gratin or tarts. It's aged for months to develop its full flavor.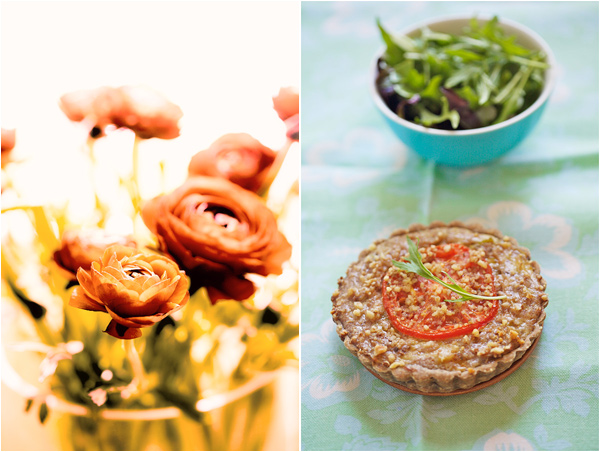 To start, I cooked finely sliced red onion with leeks, thyme and a bay leaf in olive oil before adding a dash of Vermouth to enhance the flavor. Then, I whisked together eggs with crème fraiche and milk, added grated Comté, and finished with a dash of nutmeg and finely chopped walnuts (almost the consistency of coarse flour).
"Are there any more?" P. asked once he finished his plate.
"I thought they did not look good enough," I answered with a cheeky smile.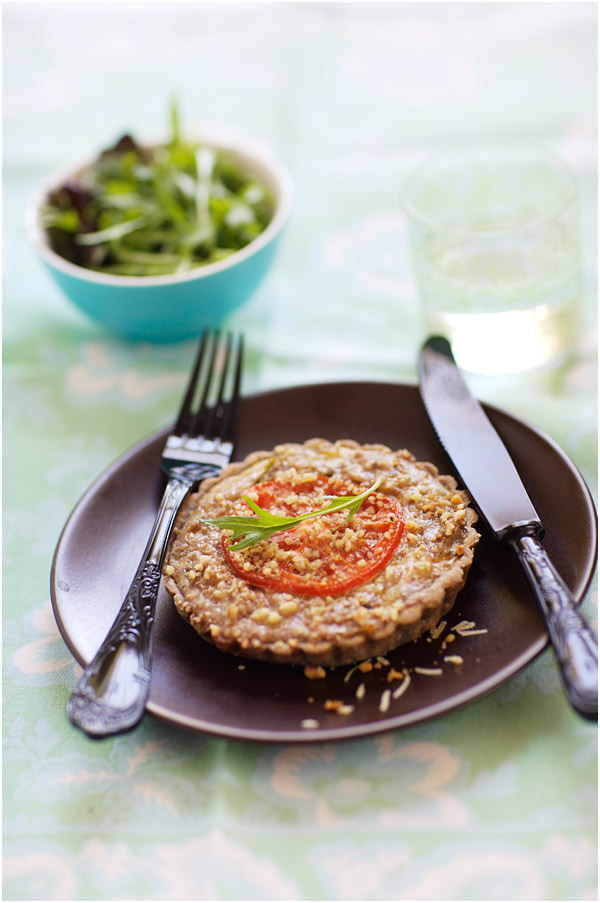 A simple recipe, wonderful on the day the tartlets are made, and just as good the next day. Served with a tossed green salad on the side. it was simply another perfect lunch.
Even Lulu seemed to say yes to more tartlets.
Like her papa.
And by the way, thanks so much for your patience! Lulu is almost doing her nights now, hurray, so soon enough, I will (hopefully) catch on more sleep, to become more present again in this space. On verra !
Leek and Comté Tartlets
(For 4 tartlets)
You need:
Your favorite wholemeal crust, mine used buckwheat, quinoa and brown rice flours
6 oz (170 g) cleaned and diced leeks (white part)
1/2 red onion, sliced finely
2 tablespoons olive oil
1 twig thyme
2 garlic cloves, chopped finely
1 tablespoon crème fraiche
1 tablespoon Vermouth or white wine
2 eggs, lightly beaten
2 tablespoons whole milk
1 vine tomato, sliced
2 oz grated Comté cheese
Dash of nutmeg
2 tablespoons finely chopped walnuts
Steps:
Preheat the oven at 350 F. Roll the dough and garnish 4 molds. Precook the crust for 10 minutes (covered with parchment paper and beans or rice), and set aside.
In a frying pan, heat the oil. Cook the red onion with the thyme and bay leaf on medium to low heat for 10 minutes, covered, until soft. Add the leek and garlic and continue to cook for 10 minutes. Discard the thyme and bay leaf, and add the Vermouth. Increase the heat for 1 to 2 minutes to let the wine evaporate. Transfer to a clean bowl.
In another bowl, whisk the eggs with the crème fraiche and milk. Season with pepper and add the cheese. Combine to the leek preparation.
Top the crusts and add a slice of tomato with a dash of nutmeg. Sprinkle with the walnuts. Cook for 25 minutes. Enjoy with a tossed green salad.
Le coin français
Tartelettes aux poireaux et au comté
(Pour 4 tartelettes)
Ingrédients :
Votre pâte préférée, à la farine complète (la mienne était à base de farines de sarrasin, quinoa et riz complet)
170 g de blancs de poireaux émincés
1/2 oignon rouge, émincé finement
2 càs d'huile d'olive
1 brin de thym
2 gousses d'aïl, hachées finement
1 càs de crème fraiche
1 càs de Vermouth ou de vin blanc
2 oeufs, légèrement battus
2 càs de lait entier
1 tomate, coupée en rondelles fines
60 g de Comté râpé
Pointe de muscade râpée
2 càs de noix finement hâchées
Etapes :
Préchauffez le four à 180 C. Garnissez les moules de pâte et faites-les précuire pendant 10 minutes (le fond recouvert de papier sulfurisé couvert de grains de riz). Mettez de côté.
Faites chauffez l'huile dans une poêle. Ajoutez l'oignon, le thym et la feuille de laurier et faites cuire à couvert pendant 10 minutes. Ajoutez ensuite les poireaux et l'aïl, et poursuivez la cuisson pendant 10 minutes. Jettez le thym et la feuille de laurier et ajoutez le Vermouth. Augmentez la température et laissez le vin s'ávaporer. Transférez les légumes dans une jatte.
Dans une autre jatte, mélangez les oeufs avec la crème fraiche et le lait. Assaisonnez de sel et de poivre, et ajoutez le fromage. Versez sur la préparation aux poireaux et mélangez.
Garnissez-en les fonds de pâte. Ajoutez une rondelle de tomate et une pincée de muscade. Saupourez de noix hachées. Faites cuire pendant 25 minutes. Dégustez chaud avec une salade verte de jeunes pousses.