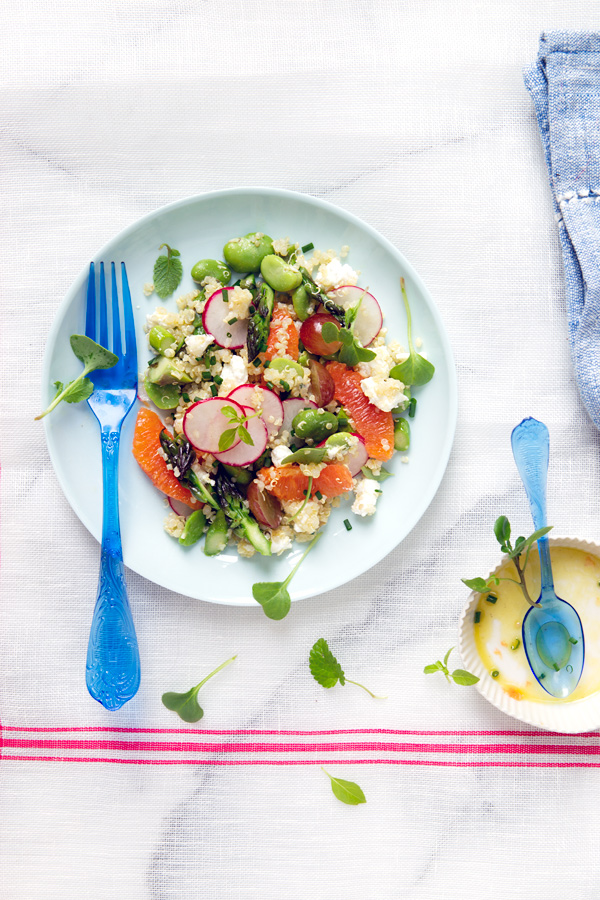 Quinoa Salad with Fava Beans, Asparagus, and Orange
"Moi j'adore le quinoa !" (I love quinoa!) Lulu exclaims as she reaches towards me across the dining table to grab a spoonful of quinoa from my plate.
I am caught off guard as I look at her put the food in her mouth with a smile that tells me she is proud of herself.
"Mais tu en as dans ton assiette !" (You have some in your plate!) I reply.
It makes her laugh even more.
I can not help but feel lucky that it's happening in that way. Lulu indeed loves quinoa. Red. Black. Or white. P. and I like to joke about the fact that she knows that quinoa comes in three different colors. These days, I've noticed, it's all about red because le rouge, she tells me, is one of her new favorite colors.
It's cute to watch how changes in her taste happen.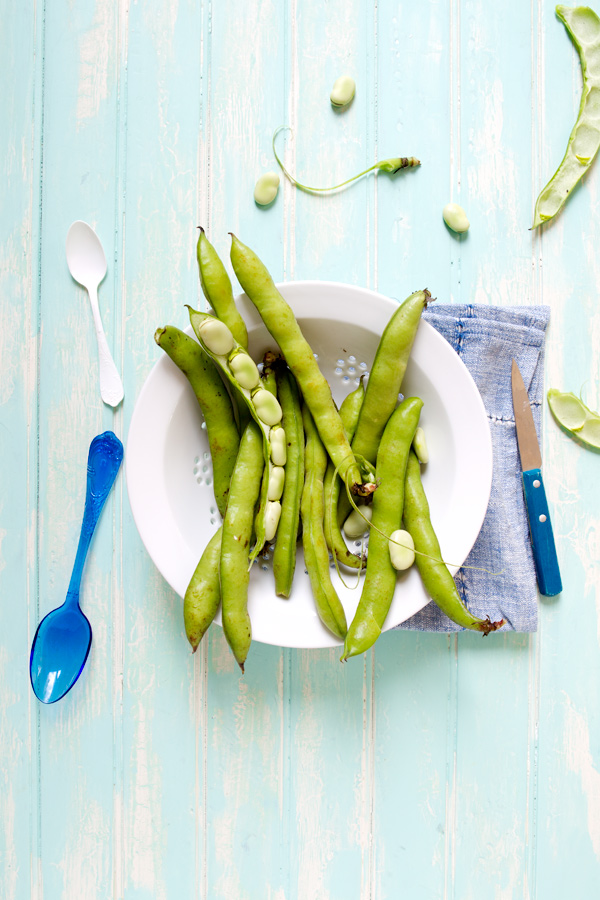 Fava Beans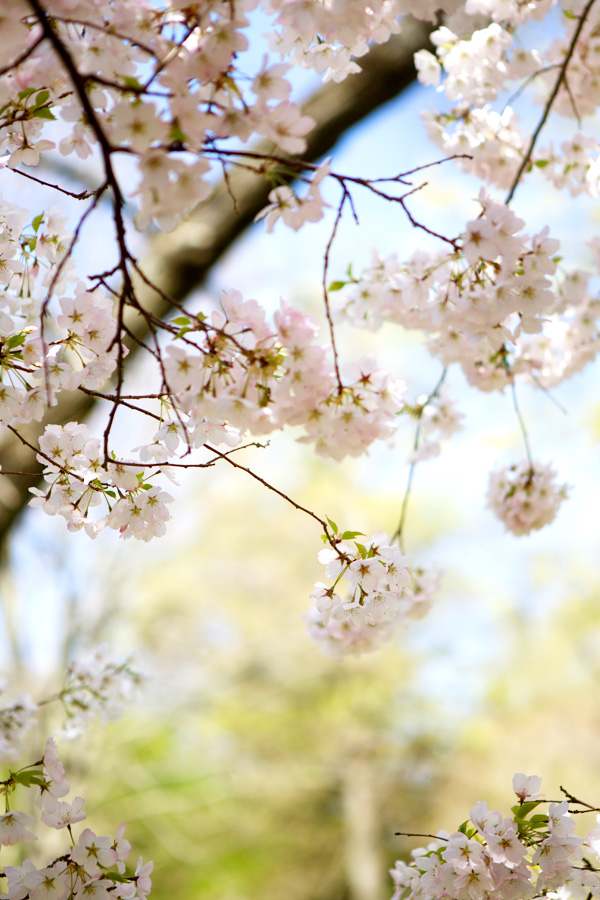 For lunch, for example, quinoa is a staple when I am alone at home and I am craving protein-loaded food.
And I don't mean to be scientific about it. Others do that much better than me. Yet the truth is that my relationship with quinoa lives there too, because every time I eat quinoa, my body feels comforted and relaxed.
Nourished the right way.
So in the end, I don't need convincing that quinoa is being good to me.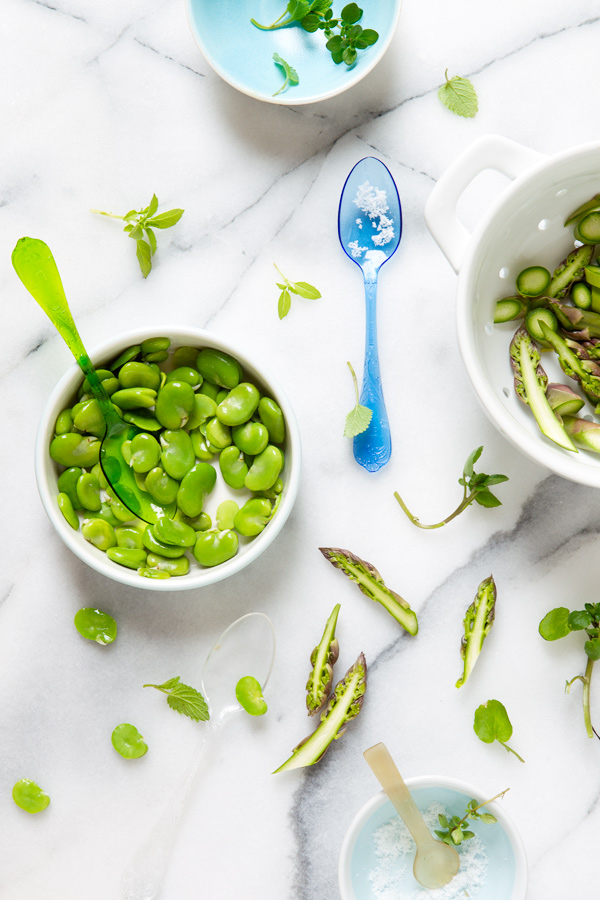 When I am in a crunch time, quinoa is often my response for lunch.
The seeds (not a grain by the way) are incredibly easy to prepare: twelve minutes to cook is all it needs. I then build the rest around it, according to my time and mood.
At times, I prefer it warm, eaten plain to accompany a plate of sunny face up fried eggs with a salad of mixed greens on the side.
Or, I use it as the basis to a full-flavored salade composée.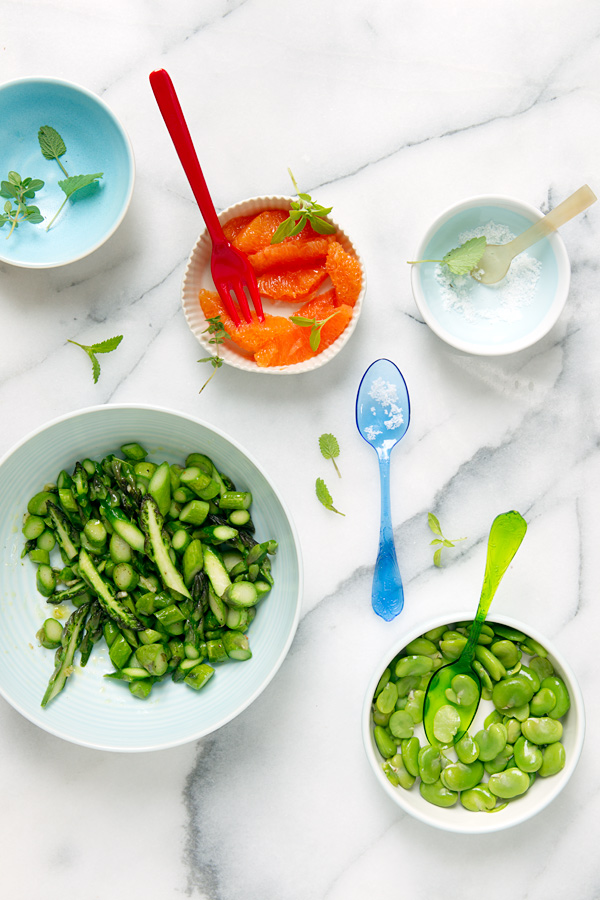 Mise en place for the salade composée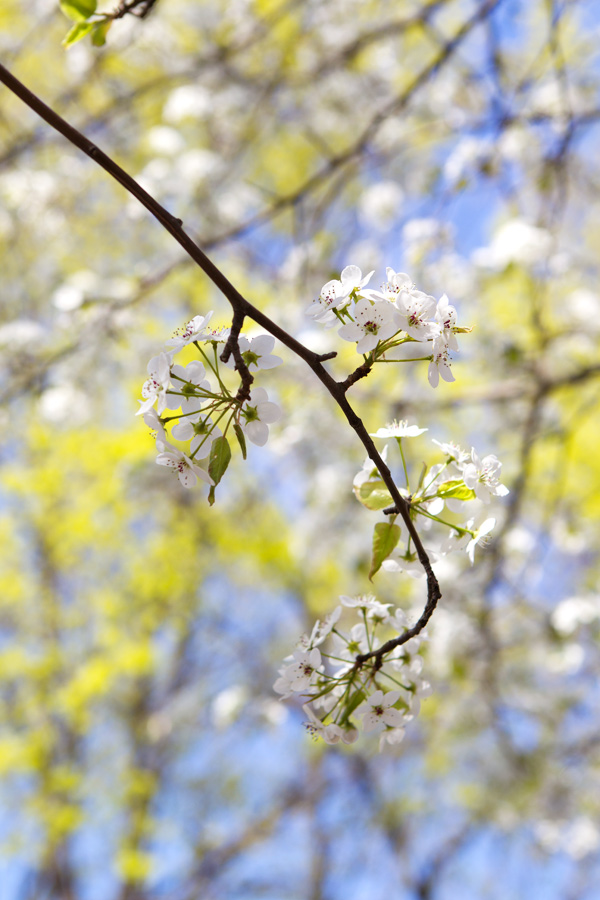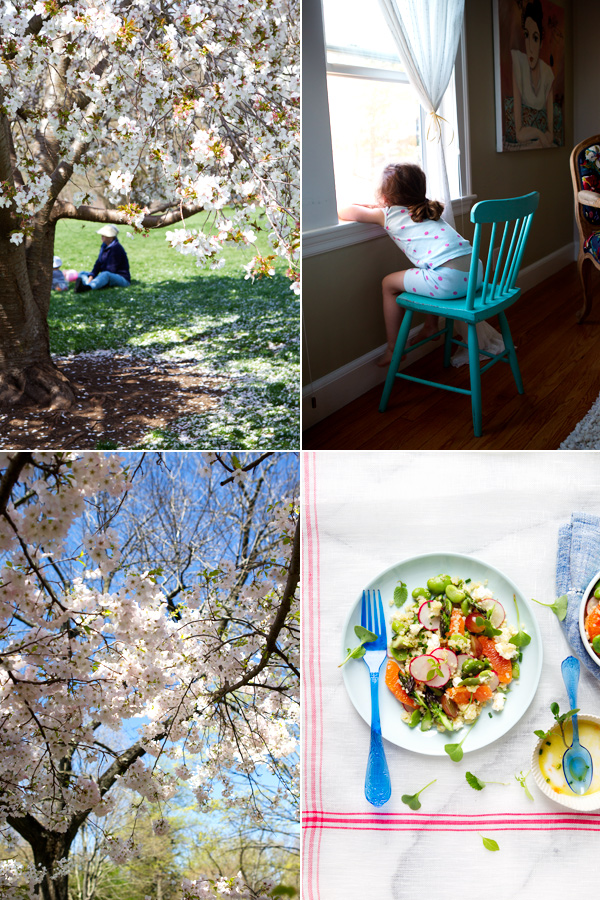 Yesterday, as I walked into the kitchen with a hungry belly after a morning spent in the garden to plant, I looked for a quick solution for lunch. I had a bowl of blanched fava beans kept for another cooking project, and local asparagus bought the afternoon before. Quinoa, I knew, would be fast to prepare.
There, I saw the promise of a spring-like salad.
A nutritious one-in-all salad for lunch.
That's where it started.
And the next day, I repeated it.
Because it left me exactly as anticipated.
Happy and fullfilled.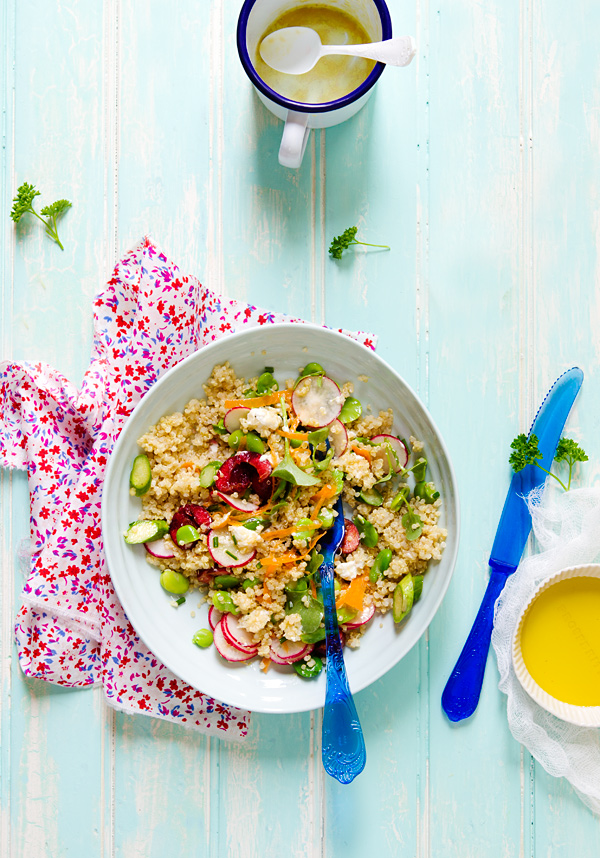 Another Quinoa Salad
Quinoa Salad–Lunch for One

You need:
Olive oil
4 green purple green asparagus, sliced
1 garlic clove, finely minced
Sea salt and pepper
1 tablespoon lemon Juice (from 1/2 lemon)
1 teaspoon tahini
1 teaspoon chopped chives
1 teaspoon chopped parsley
1 cup (160 g) cooked quinoa
1/3 cup (60 g) blanched and peeled** fava beans
1 punces (30 g) red grapes, halved
1 orange, peeled and sliced in fine membranes (without the white skin)
3 pink radishes, finely sliced with a mandoline
1 ounce crumbled fresh soft goat cheese
A few radish shoots (I used some from my garden) or micro greens
Steps:
In a frying pan, heat 1 tablespoon olive oil over medium heat. When warm, add the asparagus. Cook for 1 minute, stirring.
Add the garlic and cook for one more minute–the asparagus need to stay crunchy. Transfer to a bowl and leave to cool. Season with salt and pepper; set aside.
In a small bowl, whisk together the lemon juice and tahini. Season with salt and pepper.
Add 3 tablespoons olive oil and whisk to emulsify. Add 3/4 of the mixed herbs and set aside.
To assemble the salad, in a bowl, toss together the quinoa, fava beans, and asparagus. Add the grapes, orange, radishes, goat cheese.
Toss gently with the dressing.
Transfer to a plate and finish with extra fresh herbs and radish shoots.
**Once cleaned, the fava beans only need 1 minute cooking time in boiling water. Cook in ice water bath and then peel from their small shells.