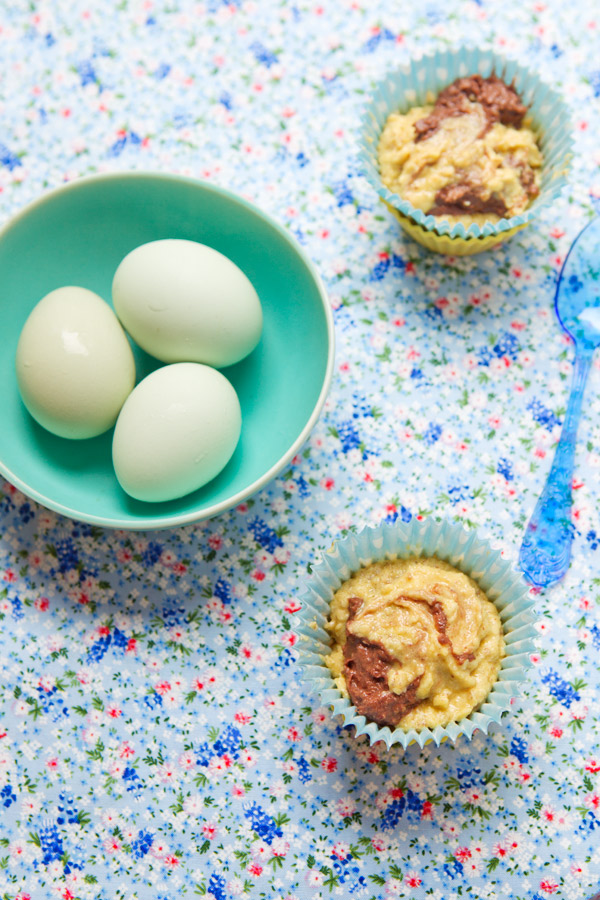 Baking a Marbled Cake
I often find myself with an idea stuck in my head, unable to let go of it until whatever I am imagining comes true. It often has to do with food. A colorful dish that I imagine with a shape and flavor.
Often, it will be about baking a cake.
It's about the magic of baking a cake that makes the house rich with sweet scents of eggs and sugar and butter.
When I was a little girl, my mother used to bake every Saturday. I can vividly remember those Saturdays. Repeating themselves, week after week. By mid-afternoon, she'd have scrubbed the house clean, opening the windows to let some fresh air in. The aromas of her cakes left to cool in the kitchen invariably kept us around. She'd never make one cake only, but two instead. Because two made more sense. They stretched longer in the week, that is, if we were not too greedy and had not eaten them before.
A standard in her kitchen was un marbré au chocolat et à la vanille (a marbled cake with chocolate and vanilla). I liked the chocolate part. My brother preferred the vanilla. We used to cut in a slice, following the lines created by the vanilla and chocolate batters. Each one of us focused on our favorite flavor.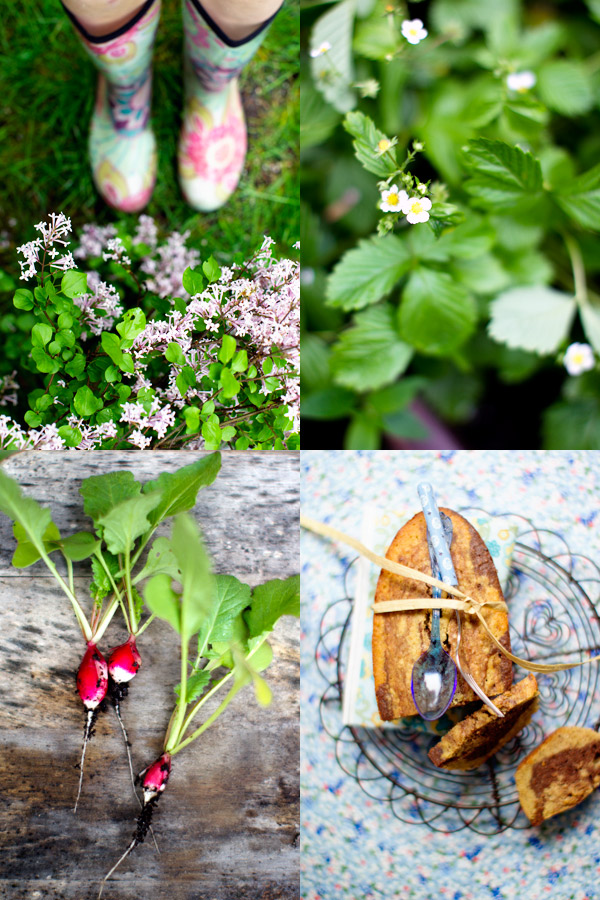 Baking a Marbled Cake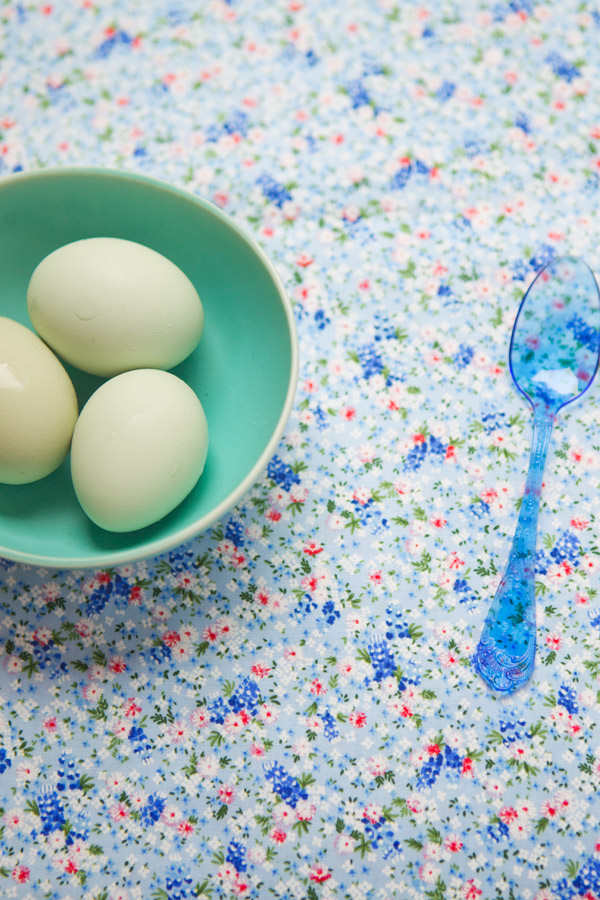 Blue Eggs
For many years, I cooked my mother's marbré following her recipe to the letter. I baked it so frequently that I knew the recipe by heart. When I was in high school, I'd sneak a loaf inside my bag every Monday before leaving for the week. The recipe was printed on a brown feuille de papier bristol (note card) that was part of a set that, I imagine, she must have bought a long time before.
But in the later years, I've enjoyed revisiting the recipe. With different versions.
There was this loaf, baked with white chocolate and Matcha tea–since then, I have a gluten free version for it.
And then this one, closer to the traditional loaf my mother baked. Except that I wanted to make it more nutritious, and filled with some of favorite flours and ingredients.
Unlike my mother's recipe, in which wheat flour only is used, my recipe combines millet flour, quinoa flakes, flax meal, and pecan meal. In hers, she also prefers milk while I like buttermilk better. Using also my favorite eggs.
Ah this cake!
It was love after the first taste. One slice asking for another one. Going unnoticed. Light. Making you feel satisfied.
This is the marbled cake recipe I will leave you with while I travel to France to teach with Lara at Château Ventenac. With a few slices in my bag.
I am really excited to go. Very excited to go to France. Glad to have tasted the first radishes of the garden too.
Last night, I told P. that I was going to what's always going to feel the most familiar.
I was going home.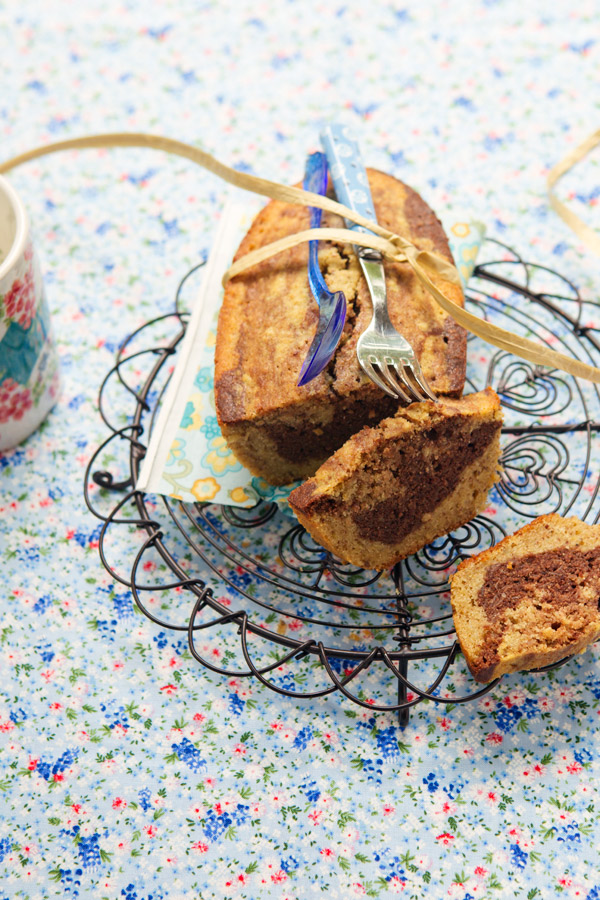 Nutritious Marbled Cake Recipe
Nutritious Marbled Cake Recipe
You need:
1 stick (113 g) unsalted butter, soft + butter for mold
3/4 cup (100 g) millet flour
1/2 cup (60 g) quinoa flakes
2 tablespoons flax meal
1/2 cup (60 g) pecan (or almond or hazelnut) meal
1.5 teaspoons baking powder
Pinch of sea salt
1/2 cup (100 g) blond cane sugar
3 large eggs at room temperature
1.5 tablespoons sifted unsweetened cocoa powder
2 teaspoons pure vanilla extract
1/3 cup (80 ml) buttermilk
Steps:

Preheat the oven to 350 F and butter a bread/cake rectangular mold; set aside (I used a small 8-inch silicone mold and had enough to also make 3 muffins).
In a bowl, combine the millet flour, quinoa flakes, pecan meal, flax meal, salt, and baking powder; set aside.
In the bowl of your stand mixer, combine the butter and sugar. Work on medium to high speed, until creamy.
Add one egg and work well until well incorporated, scraping the sides of the bowl as you go. Repeat with the other two eggs.
Add the vanilla and buttermilk.
Stir in the dry ingredients.
Divide the batter in 2/3 and 1/3 quantities.
Add the cocoa powder to the 1/3 batter.
Add some of the vanilla batter in the mold. Continue with the chocolate and finish with the vanilla. Use a fork to make small design with a fork inside the batter.
Bake the cake for 35 to 40 minutes for a loaf (only 2o to 25 minutes for muffins), or until a sharp knife inserted in the middle of the cake comes out dry. Let cool for 5 minutes before unmolding.
Le coin français
Gâteau marbré nutritif
Ingrédients :
113 g de beurre non salé, mou + pour le moule
100 g de farine de millet
60 g de flocons de quinoa
2 càs de poudre de flax
60 g de poudre de pécanes (ou amandes ou noisettes)
1,5 càc de poudre à lever
Pincée de sel de mer
100 g de sucre de canne blond
3 oeufs à température ambiante
1,5 càs de poudre de cacao non sucré tamisé
2 càc d'extrait de vanille pur
80 ml de lait ribot
Etapes :

Préchauffez le four à 180 C et beurrez un moule à cake rectangulaire (le mien mesurait 20,5 cm et j'ai pu aussi faire 3 muffins).
Dans une jatte, mélangez la farine de millet, les flocons de quinoa, la poudre de pécanes, la poudre de flax, la poudre à lever, et le sel; mettez de côté.
Travaillez le beurre avec le sucre en pommade.
Ajoutez les oeufs, un à un, en bien incorporant le premier avant d'ajouter le suivant.
Ajoutez la vanille et le lait ribot.
Ajoutez les ingrédients secs.
Divisez la pâte en 2/3 et 1/3.
Ajoutez le cacao au 1/3.
Versez de la pâte à la vanille dans le moule. Ajoutez celle au chocolat et finissez avec la vanille. Faites un dessin dans la pâte avec une fourchette.
Faites cuire le gâteau pendant 35 à 40 minutes pour un grand gâteau (seulement 20 à 25 minutes pour des muffins), ou jusqu'à ce que la lame d'un couteau insérée au milieu du gâteau en sort sèche. Laissez refroidir pendant 5 minutes avant de démouler.