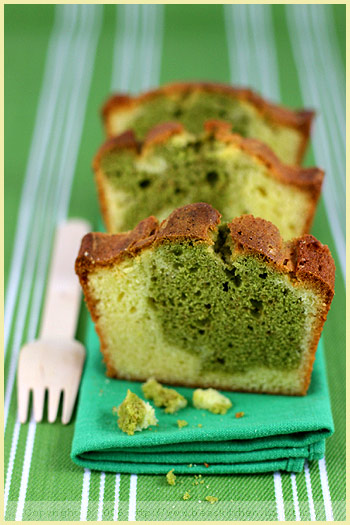 White Chocolate and Matcha Tea Marbled Cake
Every Saturday, besides washing the house floors, doing laundry or simply faire le ménage (doing housework), my mum used to bake a cake. It was a habit of hers. She did not necessarily vary what cake to bake too much, but did we really care? Not really. We were only eight or nine years old, and all that mattered was the buzz word gâteau (cake). She was a master at baking a marbled cake, un marbré. While she prepared the chocolate and vanilla batters in separate bowls, she knew that she would also be annoyed by mon frère B. and moi until she gave in. We would never let go. To the "Maman allez, laisses-en plus dedans !" (come on mum, leave some more!), mum would answer "Je vous préviens, vous allez avoir mal au ventre!" (I warn you, you will have a sore stomach!). What did we want? Quite simple: lick the bowls full of uncooked batter! I was always getting the chocolate, my brother the vanilla.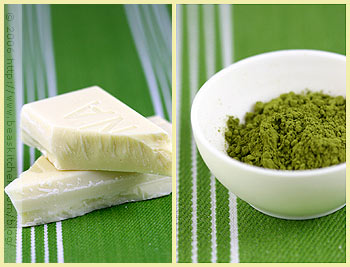 White Chocolate and Matcha Tea
We baked marbré au chocolat et à la vanille (Chocolate Vanilla Marbled Cake) so often that I literally knew the recipe by heart by the age of eight or so. In fact, it was not only one cake we baked but two as we always doubled the ingredients.
Chocolate and vanilla are classic flavors of which, even if seeming boring to some, I just never get tired. They are just that good. It always takes me a lot of time deciding which chocolate and type of vanilla bean to use. I am particularly picky about the chocolate and its cocoa contents — I like it pretty dark — and stick to brands that I like. Quality pays off in the end. Every time I have a slice of marbré, I cannot help by remember my mum's marbré and re-live the times when I would beg to help her making them. "Attends, c'est moi qui le fait !" (Wait, I will do it!)
I thought to follow the marbled cake basic recipe that I know so well but instead of the traditional chocolate and vanilla flavors, I went for white chocolate and matcha tea. It really worked well. Different. Nice with a cup of tea. We can always reinvent tradition with new ideas.

Note: I just saw today that Sigrid posted a similar recipe, which reminded me of this post prepared before Christmas. I love the look of her cake! What a small world!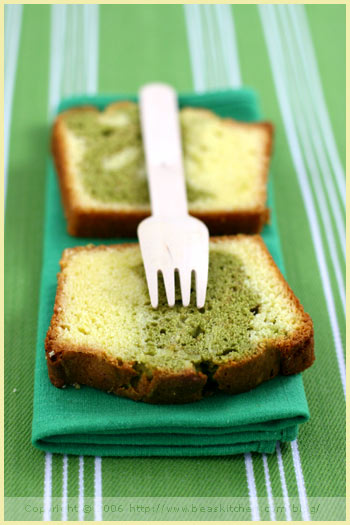 White Chocolate and Matcha Tea Marbled Cake
You need:
3 large eggs (2 oz each)
6 1/3 oz all-purpose flour
2 3/4 oz white chocolate (I used Valrhona)
4 1/4 oz butter
5 1/4 oz fine sugar
1 pinch of salt
1.5 tsp Matcha tea
1 tsp baking powder
Steps:
Melt the butter.
Place the chocolate in a bowl over a pot of simmering water and let simmer until the chocolate is melted.
In the bowl of a stand mixer, place the eggs with the sugar and beat until it is white in color, then remove.
Sift the flour with the baking powder and add it to the egg/sugar preparation, mixing manually with a whisk.
Then add the salt and butter and mix.
Divide the batter in 2/3 and 1/3. Add the melted chocolate to the 2/3 batter and the matcha tea to the 1/3 batter.
Preheat your oven at 350 F.
Grease a rectangular cake pan and add half of the chocolate batter.
Continue with the matcha tea batter and finish with the other half of the chocolate batter.
Take a fork and pass it through the different layers of batter.
Cook your cake for 50 mns, or until the blade of a knife comes out dry when inserted in the cake. Remove from the oven and let cool for a few mns before unmolding.
Le coin français
Marbré au chocolat blanc et thé vert
Ingrédients :
3 gros oeufs (60 g chacun)
180 g de farine
80 g de chocolat blanc (j'ai utillisé Valrhona)
120 g de beurre
150 g de sucre
1 pincée de sel
1,5 càc de thé matcha
1 càc de levure chimique
Étapes :
Faites fondre le beurre.
Faites fondre le chocolat au bain-marie.
Dans le bol d'un mixeur, mettez les oeufs avec le sucre et battez jusqu'à ce que le mélange blanchisse.
Tamisez la farine avec la levure et ajoutez cette préparation sèche au mélange sucre/oeufs. Mélangez avec un fouet, à la main.
Ajoutez la pincée de sel et le beurre. Mélangez.
Divisez votre préparation en deux dans deux bols séparés, 2/3 et 1/3. Ajoutez le chocolat fondu au premier 2/3 et la poudre de thé matcha au bol contenant 1/3.
Préchauffez votre four à 180 C.
Beurrez un moule à cake rectangulaire et versez la moitié de la préparation au chocolat blanc.
Continuez avec la préparation au thé matcha et finissez par le reste de préparation au chocolat.
Passez une fourchette dans le gâteau pour faire un dessin.
Mettez au four pendant environ 50 mns, ou jusqu'à ce que la pointe d'un couteau ressorte sèche. Sortez du four et laissez reposer pendant quelques minutes avant de démouler.

Remarque : Je viens juste de voir aujourd'hui que Sigrid a publié une recette similaire, ce qui m'a rappelé ce billet préparé juste avant Noël. J'adore le look de son gâteau. Quel petit monde !