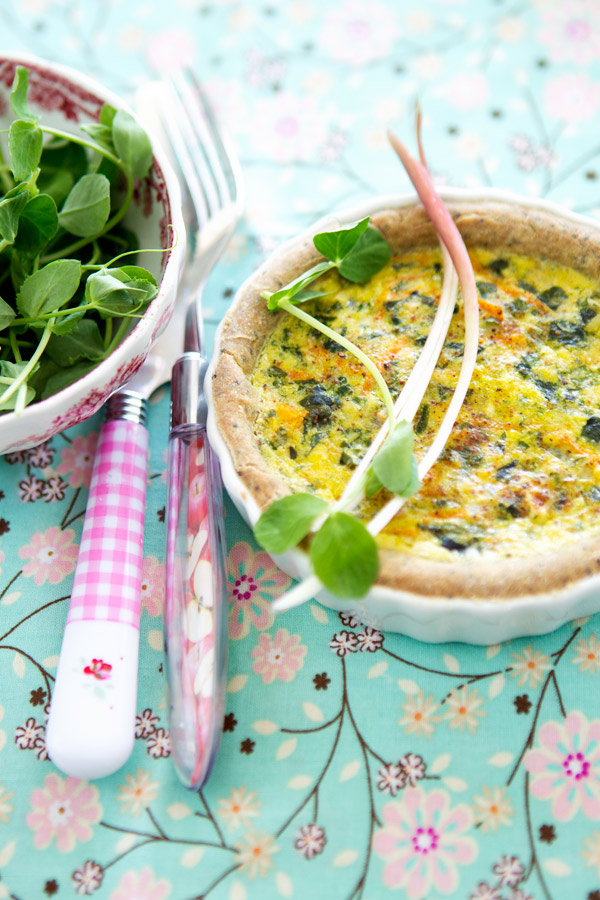 Ramp, carrot, and chicken mini quiche recipe
So here we are. It's been a weekend of gardening, enjoying lunch on the patio, watching the first peonies bloom, going to Yann Tiersen's concert (such a wonderful event that one), choosing a cherry tree to plant, baking pizza, tossing together a spring-like pea shoot salad–and then preparing these ramp, carrot and chicken mini quiches with my recently purchased bunch of ramps.
In truth, the tartlets were initially meant to be sneaked inside our picnic basket on the way to the beach. But that very plan failed. We ate the tartlets minutes after they had just come out of the oven. The aroma they left in the kitchen while baking was too intoxicating– and then we quickly grew hungry after our morning spent working and playing in the garden.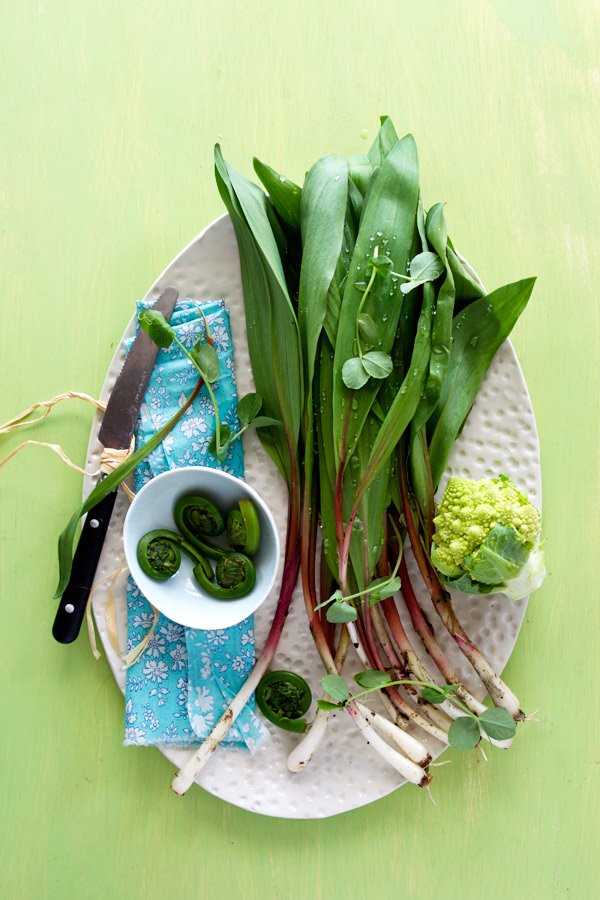 Ramps
I used leftovers of a chicken roasted a few days before. Grated a carrot. Sauteed the vegetables in olive oil with ground coriander and garlic. Added fresh parsley and prepared a small appareil made of eggs, cream and Pecorino cheese. I will leave it to you to tell me what you think.
This quiche recipe is a pretty exciting one! Lulu could not stop eating the crust, more precisely. And while she also enjoyed the rest, oh the crust! We found the tartlets irresistible.
So much so that after a first batch of four, I baked another one. With the hope of another picnic.
I still have another bunch of ramps in the fridge. I know already that what will come next will be inspired by some of your lovely suggestions.
Thank you for that!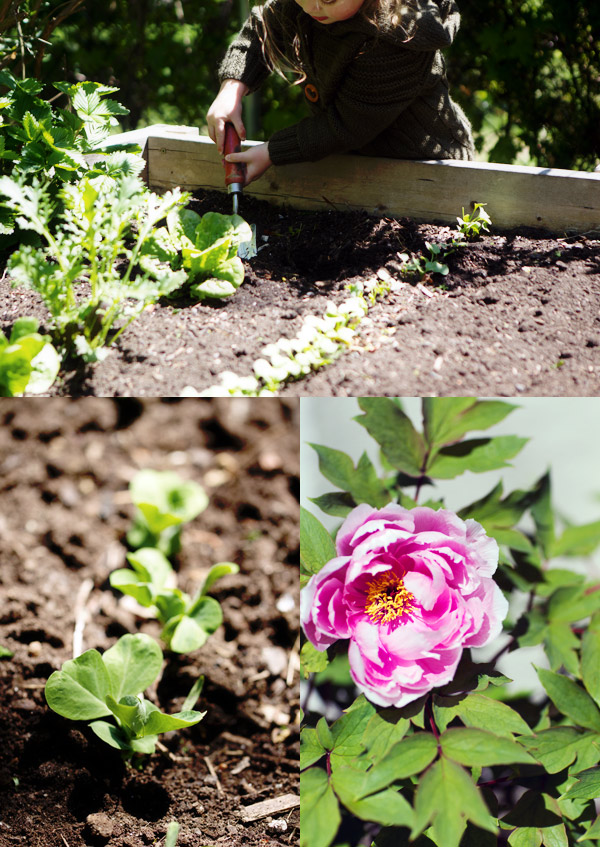 This crust has become one of my favorite everyday crust whenever I bake a savory tart. It's made of a combination of millet, teff and sweet rice flour. Nutritious. With character. I also added poppyseeds for fun and a different twist on a favorite.
Ramp, carrot and chicken mini quiche recipe
6 tartlets
For the crust:
2/3 cup millet flour
1/3 cup teff flour
1/3 cup sweet rice flour
1.5 teaspoons xantham gum
2 tablespoons blue poppyseeds
Pinch of sea salt
90 g unsalted butter, diced
1 large egg
4 to 5 tablespoons cold water
For the garnish:
Olive oil
1/2 teaspoon ground coriander
1.5 cups diced ramps
2 garlic cloves, finely minced
2 carrots, peeled and grated
Sea salt and pepper
3 large eggs
2/3 cup heavy cream (light is fine too)
1/3 cup grated Pecorino
75 g chopped cooked chicken meat
1 tablespoon chopped parsley
Nutmeg to finish
Steps:
To make the crust: combine the flours, xantham gum, poppyseeds, and salt in the bowl of a stand mixer fitted with the paddle.
While working on medium speed, add the butter. Work until crumbles form.
Add the egg and continue to work.
Add the water gradually. Stop when the dough detached from the bowl.
Place in a clean bowl and cover. Refrigerate for an hour.
Then roll the dough and garnish your molds.
Preheat the oven to 375 F and have 6 tartlet molds ready.
To make the garnish: In a frying pan, heat 1 tablespoon olive oil over medium heat. When warm, add the ground coriander and cook for 1 minute.
Add the ramps and garlic. Cook, stirring occasionally, for 2 to 3 minutes, until soft. Remove from the pan.
Add 1 tablespoon olive oil to the pan again and heat. When warm, add the grated carrots. Season with salt and pepper, and cook for 1 to 2 minutes.
Transfer to the bowl with the ramps. Add the chopped chicken.
In another bowl, beat the eggs with the cream. Season with salt and pepper, and add the cheese and parsley. Combine this batter to the vegetables and beat together.
Add the batter and sprinkle with a tad of nutmeg.
Bake the tartlets for 30 minutes. Remove from the oven.
Le coin français
Mini quiche à l'aïl sauvage, aux carottes et au poulet
6 tartelettes
Pour la pâte :
2/3 tasse de farine de millet
1/3 tasse de farine de teff
1/3 tasse de farine de riz glutineux
1.5 càs de gomme de xanthane
2 càs de graines de pavot bleu
Pincée de sel de mer
90 g de beurre non salé, coupé en dés
1 gros oeuf
4 à 5 càs d'eau froide
Pour la garniture :
Huile d'olive
1/2 càc de coriandre en poudre
1,5 tasses d'aïl sauvage haché
2 gousses d'aïl émincées finement
2 carottes, pelées et râpées finement
Sel de mer et poivre du moulin
3 gros oeufs
2/3 tasse de crème fluide
1/3 tasse de Pecorino râpé
75 g chopped cooked chicken meat
1 càs de persil haché finement
Muscade
Etapes :
Pour faire la pâte : mélangez les farines, la gomme de xanthane, les graines de pavot, et le sel dans le bol d'un mixeur à pied.
Ajoutez le beurre et travaillez la pâte sur vitesse moyenne jusqu'à ce que des miettes se forment.
Ajoutez l'oeuf et continuez à travailler la pâte
Ajoutez l'eau progressivement. Arrêtez le mixeur quand la pâte se détache du bol et forme une boule.
Enveloppez la pâte dans un linge ou du film alimentaire et mettez-la au frigidaire pendant une heure.
Etalez-la et foncez les moules à tartelette
Préchauffez le four à 190 C.
Pour faire la garniture : Dans une poête, faites chauffer 1 càs d'huile d'olive sur feu moyen. Une fois l'huile chaude, ajoutez la coriandre et cuisez pendant 1 minute.
Ajoutez l'aïl sauvage et l'aïl. Cuisez, en mélangeant de temps à autre, pendant 2 à 3 minutes. Retirez de la poêle.
Ajoutez 1 càs d'huile dans le poêle et chauffez. Ajoutez les carottes. Asaisonnez et cuisez pendant 1 to 2 minutes.
Transférez les légumes dans le bol et ajoutez le poulet.
Dans un autre bol, préparez l'appareil en battane les oeufs avec la crème. Asaisonnez et ajoutez le fromage et le persil. Mélangez aux légumes/poulet et garnissez les moules (dont le fond est piqué avec une fourchette) de cette préparation.
Ajoutez un peu de muscade sur le dessus.
Faites cuire les tartelettes pendant environ 30 minutes, puis dégustez avec une salade.