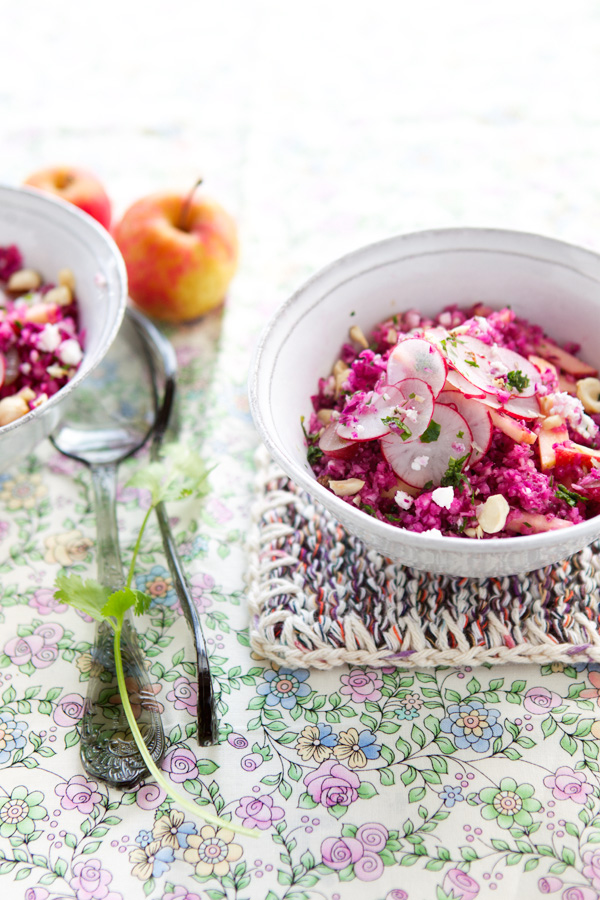 Celeriac, red cabbage and apple tabbouleh with grapes and hazelnuts
I know that I am lucky to live in New England. I am lucky because we have gorgeous distinct seasons, and most particularly, we have pretty colors during the fall.
"Regarde maman, cet arbre est tout rouge ! " (Look maman, this tree is all red!) Lulu exclaimed one day as she and I were driving back from school. It was impossible not to notice. She noticed. I noticed. We were feeling excited and warm inside from just looking at the display of the cheerful colors lining up the road. It looked so happy! Secretly, I wanted for this everyday scene to last for weeks. Until Thanksgiving at least, I thought.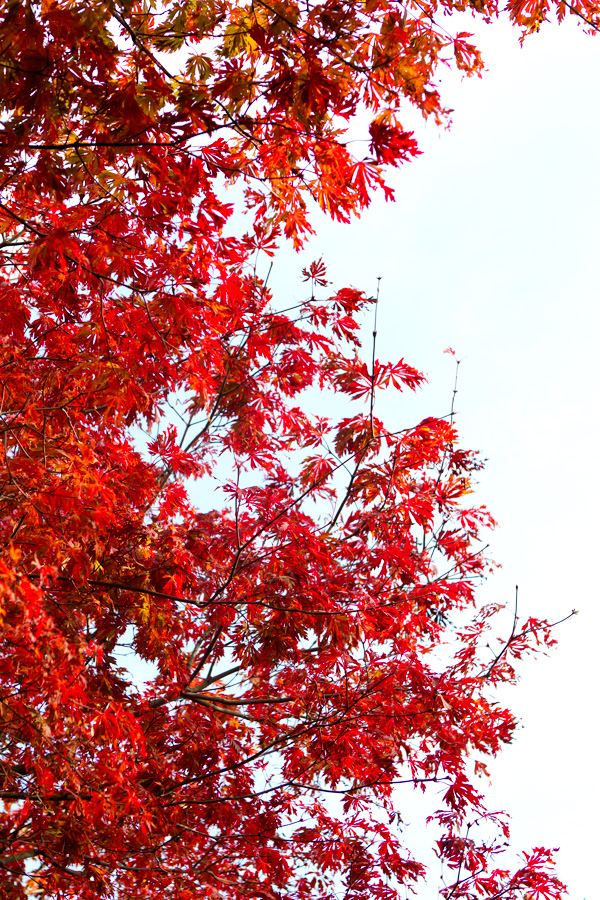 We are actually not far from it happening for real. Beside our unexpected snow storm, the weather in Boston has been mild and beautiful. The farmer's markets have offered amazingly pretty and tasty fall produce: from winter squashes, radishes, apples, fresh ginger, cranberries, sprouts to colorful root vegetables.
It's colorful.
It's inspiring.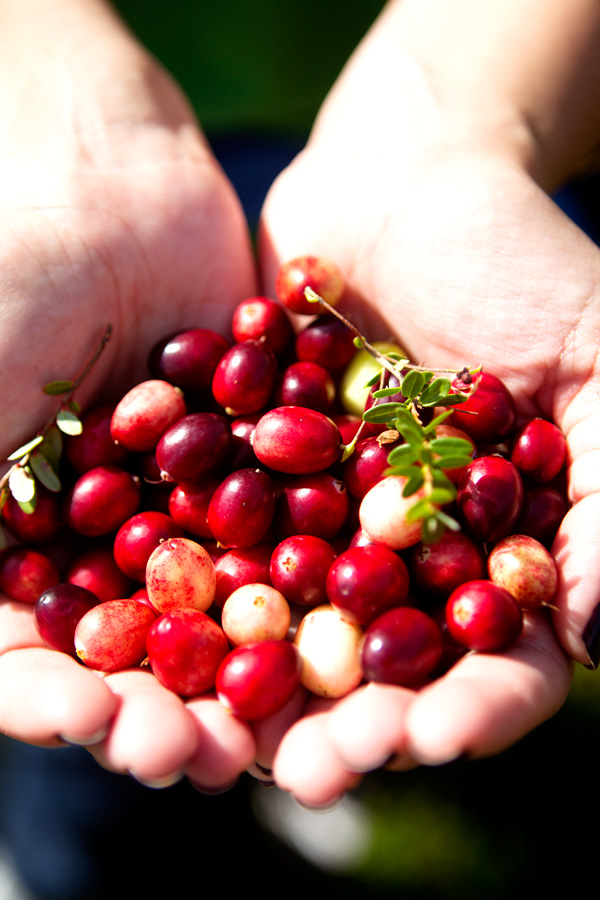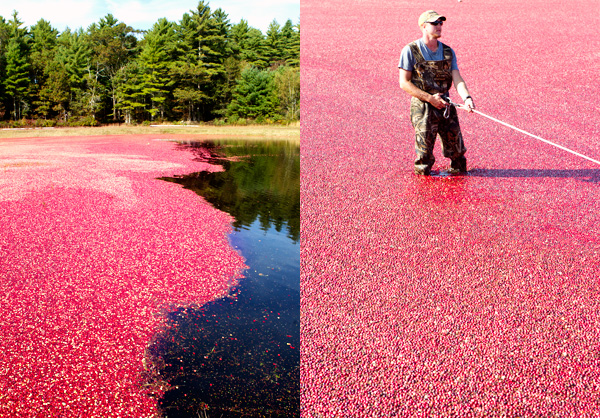 Cranberry picking in New England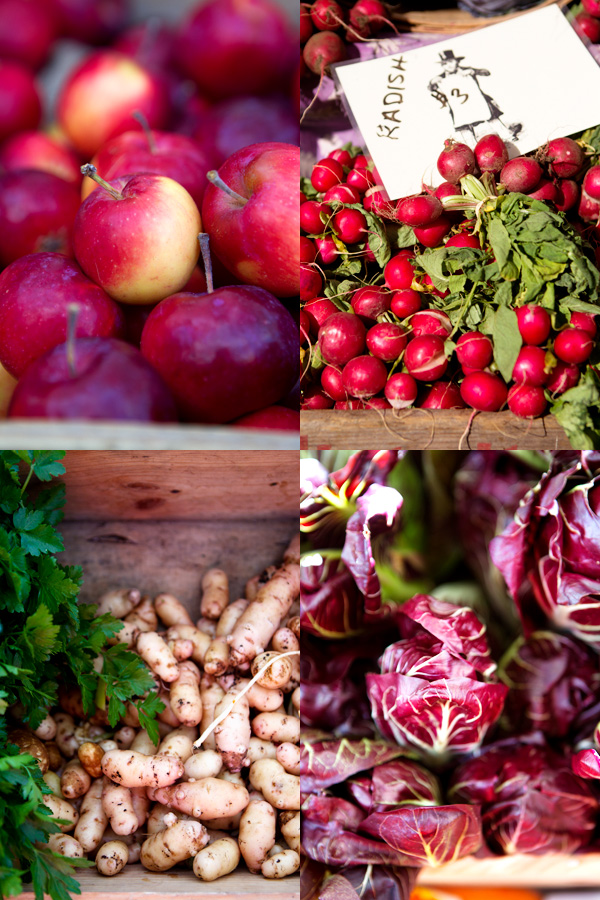 Copley Square farmer's market in Boston
I've not grown up with the Thanksgiving tradition but I've learned to love it. For years, we've been invited to friends' houses who cooked amazing meals. It's during one of these dinners that I most likely ate my first pecan pie ever, wondering why I had never eaten one before.
This year, however, I am hosting the holiday with P.'s parents in the comfort of our own home. And I am really excited about what we will be cooking together.
Sharing and blending different food cultures.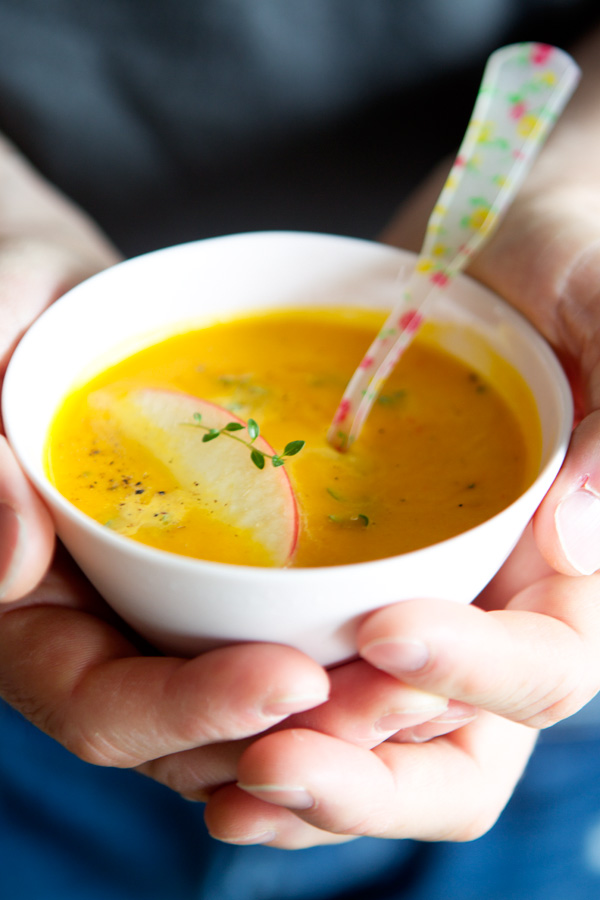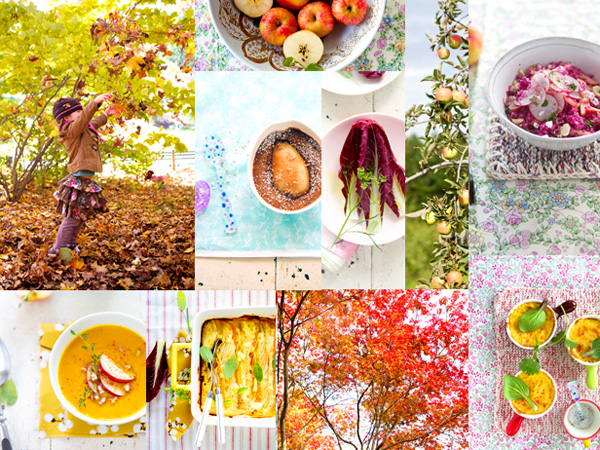 New England in the fall-
A collage to celebrate the Thanksgiving holiday
I've been thinking about it a lot.
A month ago, an editor from Cooking Channel asked that, amongst a group of food writers, I shared my Thanksgiving ideas with a photo collage and a story. I liked the thought. So I said yes.
My Thanksgiving menu is not set in stone yet–still thinking and rethinking, something I'm rather skilled at–but I already know that there will be turkey. Perhaps traditional. And I will prepare a kabocha squash and apple soup, using a favorite recipe of mine that I've made over and over during the years.
This year, our soup will have aromas of ginger, lemongrass, mace and coriander, and I will round the taste with a dash of cream, freshly sliced apples and toasted hazelnuts. We tested it. We loved it.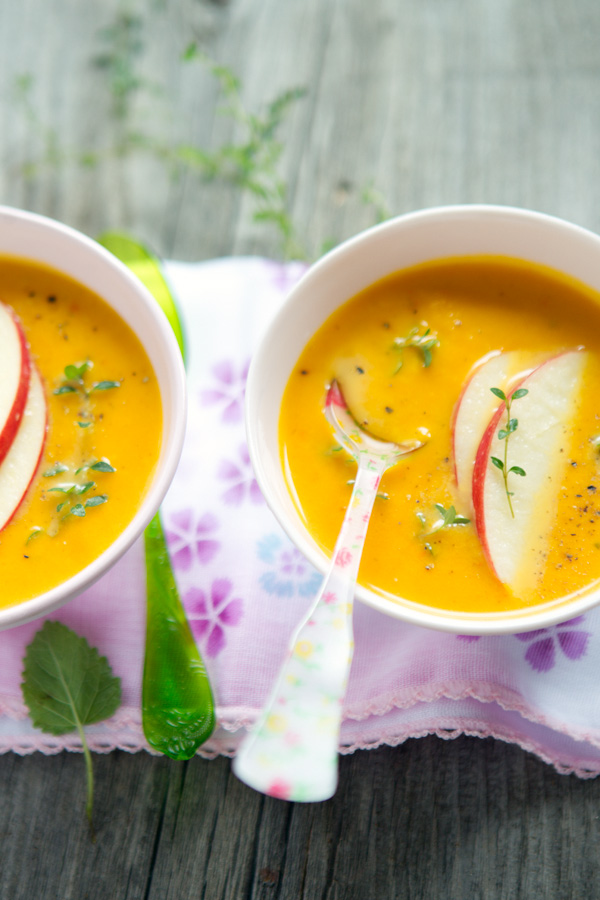 Kabocha squash and apple soup with hazelnuts
I will bake a potato, celeriac, apple and butternut squash gratin. Because a root vegetable gratin celebrates the fall like no other dish does.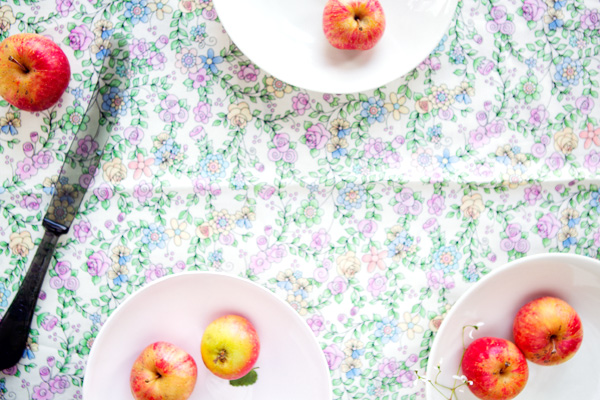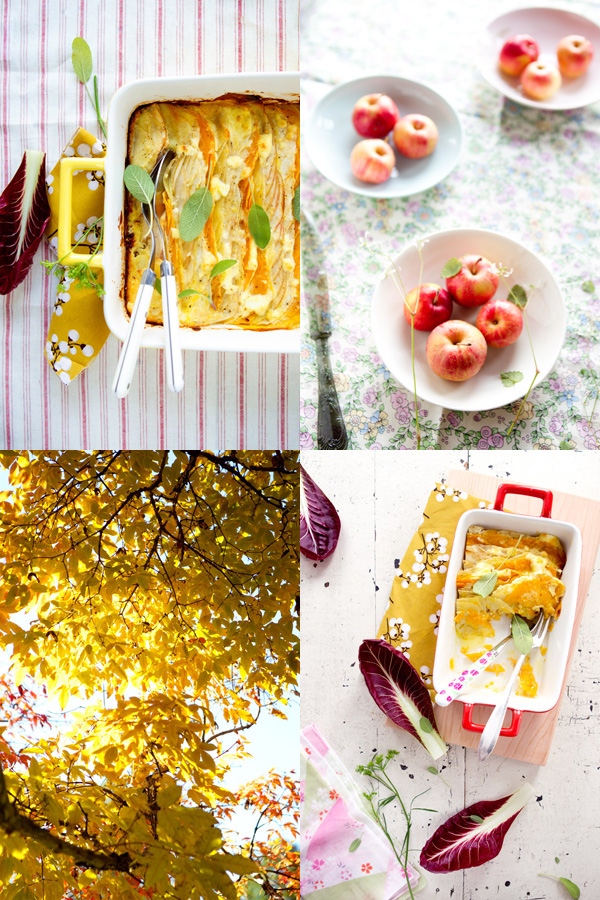 Potato, celeriac, butternut squash and apple gratin
We will eat chocolate, with individual ramekins filled with cardamom-flavored pear and chocolate clafoutis.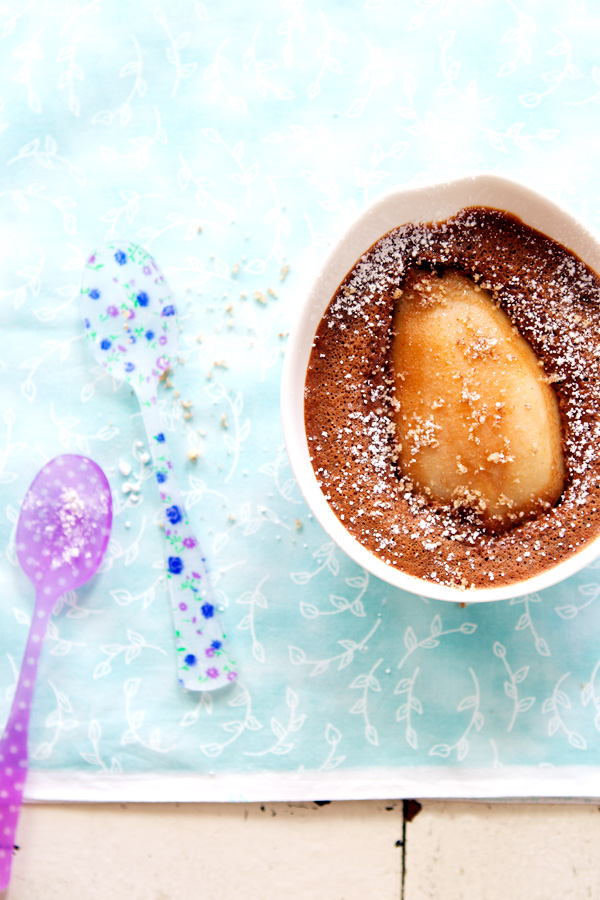 Chocolate and pear clafoutis
And we'll eat salad. A fun colorful salad full of crunch. The first time I made it, I loved it even before trying it.
The thought for this salad came last week after I visited one of my local farmer's markets where I found delicious-looking young heads of celeriac. I knew they had to go in a salad.
What about if I added red cabbage, radishes and apples? I thought while adding a few pieces of each to my basket.
I looked for a name to qualify my newly imagined salad, and because of its finely chopped texture, somehow the word taboulé (tabbouleh) came to my mind. So I dressed the salad with exactly what I would have for a taboulé: loads of aromatic fresh herbs, lemon juice, hazelnut oil and a rich fragrant extra virgin olive oil (I actually used one recently offered to me by California Olive Ranch which I'm enjoying a lot.)
"Yum!" P. said when we sat down at the table to eat lunch. "I love it!"
"Really? Enough to include it to our Thanksgiving dinner?" I asked.
"Sure. It's really surprising and different."
I looked at him and realized it was. And at the same time it wasn't since the French often eat raw celeriac in a salad.
But what I understood was that my unusual tabbouleh would be a wonderful addition to our menu to celebrate gorgeous local fall produce, the Thanksgiving holiday, and my French roots.
Next week, we will feel American. French. Irish. Together.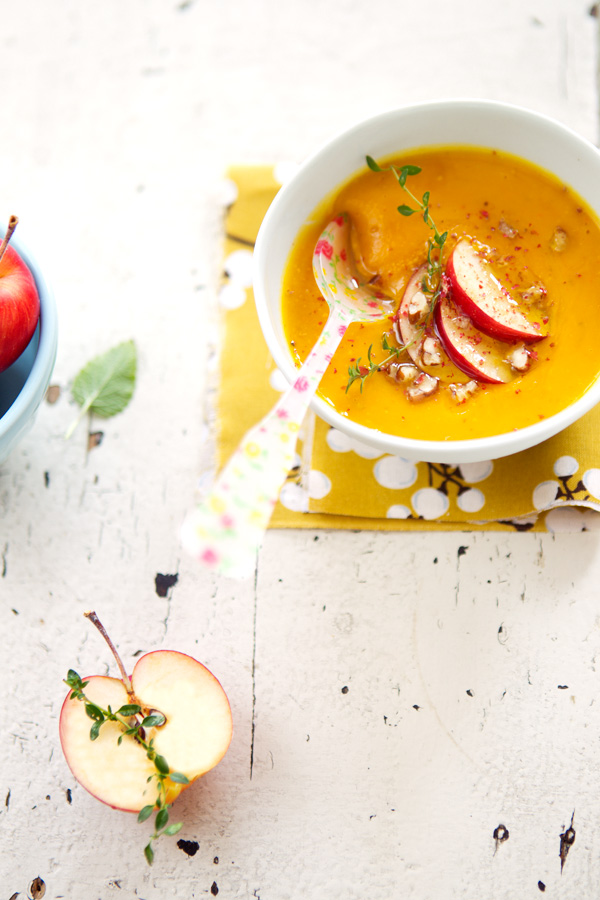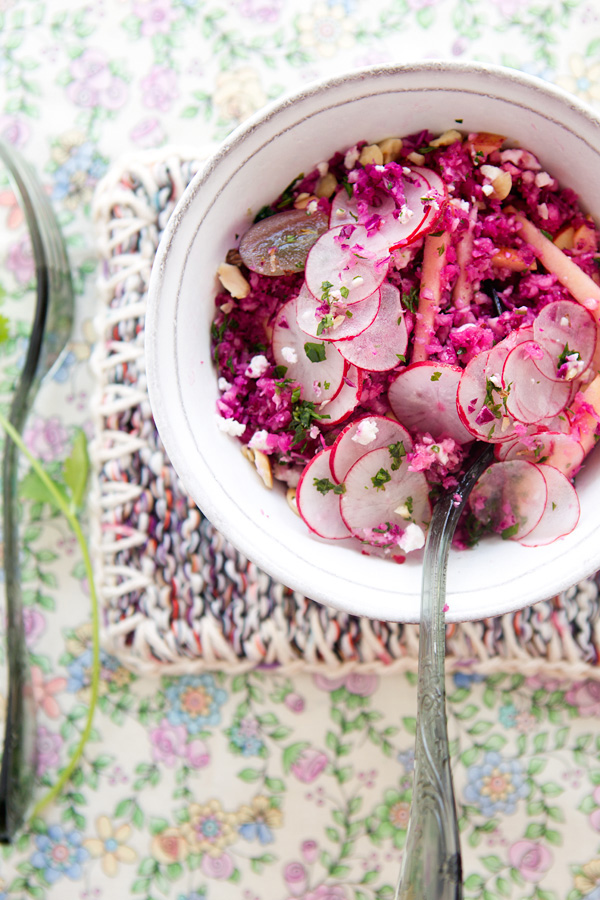 Happy Thanksgiving everyone! What will you be cooking, I wonder?
Does anyone know the name of this beautiful purple berry I found at the Botanical garden a few weeks ago?
Just when I was telling you that colors are simply magical around here at this time of year…
Celeriac, red cabbage and apple tabbouleh recipe with grapes and hazelnuts

(For 4 people)
For the vinaigrette:
Sea salt and pepper
1 teaspoon moutarde forte de Dijon
2 tablespoons white wine vinegar
3 tablespoons hazelnut oil
3 tablespoons olive oil
2 tablespoons chopped mixed parsley, coriander and mint
For the salad:
6.5 oz (180 g) cleaned and peeled celeriac
7 oz (200 g) red cabbage
Juice of 1/2 lemon
1 red apple, cored and cut in thin sticks (choose one with a lot of crunch and firm texture)
10 red grapes, halved
2 oz (60 g) feta cheese, crumbled
6 radishes, finely sliced
To serve:
1/4 cup hazelnuts, toasted and chopped
Steps:
In a small bowl, combine the sea salt, pepper and mustard. Add the white wine vinegar and then the two oils. Whisk to emulsify. Stir in the herbs; set aside.
In the bowl of a food processor, combine the celeriac and red cabbage. Use the pulse option to chop the vegetables finely. Transfer to a bowl and drizzle with the lemon juice.
Add the apple sticks, feta, grapes and radishes. Add the dressing and toss gently.
Top with the toasted hazelnuts and serve.
Le coin français
Taboulé au céléri rave, chou rouge, pommes et noisettes

(Pour 4 personnes)
Pour la vinaigrette :
Sel de mer et poivre du moulin
1 càc de moutarde forte de Dijon
2 càs de vinaigre de vin blanc
3 càs d'huile de noisettes
3 càs d'huile d'olive
2 càs de mélange de persil, coriandre et menthe hachées finement
Pour la salade :
180 g de céléri rave pelé et nettoyé
200 g de chou rouge
Jus d'un demi citron
1 pomme rouge, coupée en fin båtonnets
10 raisins rouges, coupés en deux
60 g de feta émietté
6 radis, coupés en tranches fines
Pour servir :
40 g de noisettes grillées à sec et hachées grossièrement
Etapes :
Dans un petit bol, mélangez le sel, le poivre et la moutarde. Ajoutez le vinaigre de vin blanc et les huiles. Fouettez pour émulsionner la vinaigrette. Ajoutez les herbes et mettez de côté.
Dans le bol de votre mixeur, mélangez le céléri rave et le chou rouge. Utilisez la fonction o Pulser pour hacher les légumes finement. Transférez dans une jatte et arrosez avec le jus de citron.
Ajoutez les båatonnets de pommes, la feta, les raisins et les radish. Ajoutez la vinaigrette et mélangez.
Servez avec les noisettes grillées.