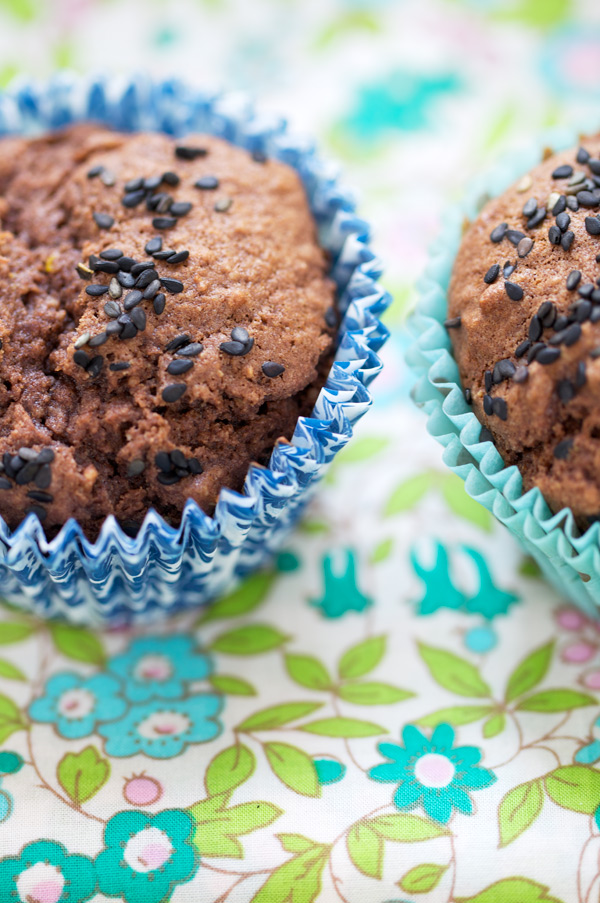 Cocoa and banana muffins with black sesame seeds
"It's a muffin packed with ingredients that will make you feel good," P. said as he was happily nibbling on a muffin with a cup of tea.
Actually. I was the one thinking that.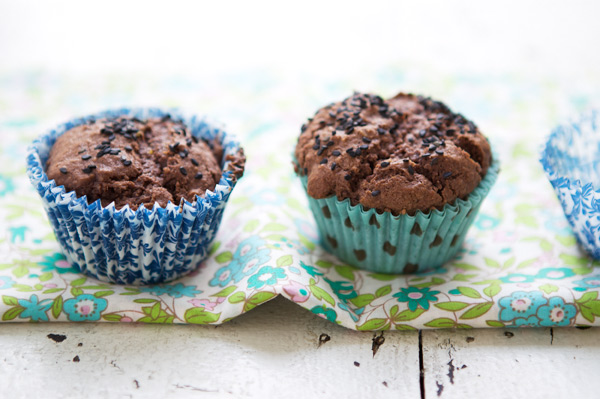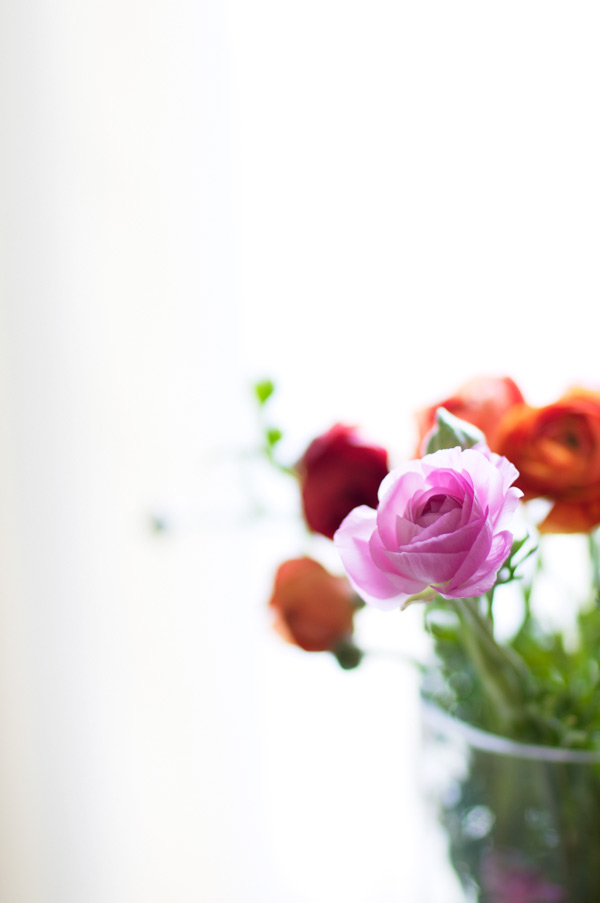 These muffins?
Well, I baked them with that purpose in mind. They needed to taste good. Of course. Have a taste of chocolate. Always. And bananas. Moisture, you know? And use flavorful flours full of nutrients.
Why?
Because I want them to be good for Lulu. And us too. And do you know what? This winter is my first filled with colds and runny noses. I am not used to it. I am told it's what happens when a little one goes to daycare. It's real. It is happening.
But thankfully, there's always homemade foods in our home. To eat and feel well.
These foods always taste better.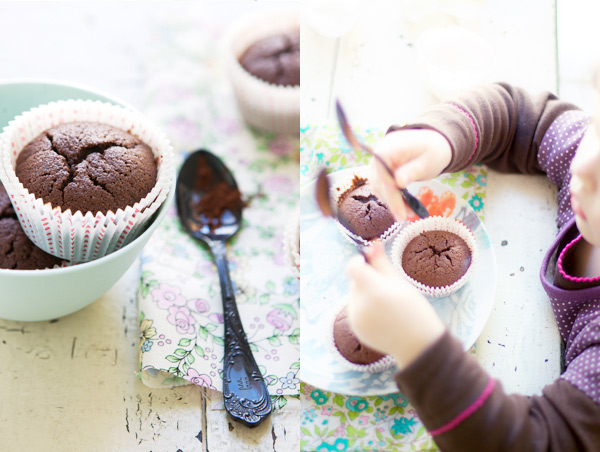 Lulu, who helped to bake, was the first one to agree.
Oh how much I love my daughter girl! She cooks and bakes with me!
It's an honor for my blog to be nominated as one of the Babble's Top 100 2011 Food blogs (in the top 10). Look at these lovely blogs. I discovered so many cute interesting ones. Cast your votes. Thank you for your constant support. You make this blog happen too, you know that, right?
The French recipe will follow shortly…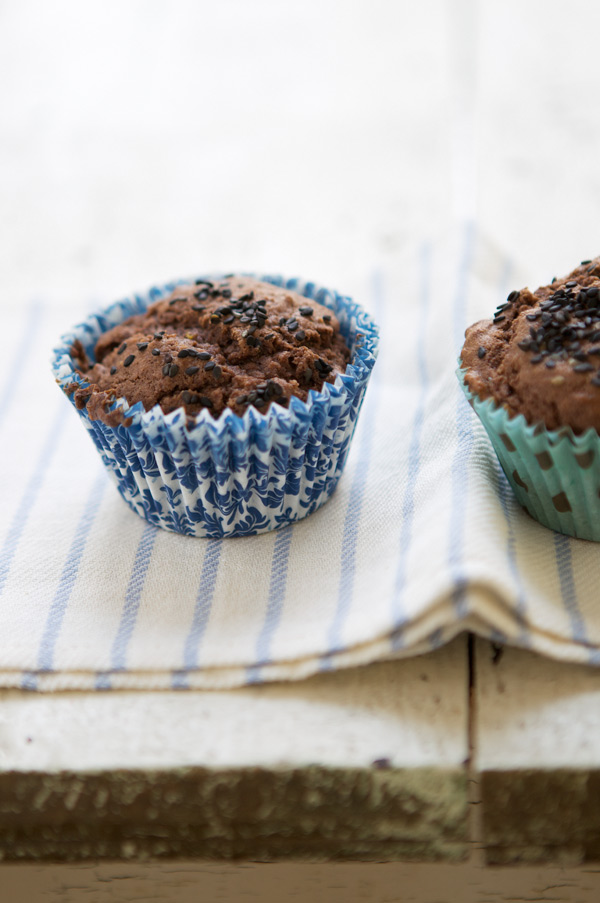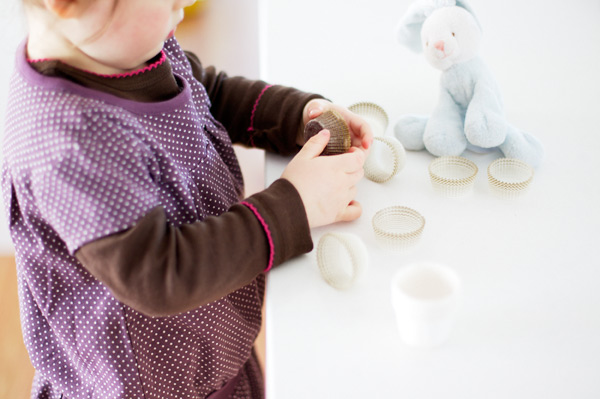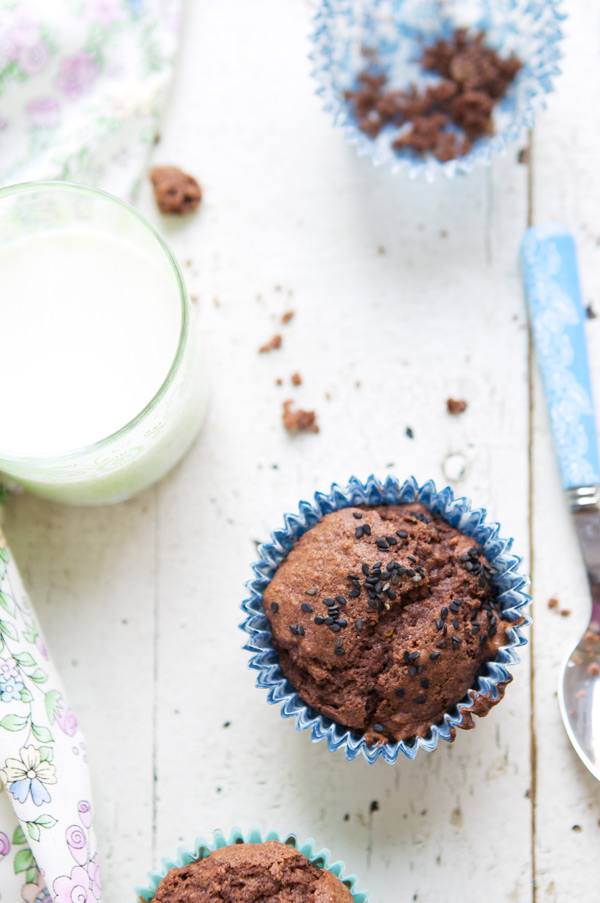 Cocoa and banana muffins with black sesame seeds
Makes 12 muffins
You need:
1 cup millet flour (140 g)
1/2 cup hazelnut meal (50 g)
1/3 cup teff flour (40 g)
1/3 cup brown rice flour (40 g)
1/4 cup quinoa flakes (20 g)
3 tablespoons unsweetened cocoa powder
1 teaspoon baking powder
1/2 teaspoon baking soda
1/4 teaspoon sea salt
2 large eggs
1/3 cup (80 g) blond cane sugar
1/4 cup (30 g) light Muscovado sugar
1 stick (1/2 cup) unsalted butter, melted and cooled slightly
1/3 cup buttermilk
2 teaspoons vanilla
2 large bananas, mashed with a fork
Sprinkle of black sesame seeds
Steps:
Preheat the oven to 350 F and prepare 12 muffin cases; set aside.
In a bowl, combine all the dry ingredients beside the two sugars; set aside.
In the bowl of a stand mixer, combine the two sugars and eggs. Beat until light. Stir in the butter, buttermilk and vanilla extract. Add the mashed bananas.
Add the dry ingredients without overstirring the batter.
Fill the paper cases and sprinkle with black sesame seeds. Bake the muffins for 25 minutes, or until a toothpick inserted in the middle comes out dry.