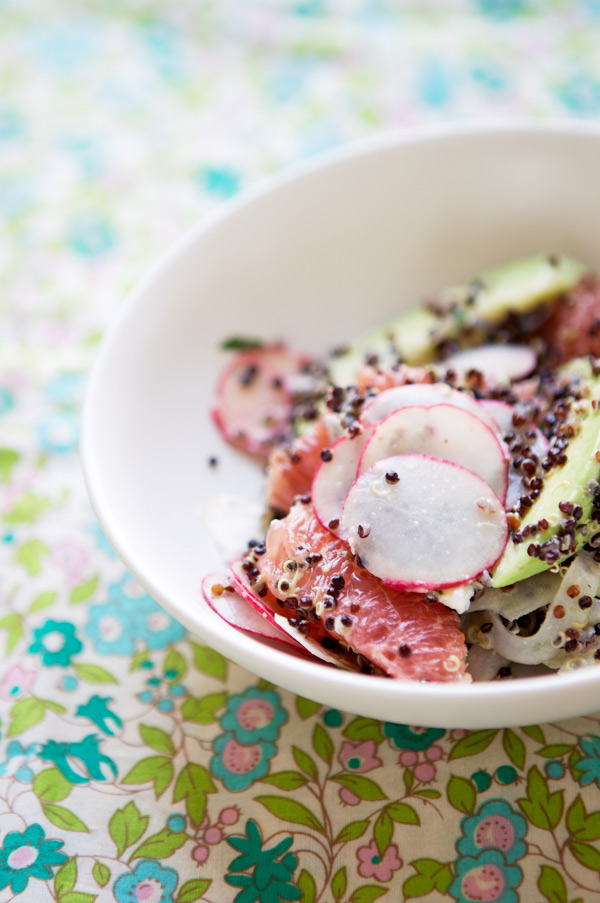 Vitamin-boosted black quinoa salad
That's a solo salad. One that I ate by myself today at lunch. One that followed a craving that started when I woke up this morning and that never ended until my imaginary salad landed on our table.
In fact, I created the salad, lunch, while running this morning. It resonated with black quinoa, vitamins, grapefruit, vegetables, fennel, radish, refreshing and crunchy.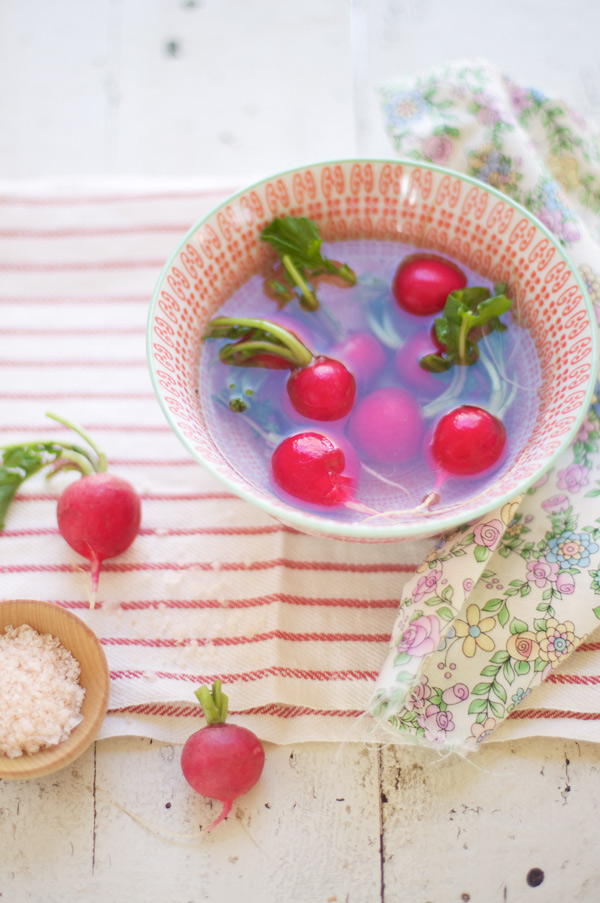 My salad gave me all of these things. And I felt blessed. For the run. My craving. And my vitamin-boosted lunch, as I liked to call it.
Nourishing my body and my soul at the same time.
Which, I must say, was quite welcoming after a night with little sleep during which we looked after our sick sweet Lulu.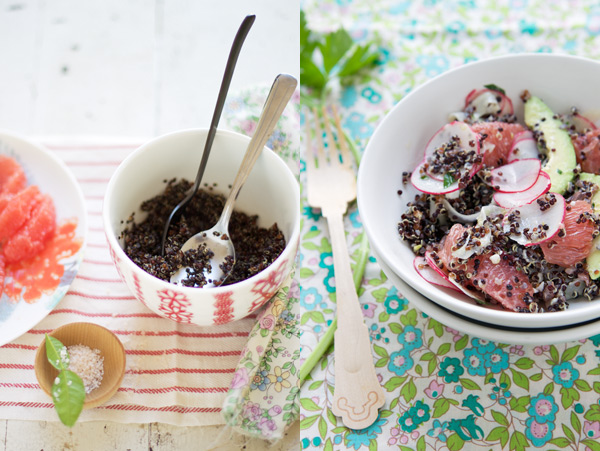 Try the salad! Really. Even if you find yourself alone at lunchtime, at home, or to pack for the office.
I think you'll like it too.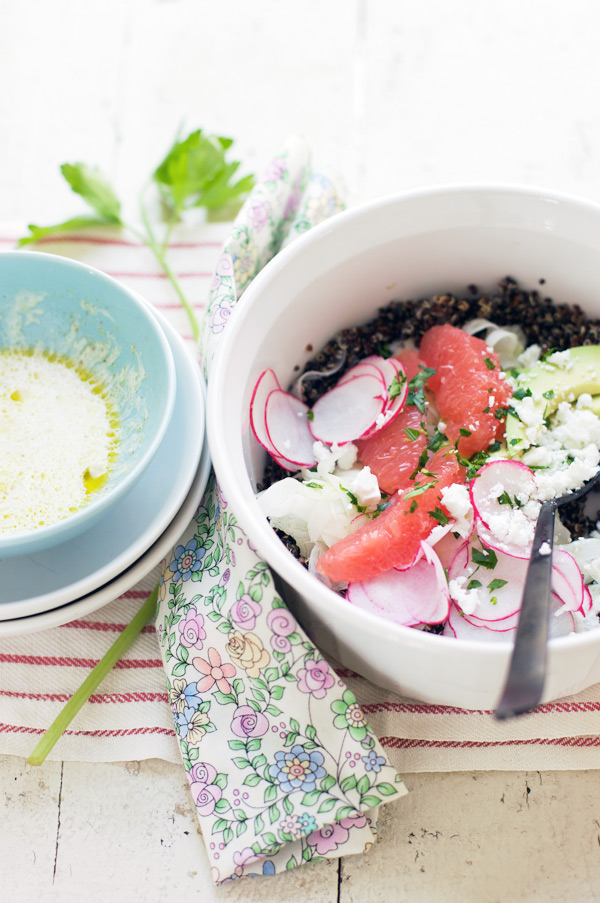 Vitamin-boosted salad with black quinoa, fennel, avocado and grapefruit
(For 1 serving)
You need :
For the salad:
1/3 cup black quinoa
1 kaffir lime leaf
1 pink grapefruit, peeled, white membranes remove and sliced
1/2 avocado, peeled and sliced
1/4 fennel bulb, cored and finely sliced with a mandoline
3 pink radishes, finely sliced with a mandoline
Crumbles of feta cheese (quantity to taste; I added about 2 to 3 tablespoons)
Chopped parsley, to serve

For the dressing:

Sea salt and pepper
Juice of 1 lime
1/4 teaspoon ginger peeled and finely grated
2 tablespoons rich olive oil
1 tablespoon heavy cream
Steps:
Rinse the quinoa and cook it with a kaffir lime leaf, covered, in 2/3 cup salted water. When the water is absorbed, stop eht heat and let rest for 5 minutes. Fluff with a fork and transfer to a bowl, discarding the kaffir lime leaf, to leave to cool.
In the meantime, in a large bowl, combine the slices of grapefruit, avocado, fennel, radish and toss gently.
Make the dressing by adding ingredients in this order: salt, pepper, lime juice, ginger, olive oil. Emulsify with a small whisk and finish with the heavy cream; keep aside.
Add the quinoa with the feta (to taste) and parsley to the vegetables and fruit. Toss gently with the dressing and serve
Le coin français
Salade au quinoa noir vitaminée
(Pour 1 personne)
Ingrédients :
Pour la salade :
50 g de quinoa noir
1 feuille de kaffir
1 pamplemousse rose, pelé à vif, parties blanches enlevées et coupé en tranches
1/2 avocat, coupé en tranches
1/4 bulbe de fenouil, coupé en tranches très fines avec une mandoline
3 radis roses, coupés en tranches très fines avec une mandoline
Feta émiettée (quantité selon goût; j'ai ajouté environ 2 à 3 càs)
Persil haché, pour servir

Pour la vinaigrette:

Sel de mer et poivre
Jus d'1 citron vert
1/4 càc de gingembre finement râpé
2 càs d'huile d'olive fruitée
1 càs de crème liquide
Etapes :
Rinsez le quinoa et faites-le cuire à couvert dans deux fois son volume d'eau salée (environ 12 minutes). Ajoutez-une une feuille de kaffir pour parfumer le quinoa. Au bout de ce temps, l'eau doit être absorbée. Arrêtez le feu et laissez reposer pendant 5 minutes. Puis transférez dans um bol après avoir retirer la feuille de kaffir pour laisser complètement refroidir.
Pendant ce temps, dans une jatte, mélangez les tranches de pamplemousse, se fenouil, s'avocat, et de radis et mélangez délicatement.
Préparez la vinaigrette en ajoutant les ingrédients dans cet ordre: sel, poivre, jus de citron vert, gingembre et huile. Faites émulsionner et ajoutez la crème; réservez.
Ajoutez le quinoa, la feta (au goût) et le persil aux légumes et fruit. Assaisonnez de vinaigrette et servez de suite.