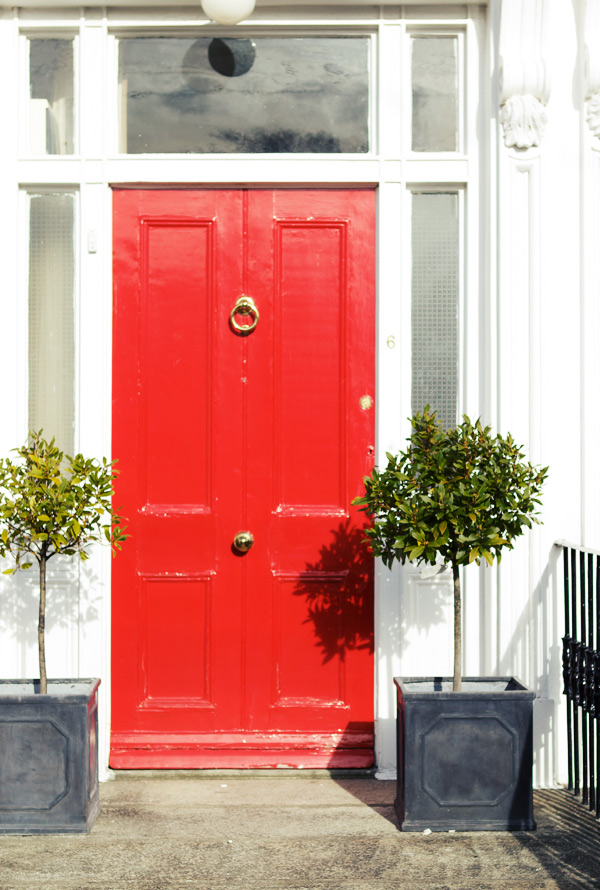 We had five days to embrace it all.
I suppose that many would have thought that traveling to Ireland in early February was insane and crazy. At this point in time. And for such a short stay. Especially with, as it turned out, Lulu who happened to suffer a nasty cold as soon as we arrived.
Okay, maybe it was somehow a little crazy.
But then that was beautiful Ireland where we were going. Europe. With great family times; striking bold colors, mild weather, and this je-ne-sais-quoi outside that always speaks so clearly to my eyes, my camera. My heart.
A piece of home away.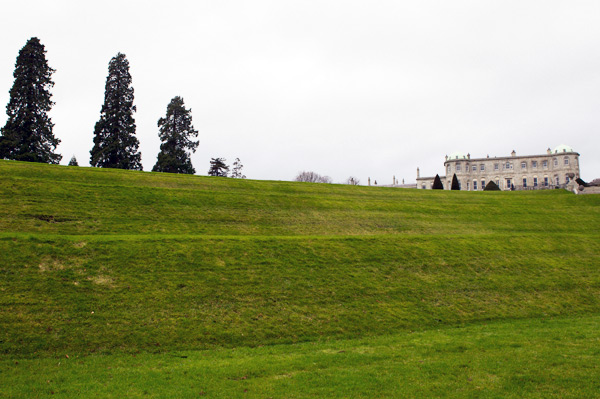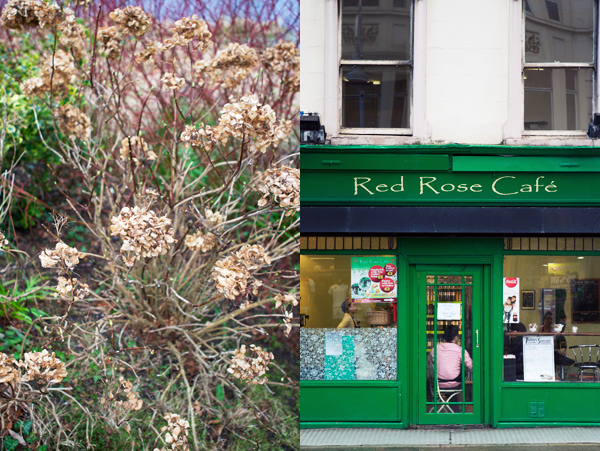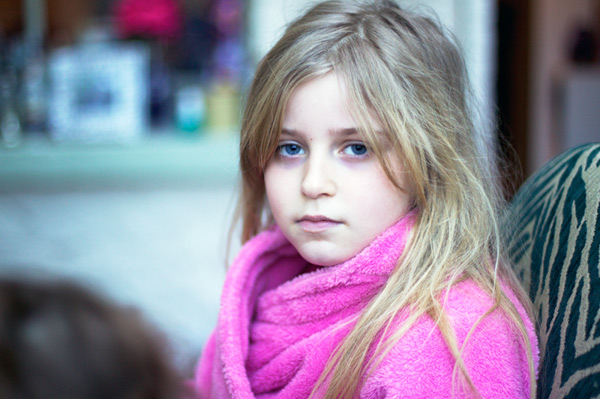 Emily, the Irish cousin
Despite her cold and jet lag, Lulu soaked it all in. It's not often that she is able to see her cousins— she had a lot of fun with them. To start, with Emily. An Irish one. Beautiful. Funny. Playful and cheeky. A wonderful friend to have.
We came to Ireland to attend a family reunion during which I found myself sitting at a table with thirty Irish relatives–some of whom I knew, some who were new. I was glad to meet Odette again, the other French woman part of the family.
"Ça fait du bien de parler français, non ?" (It feels good to speak French, right?) I told her as we stood in church after the ceremony. She smiled. Words were flowing more easily. "Oh, you've already found a French mate," someone joked as he walked by us.
Of course, that day, in the true Irish tradition, we ate lamb and gravy and potatoes and salmon.
"What's the soup?" I asked the waitress who was taking our orders and inquiring about appetizers first. "Vegetables!" she answered in a thick Irish accent I didn't recognize.
"Vegetables!" I repeated in a low voice to myself, in the hope of understanding better what that was supposed to mean. P. was sitting near me and heard her too. He looked at me and laughed. "I'll take the vegetable soup then", I replied, smiling. The soup was simple and vegetabl-y, even if in the end, I never managed to tell what vegetables were in it.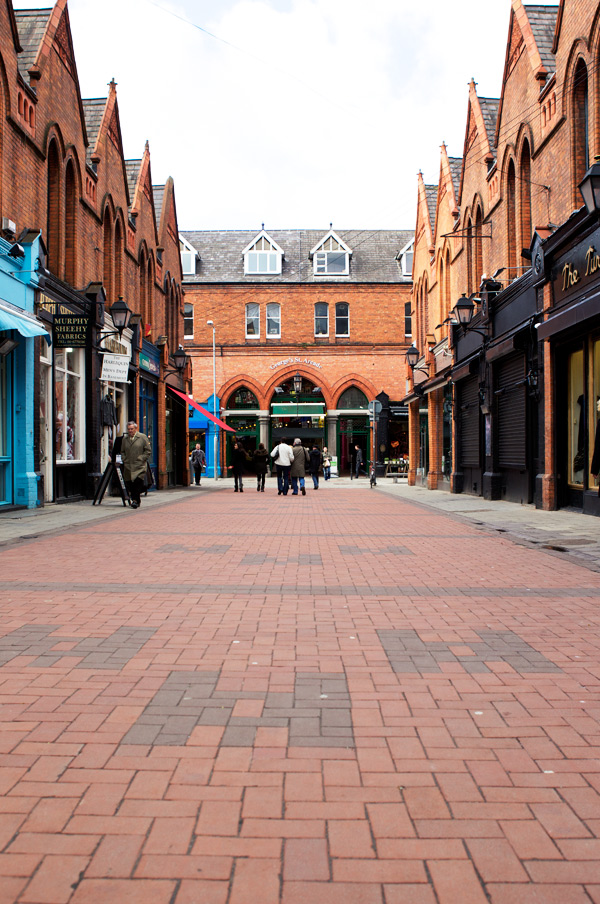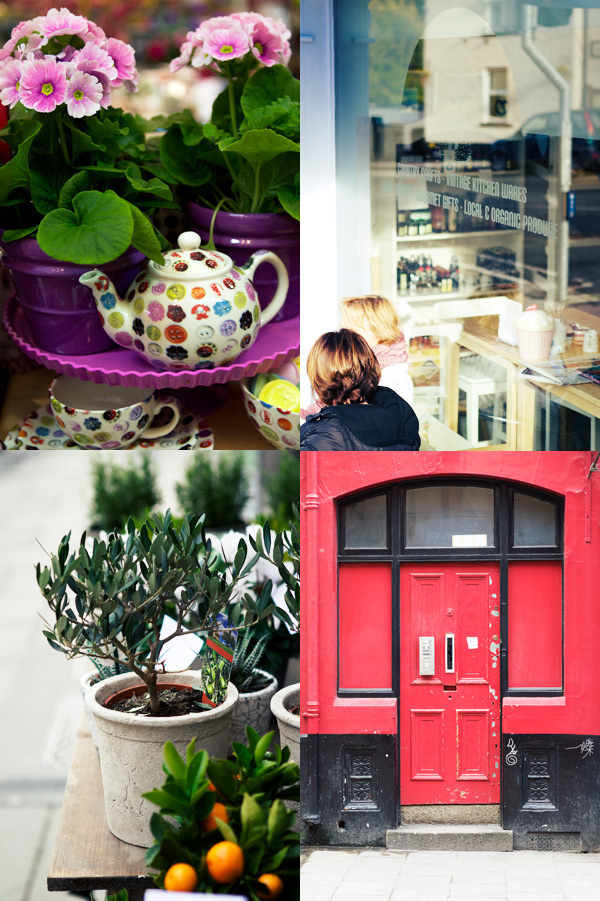 The few days that followed were filled with an afternoon in Dublin, a walk in Powerscourt Gardens, playing with Charlotte and Penny the cats, and more family dinners that, I knew, were going to turn into good memories in the coming years.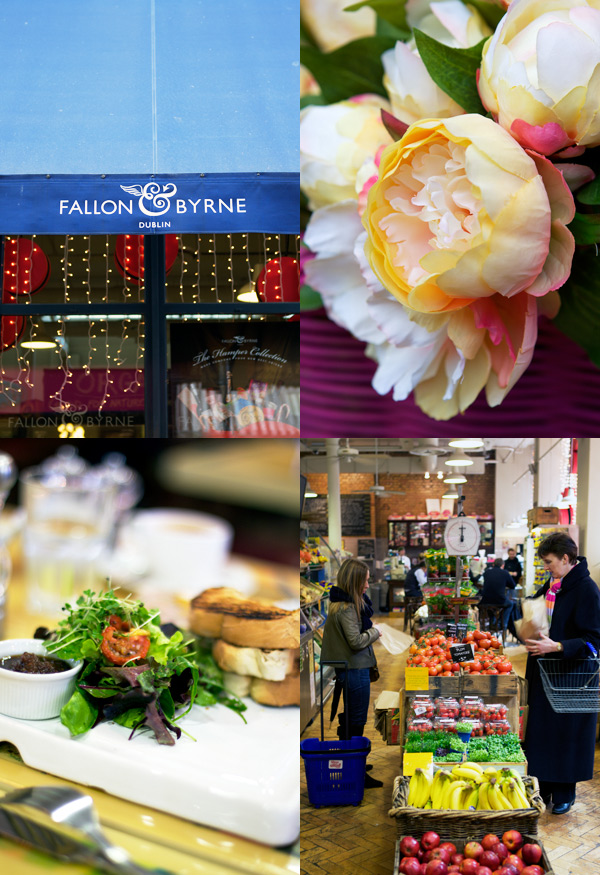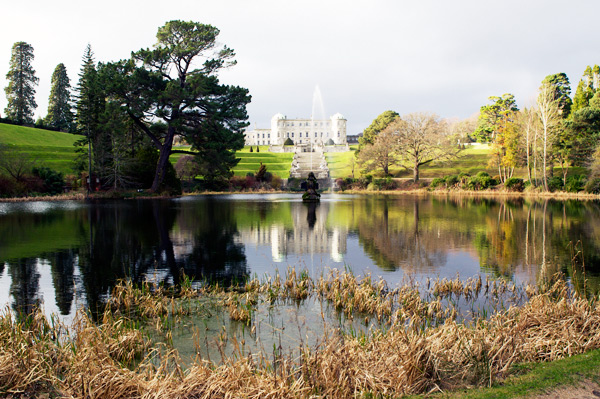 Powerscourt Gardens, Ireland
We started with Dublin.
A lovely afternoon. A little drizzly but with pleasant spells of sun. I wanted to visit Fallon and Byrne for its choice of foods; Avoca for its selection of housewares and its café where we ended up enjoying a lunch of soup, ravioli and salads.
"I love all the colors of the buildings!" I told Kelley, P's cousin, as we were walking the streets of Dublin. I noticed bold red and lime green painted doors; striking orange pavements and gray churches reminiscent of years of history; flowers and plants making the streets cheerful despite the light rain.
By late afternoon, we decided to stop at Butlers' for hot chocolate.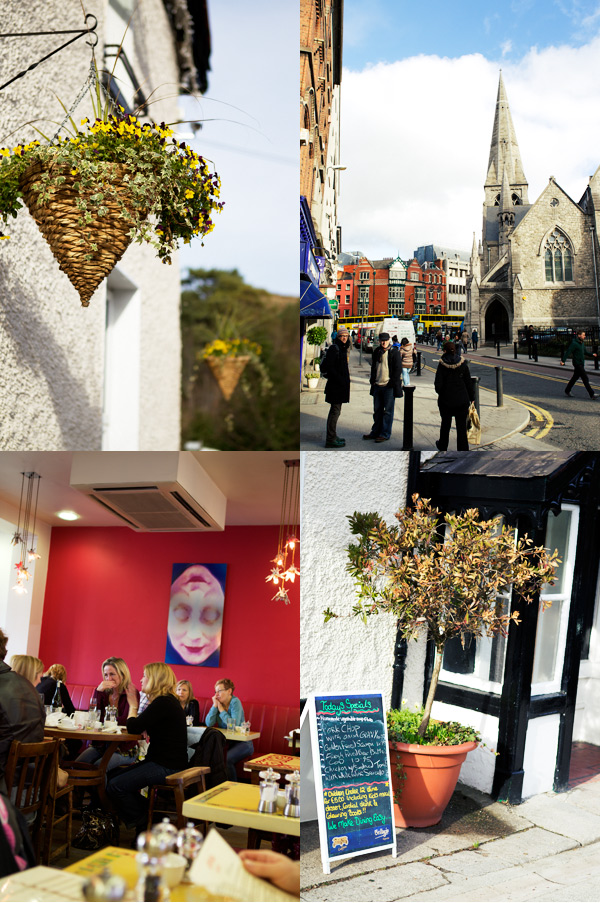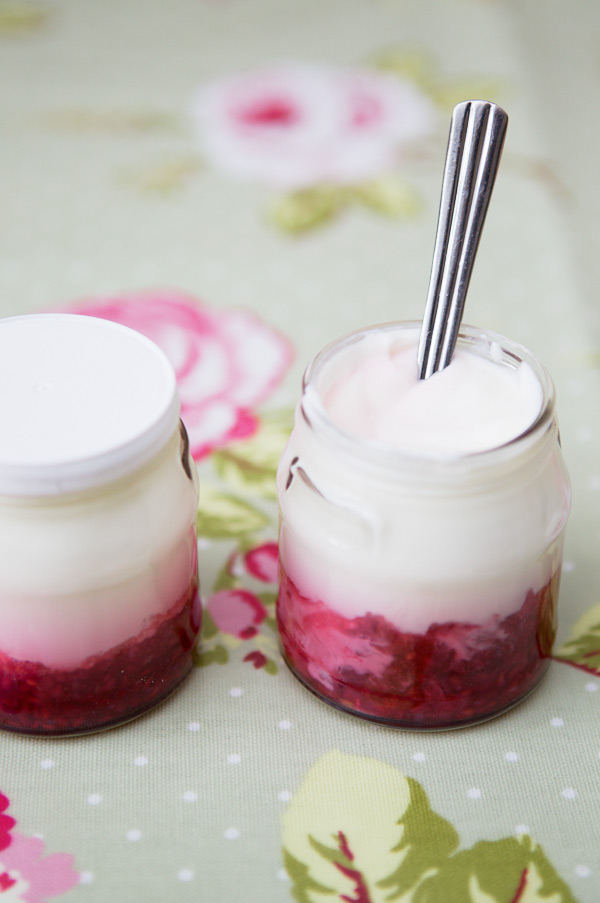 Irish raspberry-flavored yogurts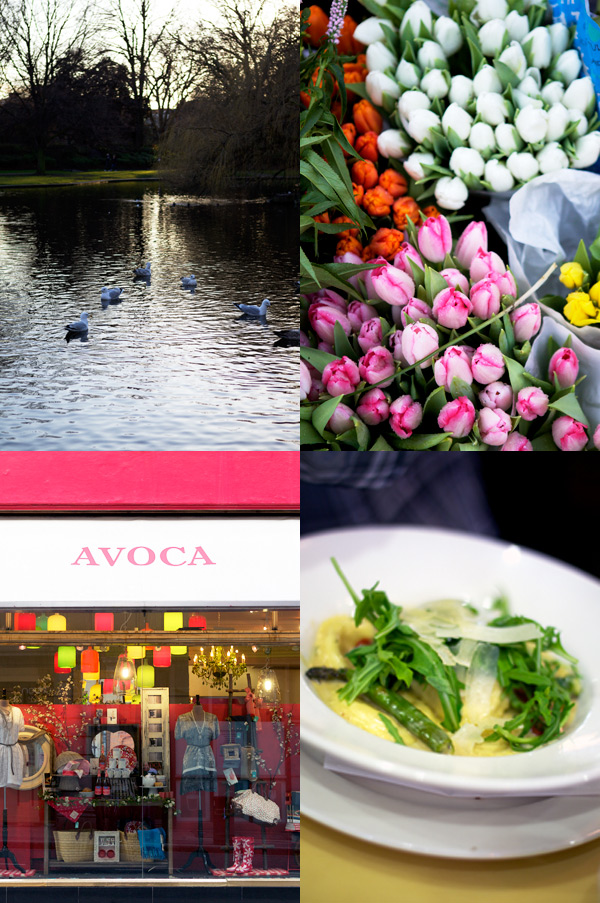 The next day, we took a walk in the fabulous gardens of Powerscourt. In the Irish manner. The trees and flower arrangements looked stunning and our family stroll felt exotic and invigorating. Lulu and her cousin Cait strolled along happily, picking pebbles and playing in small puddles along the way.
"It reminds me of our walk from two years ago", I told cousin Hugo.
It was just Irish and pretty.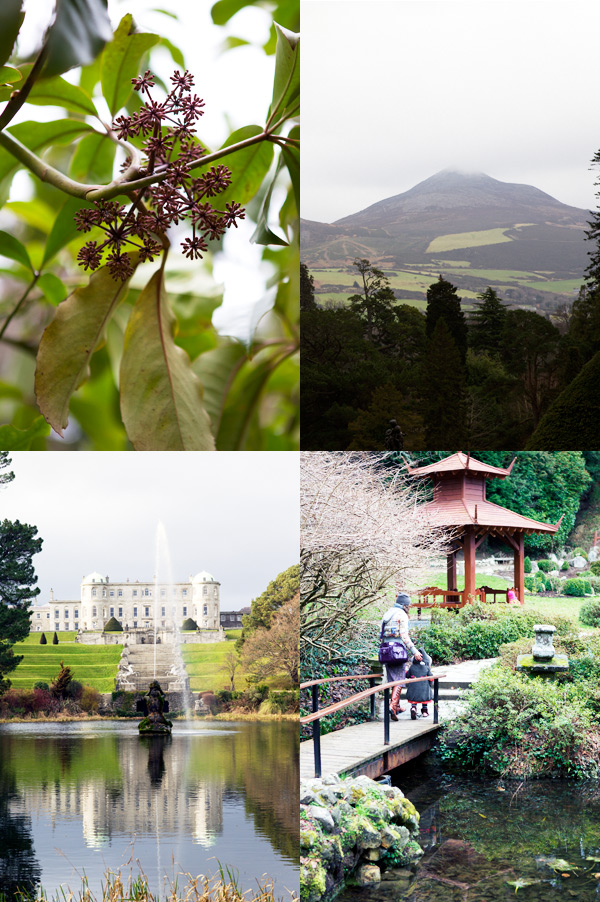 During our stay, we ate brown bread; we had muesli and drank local apple juice in the morning; we enjoyed tasty cheddar and delectable yogurts—oh Irish yogurts, I already miss you so much! And, of course, we sipped many cups of tea while having random conversations about life–okay, I will admit that I still cannot drink tea the Irish way.
One night, when all the cousins came for dinner, we enjoyed a dinner of beef stewed with mushrooms and Guiness, Jasmine rice and salad on the side. The next night, it was a dish of pork roast, chestnuts, potato gratin, lemon tart and almond cake with raspberries that made our bellies happy.
All, always, delicious and homemade.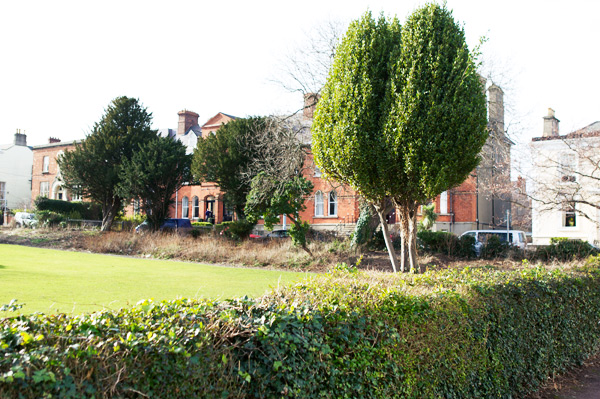 Five days was short and full; exciting and tiring too. I already miss Dublin and the Irish family. Lulu too, I know, especially the cats and Emily.
But I am thankful for the memories and stories we've built there during our short stay.
One of those, in fact, revolved around chocolate too.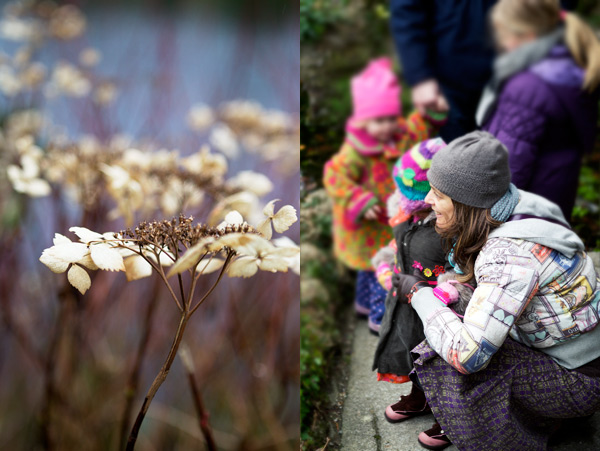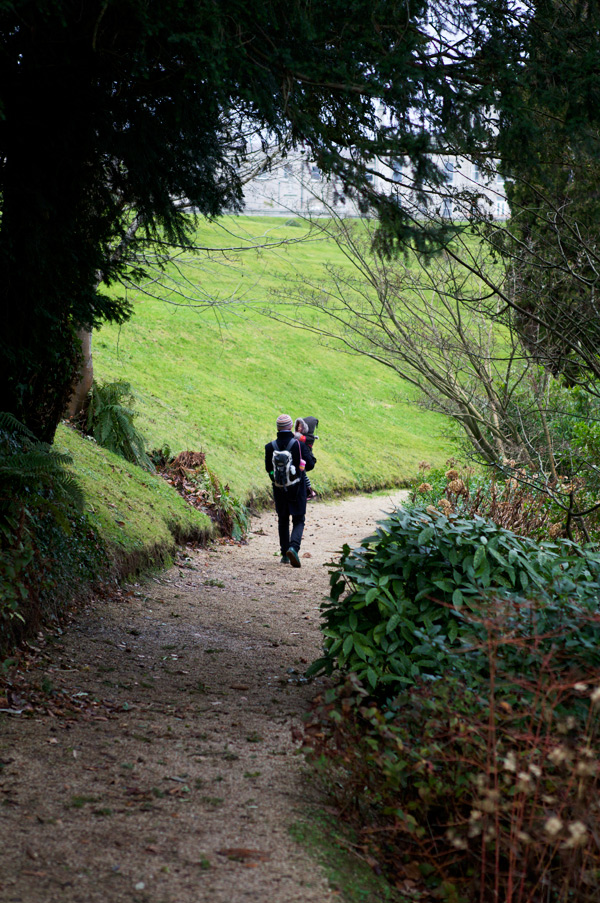 "Tu y crois à cela ?" (Can you believe this?) I told my mother when I called to tell her we were safely home. It happened during one of our usual conversations following a trip overseas.
"Quoi ?" (What?) she asked, intrigued.
"Lulu a appris à dire le mot chocolat en Irlande !" (Lulu learned how to say the word chocolate in Ireland!)
She did.
"Elle dit cola!!" (She says cola) I went on.
At first, I didn't know what Lulu meant when she used the word.
" Cola?" I asked one morning when we were in the kitchen, ready to have breakfast. "What is cola?"
I walked to the counter top and then, suddenly, she proudly pointed at the bar of dark chocolate I had left on the counter top the night before. "Ohhhh chocolat!" I said.
Since then, she's been asking for chocolate at breakfast, lunch and dinner. I think she likes to say the word. She likes that she understands and knows it.
It's irresistible.
And I am afraid that every time she will use it, I will have a hard time saying "no".
How could I really say Non to chocolate?
Hence this was how these chocolate petits pots de crème ended up on our table. For her. For us.
Lulu ate hers plain. I topped ours with tiny pieces of apples sautéed in butter, sugar and vanilla.
Bliss!
You might not believe me if I told you how quickly six jars disappeared in our household.
I blame Ireland for it.
But I like it this way.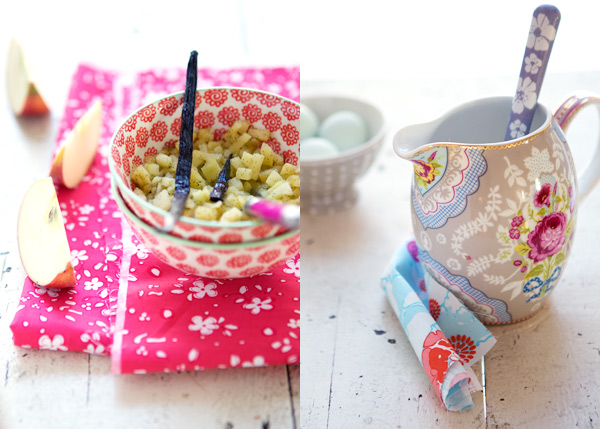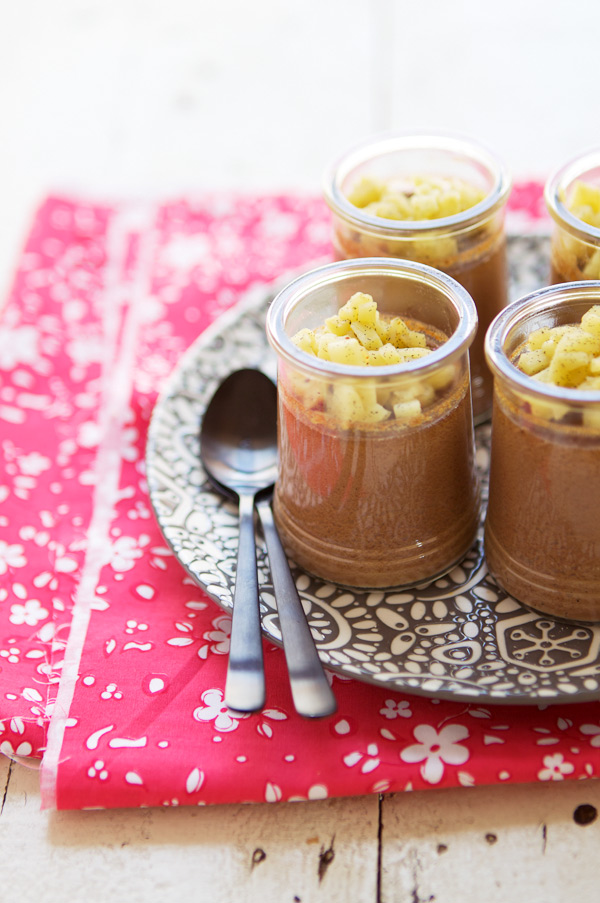 Chocolate petits pots de crème and sautéed apples
Dark chocolate petits pots de crème with vanilla-flavored sautéed apples
(For six 1/2-cup jars)
Appropriate for a casual treat, adult and children alike, or for a special occasion that involves the buzz word chocolate. Monday, Valentine's day perhaps, anyone?
You need:
2 egg yolks
1 egg
1/4 cup blond cane sugar
3 oz (80 g) 64% dark chocolate
1 cup coconut milk
1 cup + 3 tablespoons milk (2 %)
4 cardamom pods
1/2 vanilla bean, split open and seeds scraped out
For the topping:
1 apple, peeled, cored and diced in tiny pieces
1 tablespoon unsalted butter
1 tablespoon blond cane sugar
1 vanilla bean, split open and seeds scraped out
Steps:
For the apples: In a frying pan, melt the butter over medium heat. Add the apple, vanilla bean and seeds and sugar. Cook, stirring occasionally, until soft (about 5 minutes). Set aside.
For the creams: Preheat the oven to 320 F. In a pot, combine the coconut milk, milk, cardamom pods, vanilla bean and seeds. Bring to a simmer (don't boil) and then stop the heat. Cover and let infuse for 30 minutes. Strain, discarding the cardamom and vanilla bean, and return the milk to the pot. Reheat and set aside.
In the meantime, melt the chocolate in a double boiler.
In a bowl, beat the eggs with the sugar and add the milk progressively.
Add the chocolate and stir until homogeneous.
Divide the chocolate cream between six glass jars and place them in a baking dish. Add water half way up to make a water bath. Bake for 30 minutes. Remove and let cool completely. Cover each jar with a piece of plastic wrap and let completely set in the fridge for a few hours, or overnight.
When ready to serve, top each chocolate cream with sautéed apples.
Le coin français
Petits pots de crème au chocolat et pommes à la vanille
(Pour six pots)
Ingrédients :
2 jaunes d'oeuf
1 oeuf
50 g de sucre de canne blond
80 g de chocolat noir à 64%
235 ml de lait de coco non sucré
250 ml de lait demi-écrémé
4 capsules de cardamome verte
1/2 gousse de vanille fendue et grattée
Pour la garniture :
1 pomme pelée, évidée et coupée en très petits dés
1 càs de beurre non salé
1 càs de sucre de canne blond
1 gousse de vanille, fendue et grattée
Etapes :
Pour préparer les pommes : Dans une poêle, faites fondre le beurre sur feu moyen. Ajoutez les dés de pommes, le sucre et les graines de vanille et la gousse. Faites cuire pendant environ 5 minutes sans brunir. Laissez refroidir.
Pour les crèmes :Préchauffez le four à 160 C. Dans une casserole, mélangez le lait de coco, le lait, les capsules de cardamome, la vanille et ses graines. Faites chauffer jusqu'au premier frémissement. Arrêtez le feu et couvrez. Laissez infuser pendant 30 minutes avant de filtrer. Réchauffez et mettez de côté.
Pendant ce temps, faites fondre le chocolat au bain-marie.
Dans une jatte, battez l'oeuf et les jaunes avec le sucre. Ajoutez le lait chaud progressivement tout en continuant à battre.
Ajoutez le chocolat et mélangez bien.
Divisez la crème au chocolat entre les pots et placez-les dans un bain-marie. Faites cuire pendant 30 minutes. Retirez du four et laissez refroidir. Filmez et laissez les crèmes prendre au frigidaire pendant quelques heures, ou toute une nuit.
Pour servir, mettez les dés de pommes sur la crème au chocolat et servez sans attendre.