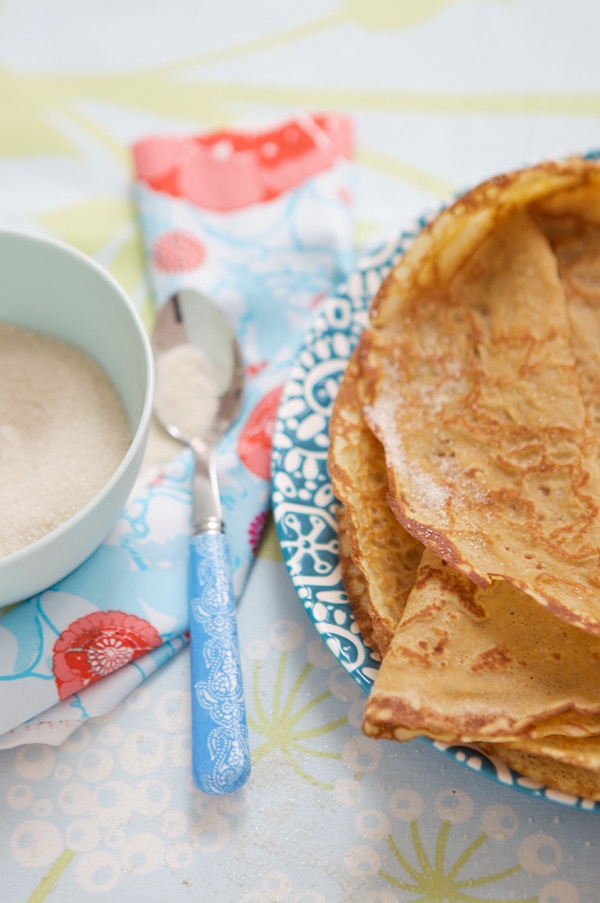 "Tu fais des crêpes aujourd'hui ?" (Are you making crêpes?) my mum asked when she called to ask how we were handling the snow? The snow storm we've had on the east coast had made the news on the other side of the Atlantic, she added.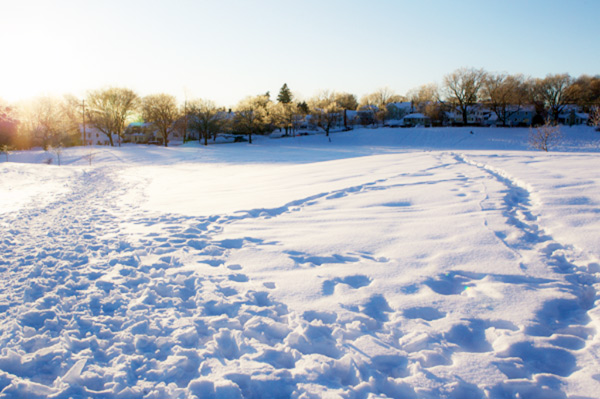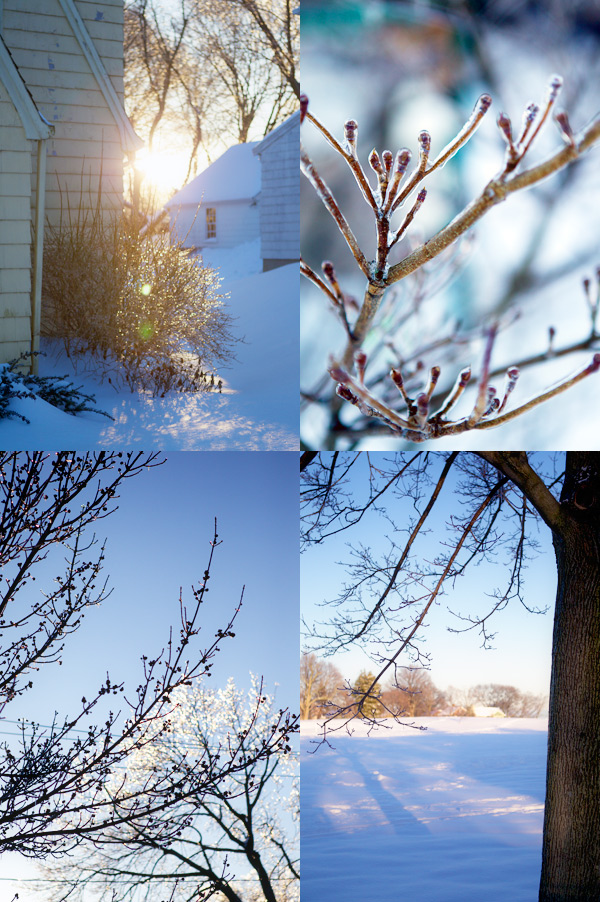 "Pourquoi ?" (Why?) I said.
"C'est la chandeleur aujourd'hui." (Today is crêpe day.)
I had completely forgotten. The 2nd of February. Of course. How could I have forgotten? As a kid, I would never miss the day of La chandeleur.
There goes the French with their love for crêpes.
My brother and I absolutely loved crêpes. And frankly, we never waited for D Day to enjoy them. He and I were masters in the art of having my mother cook stacks of them for us.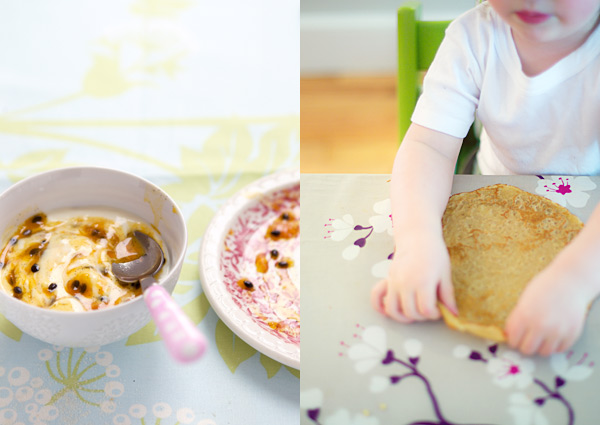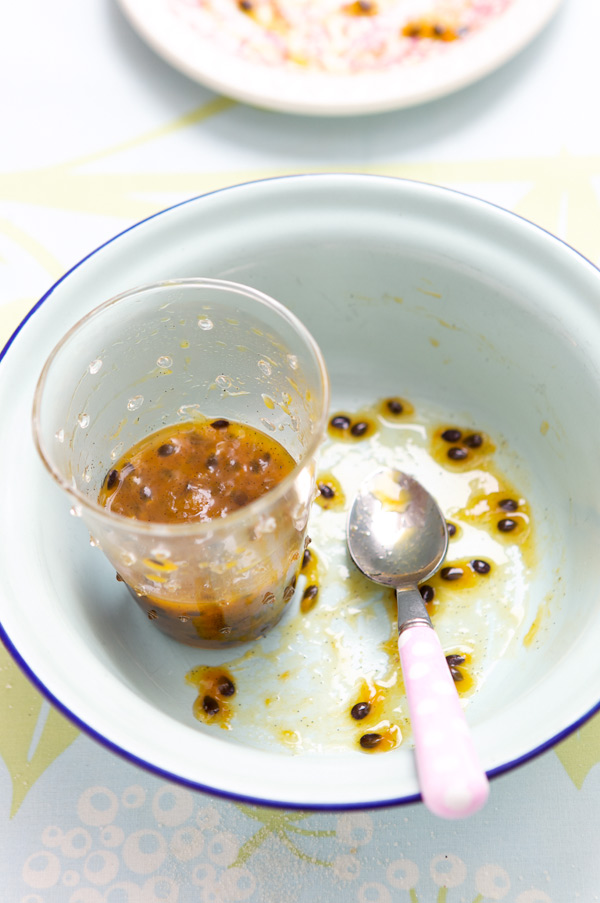 I feel that Lulu will be the same. Thankfully.
When I brought a plate of crêpes on the table, Lulu a.k.a my sweet stomach monster reached for one.
"Mam, mam," she exclaimed with her mouth full.
Then she had another one.
And another one. She liked to spread hers flat in front of her on the table, then grab it by one end before biting in the middle. It looked very organized. I preferred to spread passion fruit syrup on mine and roll them.
We were both content.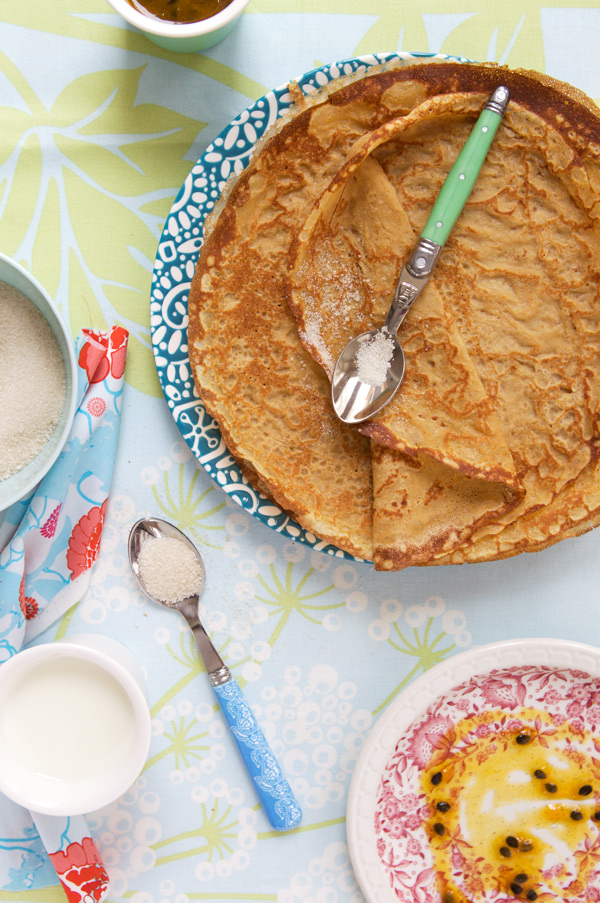 Millet and chestnut crêpes
(For ten 8-inch crêpes)
You need:
1/2 cup millet flour
1/4 cup chestnut flour
2 tablespoons cornstarch
Pinch of sea salt
2 tablespoons blond cane sugar
2 eggs
1 cup whole milk
1 tablespoon melted unsalted butter
1 teaspoon pure vanilla extract
Butter, to cook
Steps:
In a large bowl, combine the flours, cornstarch, salt and sugar.
Break the eggs in the middle and slowly whisk while pouring the milk. Continue to whisk until the batter is homogeneous.
Stir in the butter and vanilla.
Cover with a plate and place in the fridge to rest for an hour.
When ready to use, stir again. In a crêpe pan or frying pan, melt a little butter. Swirl to coat. Add about 1/4 cup crêpe batter, and move to coat the bottom. Cook for 1 to 2 minutes on medium to high heat. Once it starts bubbling and the batter looks cooked through, flip the crêpe and cook for one extra minute on the other side. Repeat until you run out of batter, adding a little butter between each crêpe. Keep the crêpes warm on a plate as you work, covering them with a towel.
Serve with sprinkled sugar and freshly squeezed lemon juice, or passion fruit syrup, like I did.
Le coin français
Crêpes au millet et à la chataigne
(Pour dix crêpes de 20 cm)
Ingrédients :
65 g de farine de millet
30 g de farine de chataigne
2 càs de maïzena
Pincée de sel de mer
2 càs de sucre de canne blond
2 oeufs
250 ml de lait entier
1 càs de beurre fondu
1 càc d'extrait de vanille pur
Beurre, pour cuire les crêpes
Etapes :
Dans une jatte, mélangez les farines, la maïzena, le sel et le sucre.
Faites un puits au milieu et cassez-y les oeufs. Ajoutez le lait en filet en mélangeant avec un fouet. Mélangez jusqu'à ce que la pâte soit lisse.
Ajoutez le beurre et la vanille.
Couvrez avec une assiette et mettez à reposer au frigidaire pendant une heure, minimum.
Une fois que vous êtes prêt à cuire vos crêpes, mélangez la pâte à nouveau. Faites fondre un peu de beurre dans une poêle à crêpe. Ajoutez une petite louche de pâte et faites un mouvement circulaire avec la main pour que la pâte couvre tout le fond en fine couche. Faites cuire 2 minutes, ou juste assez pour que des bulles se forment à la surface. Retournez la crêpe et cuisez encore une minute. Recommencez jusqu'à épuisement de la pâte. Ajoutez un petit morceau de beurre entre chaque crêpe. Gardez les crêpes au chaud sur une assiette (couvertes avec un torchon).
Servez les crêpes avec du sucre et du jus de citron, ou un sirop aux fruits de la passion, comme ici.