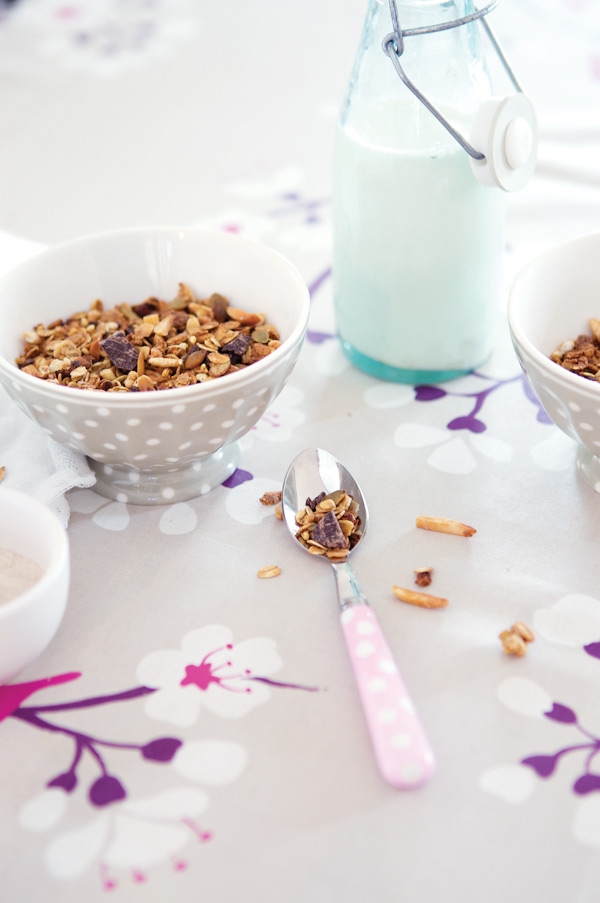 Chocolate granola
Certain likings for foods, it seems, run in the family. I don't care so much for fresh bananas. Lulu does not like them. I really love nuts and chocolate. So does she.
I didn't teach her. It happened this way. Or perhaps it is something that, as I like to imagine, I passed to her while she was nesting inside my belly and during the year I breastfed her. I like to imagine that I communicated with her in that way.
With chocolate, cumin, risotto, custard, tarts, yogurt, pretzels, pecans, apples, soups–and granola.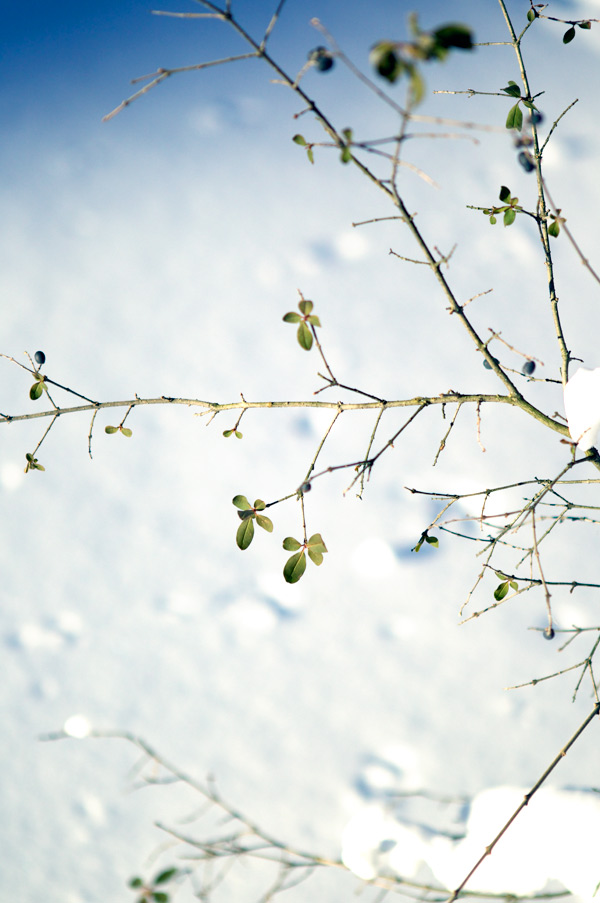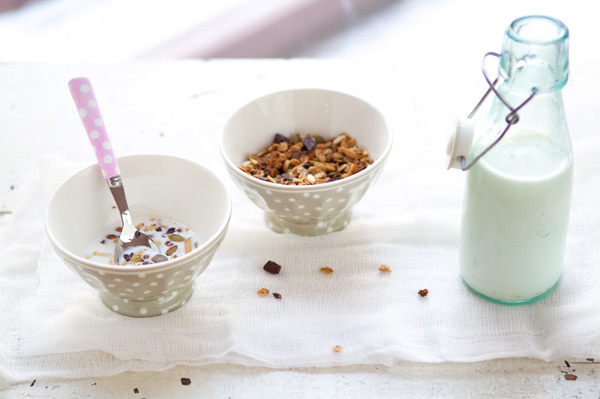 Chocolate granola, more precisely.
I'd been willing to create a recipe like this one for a while. But for weeks–perhaps even months now that I think about it–I never got to it.
Once it was the oats that went missing. Another time I ended up using the chocolate inside a cake.
Last week, though, I had everything. Neatly arranged on the kitchen island. Lined up. Ready. Leaving me feeling victorious.
Finally, I'd be able to bake chocolate granola.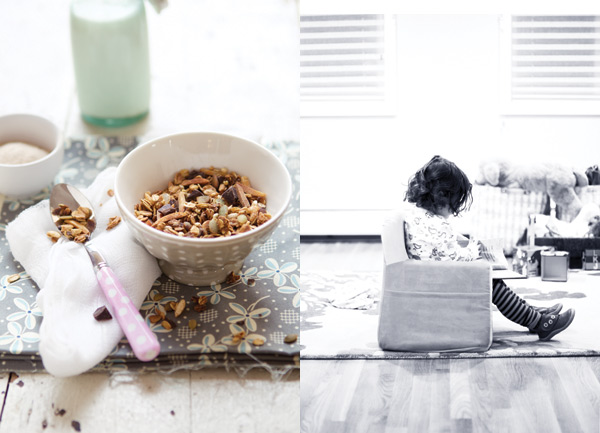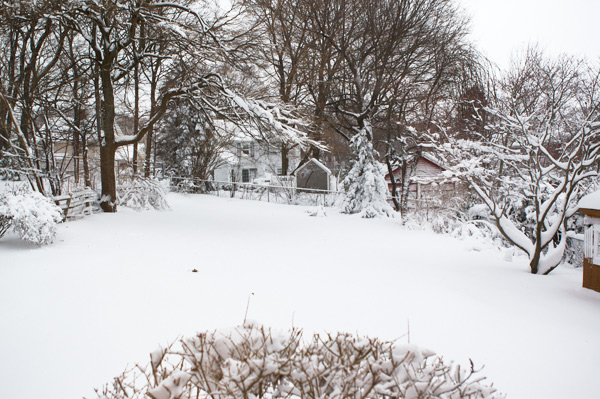 There was this snack, mind you, that P. bought every time he went grocery shopping.
"J'ai acheté du granola au chocolat !"' (I bought chocolate granola!) he'd tell me cheerfully as he entered the kitchen with bags filled with produce. Lulu was already in bed, which left only him and me to putter around in the kitchen. Somehow, his words sounded like he'd won something important.
The granola was good. "Healthy snack", the words on the box read. I think that was what they were. I am not a hundred percent sure anymore. The granola never lasted long. The three of us would invariably sit around the kitchen island. Munching granola away.
Needless to say that, when we tasted my recipe and we both liked it more, that made me feel proud. We wouldn't need to pay $5 a small box of granola which, we knew, was too expensive. But the granola tasted nice so we indulged in the purchase every time anyway.
Until a few days ago, when I baked a batch of chocolate granola myself.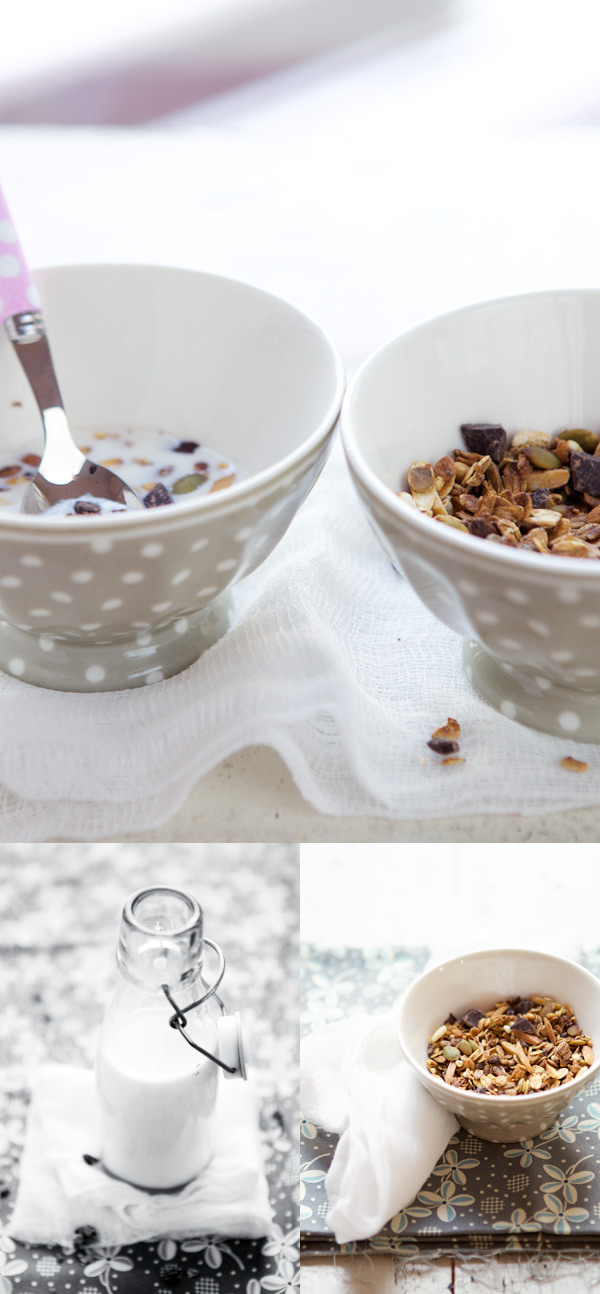 I could not stop eating it. And I wasn't alone.
Lulu, P. and I enjoyed pinching a bit of granola while he and I were doing the dishes and she was reading books. It was still warm but none of us minded. Then the next day, we ate some for breakfast with yogurt and milk. And later, I found myself eating some more as a mid-morning snack while cooking a butternut squash soup for lunch.
"Too good!" we agreed.
We loved its crunch. The fact that it was not too sweet. And the fact that it used our favorite dark chocolate.
"It's got character," P. added.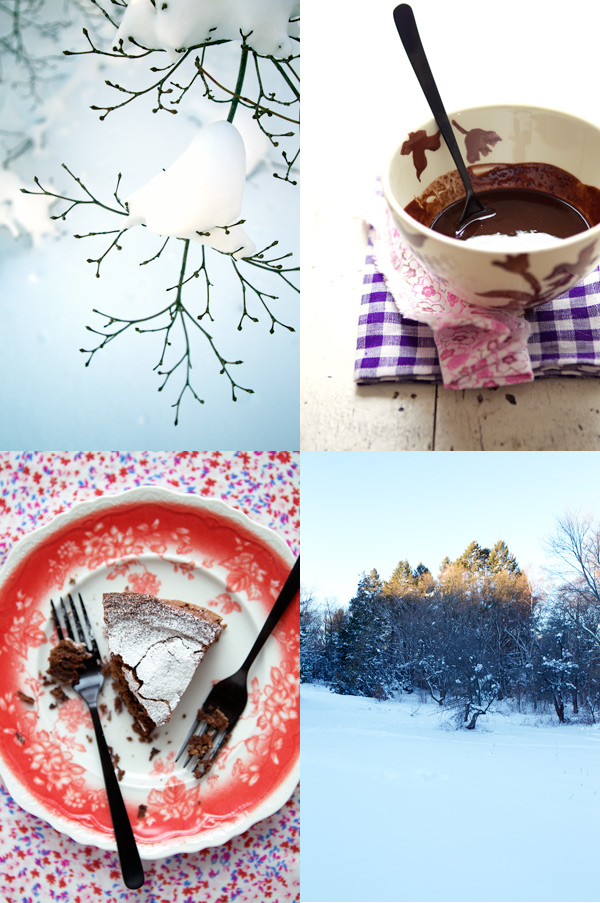 I am not sure how it happened but suddenly, this granola recipe inspired many more.
With the chocolate left, I decided to bake a chocolate cake. It happened the day it snowed so much that everything outside and inside stopped. Winter was taking it course and we were watching.
We ate fennel salad, lentil soup, osso bucco, riz pilaf with saffron, financiers.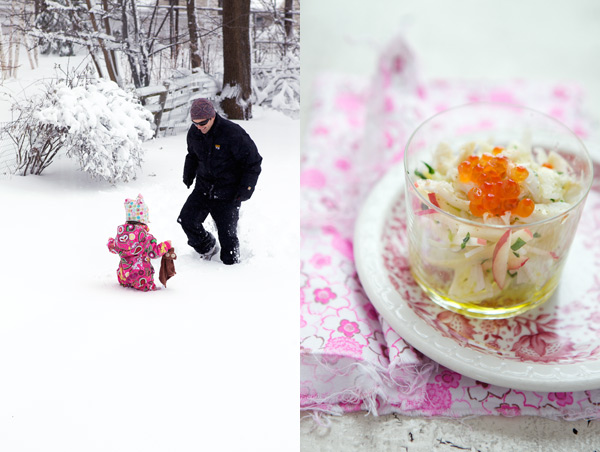 And each time I stood by the stove cooking, I munched away on more granola.
"To keep going," I thought.
To face snowy days in winter.
Chocolate granola
(Makes 4.5 cups)
You need:
3 cups (300 g) old-fashioned rolled oats
1/2 cup (10 g) millet puffs
1/2 cup (10 g) rice puffs
1/2 cup (75 g) pumpkin seeds
1/2 cup (65 g) slivered almonds
1 tablespoon unsalted butter
1/4 teaspoon sea salt
2 tablespoons light brown sugar
1/3 cup honey
1/3 cup water
1 teaspoon pure vanilla extract
1/2 cup (80 g) chopped dark chocolate (70 % or 64 % cocoa contents)
Steps:
Preheat the oven to 300 F and have a large baking sheet covered with parchment paper ready.
In a small pot, combine the water, honey, sugar, butter (or use a vegetable oil if you prefer), salt and vanilla. Bring to a simmer and let cook until the sugar is dissolved.
In a large bowl, combine the other ingredients minus the chopped dark chocolate. Stir in the liquid to the dry ingredients.
Transfer the granola mixture to the baking sheet and cook for 45 minutes, stirring with a wooden spoon a few times to make sure that the granola cooks evenly. Let cool completely.
Transfer to a air-tight container and add the chocolate. Enjoy with plain yogurt or any type of milk of your choice. Or as a snack like Lulu and I often do!