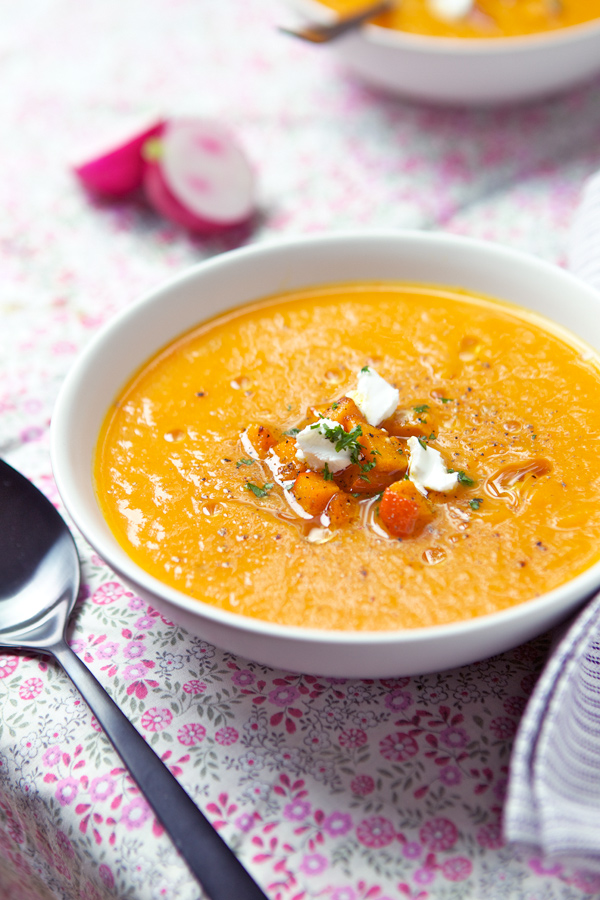 "Ça, ce sont des potimarrons !" I told Lulu with my finger pointing at bright orange red kuri squashes. Lines of them were neatly arranged on top of an old wooden table located in the middle of the farmer's market where she and I had walked to. The place was filled with the buzz of a lazy Wednesday afternoon at five o' clock–and late market customers like us. It was sunny yet it felt brisk. The leaves on the trees around the square were standing out cheerfully with their bright colors. It was one of those amazing days in New England during the fall.
Lulu looked at the squashes, holding her owl doudou tightly in one hand. Then she looked at me and exclaimed "Ball!". Her face suddenly lit with excitement.
I smiled. Oh yes! She was right. The squashes looked like plump balls. Playful. Beautiful.
Tasty, I knew.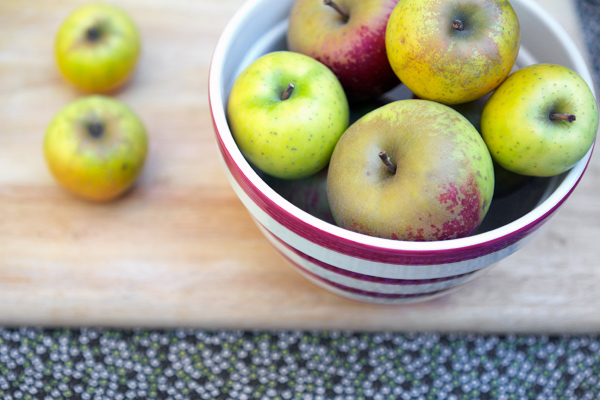 I filled our basket with different varieties of Heirloom apples and I bought three potimarrons, medium in size, a few butternut squashes and acorn squashes. Most likely too many. Because I tend to stock up on apples and winter squashes in the same manner squirrels stock up on nuts for the cold days of winter.
Somehow, despite the large number I buy each week, we invariably end up eating them all.
Quickly.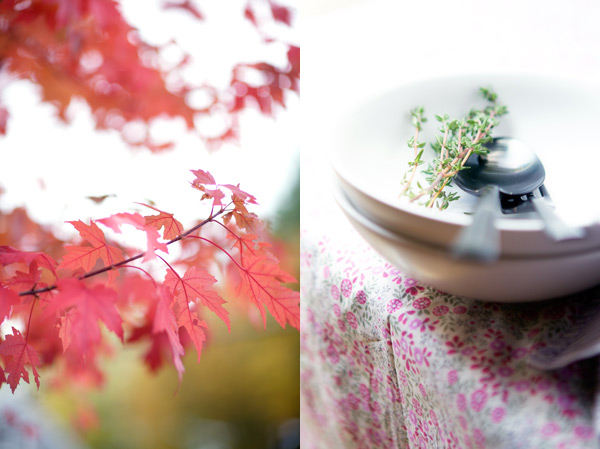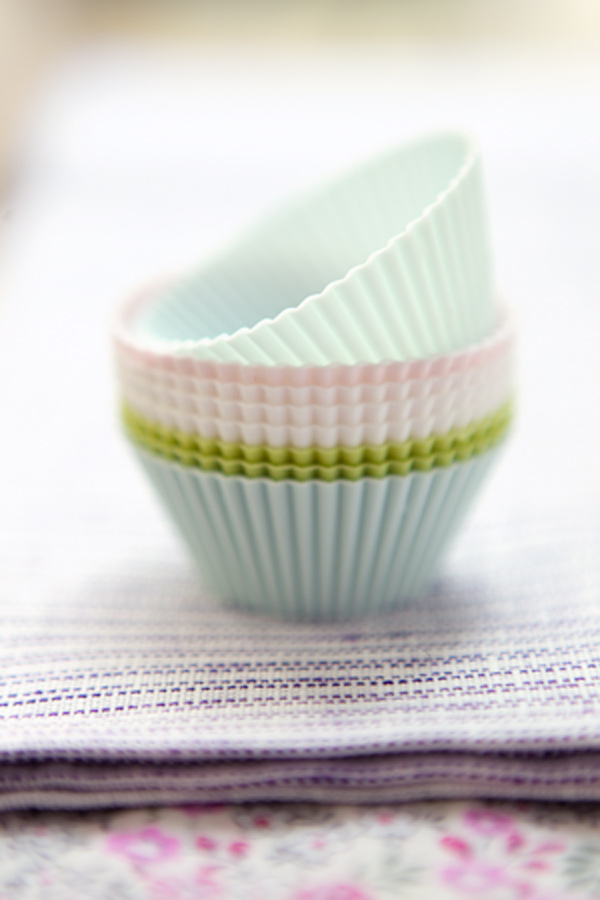 This week, I knew that we'd be eating red kuri squash risotto with mushrooms; nutritious root vegetable soups; savory crumbles; and muffins.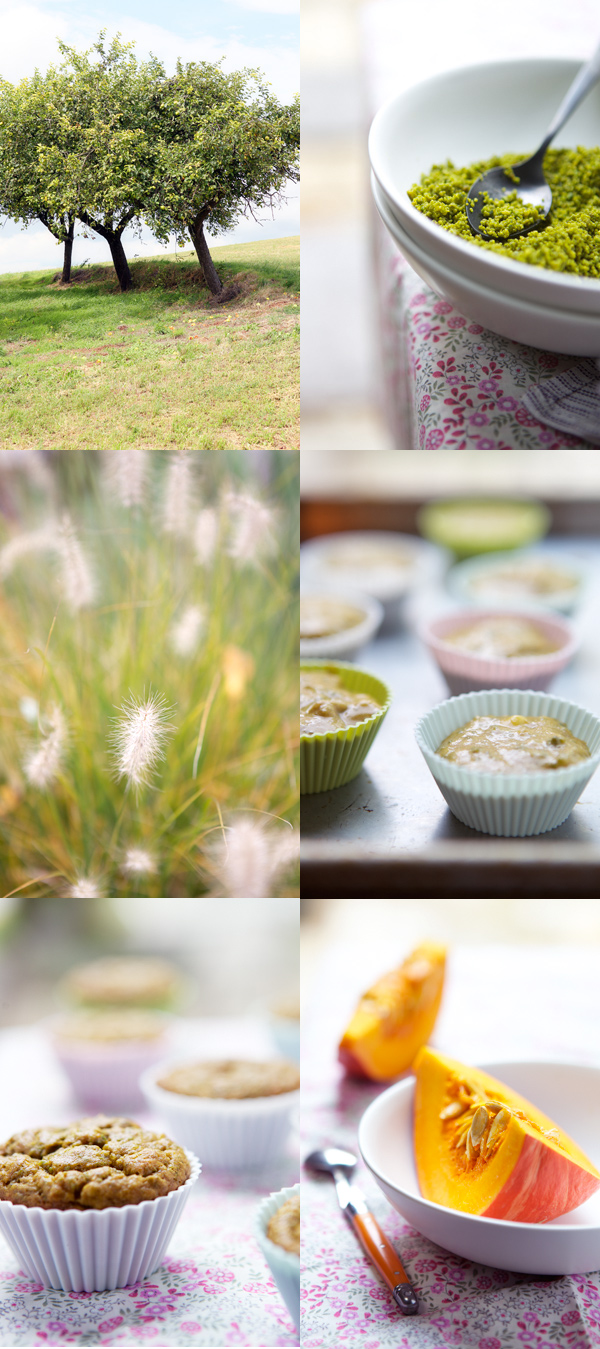 I started to prepare a squash soup . And I baked muffins. With my favorite pistachios.
As usual, I set myself to work early in the morning shortly after breakfast, so that lunch would be ready right after Lulu and I returned from the playground.
"Miam miam, regarde cette belle couleur orange!" (Yum! Look at this beautiful orange color!) I remember telling her when I brought the pot of steaming squash soup to the table. "C'est une de tes soupes préférées, celle-là !" I went on, stirring the pot to cool the soup down. Lulu was staring at the steam coming out of the spoon. Then she exclaimed: "Hot!"
I served each of us a bowl, enjoying the earthy scent of truffle oil I drizzled on top, and then we started to eat. Lulu was making a mess with her soup but I could not really mind. She was eating it looking busy and happy.
That's what mattered.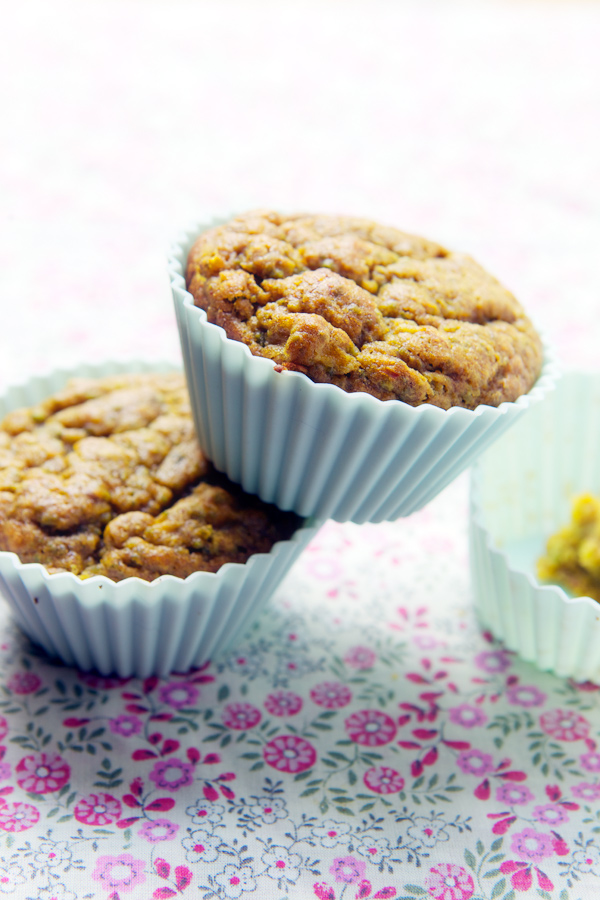 Soft boiled eggs accompanied our soup and I toasted thin stick-like slices of brioche that I buttered to make mouillettes to dip inside our eggs. I continued with a green salad while Lulu munched on edamame beans.
"Tu as encore faim?" I asked (Are you still hungry?)
She looked up at me. And then she said: "Cookies!"
I laughed. My daughter is a gourmande for anything crunchy.
"Ah non, pas des cookies. Mais encore mieux. (better)" I went on. "Aujourd'hui, j'ai fait des muffins." (Today, I made muffins).
We finished lunch with one muffin each. One regular in size for me. A mini muffin for Lulu.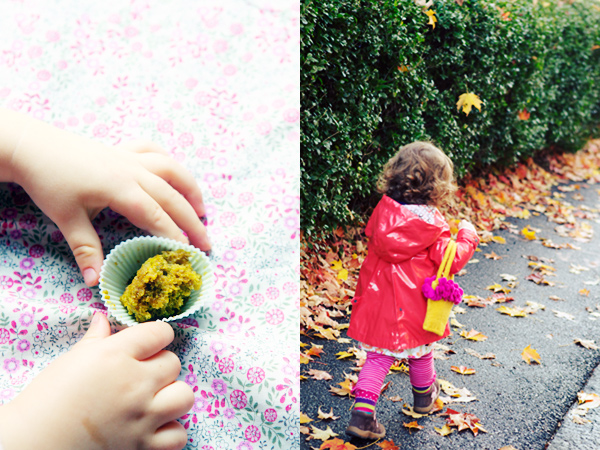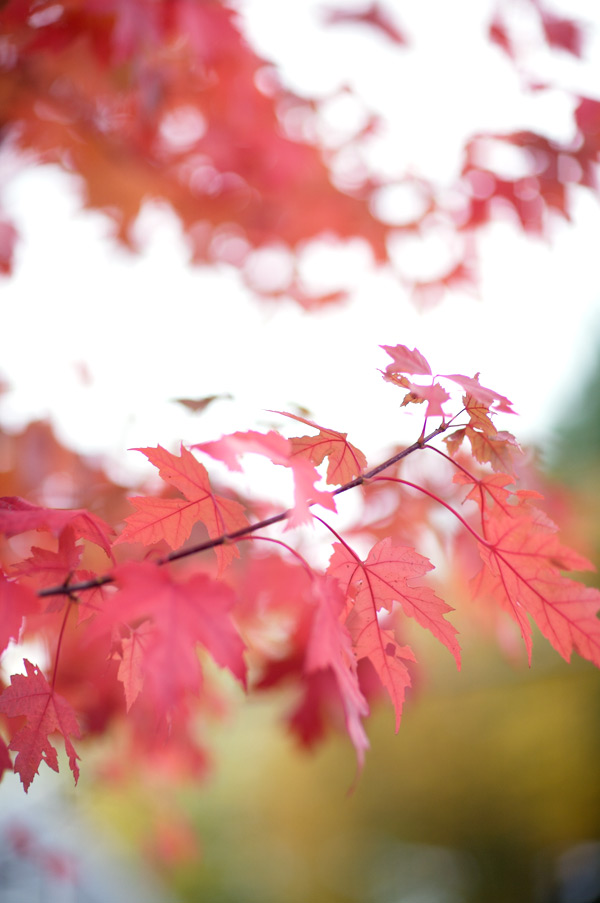 "On va se promener maintenant? " (Shall we go out for a walk now?) I asked her as I was clearing the table. That had the same effect on her as the magical word cookies.
Within seconds, she was standing by the front door, holding her handbag slung over the shoulder. Really cute!
We were ready to take off to enjoy more of the beautiful weather outside. And feel the peaceful energy of an autumnal day in New England.
With warm soup and muffin in our tummies.
Not bad.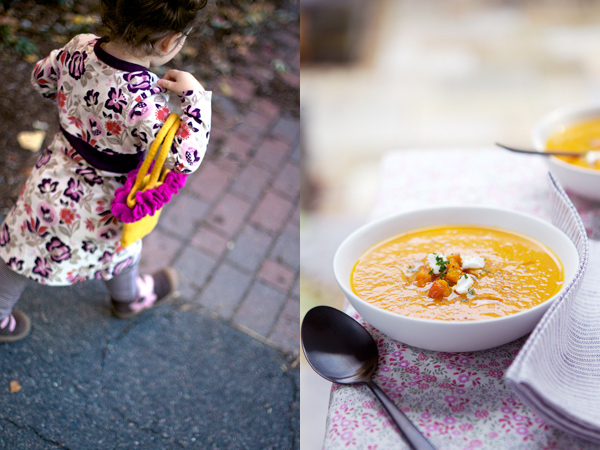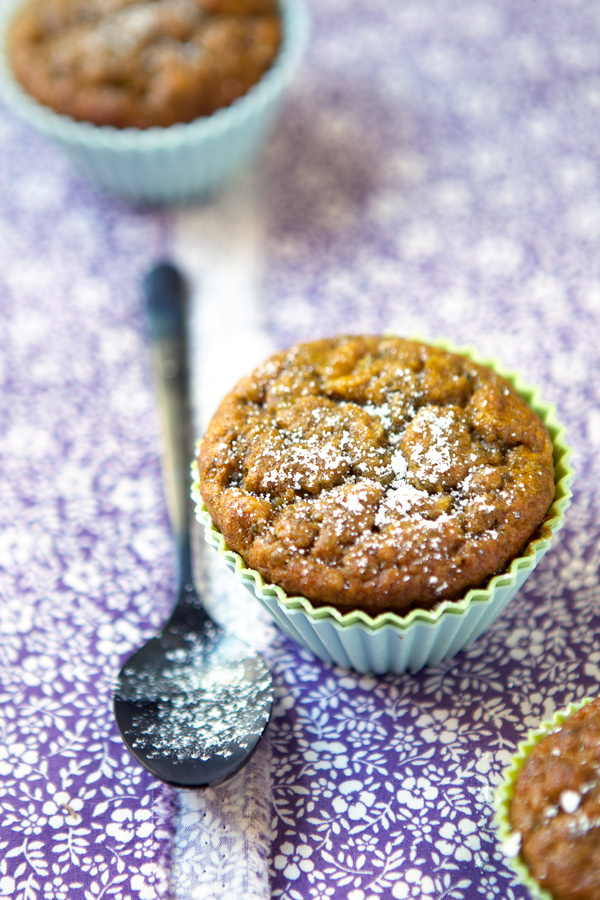 Root vegetable soup with truffle oil
Serves 6 people
You need:
For the soup:
Olive oil
1 /4 red onion, chopped
1 leek, white part only, chopped
2 twigs of thyme
1 teaspoon ground coriander
2 garlic cloves, peeled and minced
1 tablespoon sun dried tomato paste
1 tomato, peeled, cored, seeded and diced
1 large sweet potato, peeled and diced
1 parsnip, peeled and diced
2 small turnips, peeled and diced
2 carrots, peeled and diced
14 oz (400 g) peeled and diced red kuri squash (or butternut squash)
1 bay leaf
1 tablespoon light Muscovado sugar
5 cups cold water
For the garnish:
Crème fraiche (optional)
1/2 cup finely diced red kuri squash
Crumbles of soft goat cheese
Fresh parsley, chopped finely
White truffle oil, to drizzle
Steps:
To make the soup: In a large pot, heat two tablespoons of olive oil over medium heat. When warm, add the onion, leek, thyme and ground coriander. Cook for 3 minutes, stirring occasionally, until the onion and leek are soft but not brown.
Add the garlic and cook for 1 more minute.
Add the sun-dried tomato paste and tomato, and cook for 2 minutes.
Add the rest of the vegetables, the bay leaf, sugar and water. Season with salt and pepper. Bring to a simmer and cover. Cook for 20 minutes, or until the vegetables are tender when pierced with a fork.
Discard the bay leaf and thyme. Transfer the soup to the bowl of a food processor and purée until smooth (you might want to do that in a few steps and not add all of the water at once, to choose the texture of the soup you prefer).
To make the garnish: In a frying pan, heat 1 tablespoon olive oil over medium heat. When warm, add the squash and season with salt and pepper. Cook for about 5 to 6 minutes, stirring, until tender.
Serve the soup in large bowls and stir 1 tablespoon of crème fraiche (if using) in each bowl. Top with the sauteed squash, crumbles of cheese, parsley and drizzle with truffle oil.
Pistachio and red kuri squash muffins with poppyseeds
(For 10 to 12 muffins)
You need:
1/2 cup (80 g) unsalted, shelled green pistachios
2 large eggs
1/4 cup light Muscovado sugar
1/4 cup blond cane sugar
7 tablespoons (100 g) unsalted butter, melted
3/4 cup (180 g) puréed red kuri squash
1/3 cup (100 g) plain yogurt
1 teaspoon pure vanilla extract
3/4 cup (120 g) millet flour
1/4 cup (40 g) teff flour
1 tablespoon poppyseeds
1 teaspoon baking powder
1/2 teaspoon baking soda
Pinch of sea salt
Steps:
Preheat the oven to 350 F and have muffin molds ready.
Place the pistachios in the bowl of a food processor and pulse into a fine powder.
In a bowl, combine the flours with the pistachios, baking soda, baking powder, poppyseeds and salt; set aside.
In another bowl, combine the eggs with the sugar. Beat until light in color.
Stir in the butter and vanilla. Add the red kuri squash and yogurt.
Add the flours and mix until just combined.
Divide the batter between the molds and bake for 25 to 30 minutes, or until the sharp blade of a knife inserted in the middle comes out dry.
Let cool for 5 minutes before unmolding.
Le coin français
Soupe aux légumes racines parfumée à l'huile de truffe blanche
Pour 6 personnes
Ingrédients :
Pour la soupe :
Huile d'olive
1/4 oignon rouge, haché
1 poireau, partie blanche, haché
2 brins de thyme
1 càc de coriandre en poudre
2 gousses d'aïl, pelées et hachées
1 càs de pâte de tomates séchées
1 tomate, pélée, et coupée en dés
1 grosse patate douce, pelée et coupée en dés
1 panais, pelé et coupé en dés
2 navets, pelés et coupés en dés
2 carottes,pelées et coupées en dés/li>
400 g de potimarron coupé en dés (je choisis un potimarron bio, donc pas besoin de l'éplucher)
1 feuille de laurier
1 càs de sucre roux
1,2 l d'eau froide
Pour la garniture :
Crème fraiche (facultatif)
100g de potimarron coupé en petits dés
Miettes de fromage de chèvre frais
Persil, haché
Huile de truffe blanche, pour servir
Etapes :
Pour faire la soupe : Dans une cocotte, faites chauffer 2 càs d'huile d'olive sur feu moyen. Ajoutez l'oignon, le poireau, le thym et la coriandre en poudre. Faites cuire pendant 3 minutes, en mélangeant de temps à autre, jusqu'à ce que l'oignon et le poireau soient tendres.
Ajoutez l'aïl et poursuivez la cuisson pendant 1 minute.
Ajoutez la pâte de tomates séchées, la tomate et poursuivez la cuisson pendant 2 minutes.
Ajoutez le reste des légumes, la feuille de laurier et l'eau. Assaisonnez de sel et de poivre. Couvrez et laissez mijoter pendant 20 minutes environ, jusqu'à ce que les légumes soient cuits.
Enlevez la feuille de laurier et le thym. Mixez la soupe, en ajoutant le bouillon progressivement, jusqu'à l'obtention de la texture souhaitée.
Pour la garniture : Dans une poêle, faites chuaffer 1 càs d'huile d'olive. Ajoutez les dés de potimarron, salez et poivrez puis cuisez jusqu'à ce que le potimarron soit tendre. Réservez.
Servez la soupe dans des assiettes creuses ou des bols et ajoutez 1 càs de crème fraiche, si vous en utilisez. Ajoutez les dés de potimaron, les miettes de fromage. Garnissez de persil et arrosez d'un filet d'huile de truffe.
Muffins aux pistaches, au potimarron et aux graines de pavot
(Pour 10 à 12 muffins)
Ingrédients :
80 g de pistaches vertes, non salées et décortiquées
2 gros oeufs
50 g de sucre roux
50 g de sucre de cane blond
100 g de beurre non salé, fondu
180 g de purée de potimarron
100 g de yaourt nature
1 càc d'extrait de vanille pur
120 g de farine de millet
40 g de farine de teff
1 càs de graines de pavot
1 càc de poudre à lever
1/2 càc de bicarbonate de soude
Pincée de sel de mer
Eatpes :
Préchauffez le four à 180 C et préparez des moules à muffin.
Réduisez les pistaches en poudre fine dans votre robot.
Dans une jatte, mélangez les farines avec la poudre de pistaches, la poudre à lever, la bicarbonate de soude, les graines de pavot et une pincée de sel; mettez de côté.
Dans un saladier, battez les oeufs avec les sucres jusqu'à blanchiment.
Ajoutez le beurre fondu, la vanille, puis la purée de potimarron et le yaourt.
Ajoutez les farines et mélangez.
Remplissez les moules à muffin de pâte et faites cuire les muffins entre 25 et 30 minutes, ou jusqu'à ce que la lame d'un couteau insérée au milieu en ressorte sèche.
Sortez du four et laissez reposer 5 minutes avant de démouler.