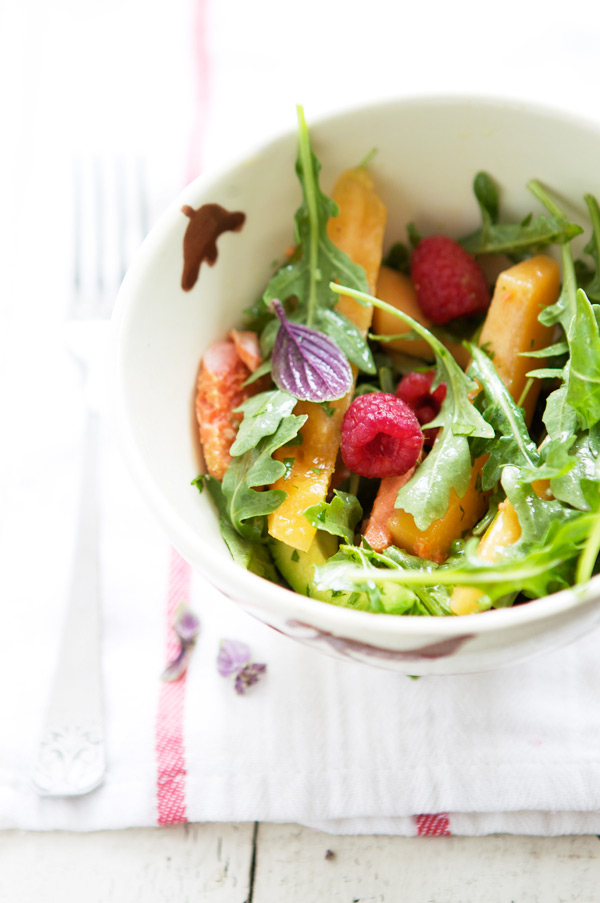 Melon, avocado and chicken salad
Melons. Les melons. Aren't they glorious too?
I don't know about you but I simply cannot buy a melon when it's out of the season. I remember when I was a child and my parents, my brother and I drove for our summer vacation across France, to another corner of the country. Sometimes it was to the west coast we'd travel–just as we will in a few weeks–and sometimes it was south that my parents had decided we'd spend les grandes vacances (summer vacation). To my brother and me, it didn't matter where we were traveling, as long as that involved the seaside. On allait à la mer !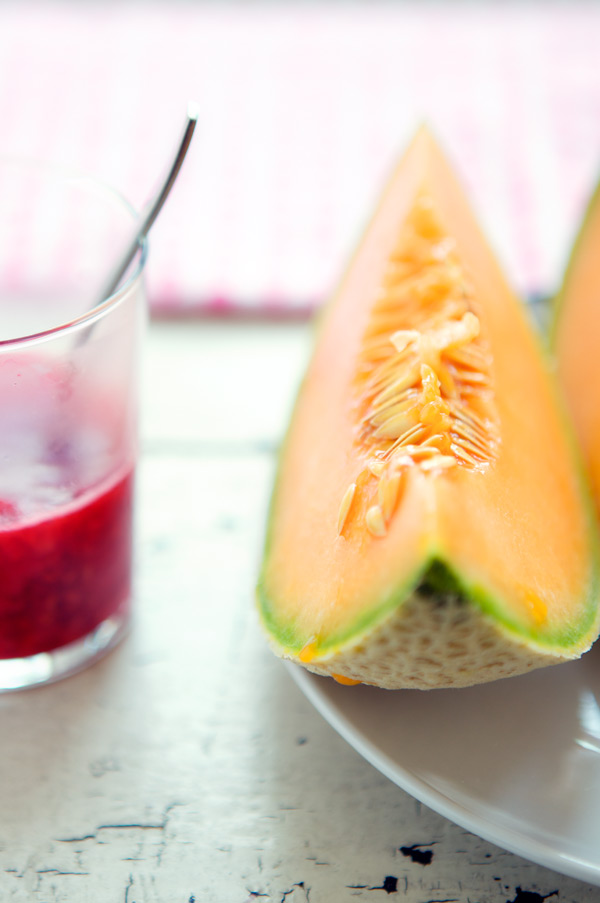 One year, we vacationed in the presqu'île de Giens. My parents had rented a cute cottage by the sea, which was very convenient since my mother was able to cook and we had easy access to the beach. Every morning, we liked to walk to the local market to buy local fresh produce. And on the last day, my mother purchased a large cagette de melons (a box filled with melons), and one of apricots–something she invariably did each year, no matter where we vacationed.
In fact, there was never a vacation that didn't involve bringing local food home.
I keep a vivid memory of our family vacation by the seaside. And of the drive back each year as the car smelled sweet and delicious from the fruit we had put in the trunk.
The melons were always remarkable.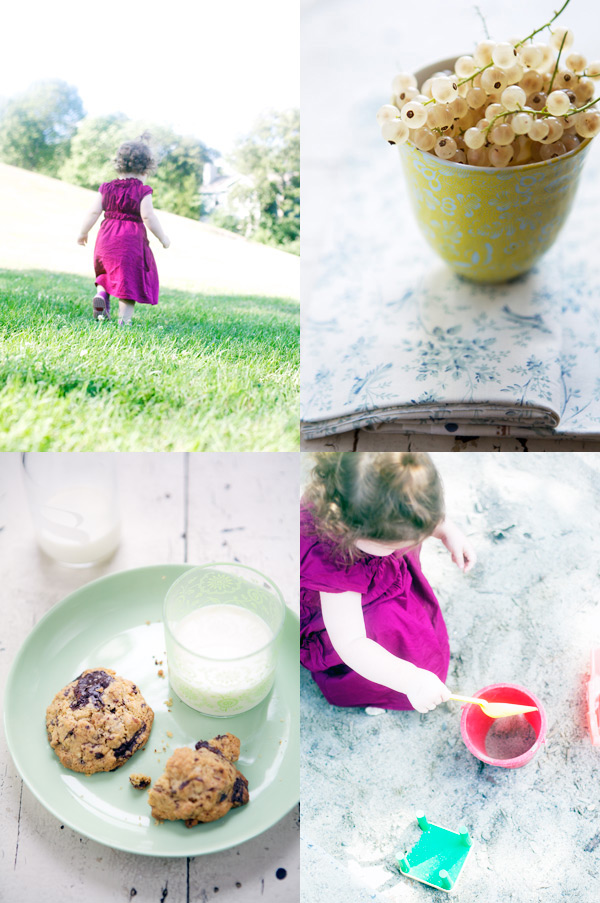 So naturally, in summer, most likely like a lot of you, I enjoy eating heaps of scrumptious melons. I tell P. that they don't taste as sweet as the ones from our summer vacation, to which his response is that I feel this way because I was young and carefree, and that everything by the seaside seemed to taste better. He's probably right. Although…
Nevertheless. The other day, it was this salad that glorified a summer cantaloupe. I had made a point to leave the fruit out on the counter top for a few days until it was ripe and à point. I made the salad with mixed greens and leftovers of a roasted chicken. The marriage between the tenderness of the meat, slices of melon, raspberries and mixed greens tossed in a pistachio & lime vinaigrette was incredible.
In fact, the salad was so tasty that I ate it within minutes–not always a good thing, is it? Lunch left Lulu and I feeling light when we finally set off for the park. I was happy with the salad. Lulu was with the sandbox at the playground. And cookies.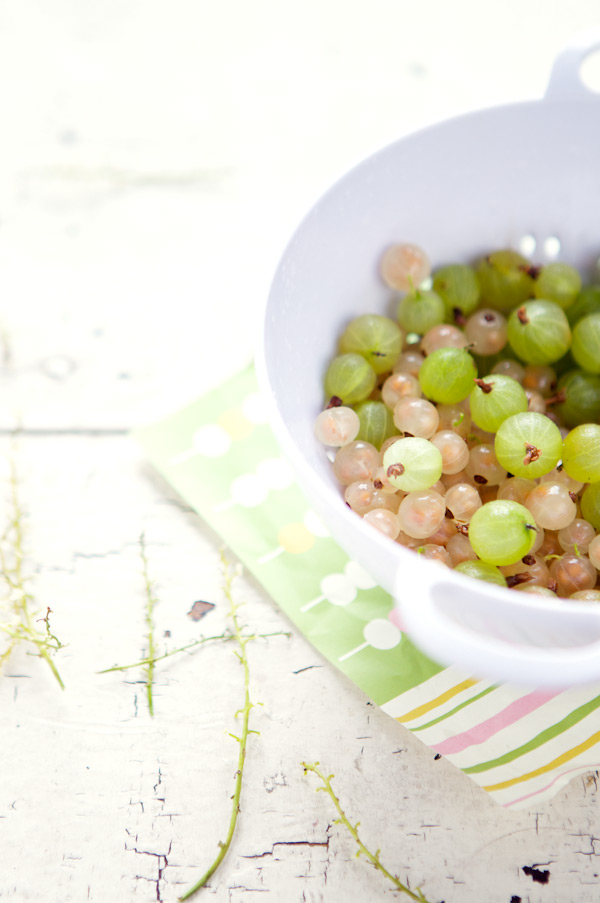 On the way back home, I decided to make a quick stop at the store for milk. What I didn't expect to find there was what follows. Boxes of delicious looking white currants and gooseberries, local it read on the box, were neatly arranged in the fruit section. It so rarely happens that it frankly took me by surprise. "What am I going to do with those?" I kept thinking as I handed a $10 bill to the cash registrar. Blank. Hence the berries sat in the fridge for one day. Until the word tart, in all of its glory, popped into my head.
It was a spontaneous simple tart, in fact, that I ended up choosing. I didn't have much to prepare since I already had handy leftovers of a rustic crust . Which left me with the preparation of the fruit only.
Minutes after I started to work, Lulu caught sight of the box of berries. "They are mine and I am going to give them to maman", the look on her face seemed to be saying as she proudly carried to my small working table the box she was holding tight between her hands.
I cannot help but smile whenever I picture the scene again.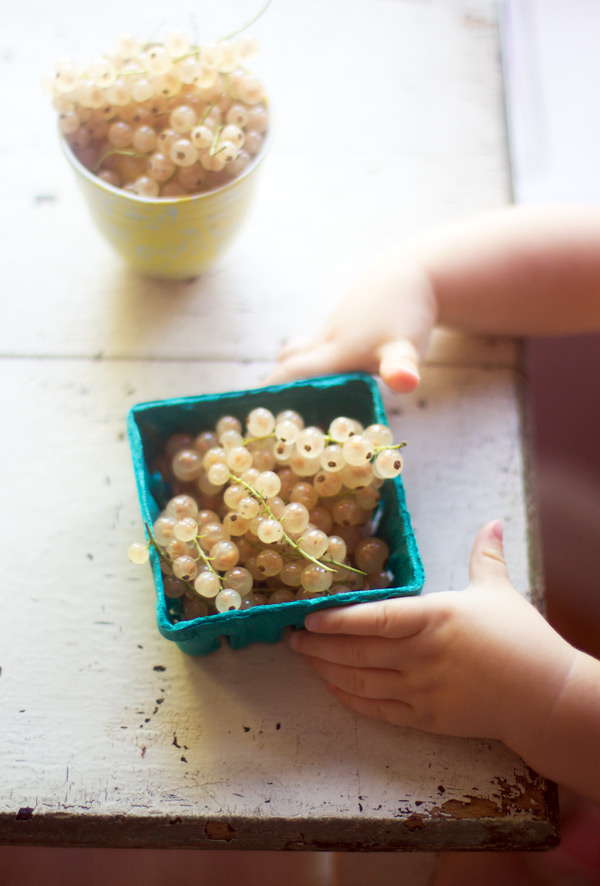 White currants
You can really use any fruit and spices you like. At each time I bake a tart like this one, it always evolves into something new.
In this recipe, I combined about 4.5 oz (125 g) berries (gooseberries, white currants and raspberries) with ginger, vanilla seeds, almond meal and sugar. I rolled the crust thin and added the fruit on top. Then I baked the tart in a hot oven (420 F) for about 20 minutes, which gave a nice crunch to the crust and made the fruit bubble joyfully as it releases its juice.
So the result was a delicious dessert with character.
One that invariably makes me think about the beach. Our time away with the family. And of a day in August building a memory around food.
I am not ready to forget my princess's tiny hands holding the fruit either.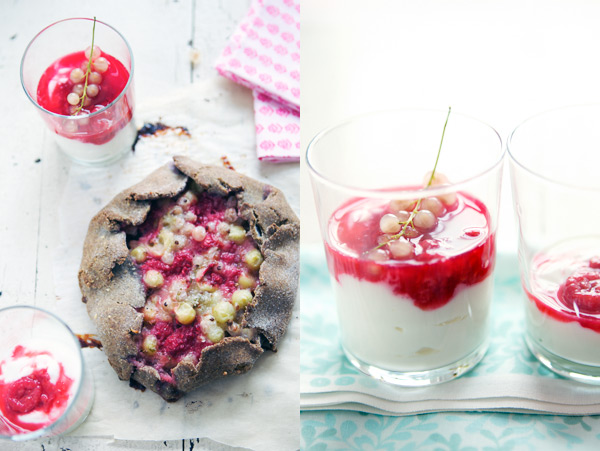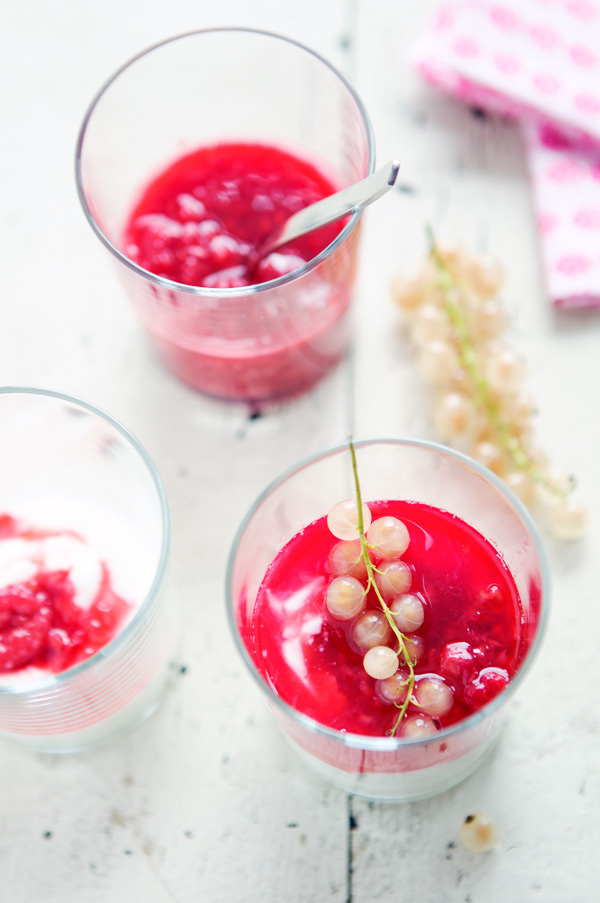 Berries stewed that we enjoyed later with plain yogurt
Melon, chicken and avocado salad
(Serves 4 people as a light meal)

You need:
For the salad:
7 oz (200 g) cooked chicken breast (or leftovers of a cooked roasted chicken), sliced
3 cups mixed arugula and watercress
1 cup raspberries
1/2 small cantaloupe melon, seeded, peeled and sliced
1 avocado, pitted and sliced
Sea salt and pepper
Purple basil leaves
For the vinaigrette :
1 garlic clove, peeled and crushed
1 teaspoon mustard de Dijon
Sea salt and pepper
Juice of 1 lime
1 teaspoon honey
3 tablespoons pistachio oil
2 tablespoons olive oil
Steps:
In a small bowl, combine the garlic, mustard and salt and pepper. Stir in the honey and lime juice. Add the oils and whisk to emulsify; set aside.
In a large bowl, combine the greens, avocado and melon slices, chicken and raspberries. Add the vinaigrette and toss gently. Serve right away with chopped basil and crusty bread.
Le coin français
Salade de melon, poulet et avocat
(Pour 4 personnes pour un déjeuner léger)

Ingrédients :
Pour la salade :
200 g de blanc de poulet cuit (reste d'un poulet rôti), tranché
3 grosses poignées de mélange de cresson et de roquette
100 g de framboises
1/2 melon des Charentes, sans les graines et la peau, et coupé en tranches
1 avocat, pelé et coupé en tranches
Sel de mer et poivre
Feuilles de basilic violet
Pour la vinaigrette :
1 gousse d'aïl, pelée et écrasée
1 càc de moutarde forte de Dijon
Sel de mer et poivre
Jus d'un citron vert
1 càc de miel liquide
3 càs d'huile de pistache
2 càs d'huile d'olive
Etapes :
Dans un petit bol, mélangez l'aïl avec la moutarde, du sel et du poivre. Ajoutez le jus de citron vert et le miel, puis faites émulsionner avec les huies; mettez de côté.
Dans un grand saladier, mélangez la salade verte, les tranches d'avocat de melon, les framboises et le poulet. Ajoutez la vinaigrette avec des feuilles de basilic ciselées, et mélangez délicatement. Servez de suite avec un bon pain de campagne.