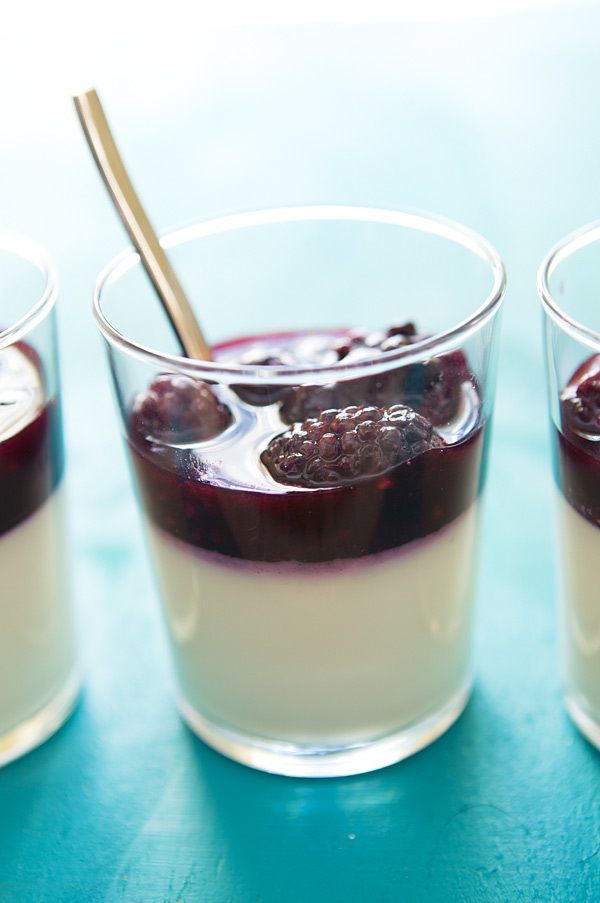 I am sure you're busy preparing for the long weekend, so I promise to be short. In fact, I am right in the middle of our house move, so I am also short of time (we just ate our first homemade meal in our new house–and let me add that I am *really* looking forward to a new kitchen in it!)
This dessert recipe is a quick one you might like to keep handy. For the 4ht of July? Peut-être ? If you have guests? It's bound to please a crowd. And is simple to prepare. Fresh. Beautiful. Summery and light.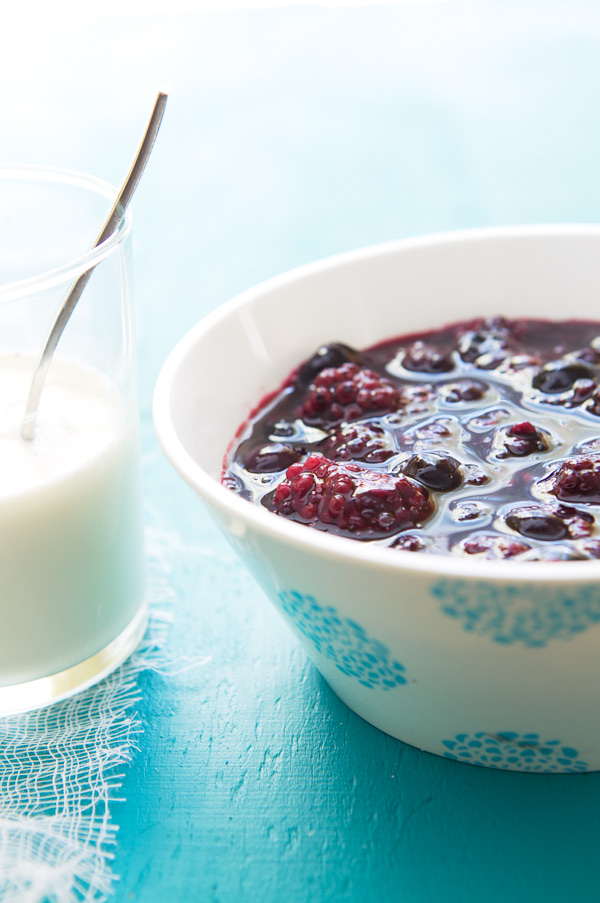 I hope you like it. There's nothing else to add….so enjoy the well deserved holiday. That's what summer is for. Lovely days, great company, and seductive foods. On our end, we will have a picnic in our new yard, Lulu's new play area.
And mine.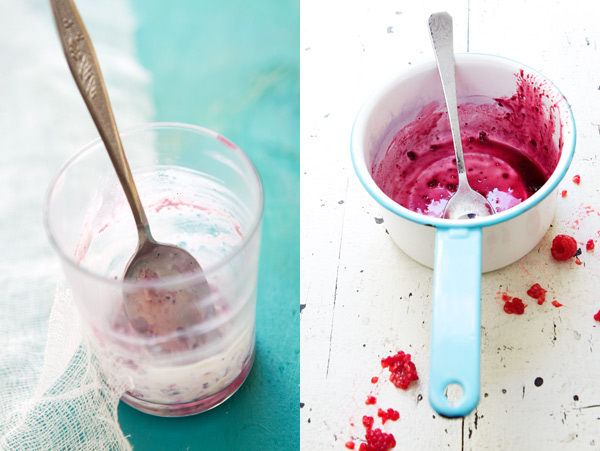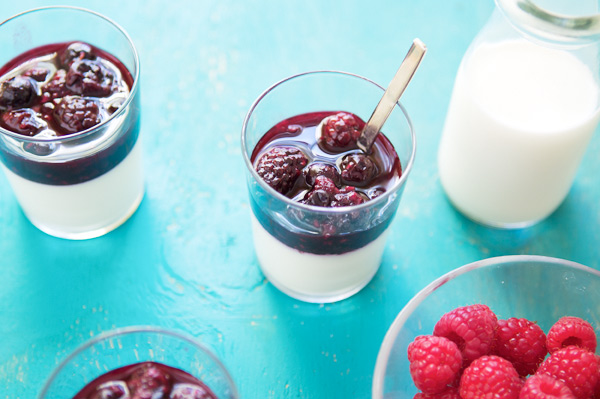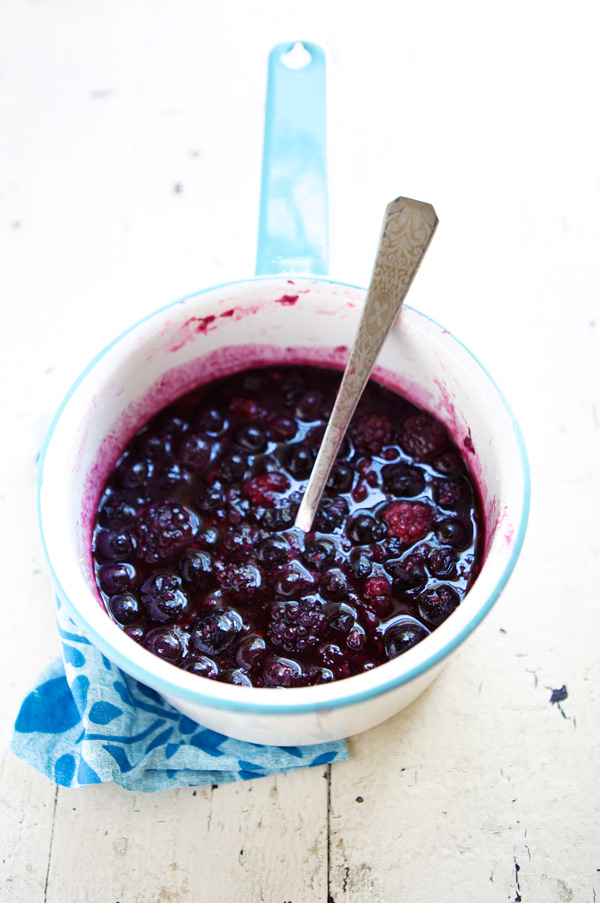 Panna cotta and stewed berries en verrines
For 8 people
For the stewed berries:

You need:
1 pound 3.5 oz (550 g) mixed berries (raspberries, black currants and blueberries)
1/4 cup water
1/3 cup blond cane sugar
Steps:
Combine all ingredients in a pot and let stew for 4 to 5 minutes, until the fruit softens. Let cool. Note that you might have leftovers, perfectly delicious eaten to top yogurt.
For the panna cotta:

You need:
4 cups half and half
1/2 cup blond cane sugar
2 vanilla beans, split open and seeds scraped out
6 cardamom pods, crushed
6 gelatin sheets
Steps:
In a pot, combine the half and half, vanilla seeds and bean, cardamom pods and sugar. Bring to a simmer and cook for 4 minutes. Stop the heat, cover and let infuse for 10 minutes. Strain.
In the meantime, soak the gelatin sheets in a large volume of cold water. Using the tips of your fingers, squeeze out the excess water and add to the infused half and half; stir to dissolve.
Fill small glasses with the panna cotta preparation and let cool. Cover each glass with plastic wrap and place the glasses in the fridge for a few hours, or overnight, until the panna cotta sets. Once ready to serve, add the stewed berries (to taste) on top.
Le coin français
Verrines de panna cotta et fruits rouges en compote
Pour 8 personnes
Pour les fruits rouges :

Ingrédients :
550 g de fruits rouges mélangés
4 càs d'eau
80 g de sucre de canne blond
Etapes :
Mettez tous les ingrédients dans une casserole et faites compoter pendant 4 à 5 minutes. Laissez refroidir. Vous aurez des restes, délicieux avec du yaourt.
Pour la panna cotta:

Ingrédients :
950 ml de crème à 11,5 % de M.G (ou un mélange de lait entier et de crème liquide, moitié, moitié)
100 g de sucre de canne blond
2 gousses de vanille fendues et grattées
6 capsules de cardamome verte, écrasées
6 feuilles de gélatine
Etapes :
Dans une casserole, mélangez la crème, le lait, les gousses et graines de vanille, les capsules de cardamome et le sucre. Faites chauffer jusqu'à frémissement. Arrêtez le feu, couvrez et laissez infuser pendant 10 minutes. Filtrez.
Pendant ce temps, faites ramollir les feuilles de gélatine dans un grand volume d'eau. Essorez-les et mettez-les dans le mélange de lait/crème pour qu'elles se dissovent.
Remplissez de petits verres et laissez refroidir. Filmez et mettez au frigidaire pendant quelques heures (ou toute une nuit) jusqu'à ce que la panna cotta prenne. Une fois que vous êtes prêts à servir, ajoutez la compote de fruits sur la panna cotta et servez de suite.