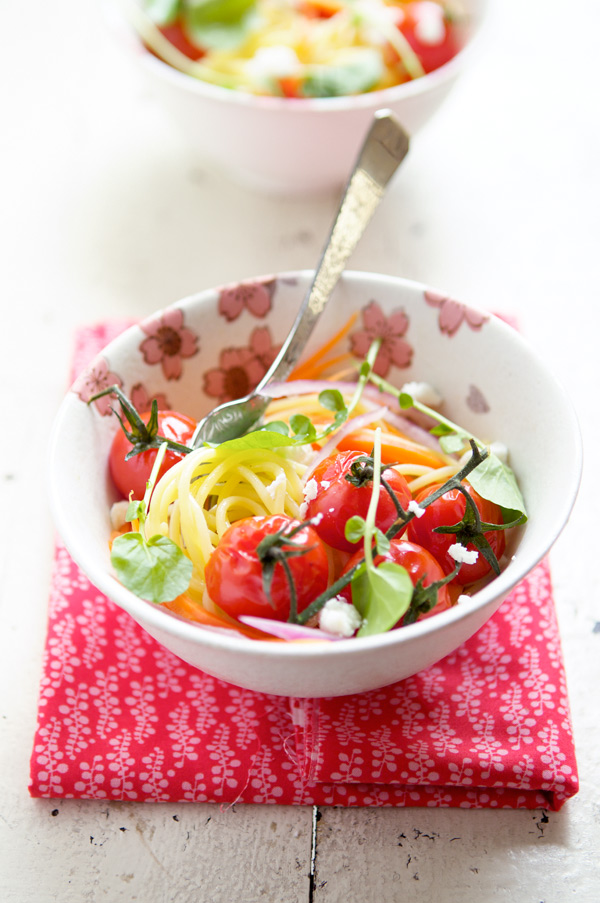 Spaghetti with roasted cherry tomatoes, lemon thyme and honey
There are dishes, you know, that are all about comfort. Dishes that need to be nourishing, but have to happen quickly. They'll always be fresh and colorful because that's the kind of food I crave. I don't know about you but I find endless the possibilities of this to happen with pasta. Especially in a dish of spaghetti with flavors of spring and summer.
Since our small family is about to take off on a vacation–I am literally counting the days until we leave, even if I have packed nada yet–I am in a clean-up-the-fridge-quickly kind of mood, improvising meals with what I have. The whole process, I find, is pretty creative.
Tonight, I cooked a large pot of carrot, fennel and lentil soup that simmered in coconut milk, one that I can reheat tomorrow. I made a pilaf rice flavored with saffron and sweet peas for dinner and I also baked financiers with leftovers of egg whites and a small container filled with raspberries that needed to find a home before it's too late. Lulu–and us–unanimously loved them, which made me a very proud maman.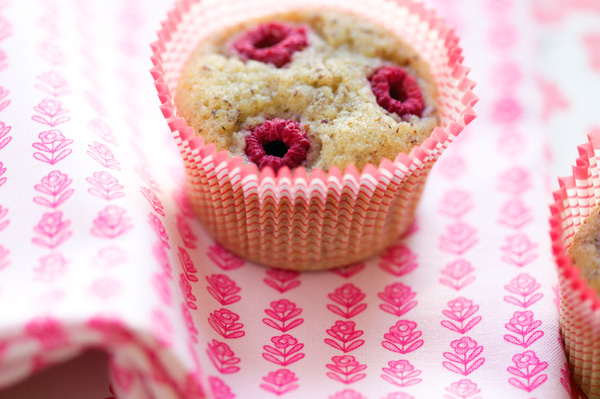 Hazelnut and raspberry financiers
And yesterday, for lunch, I cooked spaghetti.
Sara, my editor, had brought gorgeous looking cherry tomatoes for a photo shoot but I ended up not using the tomatoes. So there came the idea of this dish.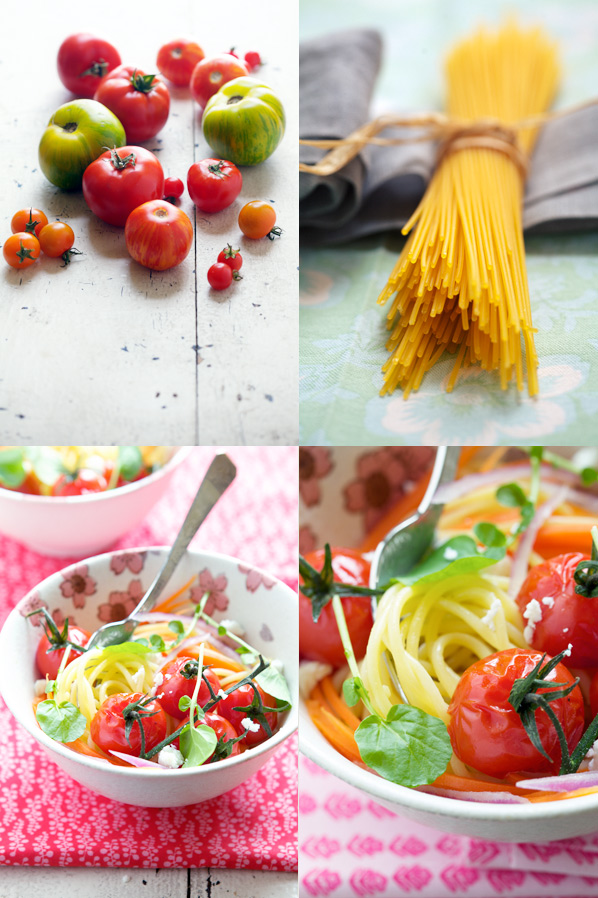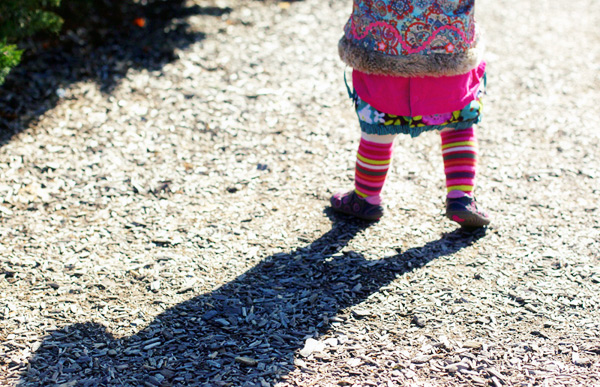 I started by roasting the tomatoes with garlic, lemon thyme, honey and olive oil, and I later tossed them with the spaghetti (mine is made of corn), julienned carrots that I blanched, fresh watercress (upland cress, more precisely) and other goodies I found. The result was an everything-in-a-plate filled with goodness that I devoured before going out to the park with Lulu, for our daily walk.
She is now cruising independently. Exploring. It's the start of many adventures, I know, and I am really looking forward to it.
Following closely. Never too far. Today, our princess Lulu is also fifteen months old…already.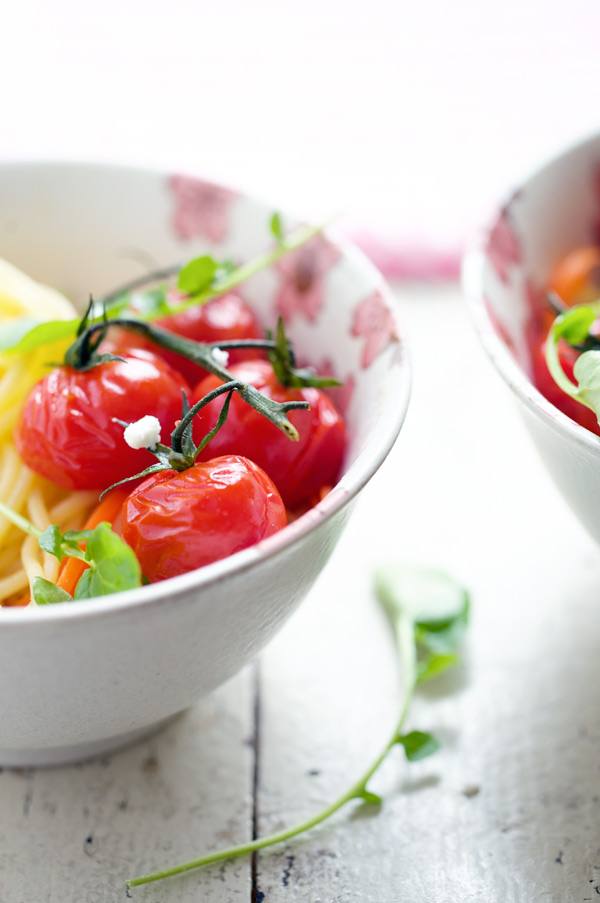 Spaghetti with roasted cherry tomatoes, lemon thyme and honey
Spaghetti with roasted cherry tomatoes, lemon thyme and honey
For 4 people
You need:
Sea salt and pepper
2 pounds ripe cherry tomatoes
2 large garlic cloves, finely minced
1 teaspoon finely chopped lemon thyme
1.5 teaspoons honey + more to serve
6 tablespoons olive oil + more to serve
2 large carrots, peeled and julienned finely
12 oz spaghetti
Parmesan cheese, grated (to taste)
4 oz crumbled feta cheese or goat cheese
Handful of fresh watercress leaves
Drizzle of lime juice
Steps:
Preheat the oven to 350 F. Place the cherry tomatoes in an oven dish; set aside. In a bowl, combine the garlic, lemon thyme, honey and add 6 tablespoons olive oil. Season with salt and pepper. Coat the cherry tomatoes with this marinade. Bake the tomatoes for about 20 minutes; keep warm on the side.
Blanch the julienned carrots for 1 minute in boiling salted water and rinse them under cold water.
Cook the spaghetti al dente in a large volume of salted water. Drain and transfer to a large bowl. Add 1 tablespoon olive oil and toss gently.
Toss in the carrot, cherry tomatoes and marinade, crumbled feta and add a generous amount of grated Parmesan (to taste).
Divide the pasta between four plates and add watercress leaves in each plate. Add a squeeze of lime juice and drizzle with honey and olive oil. If you have fresh parsley handy, add some too.
Le coin français
Spaghetti aux tomates cerises, thym citron et miel
Pour 4 personnes
Ingrédients :
Sel de mer et poivre
900 g de tomates cerises
2 grosses gousses d'aïl, hachées finement
1 càc de thym citron finement haché
1.5 càc de miel liquide + pour servir
6 càs d'huile d'olive + pour servir
2 grosses carottes, pelées et taillées en julienne fine
340 g de spaghetti
Parmesan, finement râpé
115 g de miettes de feta ou de fromage de chèvre frais
Poignée de feuilles de cresson
Jus de citron vert
Etapes :
Préchauffez le four à 180 C. Mettez les tomates dans un plat à gratin. Dans un bol, mélangez l'aïl, le thyme citron, le miel et 6 càs d'huile d'olive. Assaisonnez de sel et de poivre et mélangez aux tomates. Faites cuire pendant 20 minutes; gardez au chaud de côté.
Faites blanchir les carottes dans un grand volume d'eau bouillante salée. Rinsez sous l'eau froide.
Cuisez les spaghetti al dente, égouttez et mettez-les dans un grand plat. Ajoutez une cuiller à soupe d'huile d'olive et mélangez.
Ajoutez alors les carottes, les tomates cerises et leur marinade, la feta et saupoudrez généreusement de parmesan râpé (selon goût).
Divisez les spaghetti entre quatre assiettes et ajoutez une petite poignée de cresson dans chaque. Arrosez d'un peu de jus de citron et d'un filet de miel et un d'huile d'olive. Si vous avez du persil frais, ajoutez-en aussi.