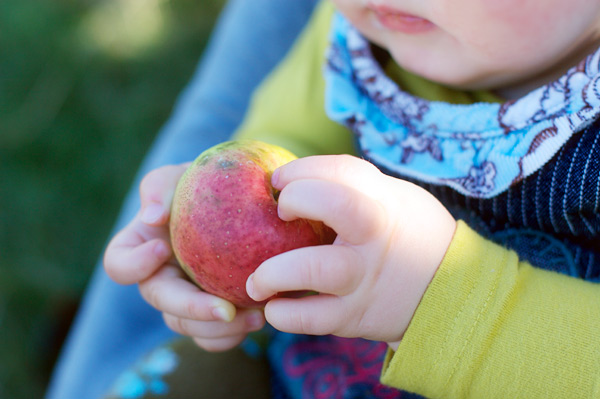 She was holding the small apple tight between her delicate hands. It was colored with beautiful shades of red, orange and yellow blending harmoniously. It was also perfect in size for her. She was casually leaning against P.'s chest but didn't even seem to notice as she was too engrossed in observing the apple — her new treasure. Right. Left. Up. Down. And again, turning the apple with her fingers.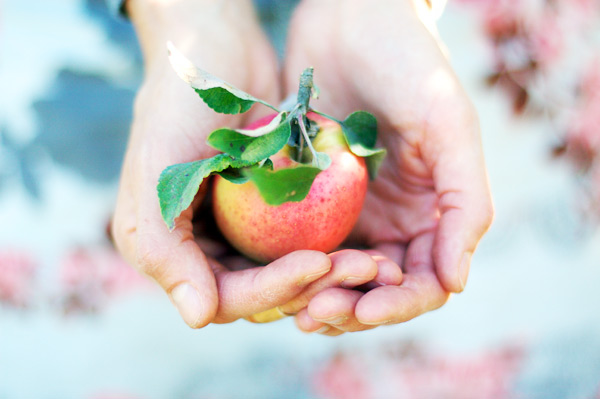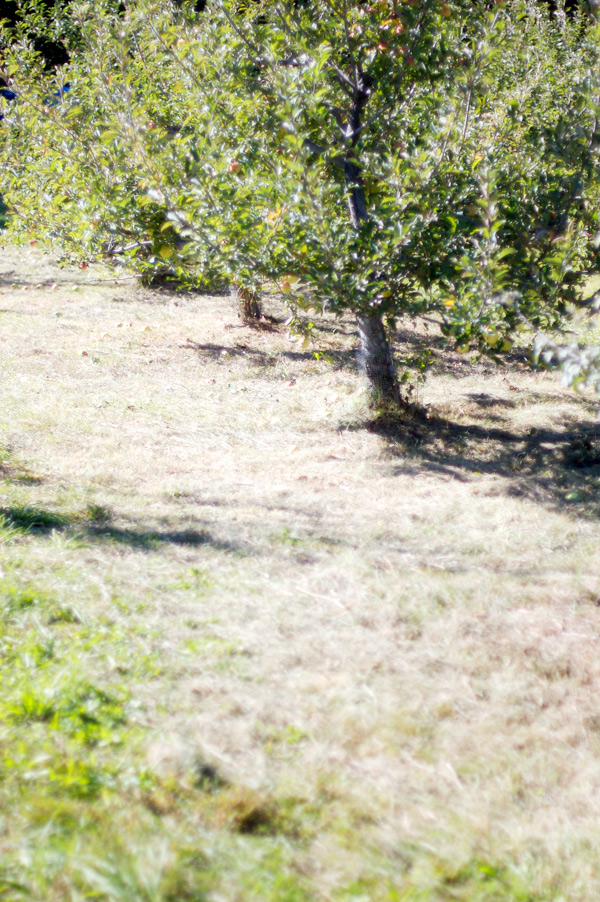 Lulu seemed so happy, sitting on the grass between P.'s legs, that we simply wanted to stay quiet and watch, eager to prolong the moment. It was the first apple picked right from the tree that she was holding.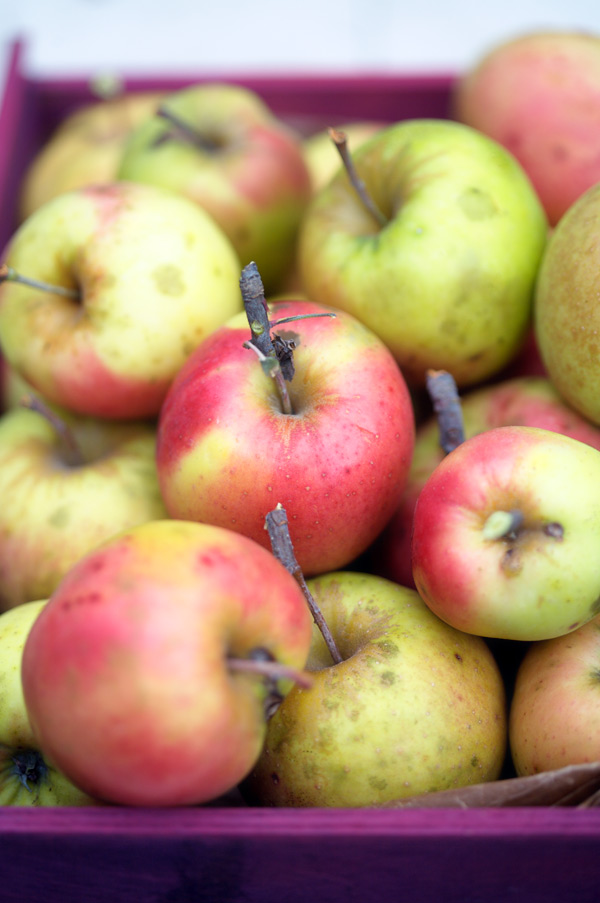 It was one of those perfect days in late September in New England, when the sky is blue, the light has a warming yellow hue and the air is crisp, and we had decided to drive to an organic farm forty minutes outside of Boston, to go apple picking. We hadn't gone yet this year, so we were especially looking forward to the day. We wanted it special for Lulu. I wanted to bring apples home to make compote, tarts and clafoutis.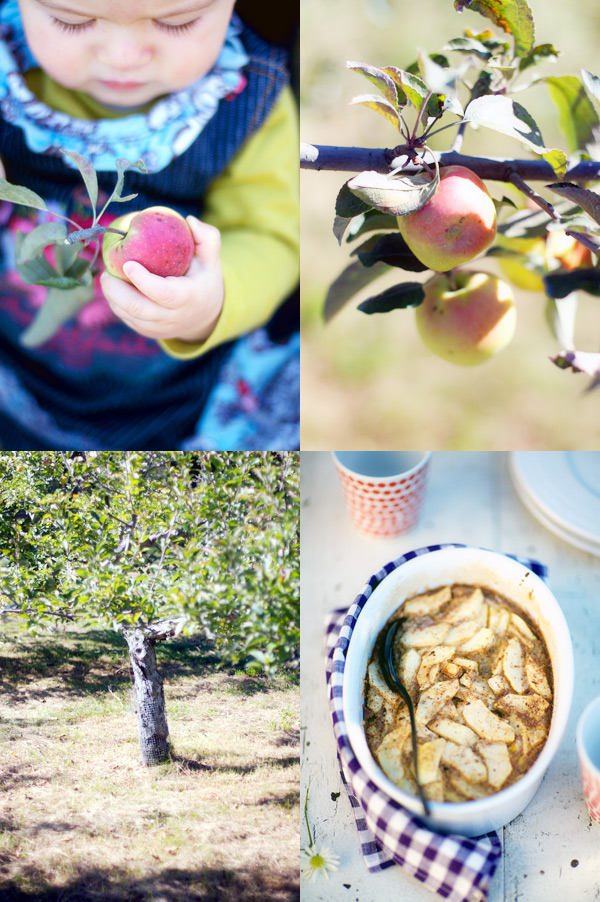 There were still late summer raspberries and plenty of apples to pick and when we arrived, the place wasn't too busy — I liked it that way. One family was eating a picnic under a tree with their one year old baby boy toddling hesitantly, which made Lulu very amused. We sat down on a large blanket next to them and ate our lunch. I had tossed together something quick but nourishing, a quinoa salad with cherry tomatoes, avocado and ricotta salata, and we finished with a piece of goat cheese, plain sheep milk yogurt — Lulu's favorite — and oatmeal cookies.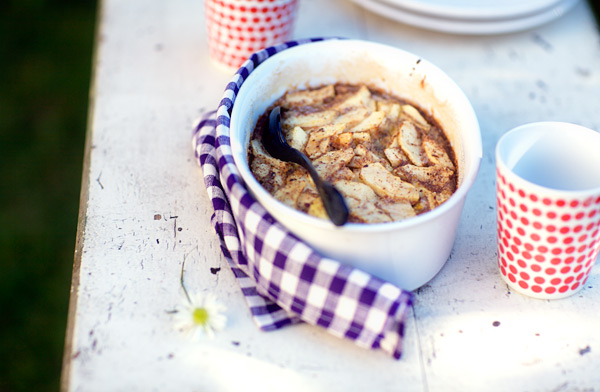 I carried Lulu on my back while we picked the fruit and, once our baskets were full with raspberries and apples, we sat down again in the shade of an apple tree. It'll be peaceful, I thought. But I was far from imagining how pleasant it would be.
"Tiens, prends la pomme," (Take the apple) I told Lulu, holding a small red apple in front of her. She looked at it and then looked at me. Then she looked at P., as if to receive more reassurance. She paused and then smiled. Her eyes were lit with a spark that seemed to be smiling too. It was something special. She knew it. She reached for the apple and took it delicately between her hands and, while P. and I each ate an apple, she kept looking at hers, playing with it in her hands, bringing it to her mouth, feeling the texture of its soft skin against her lips, learning how to bite in it. It perhaps lasted for fifteen or twenty minutes. Surely more. She never let go of the apple. And later in the afternoon, when she fell asleep as we were driving home, she was still holding the apple tight in one hand.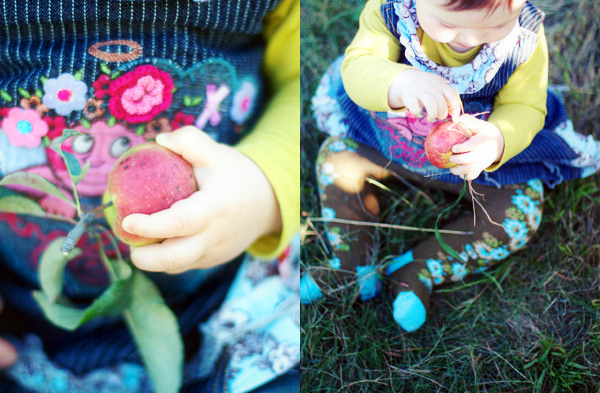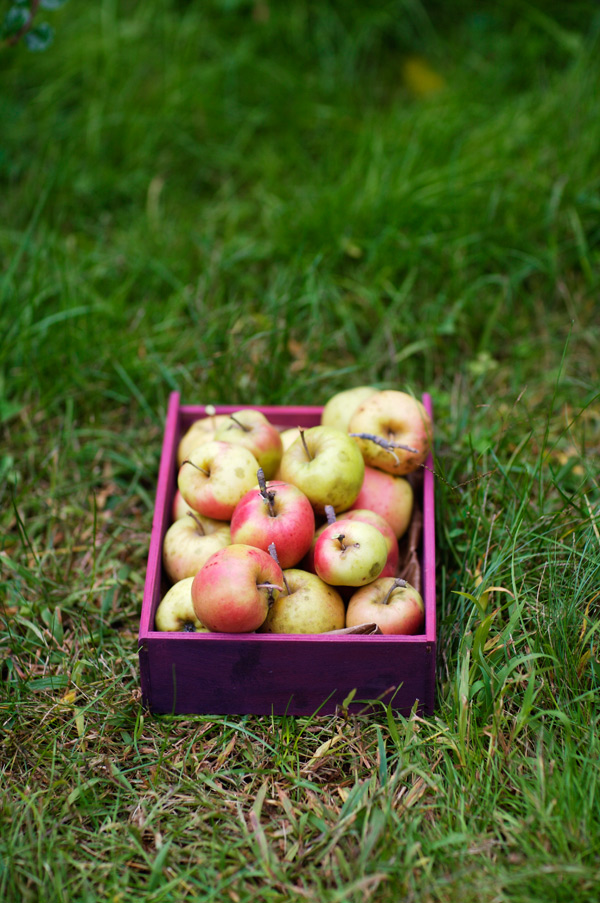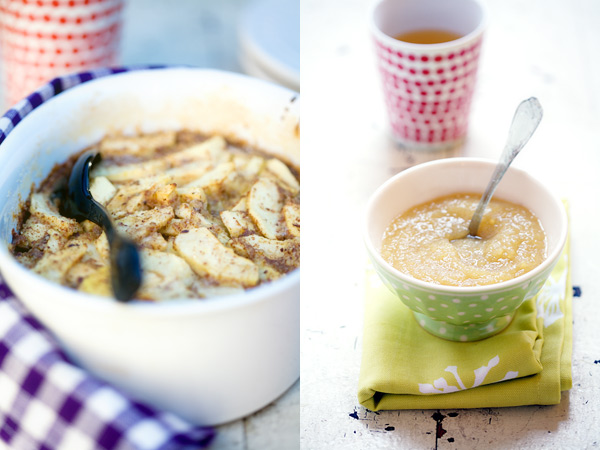 Back at the house, I baked apple clafoutis. And the next day, I stewed apples with spices that made the house smell like fallen leaves in the forest and September in early fall.
Note that in French, a clafoutis aux pommes (apple clafoutis) is often called a flognarde.
And by the way, in case you wondered and were interested in knowing what i am cooking, you can follow me on Twitter
here
. I cannot believe I started! We'll see what I do with it!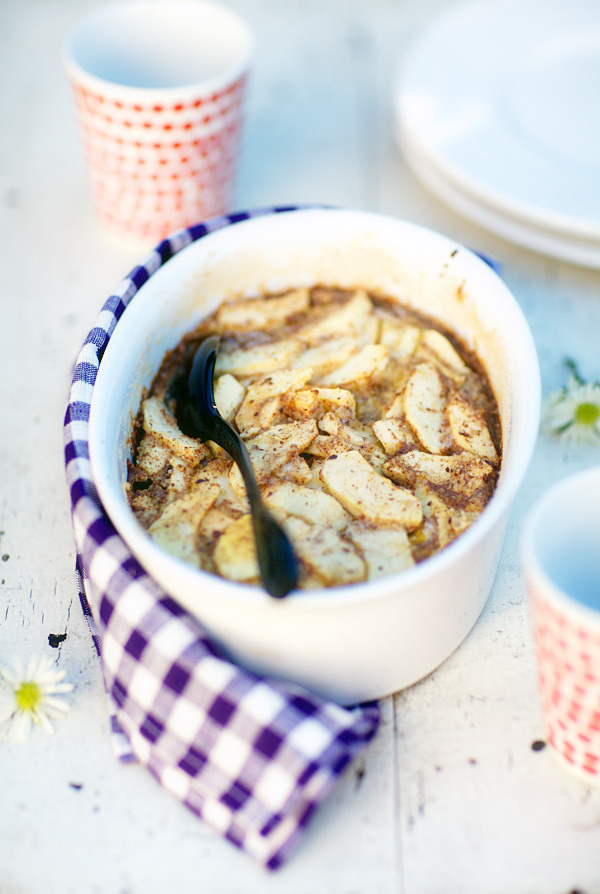 Apple and hazelnut clafoutis
Apple and hazelnut clafoutis

You need:
3 organic acidic apples, peeled, cored and sliced
2 eggs
1/2 cup coconut milk**
1/2 cup whole milk
1/3 cup hazelnut meal/flour
1/4 cup cornstarch
1/3 cup blond cane sugar + a little for the mold
1 teaspoon ground cinnamon
2 tablespoons butter, diced
**substitute with heavy cream, if you want
Steps:
Preheat the oven at 400 F. Butter a 7 x 9″ oven dish and coat its sides and bottom with sugar; set aside.
In a bowl, combine the hazelnut flour with the cornstarch, cinnamon and sugar.
In another bowl, whisk the eggs with the coconut milk and whole milk. Add the flours/sugar preparation and whisk until homogeneous.
Pour into the dish and add the apple slices on top. Top with small pieces of butter and bake for 25 to 30 minutes. Serve the clafoutis lukewarm.
Le coin francais
Clafoutis aux pommes et aux noisettes

Ingrédients :
3 pommes acidulées, pelées et coupées en tranches
2 oeufs
125 ml de lait de coco non sucré**
125 ml de lait entier
35 g de poudre de noisettes
30 g de maïzena
80 g de sucre de canne blond + un peu pour le moule
1 càc de cannelle en poudre
30 g de beurre
**substituez par de la crème liquide, si vous préférez
Etapes :
Préchauffez le four à 200 C. Beurrez un plat mesurant 18 x 23 cm et saupoudrez-le de sucre; mettez de côté.
Dans une jatte, mélangez la farine de noisettes avec la maïzena, la cannelle et le sucre.
Dans une autre jatte, battez les oeufs avec le lait de coco et le lait. Ajoutez les farines et mélangez bien.
Versez cette préparation dans le moule et répartissez les tranches de pomme dessus. Ajoutez des noisettes de beurre et enfournez pendant 25 à 30 minutes. Servez le clafoutis tiède.