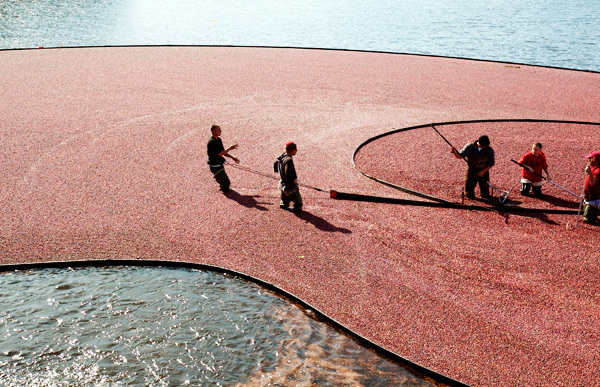 My friend R. and I were chatting about food while cleaning up in the kitchen after dinner. Then, I told him: "Tu sais, ça fait des années que je veux voir la récolte des canneberges," (You know, it's been years since I wanted to see the harvest of cranberries).
"Ah bon ?" he exclaimed, surprised.
I looked at him. He became quiet. He's thinking, I thought. I could see it. He's cooking something!
"I think I can help," he said, with a glorious smile lighting his face.
It's one of the many nice things I like about R. The fact that he's têtu comme une mule (stubborn like a mule), persistent — did I say before that he's a medical doctor? — and that he's always enthusiastic about anything that's in relation with food. We're friends because of that too.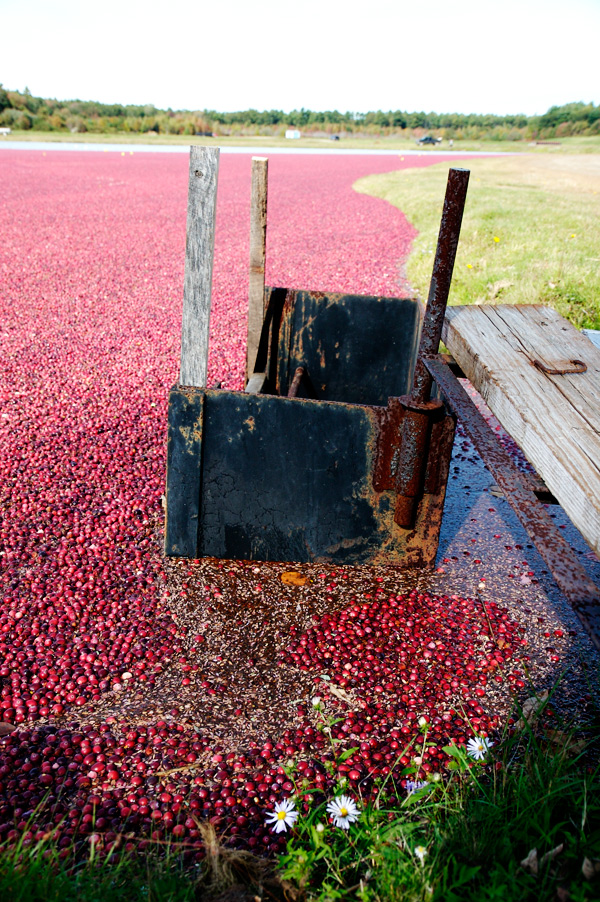 A few days after we talked, he emailed me.
"C'est fait!" (Done!) he wrote."You're all set. Going to visit a cranberry bog."
"How did you do it?" I wrote back.
"I know people," he had casually added.
What he actually meant was that he had written to a friend working at Ocean Spray, and one thing leading to another, he managed to plan the visit to a cranberry farm for me.
He might not have known it, but that simple thing made me really happy!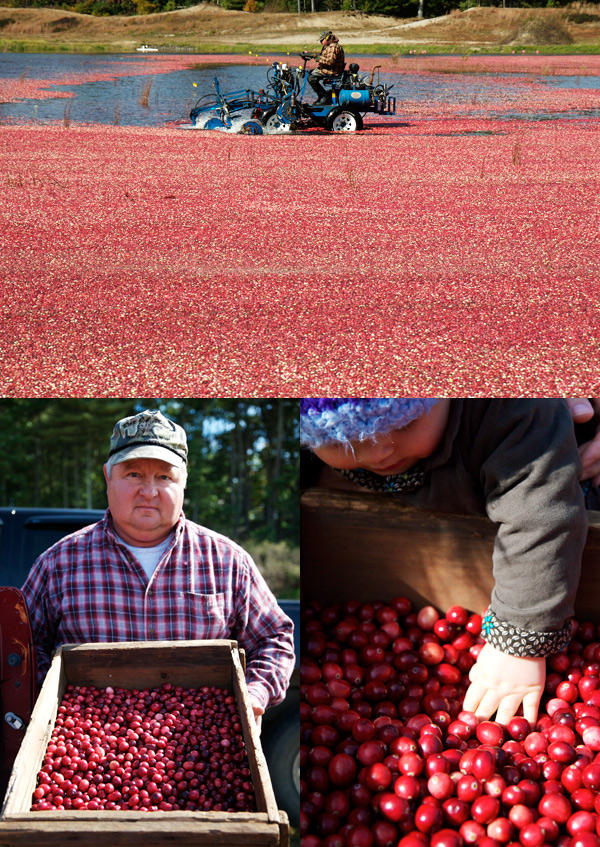 On Thursday, we woke up to a bright sunny day. That's really lucky! I thought. It had rained the entire day before.
"Lulu, on va voir des champs de canneberges** aujourd'hui," (Lulu, we'll see cranberry bogs today,) I told her as I was slipping a cozy jacket and a warm hat over her head. It might be windy on the bog, Jennifer, our guide, had warned me. Bring layers!
My friend E. was going to come with me. While waiting for her, I ate one bowl, or rather two, of warm spicy sweet potato and butternut squash soup to keep my energy up, and I packed a few hard-boiled eggs and an avocado comté sandwich along with Lulu's lunch, cumin-flavored mashed vegetables and stewed peaches I had prepared for her. I knew it was going to be a beautiful day.
** Perhaps the right term is cannebergière, but I like the way words like "champs de canneberges" sound.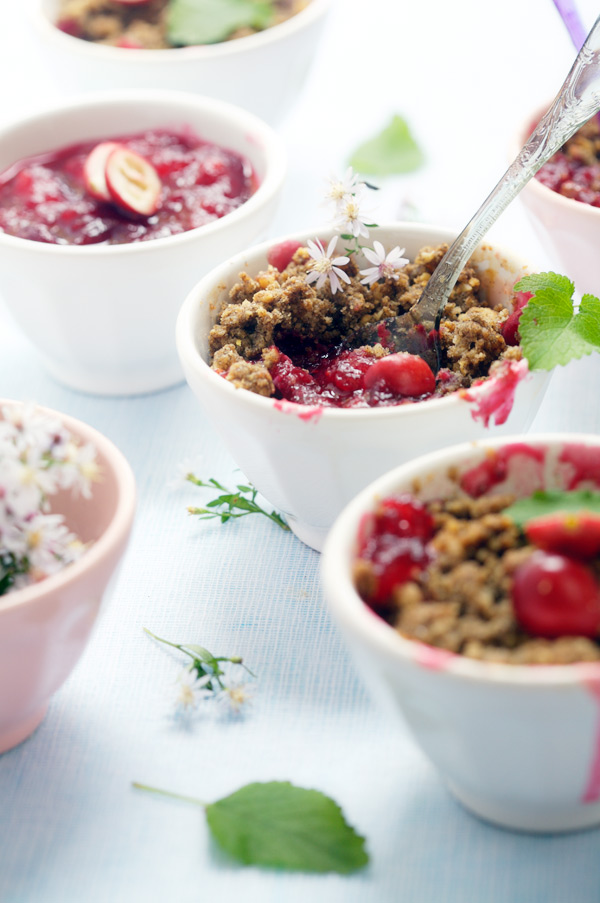 Cranberry and apple crumble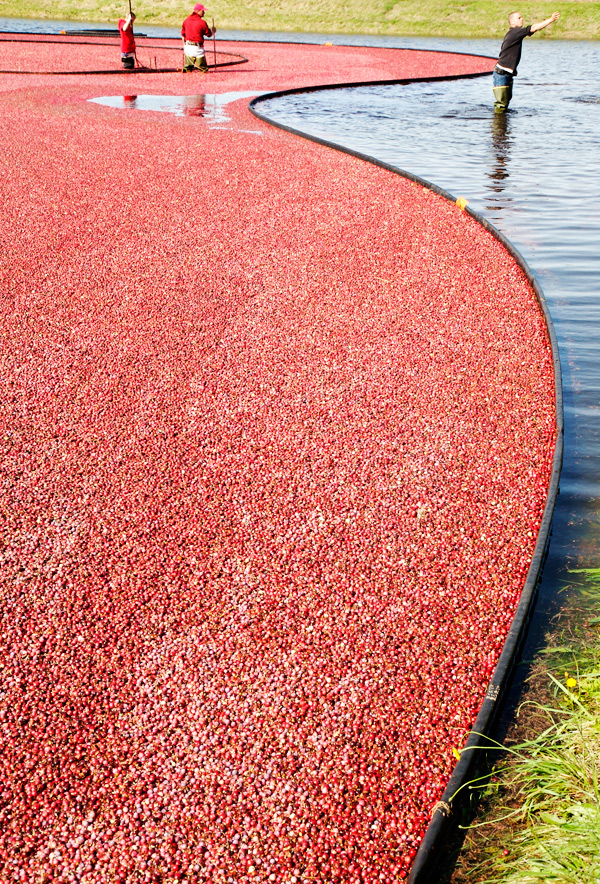 It's hard to know where to start. During the few hours we spent with Jennifer, I learned so much. My eyes were taken by so much beauty as I watched beautiful shades of red coloring the ground generously. Like a happy painting.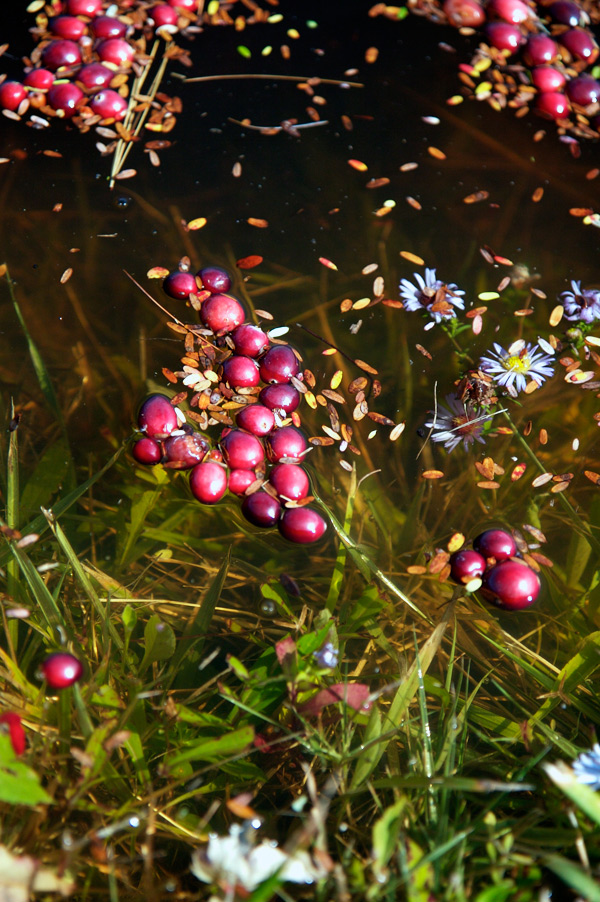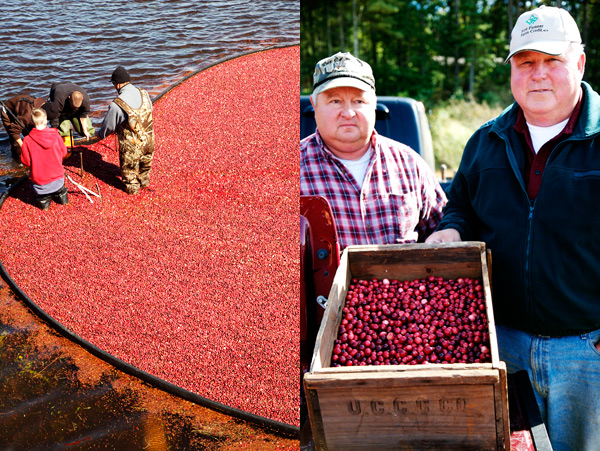 It took us forty five minutes to drive south to Carver. As soon as we got out of the car, Lulu looked around swiftly, stared for ten seconds and then started to smile and laugh. I looked around too, and just realized that I wanted to do the same. I was so happy to finally see a cranberry bog in real life!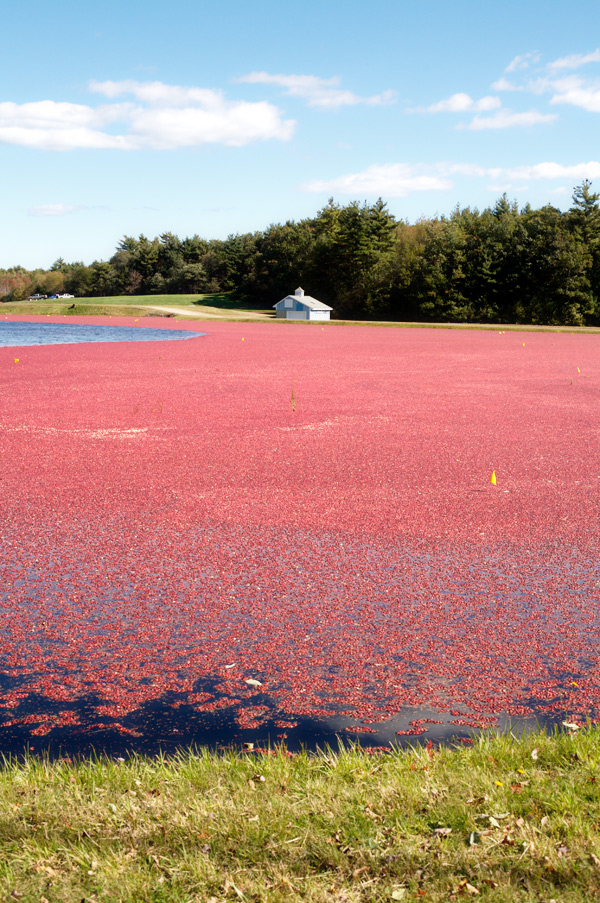 A tall man with a generous look on his face walked in our direction to greet us. He was Larry, the owner of the farm. With his brother, he started to tell us about the farm and how the harvest takes place. I was all ears. I had my questions ready too.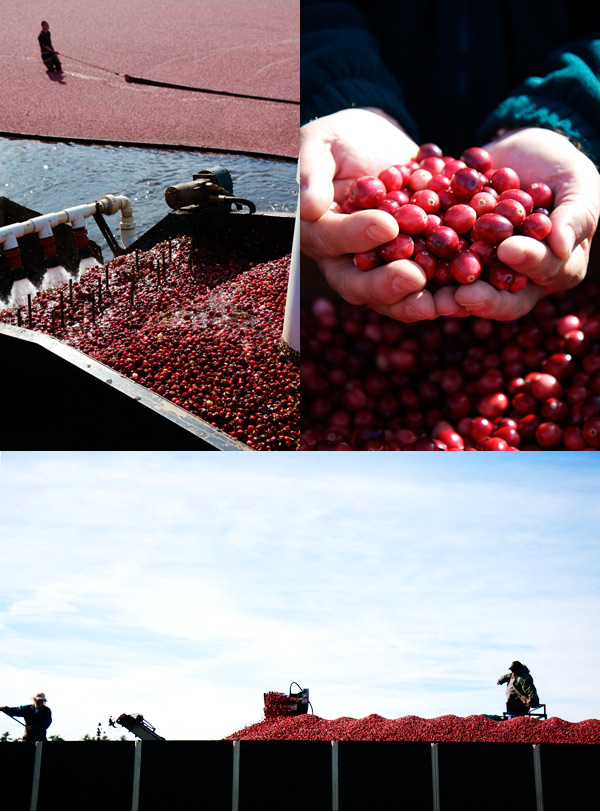 Cranberries are harvested in various states throughout the United States. Wisconsin is the biggest cranberry supplier, but Massachusetts, Maine, and neighboring states in Canada like Nova Scotia, Québec and New Brunswick have a fair amount of cranberry growers too. To do well, cranberries need an acidic soil to grow, and a climate that combines cold winters — even if they are sensitive to ice and snow — and warm summers, just like in New England.
It takes a year for a crop of cranberries to be ready. Ninety percent of the time, the bog remains dry. Then, by mi-September each year, when the cranberries are ripe, the bog is flooded, ready for harvesting. The harvest will then last until about the end of October. It's a cycle that repeats every year, with crops better some years than others.
"Many of the farmers believe in Mother Nature," Jennifer said. "If a crop is good one year, it's partially because of the weather, of course, but it's also due to what Nature keeps for us," she told me her growers often report.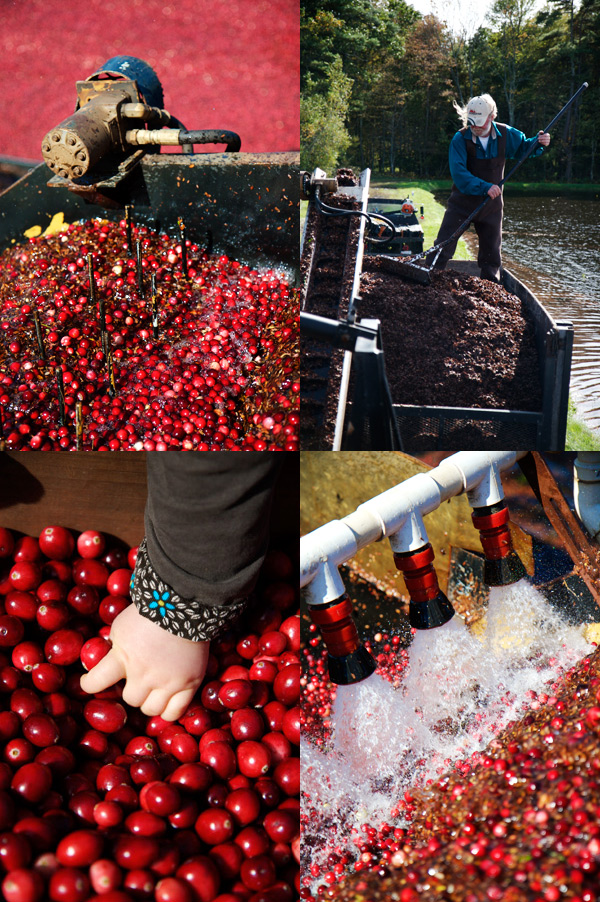 When the bog is flooded, while under water, the cranberries are still attached to the vine. Harvesters drive across the entire the bog on a machine — resembling a tall tractor — that detaches the cranberries from the vine. Once this done, the cranberries are gathered in one area to facilitate the harvest (called corralling). They are pumped, washed and then transferred to a truck.
The process is simple and beautiful to watch. Lulu enjoyed it as much as E. and I did.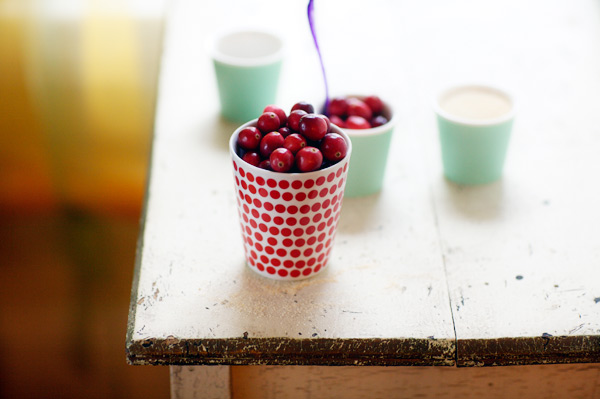 "Do you want to taste a fresh cranberry?" Larry said, picking a berry between his big fingers.
"Can I?"
"Sure!" he said, laughing.
He took a knife out of his pocket, cut the berry he was holding open and held it to me. I bite in the fruit, not sure what to expect. "Wow!," I said, making a face after I swallowed the fruit. It tasted tart. But I liked it. I had to try again. I popped another piece in my mouth. The taste was becoming addictive.
"It reminds me of a red currant," I told Larry.
"Here!" he said, holding large bags of plump cranberries for me to bring home. For some odd reason, they looked much bigger than the ones I was used to seeing in the store.
"That's a lot of cranberries," I said, laughing. He responded something, I knew, but I was already lost in thoughts of what I was going to make with my precious freshly harvested fruit.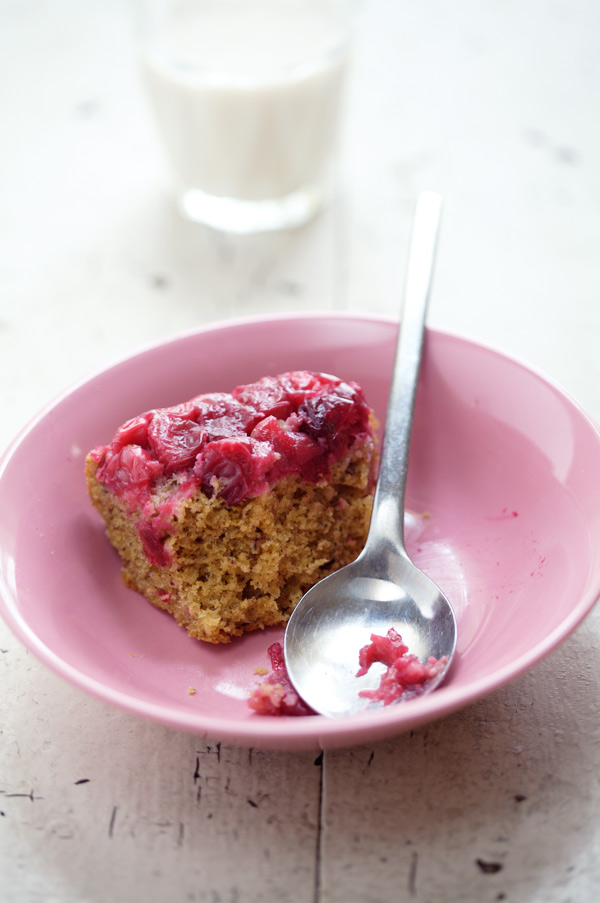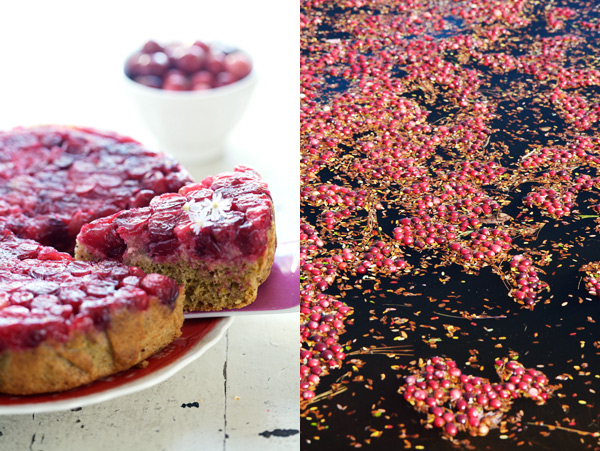 Cranberry upside down cake
And once we were back home, later that night, the first thing I baked was a cranberry and apple crumble. And I made an upside down cranberry cake and cranberry sauce too, thinking that, somehow, the cranberries looked almost as pretty served on the table as they did when they were floating on their bed of water.
Almost!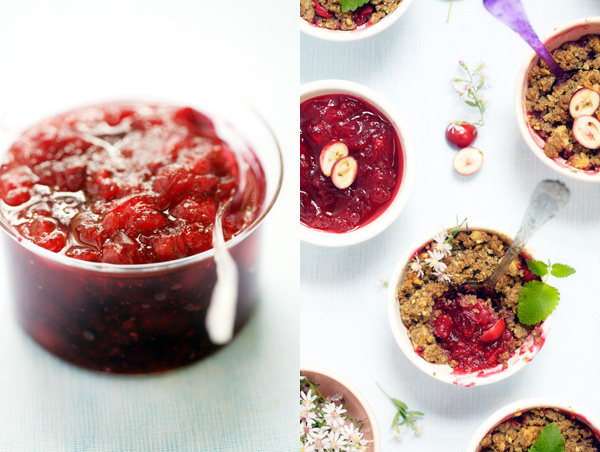 Cranberry sauce — Cranberry and apple crumble
Cranberry sauce
Makes 1 2/3 cups

You need:
3 cups fresh cranberries (300 g)
2/3 cup blond cane sugar
3/4 cup water
1 stick cinnamon
4 cardamom pods
Steps:
In a small pot, bring water and sugar with spices to a simmer, until sugar is dissolved.
Add the cranberries and bring to a simmer.
Once the berries have burst, cook on low heat, uncovered, for 10 to 15 minutes.
Remove from the stove and let cool completely at room temperature. Discard the cardamom pods and cinnamon stick. The sauce thickens as it cools. Store in the fridge. I like to add mine to plain yogurt with granola, even if it's really known as an accompaniment to savory foods.
Cranberry and apple crumble
For 6 servings

You need:

For the fruit:
2 apples
2 cups halved cranberries (200 g)
1/3 cup blond cane sugar
1 tablespoon lemon juice
1 tablespoon cornstarch


For the topping:

1/3 cup buckwheat flour
1/2 cup walnuts
Zest of 1 lemon
1/2 cup quinoa flour
1/3 cup almond meal
1/2 cup light brown sugar
7.5 tablespoons butter, at room temperature, diced

You'll have leftovers of topping, which you can store in the fridge for a few days, or freeze for future uses
Steps:
Preheat the oven at 350 F and have 6 small ramekins ready. Butter them and set aside.
In a bowl, combine the cranberries, apples, sugar, cornstarch and lemon juice. Divide between the ramekins.
Chop the walnuts coarsely.
To prepare the crumble topping, in a bowl, combine the buckwheat and quinoa flours. Add the almond meal, light brown sugar, walnuts and lemon zest.
Add the butter and using the tip of your fingers, work the ingredients together to obtain crumbles.
Add on top of the fruit.
Bake the crumbles for 30 minutes, or until the fruit is bubbly and the top is golden. Let cool and server lukewarm with plain yogurt.