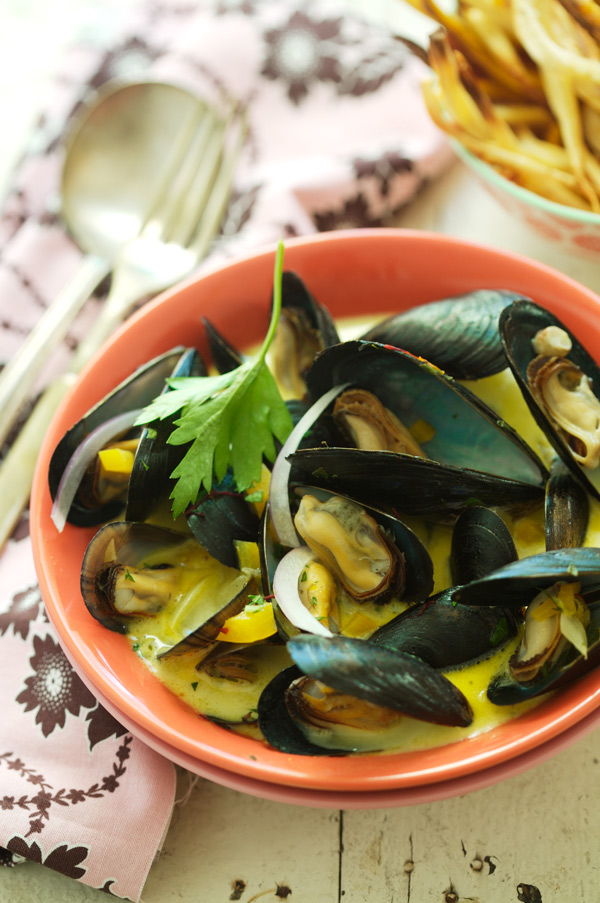 Mussels in saffron broth

Moules marinières — mussels cooked in white wine, shallot and parsley — is a French classic. It's also a dish that P. and I adore, especially if the dish is paired with thin oven baked fries on the side — our favorite are parsnips and carrots (these are yellow carrots!)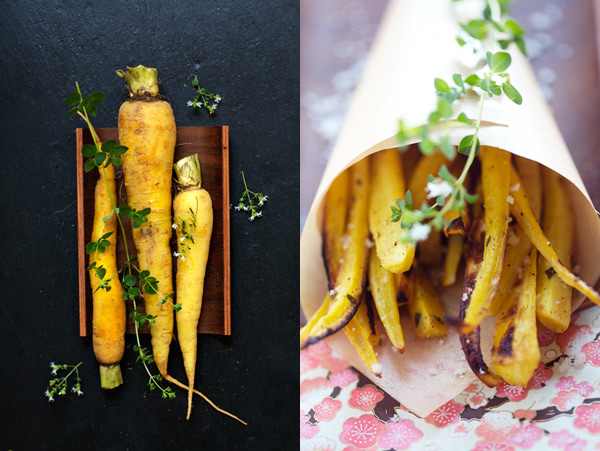 This is exactly the kind of dish I wanted to prepare for my most recent contribution to the Seasons column in the Boston Globe.
In fact, I made the recipe last week when my mother was visiting. She helped to clean the mussels — and I was glad since we bought three kilos — and gulp down the food. Because whenever there are mussels and fries for dinner, this is exactly what we end up doing! I am not sure how much each of us ate, but by looking at the pile of mussel shells on the table, I guess it was a lot. Then, I shelled the remaining mussels, kept the broth, and the next day, prepared a dish of spaghetti and sauteed julienned vegetables in which I added the reserved mussels and broth. Scrumptious!
In this mussel recipe, the flavor of the white wine-based broth is boosted with the addition of an earthy spice like saffron, orange bell pepper for a touch of color, and crème fraiche for smoothness. Make sure not to forget a loaf of crusty bread on the side, to sop up the broth.
It's simple but delicious! The kind of honest food that tastes even better eaten with your fingers, making sure to lick them afterward.