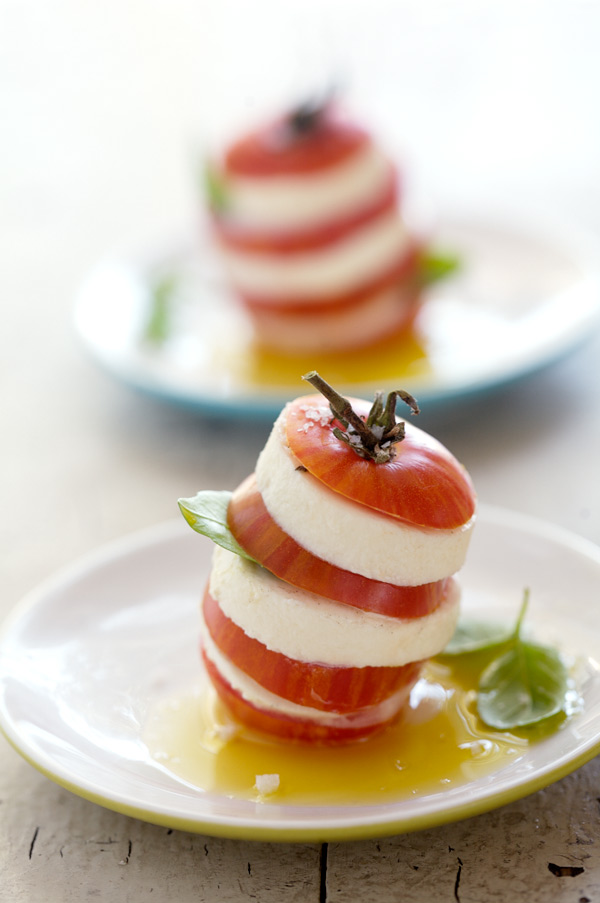 Millefeuille de tomates
"Oh, that's so nice!" my friend E. exclaimed when I placed the small plates on the table. She had stopped by on her way back from the market and I had asked her to stay for lunch. I wanted to share my tomatoes with her, or else I was worried they would spoil too quickly. So it didn't matter that I didn't have real lunch plans. I remembered the tomatoes lined on the kitchen window sill, perfectly happy it seemed to receive more of the warm afternoon sun, and the idea of tomato millefeuilles popped into my head.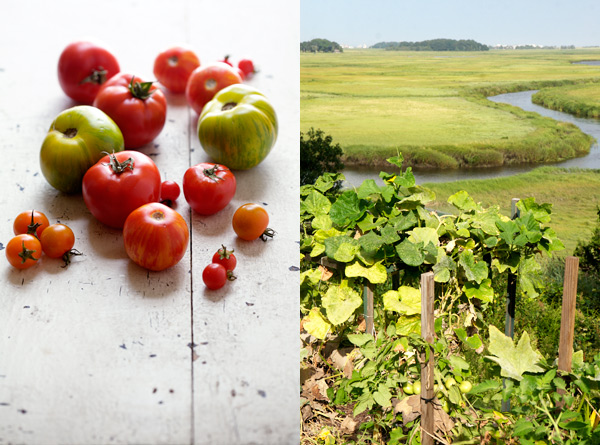 So this is one of the ways we started to eat our delicious Heirloom tomatoes, dressed up in a millefeuille. The flavor of tomatoes stands as the queen in this summery dish. It's a classic: fine slices of fresh mozzarella with juicy sun-filled tomatoes, olive oil with body, the best you have handy, fragrant basil, a tasteful aged balsamic vinegar and salt with character. The association works at each time.
And for the days that followed, I prepared the same appetizer for P. and I, with this time, the tomatoes more casually layered on a plate.
It's a dish simple to prepare, one that makes you rejoice about summer.
And homegrown seasonal tomatoes.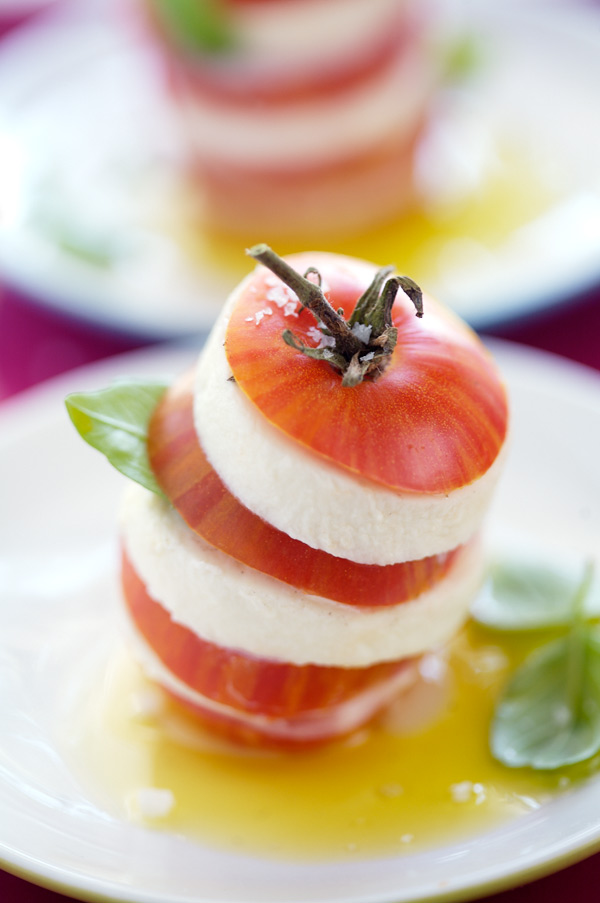 Millefeuilles de tomates
The recipe here is only a rough guideline. I am so sure we do not need a recipe. The key is to think the best ingredients you can find.

I sometimes make a pesto too which I brush on the slices of mozzarella between the layers. It's really delicious. Try it!
You need:
Heirloom tomatoes or/and homegrown
Mozzarella
Fleur de sel
Cracked black pepper
Basil leaves
Fruity olive oil with body
Aged balsamic vinegar
Steps:
Slice the tomatoes and mozzarella finely. Try to make slices of equal sizes to make pretty-looking millefeuilles (they won't fall). Also, cut a small pieces at the bottom of each tomato so that it is stable.
Layer a slice of tomato, basil, mozzarella and season with pepper between each slice.
When you are ready to serve, drizzle with olive oil, balsamic vinegar (if using, I sometimes like olive oil only) and fleur de sel. Add more basil, and don't forget a good countryside crusty bread, to dip the bread in the dressing. Eat as often and as long as the tomatoes are seasonal. It's super easy but so rewarding. And pretty on the table.