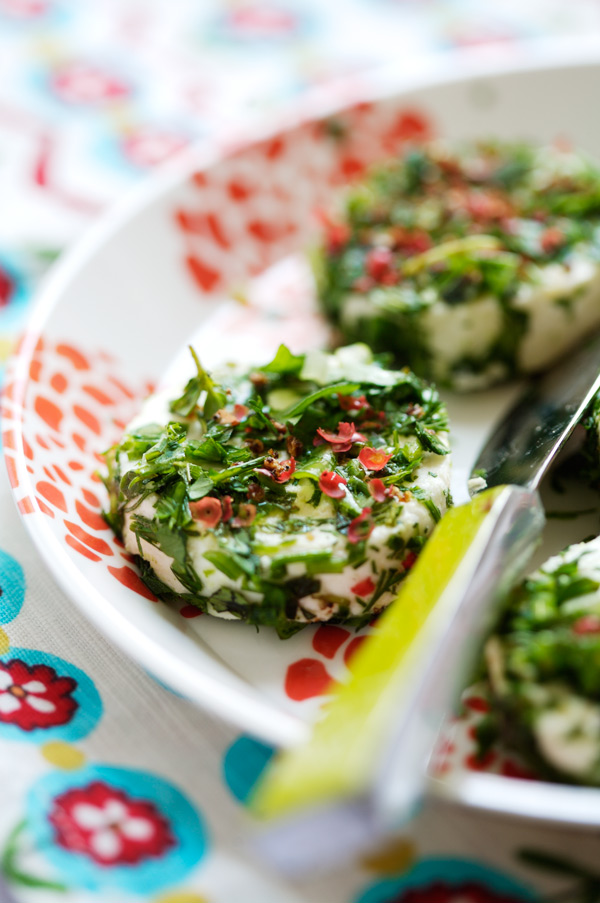 Herb and Red Peppercorn Goat Cheese
We love soft fresh goat cheese.
Everyone in my family, in fact, except my dad. One of the best memories I keep from the yearly summer trips my family took to southwest France was the weekly expédition to the marché where, invariably, we would return with a few fromages de chèvre frais (soft fresh goat cheese) in our basket. These types of goat cheese were made by local artisans and had me dream of owning goats, so that one day, I would too be able to make that delicious type of goat cheese. I really loved the idea.
But of course, that never happened.
I don't own goats — although I am still in the love with the idea — but I am a huge fan of fromage de chèvre frais.
Much to my regret, that type of cheese is hard to find where I live. Or at least this is what I thought before I recently visited Formaggio, in the hope of buying goat cheese for a recipe I was writing for the Boston Globe.
"What fresh goat cheese would you recommend?" I asked the young girl at the cheese section of the small Cantabrigian delicacy store. Lulu was staring at the glass window behind which various attractive goat cheese were on display.
"You'll love this one," she answered without hesitation. She was pointing at a small table hidden in a corner, where two types of cheese were arranged for sampling. "It's Belgian and really tasty. Would you like to try some?"
She was right.
The cheese was perhaps not looking like those I remembered from my vacations, but it was still excellent: extremely light and balanced, and with great texture.
"It's a St Maure? I've never heard about this one," I said, feeling content to have discovered something new.
"You know what Lulu? We'll come back soon to buy more," I told her as we returned to the car.
I used the cheese for the Herb and Red Peppercorn Goat cheese recipe I wrote this week for the Seasons Column of the Boston Globe.
It's always nice to have this kind of recipe handy, should you feel like enjoying an easy-to-make, yet dressed-up snack. We ate ours with crusty baguette and red wine a few weekends ago, when our friend J. came to visit.
The whole thing disappeared within minutes.
It happens that quickly, with tasty fromage de chèvre.