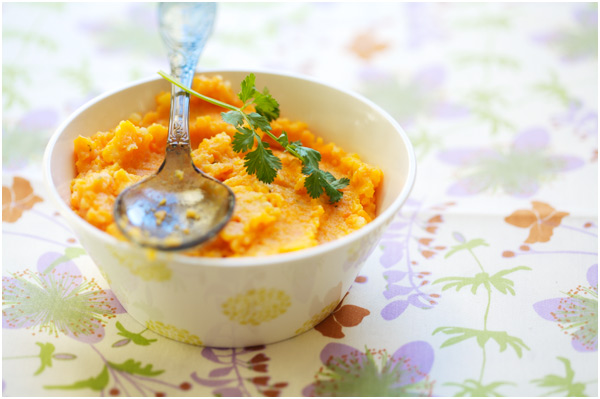 Coriander-flavored Mashed Carrots with Coconut Milk
Carrots.
It's funny, really, to get excited about carrots. I have friends who think that I am crazy to find carrots sexy, but I secretly know that they've probably not been as lucky as me, to have grown up near the best carrots one can imagine. I swear it's true.
I was that lucky young French girl who, each summer, was waiting for the premières carottes de la saison (the first carrots of the season). They were always planted in rows of three in my mum's garden, between the French beans and beets, with the young ones as the best in taste, those not yet fully grown that I liked to "steal" and eat as a midday snack. Of course, they were never straight in shape, and were always full of dirt. I know well that they would never have won aesthetics awards, but as to their goût (taste), it was simply incomparable.
The best.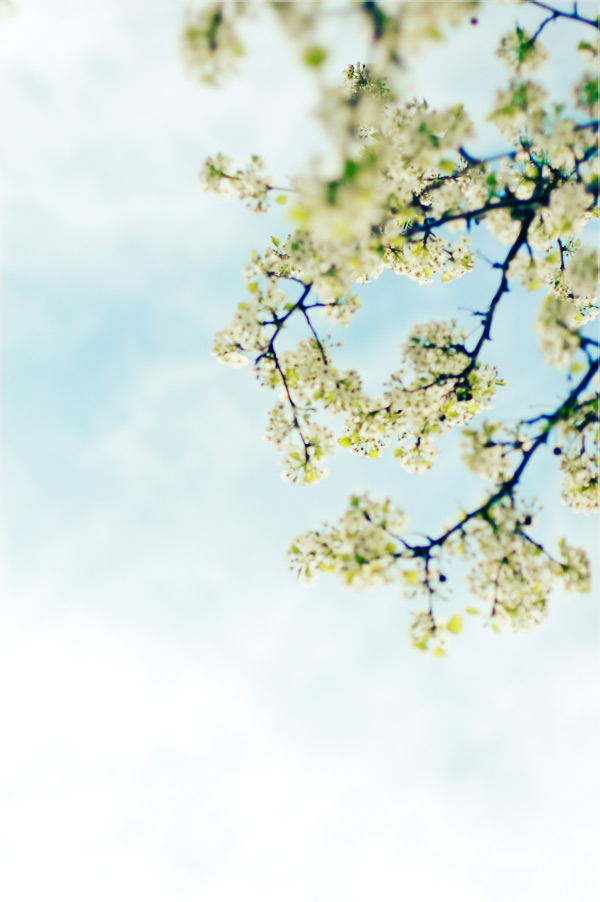 The other day, I had a craving for carrot mash. Again.
It happens quite often.
It's not even because spring is finally here — or I should say summer, in view of the thermometer today! The air outside reached 90 degrees Fahrenheit. 32 degrés celsius ! Crazy, non ? I keep thinking that no later than last Sunday, when we went for a walk to the park, we were still wearing hats and gloves. I am actually already missing my hat and gloves. And it's not even because my sister-in-law gave me the best hat that I've ever owned.
But the trees exploding into colorful blooming flower buds everywhere I looked made me feel quite cheery. Despite the heat I dislike.
Oh yes, the carrots.
So, I had this craving for carrots. A dish of carrot mash, more precisely. Now that Lulu is four months old — last Saturday, in fact — I think more and more about simple dishes like mashed vegetables. I am excited at the prospect that she will soon experience the taste of food for the first time, beside le lait de sa maman (ie my milk). How fascinating to witness her going through this wonderful phase of life! It's all magical, really.
She already likes to hang out with us at the dining table, and sits proudly — she really has this look on her face — in her green high chair. She likes to be part of the family table, smiling as she looks at us to her right and left, before she starts it all over again. I love that she is happy there.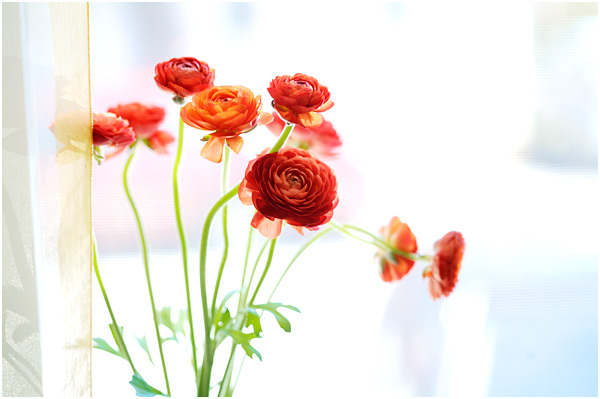 "Avec toi, j'ai commencé avec des purées de légumes, comme les carottes, (I started with mashed vegetables like carrots)" my mum tells me when I curiously ask about the foods she introduced to us first — I have to learn too. She has pride in adding that my brother B. and I never ate a petit pot de bébé acheté (store-bought baby food); she always cooked what we ate.
Maybe this is the reason why I love carrots so much.
It must be it.
This carrot mash version is, of course, for times when Lulu will be a little older. I made it thinking about the new season, and the flavors P. and I were in the mood for. It's very simple and surprising.
It uses fresh coriander, the smell of which diffusing in the kitchen inspires me about spring produce; coconut milk for an exotic touch, and cracked red peppercorns for enhanced flavor and color. It's always prepared with a food mill, because I am convinced that the best mashed vegetables are made this way. No exception.
It's a wonderful side dish that you can prepare to accompany grilled fish or meat, or eat just as it is in the bowl. And, if you have leftovers, you can also feel creative with other recipes.
But I will have to tell you about that next, when I have a moment again for myself.
In the meantime, let's enjoy this simple food.
And the feeling of the new season.
Spring.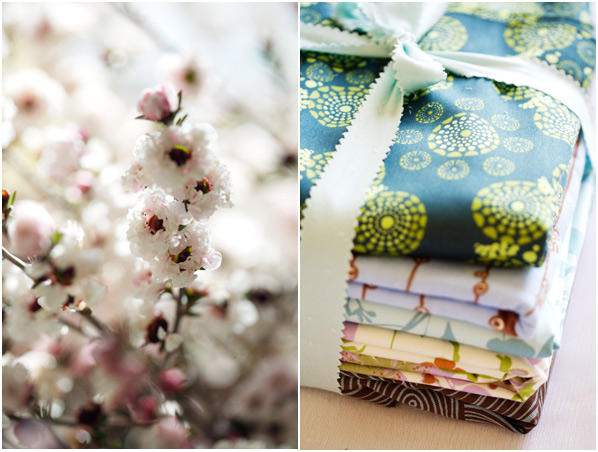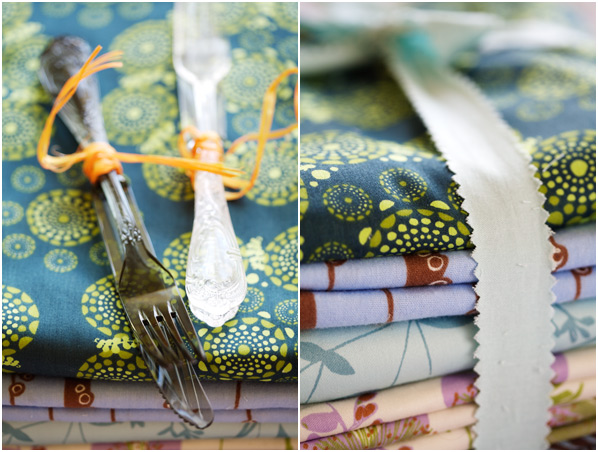 Note: the textiles used in the top picture and above come from Harmony Art, a talented designer I was lucky to come across. Oh the surprises of the web and the wonderful things we can find while browsing here and there. A big thank you to Harmony. I cannot wait to get more of her organic patterns to cheer up my pictures. They work so naturally.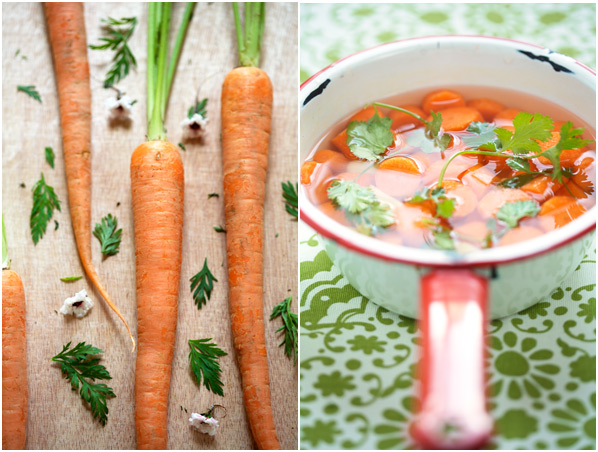 Coriander-flavored Carrot Mash with Coconut Milk
(For a side dish)

You need:
1 lb + 2 oz organic carrots, peeled and diced
2 Yukon gold potatoes, peeled and diced
Bunch of fresh coriander
1/3 cup unsweetened coconut milk
2 tablespoons olive oil
Fleur de sel
Crushed red peppercorns
Steps:
Place the vegetables and a few coriander leaves in a pot. Cover with water, add a pinch of salt, and bring to a boil. Cover and cook until tender, about 20 minutes (or less depending on the size of the vegetable pieces).
Drain and transfer to a food mill. Puree the vegetables.
Heat the coconut milk and add to the mashed carrots with 2 tablespoons olive oil.
Serve warm with a dash of fleur de sel, freshly chopped coriander and cracked red peppercorn.
Le coin français
Purée de carottes parfumée à la coriandre et au lait de coco
(En accompagnement)

Ingrédients :
500 g de belles carottes, pelées et coupées en rondelles
2 pommes de terre, pelées et coupées en rondelles
Bouquet de coriandre fraiche
70 ml de lait de coco non sucré
2 càs d'huile d'olive
Fleur de sel
Baies roses concassées
Etapes :
Mettez les légumes dans une casserole avec quelques brins de coriandre. Cpuvrez d'eau et ajoutez un bonne pincée de sel. faites cuire jusqu'à ce que les légumes soient tendres (environ 20 minutes, le temps varie selon la taille des rondelles).
Egouttez et passez-les légumes au presse-purée.
Chauffez le lait de coco et ajoutez-le à la purée avec l'huile d'olive.
Servez chaud avec de la fleur de sel et des baies roses concassées.