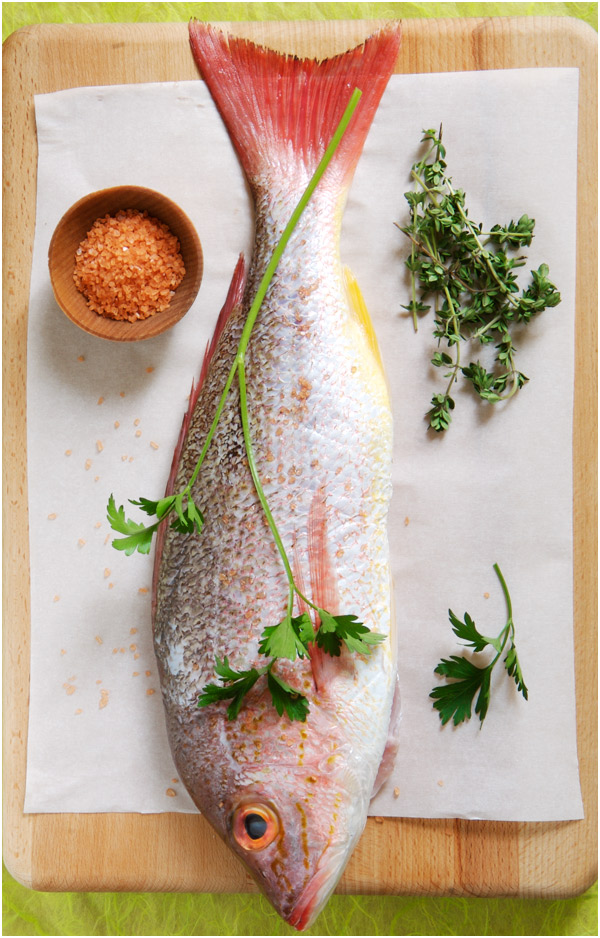 Poisson d'avril
The expression does not make sense when translated into English, but I love it: Poisson d'avril, which literally means April's Fish.
Well, I guess I know what we are eating tonight. And that is no joke.
Or perhaps I just wanted to post a picture of a colorful fish since I cannot imagine hanging this one on anyone's back — we really do those things en France.
Sérieusement. I cannot remember when was the last time I played an April fools' day trick on anyone. Lulu will have to learn the tradition. She will love it. And the fish too.
Well, it's April.
Wow. Incroyable !
And there's so much activity in our house. A daughter who is growing like une mauvaise herbe (a weed), says le papa. She is happy and *so* curious about everything. About every single detail of life. That's what babies do.
And there is my cookbook that requires so much of my energy. It will be another full month. Hopefully less fast. But as full.
Well, I hope that you are also starting April on the right foot.
Well fed. Happy and jolly.
I just needed to stop by, to wish you a happy April Fools' Day. And share with you a simple fish recipe.
Take a whole fish of your liking, thyme and sea salt, add a splash of olive oil, a few steamed potatoes on the side, and a tossed salad, and turn dinner into a simple fare.
You've had something like this before, haven't you?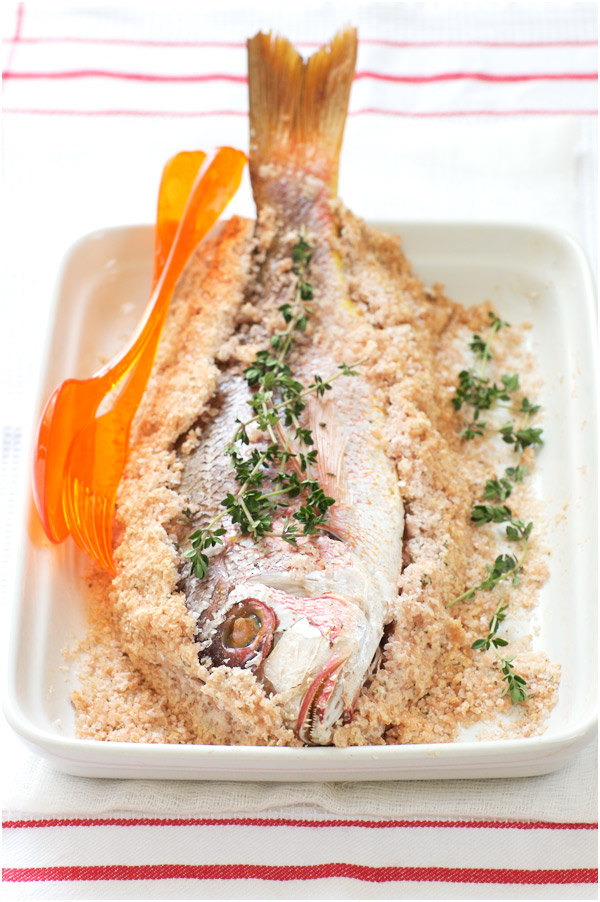 Red Snapper cooked in Thyme-Flavored Salt
You need:
1 whole red snapper (1 lb), not scaled but cleaned inside
2 egg whites
1 tablespoon chopped thyme
2 lbs coarse sea salt

Steps:

Preheat the oven at 400 F.
In a bowl, combine the egg whites, thyme and salt.
Take a baking dish and add a bed of this salt preparation at the bottom. Place the fish on top. Cover it completely with the rest of the salt. Bake for 30 minutes.
Remove from the oven and let cool for 5 minutes before breaking the crust of salt. The flesh of the fish should be extremely tender. Eat as is, or with a dash of olive oil, and steamed potatoes.
Le coin français
Dorade en croûte de sel au thym
Ingrédients :
1 poisson entier, type dorade, de 450 g, non écaillé mais nettoyé
2 blancs d'oeuf
1 càs de thym haché finement
1 kg de gros sel

Etapes :

Préchauffez le four à 200 C.
Dans une jatte, mélangez le thym, le sel et les blancs d'oeuf.
Placez une couche de cette préparation dans un plat allant au four. Mettez le poisson dessus et recouvrez complètement de sel. Enfournez pour 30 minutes environ.
Laissez refroidir 5 minutes et cassez la croûte de sel. Dégustez tel quel ou avec un filet d'huile d'olive, et des pommes vapeur.