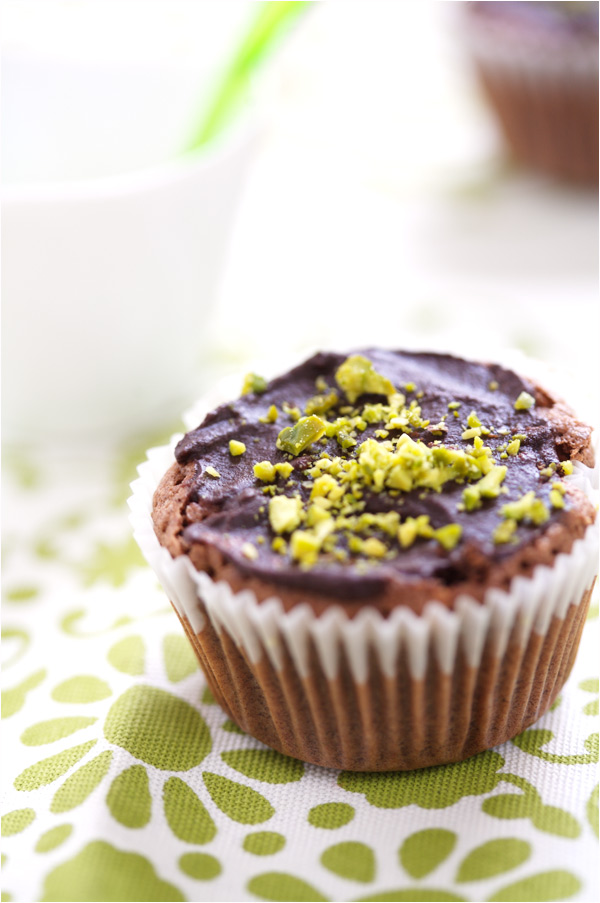 Dark Chocolate Hazelnut Muffins
"Areuuu… areuuuu*…aaaaaa…ooooooo…." Lulu was repeating happily.
She's becoming so vocal these days, talking to herself when she lies in her bed, or when she plays with her hands that she holds tight together, her arms stretched out above her eyes. Each sound, in fact, is more charming than the other; they all make me melt. Things change so quickly!
*Areuuu areuuu is the French for googoo gaga. I did not teach Lulu to say this but she learned it naturally from hearing me speak French with her all the time. Quite fascinating, I must say!
"Regarde ce que maman fait (look at what mummy is making)," I told her as she stared at the wooden spoon I was holding in my right hand. She was obviously intrigued by the steady circular movement of the spoon inside the chocolate bowl. The rich smell of melted chocolate and butter diffused throughout the kitchen, despite the window I had cracked open to let the lovely spring air filter through. That put me in an even better mood for the upcoming activities of the day.
"Un jour, you will be like papa et maman," I added as I squeezed her tighter in her sling by my right hip. "Tu seras fan de chocolat noir. (you'll be fan of dark chocolate.)"
We surely hope so.
I was preparing for an early afternoon work meeting and felt happy that between Lulu's naps and play times, I was able to pull together a small treat we would enjoy while working.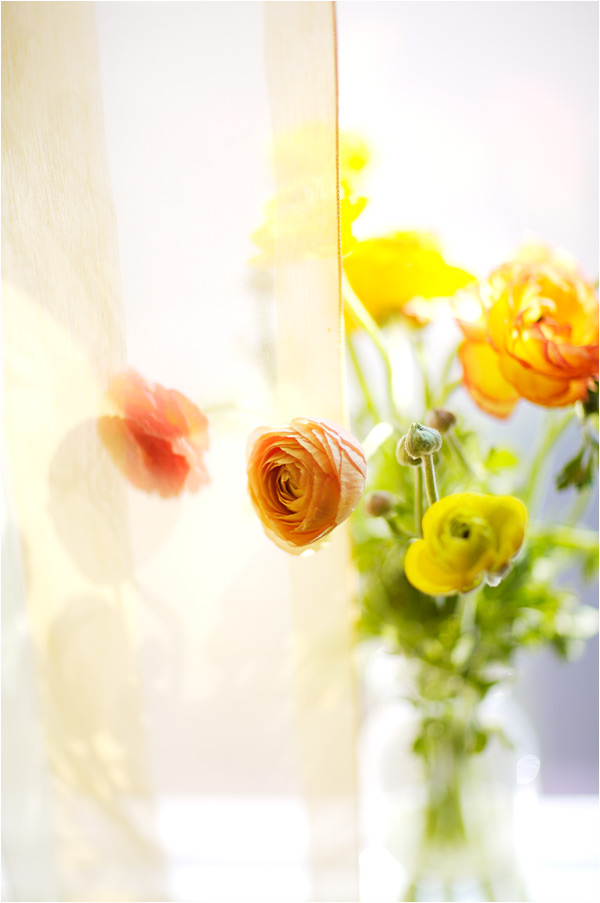 "What did you bake today?" S., my editor, asked a few minutes after she walked into the kitchen. Lulu gave S. an open frank smile when she picked her up from her yellow play mat, to hold her close. I sensed that she was in fact more interested in Lulu than what I had baked, and I was not blaming her.
"Something with chocolate. You'll tell me what you think. I want you to guess what's in it."
"That should get her gourmande attention," I thought deep inside, smiling.
I call the cakes muffins but I am actually not sure that they are muffins, technically speaking. But muffins or cakes, whatever the name, these chocolate treats were really simple to prepare.
"Do you like chocolate?" I asked H., the art director, also present. I loved the wide smile that lit her pretty face. And her response.
"Of course, I am normal!"
"Right! How can someone not like chocolate, n'est ce pas ?"
Ok, I know that it happens. And this is totally fine. In fact, you might well be one of the people who does not care at all about chocolate. Like my brother B., for example.
But if you like chocolate, like David for example, you might easily fall for this recipe: it uses buckwheat and hazelnut flours — making the recipe gluten free, if that matters to you — good quality dark chocolate, blond cane sugar, fresh eggs and lightly salted butter. Straightforward, simple and genuine.
"Approved?" I asked S. and H. as they were getting ready to leave.
"YES!"
A recipe that I am glad to share with you just in time for Easter, non?
Because I don't know about your family, but in mine, chocolate is always on the menu for Easter, no matter what.
So, if you celebrate this holiday, I hope you have a wonderful time. And hopefully the weather will be nice so that we will all be able to go out for a walk, and feel the wonders of Spring.
I cannot wait.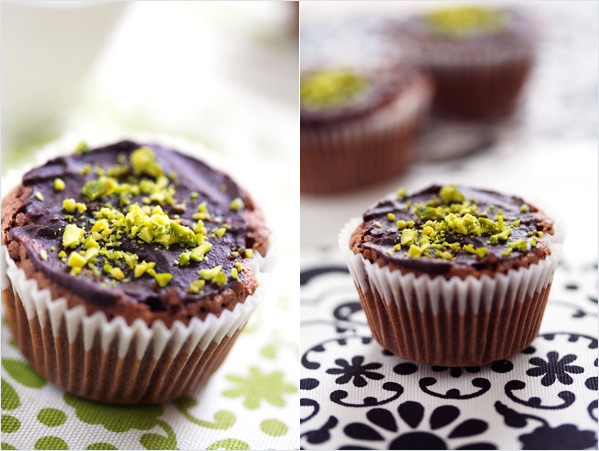 Dark Chocolate and Hazelnut Muffins
(For about 10 muffins)
You need:
For the muffin batter:
3.5 oz dark chocolate, 65 % cocoa contents
7 tablespoons lightly salted butter
2/3 cup hazelnut flour
1/3 cup buckwheat flour
3 eggs
1/2 cup blond cane sugar
Chopped green unsalted pistachios and hazelnuts, to decorate
For the icing:
2 oz dark chocolate
2 tablespoons heavy cream
Steps:
Preheat the oven at 350 F, and prepare a muffin pan by placing paper cases in each hole.
Using a double boiler (or a bowl placed above a pot full of simmering water, bowl not touching the water), melt the chocolate with the butter.
In the meantime, place the sugar and eggs in the bowl of a stand mixer, and whisk until light in color and the volume has almost doubled.
Add the melted chocolate while whisking slowly.
Then, use a wooden spoon to mix in the flours. Combine until just homogeneous.
Fill the paper cases 3/4 full and bake for about 15 minutes. Let the muffins cool.
To make the icing, use the double boiler again and melt the chocolate with the cream. Take a knife and spread a little icing on each muffin. Sprinkle with chopped pistachios and hazelnuts, and let cool completely for the icing to set.
Le coin français
Muffins au chocolat noir et aux noisettes
(Pour environ 10 muffins)
Ingrédients :
Pour la pâte à muffins :
100 g de chocolat noir à 65 %
100 g de beurre légèrement salé
70 g de farine de noisettes
40 g de farine de sarrasin
3 oeufs
100 g de sucre de canne blond
Pistaches non salées et noisettes hachées en poudre assez fine, pour décorer
Pour le glaçage :
60 g de chocolat noir
2 càs de crème
Etapes :
Préchauffez le four à 180 C et remplissez un moule à muffins avec des caissettes en papier.
Faites fondre le chocolat avec le beurre au bain-marie.
Pendant ce temps, battez les oeufs avec le sucre jusqu'à ce que le mélange double de volume et blanchisse.
Ajoutez le chocolat et le beurre fondus, et mélangez doucement.
Ajoutez les farines et mélangez avec une cuiller en bois jusqu'à ce que la pâte soit homogène.
Remplissez les caissettes aux 3/4 et enfournez pendant environ 15 minutes. Sortez du four et laissez refroidir.
Pour préparer le glaçage, faites fondre le chocolat avec la crème au bain-marie. Etalez ce glaçage sur chaque muffin à l'aide d'un couteau. Saupoudrez de poudre de pistaches et de noisettes, et laissez complètement refroidir pour que le glaçage durcisse.