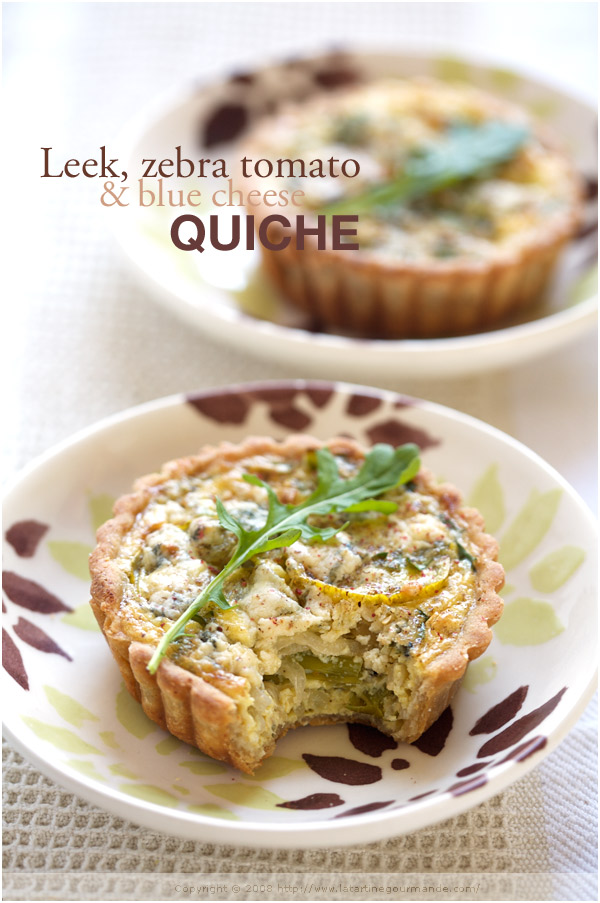 Leek, blue cheese and tomato quiches
Let's talk about the quiches, shall we? After all, I am from Lorraine where quiche lorraine originates from.
But that's not the reason why I want to chat about quiches with you.
In fact, let me confide that I've never been a huge fan of quiche lorraine. Oh yes, really not. When I was a kid, I always found the dish too rich, too egg-y and creamy, lacking the taste of scrumptious delicate vegetables that I can never get enough of. Of course, you won't be surprised since a quiche lorraine does not have vegetables as a component. And if it did, we would not call it a quiche lorraine.
But then, I love the concept of a quiche. Everything about it.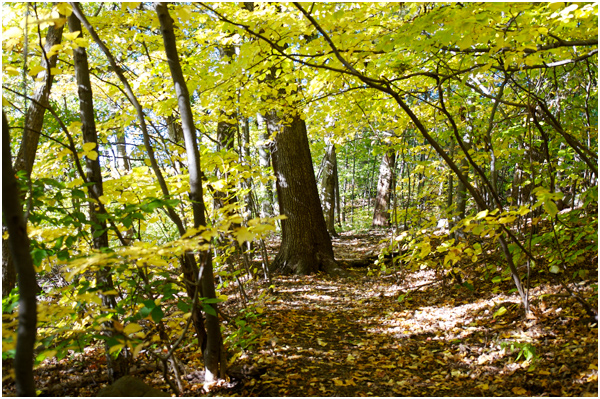 Think a flaky pastry crust that supports a deliciously nourishing topping where you can find fish, vegetables, herbs, cheese, and always eggs and cream (or milk); a dish that makes a meal in itself when it is served with a salad. Really, it's pretty much my idea of a successful lunch, or a light dinner, especially these days, with fall and its gorgeous days settling amongst us slowly.
Over the years, I have developed a lot of recipes for quiches. Sometimes, I make a large quiche to feed a crowd, and at other times, I prefer to make individual quiches — because they are cuter too — or even bite-sized ones, perfect for a party buffet. Quiches are also somewhat different from savory tarts because they use a higher ratio of eggs and cream and/or milk, and are baked in deeper molds. They are wonderful eaten on the day when they are cooked, but also develop extra flavor when they are reheated the next day. I typically prefer to precook the pastry, but not always either. Some people like to eat their quiches cold — perhaps you — although I must say, I am more of a warm quiche kind of eater. Quiches really inspire me, and always make P. and I happy when they are the center piece of our dining table — quite often a reality.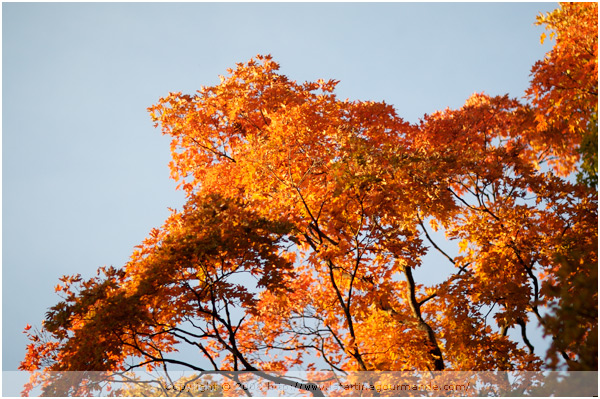 This recipe was actually spontaneous. You know, the type of recipe that happens when you look into the fridge as you are about to make dinner with yet no clue about what you will make.
Since I had leftovers of a few things, Danish blue cheese — used before in a soup and another vegetable tart — pastry crust, organic leeks, eggs and Zebra tomatoes bought at the market a few days before, the recipe happened naturally. With an arugula salad dressed in an argan oil vinaigrette, I knew that these quiches would be simple and lovely.
And they truly were.
With no leftovers this time.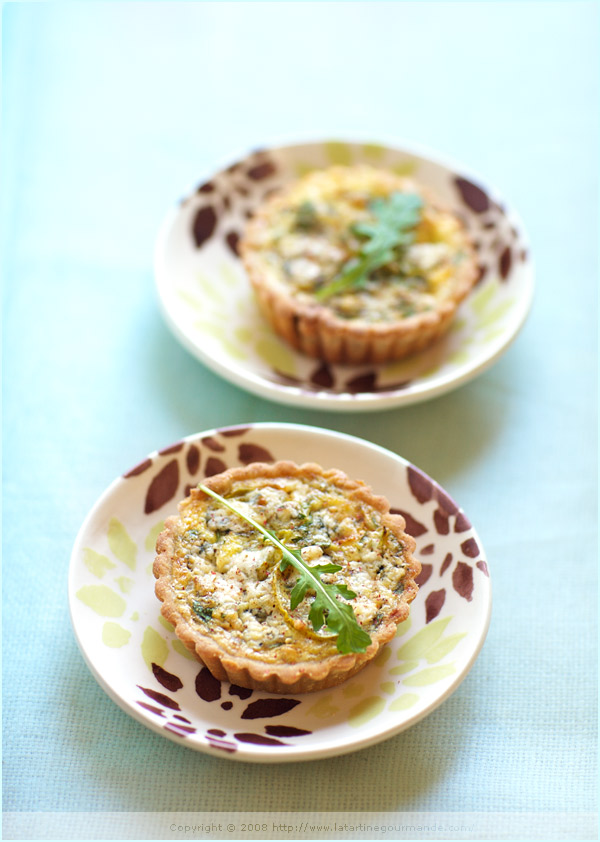 Mini quiches with leek, blue cheese and the last Zebra tomatoes of summer
(For 2 to 3 mini quiches, molds measuring 3.5″ at the bottom, and 1 1/4″ high)
If you want to make this as a big quiche, or 4 individual quiches, I suggest to double the quantities
You need:
Pastry crust (my crust was gluten free made with sweet rice flour, amaranth and quinoa flours, but you can use the one you like best)
3 small leeks, chopped (about 3.5 oz)
2 small Zebra tomatoes, sliced
2 Tbsp olive oil
1 onion, sliced thinly
1 garlic clove, chopped
A few coriander seeds
1 thyme twig
1 oz blue cheese, crumbled
2 organic farm eggs, beaten lightly
2 Tbsp whole milk
2 Tbsp crème fraiche
Nutmeg, freshly grated
Fresh parsley
Salt and pepper
Steps:
Roll your pastry and place in molds; place to wait in the fridge, covered.
Preheat your oven at 400 F.
In a frying pan, or sautee pan, heat 2 Tbsp olive oil on medium heat. Add the thyme and coriander seeds, then the leek, onion and garlic. Season with salt and pepper and cook, without browning, for 7 to 8 minutes, until the vegetables are soft; set aside.
In a bowl, combine the eggs, cream and milk. Season with salt and pepper and add a touch of freshly grated nutmeg. Add the parsley.
Arrange the vegetables in the tart shells (make small holes with a fork first) and cover with the batter.
Add the crumbled cheese and slices of tomatoes. Bake for about 25 minutes. Let rest for 10 minutes before eating, so that the batter sets. The quiches can easily be reheated the next day.
Le coin français
Petites quiches aux poireaux, fromage bleu, avec les dernières tomates Zebra de l'été
Si vous souhaitez réaliser une grande quiche, ou 4 individuelles, je vous conseille de doubler les proportions
(Pour 2 à 3 petites quiches, moules mesurant 9 cm de large, et 3 cm de haut)
Ingrédients :
Pâte brisée (ma pâte était sans gluten, réalisée avec des farines de riz glutineux, quinoa et amaranth, mais choisissez la recette que vous préférez)
3 petits poireaux, partie blanche hachée (100 g)
2 petites tomates Zebra, coupées en tranches
2 càs d'huile d'olive
1 oignon, émincé finement
1 gousse d'aïl, hachée
Quelques graines de coriandre
1 brin de thym
30 g de fromage bleu, émietté
2 oeufs bio, légèrement battus
2 càs de lait entier
2 càs de crème fraiche
Noix de muscade, fraîchement râpée
Persil frais haché
Sel et poivre
Etapes :
Etalez voter pâte et foncez les moules; mettez en attente au frigidaire, recouverts de papier film.
Préchauffez votre four à 200 C.
Dans une poêle, faites chauffer 2 càs d'huile d'olive sur feu moyen, et ajoutez le thym, les graines de coriandre, les poireaux, l'oignon et l'aïl. Assaisonnez de sel et de poivre et faites suer, sans colorer, pendant 7 à 8 minutes, jusqu'à ce que les légumes soient tendres.
Dans un bol, battez les oeufs avec la crème et le lait. Salez et poivrez et ajoutez de la noix de muscade. Ajoutez le persil.
Arrangez les légumes sur les fonds de tarte (piquez-les avec une fourchette) et recouvrez de l'appareil.
Ajoutez les miettes de bleu et les tranches de tomates. Enfournez pendant environ 25 minutes. Laissez reposer 10 minutes à la sortie du four pour que le flan prenne mieux. Peut très bien être réchauffée le lendemain.