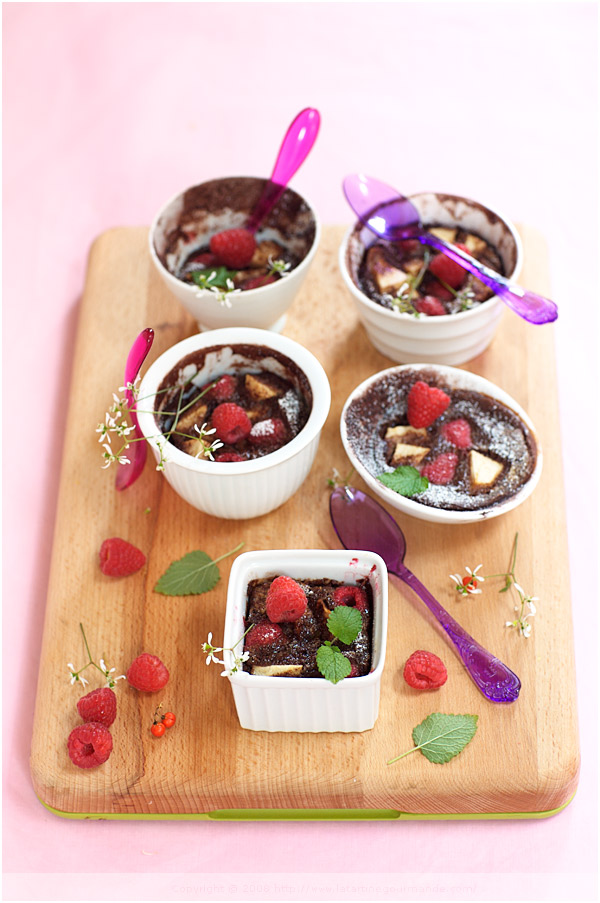 Apple, Raspberry and Chocolate Clafoutis
All I could think of was the word chocolate.
"I want to eat something chocolaty," I told P. when he asked me what I wanted for dessert. We'd dined simply, enjoying mini leek and blue cheese quiches I had made in the morning, roasted squash and a tossed green salad.
In most cases, I could have been quite happy nibbling on a piece of dark chocolate, or two. That's easy: I always keep a wide reserve of different kinds of dark chocolate for us. Since I had just brought more Michel Cluizel and Varlhona bars from France, our favorites, the idea sounded even more attractive. But then, I really felt like something else. Something a little custardy too. And fruity.
"And what if I made a chocolate clafoutis, with fruit?" I went on.
"What fruit?"
"Apples? With raspberries too."
He was sold on the idea.
First, it would not take long to prepare them, and then, it would combine many of the components I love in a dessert: chocolate and fruit, a clafoutis-like texture and a dessert not too sweet.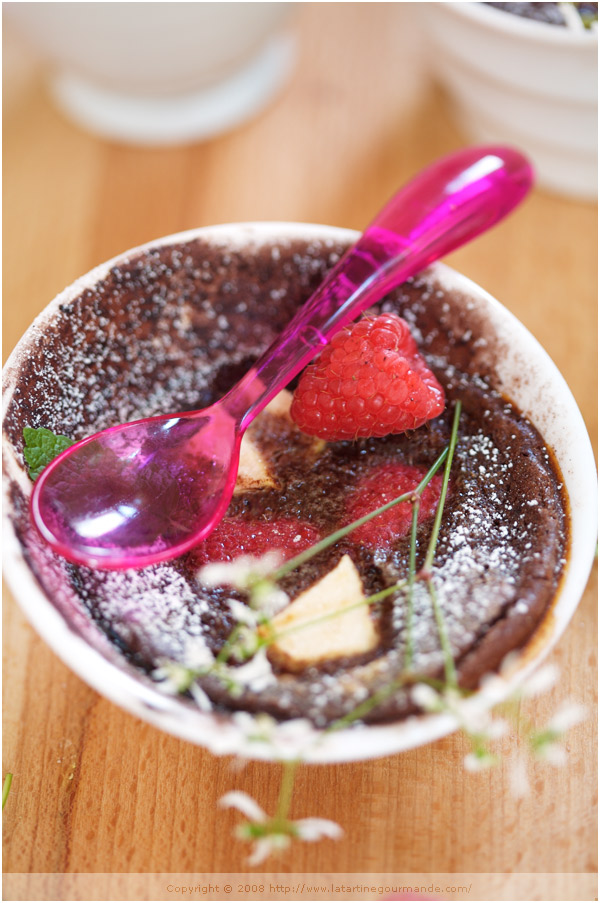 The chocolate clafoutis were made quickly indeed, especially as I chose to prepare small portions, ideal if you are interested in only a small taste of dessert — really, do we sometimes feel this way?
The recipe was straightforward too, with not many ingredients and a lot of time required.
You need quality dark chocolate — I prefer to work with dark chocolate that has a minimum of 64% to 70 % cocoa — tasty apples like Heirloom varieties, the best by far, raspberries even if their season comes to an end, and basic ingredients which I am sure you always keep handy in the fridge or your pantry.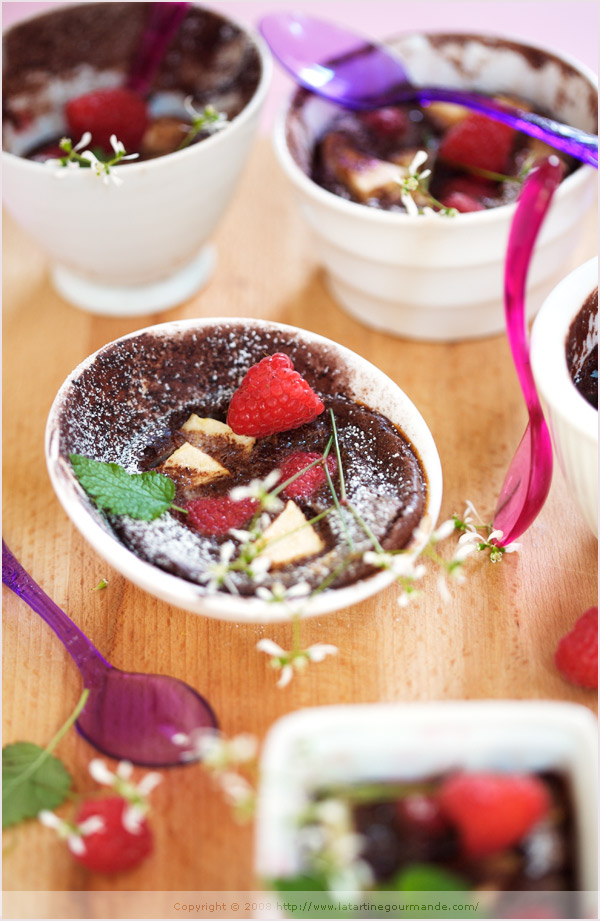 A waft of chocolate came through the air out of the kitchen.
"Are they ready?" P. asked, feeling as intoxicating by the smell as I was. He was sitting on the sofa, listening to new music streaming through our Squeezebox.
"I think so. But we need to wait, they are too hot!"
"Vraiment ? (really?)"
We looked at each other, and laughed.
"Five minutes, no more."
The clafoutis were still quite warm to the touch when we ate them — the best way to enjoy them, really.
"Great idea that you had," I told P, with my mouth full.
He did not speak back. His mouth was full too, and his eyes seemed to smile out of content.
Apple, Raspberry and Chocolate Clafoutis
(for 6 small ramekins, or 4 standard ones)
You need:
1 large apple, peeled, cored and diced
1/3 cup raspberries
2 eggs
2 oz dark chocolate, 64 or 70 % cocoa
2 Tbsp butter
1/2 cup whole milk
3 Tbsp crème fraiche (or heavy cream)
1 tsp vanilla extract
2.5 Tbsp cornstarch
1 Tbsp unsweetened cocoa
2 Tbsp blond cane sugar + 1 Tbsp to coat ramekins
Confectioner's sugar, to sprinkle
Steps:
Preheat your oven at 400 F.
Butter the ramekins.
In a bowl, mix 1 Tbsp sugar with 1 Tbsp cocoa and coat the ramekins with this mixture; remove excess.
Heat the milk with the cream; set aside.
In a bowl, place the chocolate with 1 Tbsp butter, an melt over a pot of boiling water (the bowl should not touch the water); set aside.
In another bowl, beat the eggs with the sugar until light, then add the vanilla extract.
Mix in the cornstarch, then the milk and cream.
Add the melted chocolate, and mix well.
Pour this preparation into the ramekins and top with the diced fruit. Bake for about 25 to 30 minutes.
When you are ready to serve, sprinkle with confectioner's sugar. For me, the clafoutis is best eaten lukewarm.

This clafoutis is not sweet because I prefer to eat dark chocolate. If you like your desserts sweeter, simply increase the sugar quantity.
Le coin français
Clafoutis au chocolat, garnis de pommes et de framboises
(Pour 6 petits ramequins, ou 4 de taille standard)
Ingrédients :
1 grosse pomme, pelée et coupée en dés
50 g de framboises
2 oeufs
60 g de chocolat noir, 64 or 70 % cocoa
25 g de beurre
125 ml de lait entier
3 càs de crème fraiche (ou de crème liquide)
1 càc d'extrait pur de vanille
25 g (2,5 càs) de maïzena
1 càs de cacao non sucré de qualité
2 càs (25 g) de sucre de canne blond + 1 càs pour les ramequins
Sucre glace, pour saupoudrer
Etapes :
Préchauffez le four à 200 C.
Beurrez les ramequins.
Dans un bol, mélangez 1 càs de sucre avec 1 càs de cacao. Saupoudrez les ramequins de ce mélange et enlevez l'excès.
Dans une casserole, chauffez le lait avec la crème; mettez de côté.
Dans un bol, mettez le chocolat avec 15 g de beurre et faites fondre au bain-marie; mettez de côté.
Dans un autre bol, battez les oeufs avec le sucre jusqu'à blanchiment. Ajoutez l'extrait de vanille.
Ajoutez ensuite la maïzena, puis le lait et la crème.
Ajoutez le chocolat fondu et mélangez.
Versez cette préparation dans les ramequins, puis garnissez de fruits. Faites cuire pendant 25 à 30 minutes.
Au moment de servir, saupoudrez de sucre glace. Le clafoutis est meilleur, à mon avis, mangé tiède.

Ce clafoutis n'est pas très sucré car je préfère le chocolat noir. Si vous aimez les desserts plus sucrés, je conseille de rajouter du sucre.