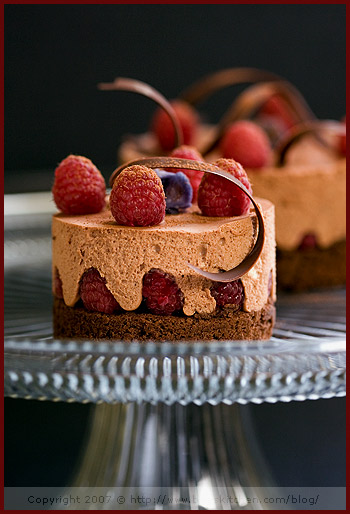 Dark Chocolate and Raspberry Cake, with its Chocolate-Ginger Mousse
The word has nine letters and it starts with a C.
Do you have any clue?
What about if I help: Chocolate.
Do I have your full attention now?
I wanted to let you know about a Death By Chocolate contest organized by Culinate, which I am gladly participating in. Fun, fun! The good news? By voting for my entry, you can win something too.
I can already see your faces and hear: "Huh?"

How?
It is pretty easy actually. In short, the contest will have two winners: the first winner is the entry that gets the more votes (and is then later selected amongst the top 10 by a panel of judges), and the second winner is a reader chosen at random amongst the voters in the contest.
Here is an extract of the rules on Culinate:
[…] Everyone is eligible to enter the Culinate Death by Chocolate contest for general readers, but food bloggers with an appetite for chocolate have an extra chance to win in the food blogger contest. To participate, simply submit a blog post that fits the chocolate theme […]
In other words, by simply voting, you can have a chance to win a trip for two to Napa Valley, and attend Copia's annual Death by Chocolate Festival. Not bad, is it?
You will have guessed from the picture above that I chose my dark chocolate gingered mousse, raspberry mini cakes to enter the contest. I hope you had fun reading the post where it was published, and enjoyed the cake. If this is such the case, may I shamelessly ask that you vote for my chocolate cake post? C'm on, where are all the friends that I've fed?
I cannot wait to see the other entries. I bet the quality of the contest will be high! Good luck to everyone. Et vive le chocolat ! Many thanks to you all, and to Culinate for organizing such a fun event.
This is what you have to do:
To participate, go to the Culinate contest page and register on their site. This will automatically get you one chance to win. Then come back on Monday Feb 4th and vote for your favorite chocolate post.
The contest closes Feburary 8, at which time the panel of judges will select the winning blogger from among the top 10 vote-getters. Judges include cookbook author and pastry chef David Lebovitz, cookbook author and baking expert Dorie Greenspan, Deb of Smitten Kitchen (who won the Culinate's GrillMe contest in 2007), Chuck Siegel of Charles Chocolates, and members of the Copia and Culinate staffs.
Click on the following link to Vote for me in the Death by Chocolate contest
Needless to say, many thanks!