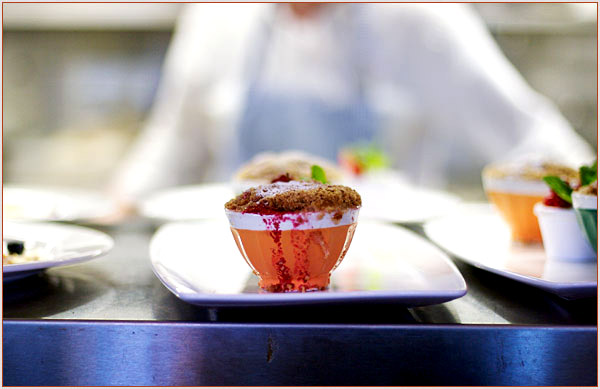 Duo of Fruit and Custard Crumble at Avoca's
It is drizzling when P. and I arrive in Ireland on Friday after Christmas. Oddly enough, we do not seem to mind because we have come prepared for this. H., P.'s cousin's husband, is greeting us at the airport, and when we walk downstairs to get our bags, we bump into more of the family's cousins who are just returning from a short trip to Paris. Odile, one of them, is French too.
"Is Ireland just like a big village, or what?" I jokingly ask P. "It surely feels this way today!"
We have little time to rest at the house, and despite the late hour in the day, we even manage to avoid the mad-growing traffic that Dublin city suffers from when we drive to Shankill to meet more relatives, including P.'s parents and sister who have traveled from Chicago. That evening, we are twelve gathered at the dinner table, happily enjoying sautéed scallops, shrimp cocktails and the typical Irish lamb that uncle N. serves with different steamed vegetables and mint sauce. And roasted potatoes, of course. In his household, he is the one who cooks and claims that he makes the best jam. The conversation is loud and animated, and my head feels dizzy from seeing everyone move around all the time. But this makes us welcome. Since this is the first family dinner of a series of many crazy ones that will happen over the days to follow, I know that I have no choice: I'd better get used to it quickly.
I am a big fan of Ireland — and not only because of P.'s family and background. I love the friendly faces of the Irish and the gorgeous countryside. I like to see the dark sky filled with ephemeral rainbows against the bright sun; the color contrasts of house doors and buildings; the whimsical weather that keeps changing every half hour — where else, beside Scotland, would you find rain and sunshine alternate so frequently? — the surprisingly Mediterranean vegetation that somewhat reminds me of places seen in New Zealand (have you seen Monkey Puzzle trees before?); the architecture of its houses; people's accent (really, try to say "thirty three and a third" with an Irish accent from Cork); and the sheep grazing on green grasses, the real sign of the country's mild moist climate. Without the rain, the beautiful, varied shades of green found in the Irish landscape would not exist.
And I also love the Irish for their crumble.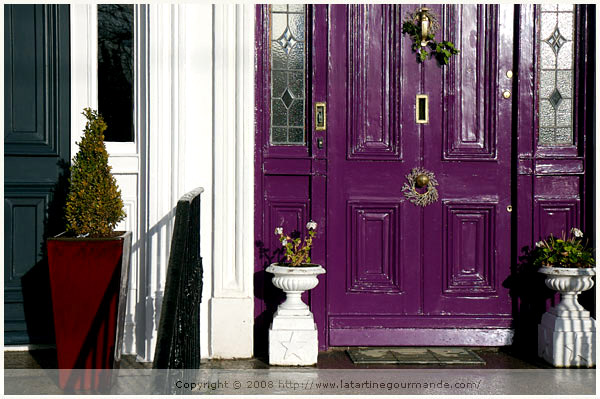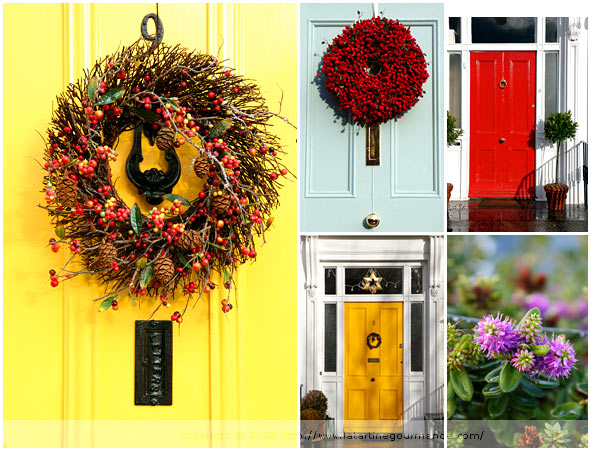 The doors of Ireland
In Dublin, we spend five days of fun, and utter craziness. I have nicknamed P.'s Irish family the Irish clan. They are the ones who crack jokes when you expect them the least, and have noisy family reunions during which everyone speaks over everyone else (they are even worse than the French). When I first meet them many years before, I also learn that they are a family who likes to play games, like charades, for hours.
We stay with P.'s cousins in Monkstown, a suburb of Dublin located by the coast. We enjoy spending time there. The narrow street where K. and H. live is a stretch of attractive tall Victorian houses with vibrant colored doors, matching perfectly the ones next to the others, and pretty holly wreaths hung on them. At this time of year, each large bay window is lit up with a tall Christmas tree decorated sparsely, making me imagine that the whole street dresses up every night for a special occasion. Since the windows have no curtains either, I am even able to play one of my favorite games.
"I love to take a peek into people's homes," I tell K. who is walking with her daughter E. by my side, when we return home from the pub.
"Me too!" she answers, laughing.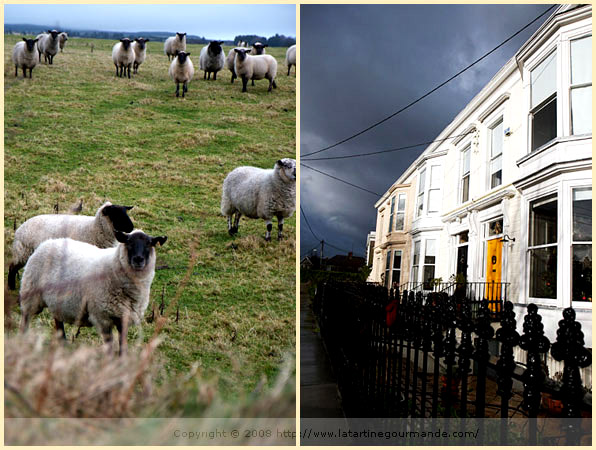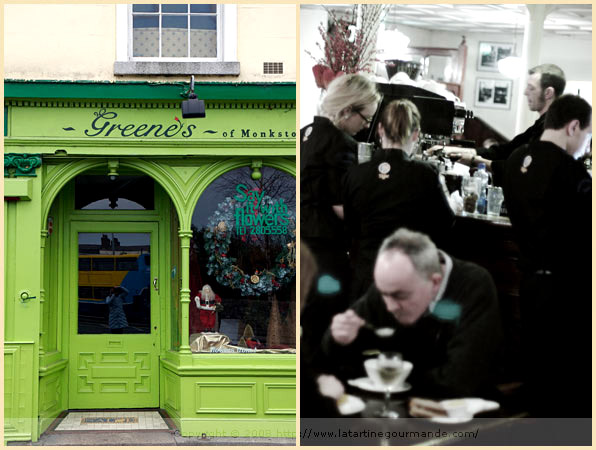 At the Pub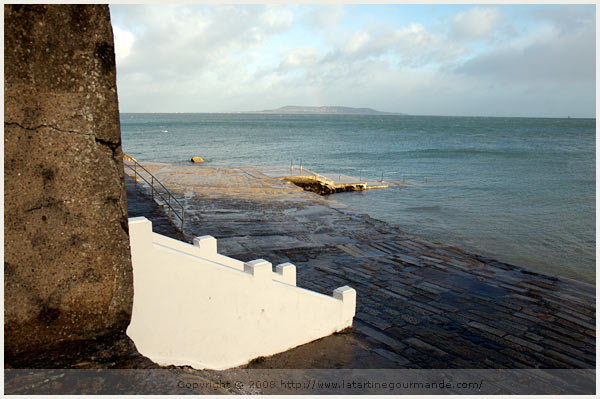 I ask K. if we can go for a hike close to Dublin.
"Oh, H.'s parents will love to take you walking," she emails me before we arrive. "They are avid walkers."
To be honest, I am glad to follow and see what happens for a change. So on New Year's Eve, we get up early and prepare for our walk in the Wicklow Mountains, only one hour south of Dublin.
"I hope that you have waxed your shoes," K. tells me when she sees me put my hiking shoes on. I look at her and pause for a second. "What for?" I ask surprised.
"This is Ireland," she replies, bursting into a loud laughter. "The rain, mon amie!"
The path is wet and muddy, and our shoes make a squelching noise when they sink into the water-filled soil of the bog we cross. After an hour or so, I exclaim: "I declare that my feet are wet!" Everyone laughs, as it seems that I am the only one.
In one day, we see fog, wind, rain and sunshine, but no matter what, we are glad to be there. How couldn't we? With stunning landscapes all the way, our lunch made of smoked salmon sandwiches, hard-boiled eggs, chocolate, and cake tastes heavenly taken at the top of the mountain. Even if we are beaten by the weather and have sore legs.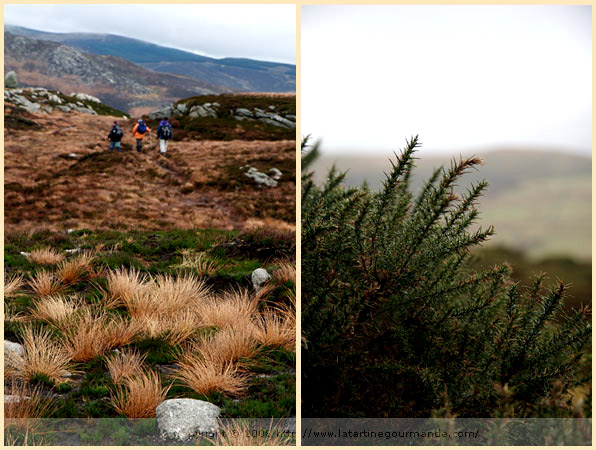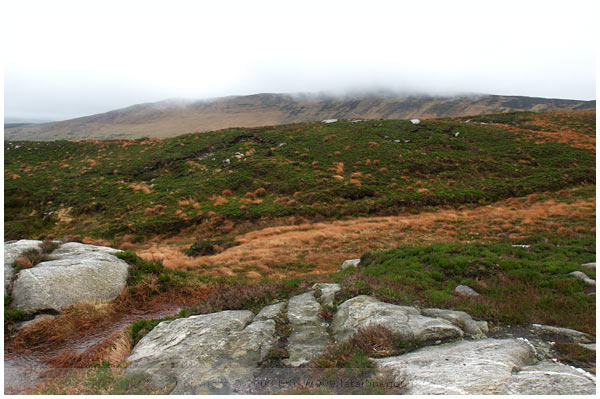 Wicklow Mountains
"What about a walk in the Mount Usher gardens?" K. proposes on another day.
The air is crisp and the dampness outside makes me feel cold to the bones when we get there. "I wish I had a pair of Wellington boots," I think quietly. They are also extremely cute, coming in many patterns and colors. But I forget the cold quickly when I discover the amazing selection of exotic trees in the gardens. At this time of year, there are only locals and a few tourists in the café on the premises, so we have most of the gardens to ourselves to enjoy a pleasantly peaceful walk.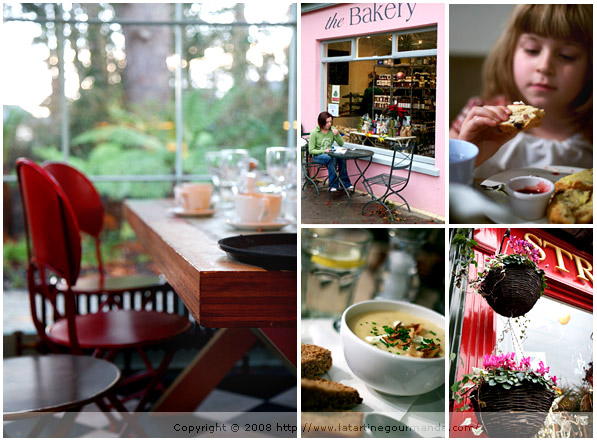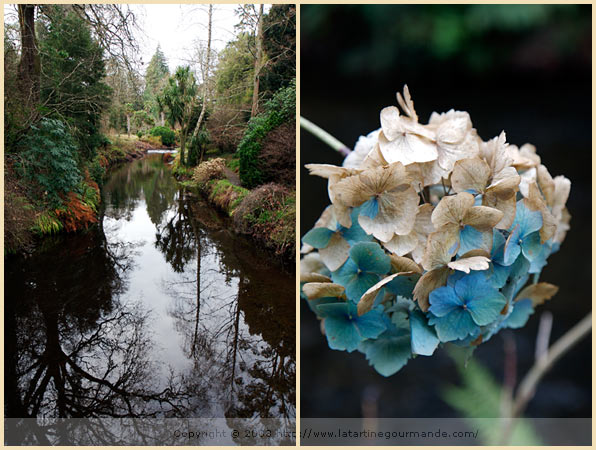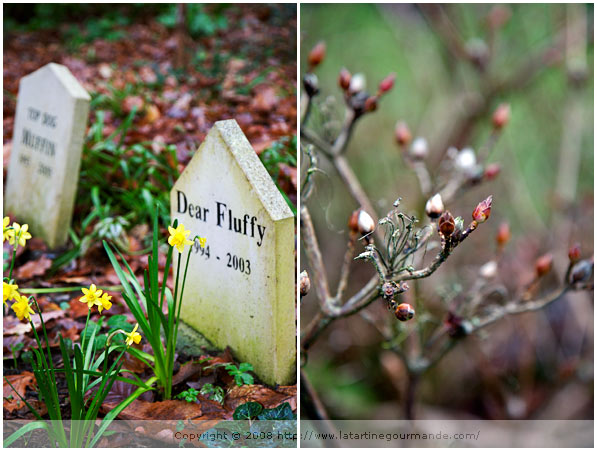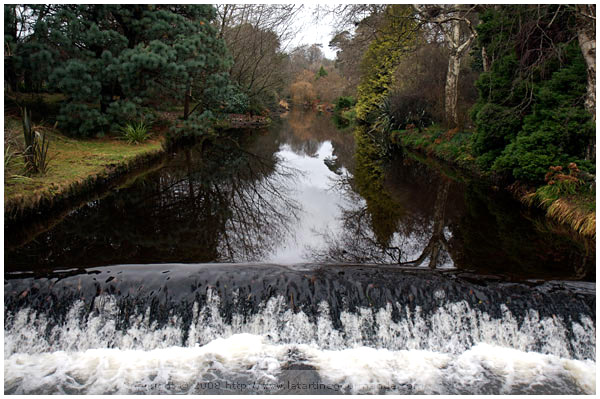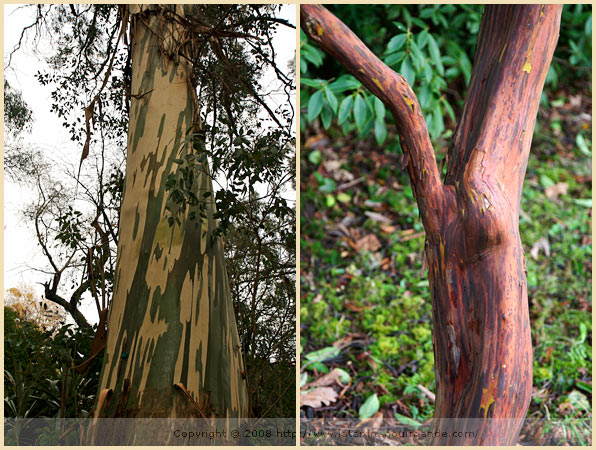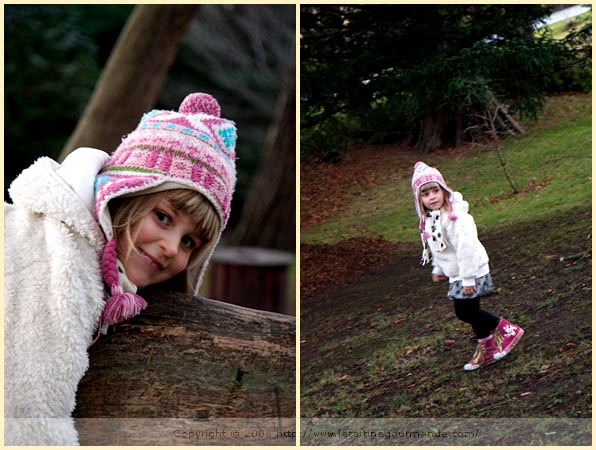 Emily, P.'s cousin's adorable playful daughter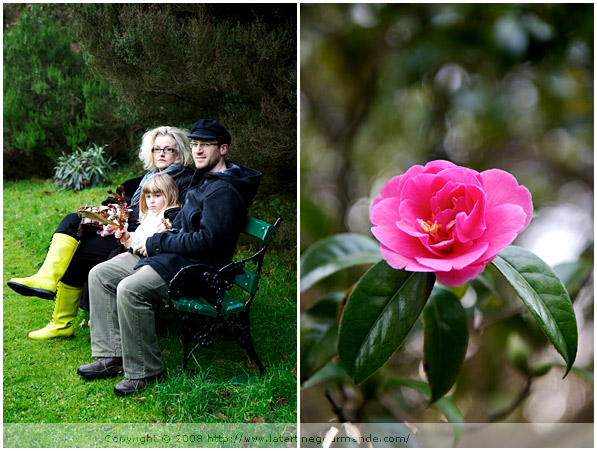 The cousins
K. also suggests having lunch at one of the few Avoca cafés in town. Knowing well my strong love affair with colors, cups and plates of all sorts, she decides that we drive to Avoca Handweavers in Kilmacanogue, Co. Wicklow. Like every Avoca store that I have seen before, there is so much to see and buy that I feel overwhelmed. I have yet found another dream place for a food stylist and object collector. Moi ! I think about my suitcase, and how inconvenient it will be to load up with cups, plates and bowls if I decide to buy anything, but I do not resist the temptation for too long. When we leave, I have in my bag two new green glasses and a light blue patterned milk jug well wrapped for travel.
We make good food choices too. Whereas H. is content with a hamburger served with roughly cut French fries, and K. with a liver pâté, bread and pickles, P. and I choose a mushroom risotto and an arugula salad topped with freshly shaved parmesan. The dish is tasty, and the rice perfectly cooked, al dente. We have little room for dessert, but when the waitress brings the menu, I cannot contain my excitement.
"Crumble!" I almost shout out loud. "Read! They have a duo of stewed fruit and custard crumble!"
"I am really intrigued by the custard inside," I go on.
There is hardly any surprise: after only one spoonful, I fall in love with the taste. The duo of crumbles is served at the perfect temperature, in cute colorful bowls arranged on a long plate, with a dollop of cream in the middle. I cannot tell which one I like best, the rhubarb and berries crumble or the apple, since both are deliciously creamy, with a subtle balance of the vanilla-flavored custard against the acid flavor of the fruit.
"I love the tiny bowls," I tell K. "I am going to ask the waiter where they bought them."
He tells me that they are sold in the shop, but after I frantically search every single shelf to find nothing, I feel bummed. But not ready to give up that quickly. With the help of K., we manage to find the name of the retailer, and K. promises me to continue the search after we leave.
"Don't worry, I will find them!"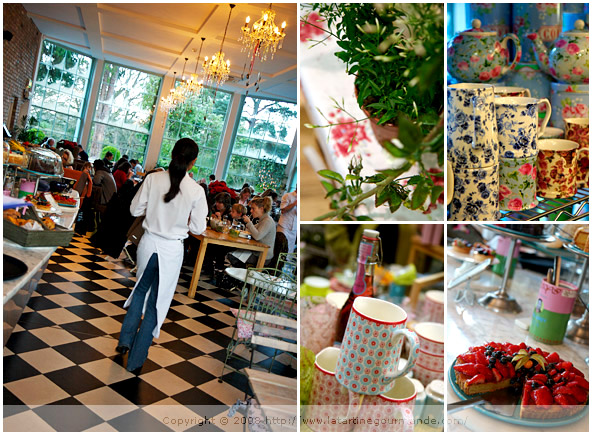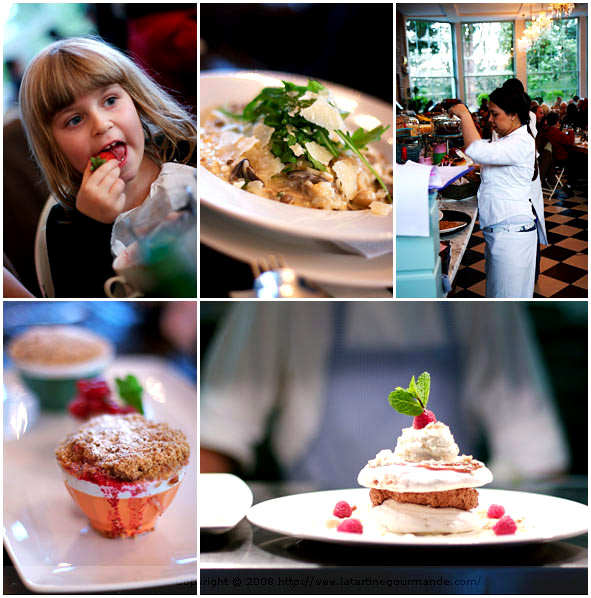 In fact, I like the crumbles so much that I become obsessed with making the dish again at home. I am already making notes in my head for a recipe when we drive back to K. and H.'s house. Avoca café has a few cookbooks but I am not able to find the recipe in any. But it isn't rocket science, is it? I need basic compoments: custard — which I love to prepare anyway — stewed fruit, a few spices and crumble. Then, it will be a matter of taste, and experimentation.
I am only back in Boston for a few days, but decide to take my notes out to set myself to work. I am craving to try my crumble recipe that much. I do not have rhubarb — unfortunately — but I am able to find scrumptious-looking red currants and tasty apples. The strawberries do not look bad either. Even if they are not seasonal here at the moment, the temptation for a berry crumble is stronger than reason.
And no regret there, really! The crumble tastes just as nice as the one remembered from Avoca café.
Except maybe for the cups missing.
Perhaps only giving me a good excuse for another trip to Ireland in the future, that is, if K. does not manage to find them for me before then.
Either way, I keep my fingers crossed.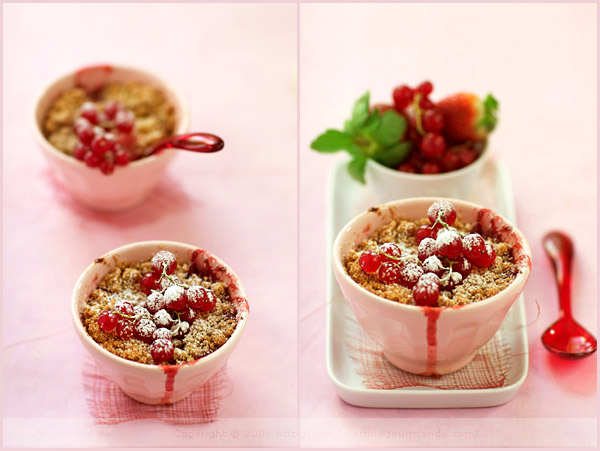 My Stewed Fruit and Custard Crumble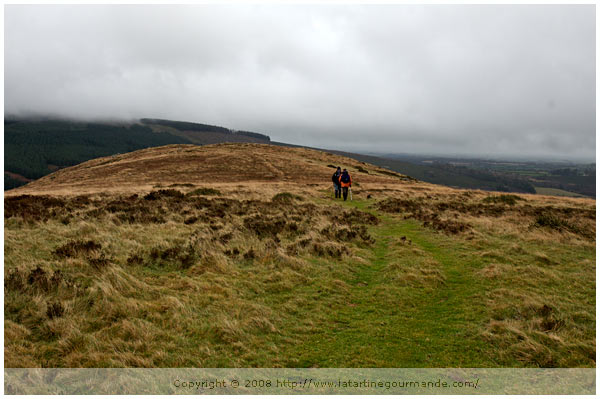 Note: we have just finished watching the movie Once last night, written by John Carney. We really enjoyed the feel found in it — it is set in Dublin. Delightful music and genuine acting. We also really liked the simplicity by which the movie was shot, so I highly recommend it.
A Few Addresses
Avoca
Kilmacanogue, Bray
Co. Wicklow, Ireland.
Tel: +353 1 2867466
Fern House Cafe
Reservations: +353 1 274 6990

Mount Usher Gardens
Traveling by road, Mount Usher is located in Ashford Co. Wicklow, off the main Dublin to Rosslare road (N11).
Stewed Fruit and Vanilla Custard Crumble
(For 6 small ramekins)

For the vanilla custard (you will have leftovers, so you might decide to divide the recipe by two to have less; I personally never tire of custard and enjoy it eaten by the spoonful, with fresh strawberries):
2 cups + 2 Tbsp whole milk
1 vanilla bean, cut open lengthwise and seeds removed
1/2 cup + 1 Tbsp blond cane sugar
5 egg yolks
1/4 cup cornstarch
For the crumble:
1/4 cup quinoa flour*
1/4 cup brown rice flour*
1/4 cup packed muscovado sugar
2.5 Tbsp butter, cold and diced
*Or use all-purpose flour

For the stewed fruit, apples, strawberries and red currants:
4 Macoun apple, or a variety good for stewing
1 cup red currants
1 large handful of strawberries, cut in 4
1/2 vanilla bean, cut open lengthwise and seeds removed
2 Tbsp water
1 cinnamon stick
1/3 cup blond cane sugar

Steps:
To make the vanilla-flavored custard, pour the milk in a pot and add the vanilla bean and seeds. Bring to a boil and stop. Cover and let infuse for about 30 min. Discard the vanilla bean and reheat the milk. Keep.
With an electric mixer, beat the egg yolks and sugar until light and foamy. Then add the cornstarch and mix well.
Pour the hot milk slowly while stirring. Pour the cream in the pot again and bring to a boil to have the cream thicken. Stir constantly and cook for 1 or 2 min. Remove then from the heat.
Pour the thick cream in a bowl and cover with plastic wrap to prevent a crust to form. Let cool.
To make the crumble, use your fingertips to mix all ingredients. Place back in the fridge if necessary.
To make the fruit, place the apples (peeled, cored and diced) in a pot with the sugar, spices and water. Simmer until the fruit is very soft (about 8 to 10 min). Then add the red currants and strawberries, and continue to cook for 1 to 2 min. Remove and keep.
To assemble your crumbles, start by preheated your oven at 350 F. Grease six ramekins. Add the stewed fruit at the bottom (keep some to top the custard) and add 1 full Tbsp of custard in the middle. Cover with the rest of the stewed fruit, and then finish with the crumble. Bake for 30 to 35 min and then remove from the oven. Let cool before eating. It is best eaten lukewarm!
Le coin français
Crumble aux fruits et sa crème vanillée
(Pour 6 petits ramequins)

Pour la crème pâtissière vanillée (vous aurez des restes, divisez par deux si vous en souhaitez moins. Personnellement, je ne me lasse pas d'une bonne crème pâtissière, à manger sans modération, à la petite cuiller avec des fraises):
500 ml de lait entier
1 gousse de vanille, fendue et grattée
110 g de sucre de canne blond
5 jaunes d'oeuf
40 g de maïzena
Pour le crumble :
30 g de farine de quinoa*
30 g de farine de riz complet*
30 g de sucre muscovado (ou cassonade)
30 g de beurre froid, coupé en dés
*Ou utilisez de la farine T45
Pour la compote de fruits, pommes, fraises et groseilles rouges :
4 pommes Macoun, ou toute variété de pommes à compote
125 g de groseilles rouges
1 poignée de belles fraises, coupées en 4 (environ 150 g)
1/2 gousse de vanille, fendue et grattée
2 càs d'eau
1 bâton de cannelle
80 g de sucre de canne blond

Étapes :
Pour réaliser la crème pâtissière vanillée, versez le lait dans une casserole et ajoutez la vanille fendue et grattée. Amenez à ébullition, puis couvrez pour laisser infuser (environ 30 min). Retirez la gousse de vanille et chauffez le lait à nouveau.
Faites blanchir les jaunes d'oeuf avec le sucre, puis ajoutez la maïzena. Mélangez.
Versez le lait en filet tout en mélangeant. Reversez la crème dans la casserole et amenez à ébullition pour l'épaissir. Cuisez pendant 1 à 2 min, puis retirez du feu.
Versez la crème dans une jatte, couvrez de papier film pour éviter la formation d'une croûte, et laissez refroidir.
Pour réaliser le crumble, mélangez tous les ingrédients du bout des doigts jusqu'à l'obtention de grosses miettes. Remettez un peu au froid si nécessaire.
Pour réaliser la compote de fruits, mettez les pommes (pelées, évidées et coupées en dés) dans une casserole avec le sucre, les épices et l'eau. Faites compoter pendant environ 8 à 10 min. Ajoutez ensuite les groseilles rouges et les fraises, et cuisez encore pendant 1 à 2 min. Retirez du feu et mettez de côté.
Pour assembler vos crumbles, commencez par préchauffer le four à 180 C. Beurrez six ramequins. Répartissez la compote de fruits au fond (gardez-en un peu pour recouvrir la crème), ajoutez 1 càs bombée de crème patissière au milieu, puis recouvrez avec le reste de compote à ras. Ajoutez enfin les miettes du crumble. Cuisez au four pendant 30 à 35 min. Sortez du four et laissez un peu refroidir avant de déguster. C'est meilleur tiède !