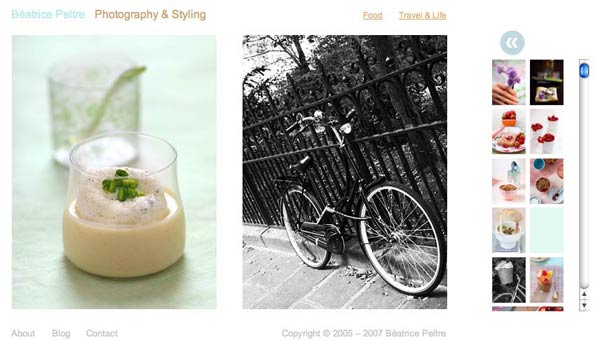 Well well, what can I say?
Thank you!
I have just found out this morning that La Tartine Gourmande was nominated in two categories in the Food Blog Awards organized at Well Fed.
You are really nice to me, once more.
Of course, I have this wish that, if you decide to vote, you will do so for my blog (come on, I would be lying otherwise). But at the same time, how can you not fall for the talent found in all of the other food blogs nominated? They have plenty!
In any event, thank you so much again for your consistent presence, and support. My blog would just not feel the same without all the feedback you take the time to give.
Happy Voting. You have until Friday December 14 th 11:59 pm EST to cast your votes.
See the complete list of all the nominees, in the fourteen categories selected.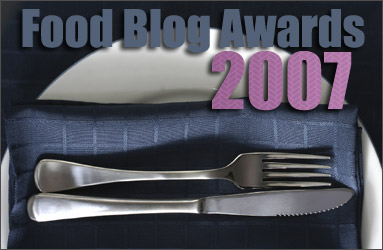 Le coin français
Prix des meilleurs blogs culinaires 2007
Eh bien dites-moi, que dire ?
Un grand merci !
Je réalise ce matin que mon blog culinaire, La Tartine Gourmande, a été selectionné pour le prix des meilleurs blogs culinaires 2007 organisé par Well Fed, dans les deux catégories suivantes :
Une fois de plus, vous avez été bien généreux avec moi. Merci !
Bien sûr, si vous décidez de voter, je ne vous dirai pas le contraire, je serais évidemment comblée si c'était pour moi, mais en même temps, comment ne pas craquer pour tout le talent de tous les autres candidats nominés, pas vrai? Car ils en ont à revendre.
Un grand merci encore pour votre présence, et vos encouragements permanents. Mon blog ne serait sincèrement pas le même, si vous n'étiez pas là.
Bons votes ! Vous avez jusqu'au vendredi 14 décembre minuit, heure de la côte est américaine, pour voter.
Vous trouverez la liste complète de tous les nominés, dans les 14 catégories en compétition.