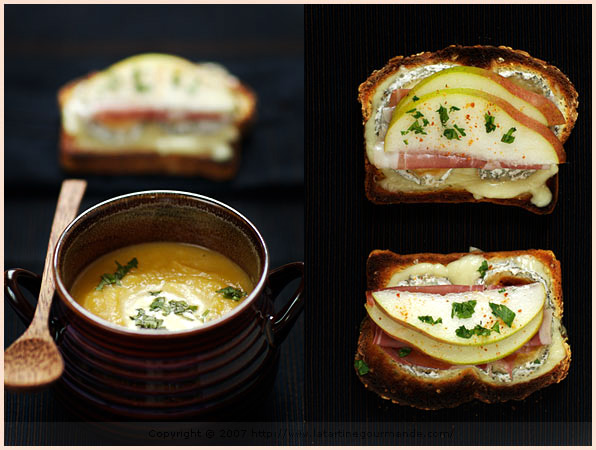 Vegetable Soup
Prosciutto, St Maure and Pear Tartines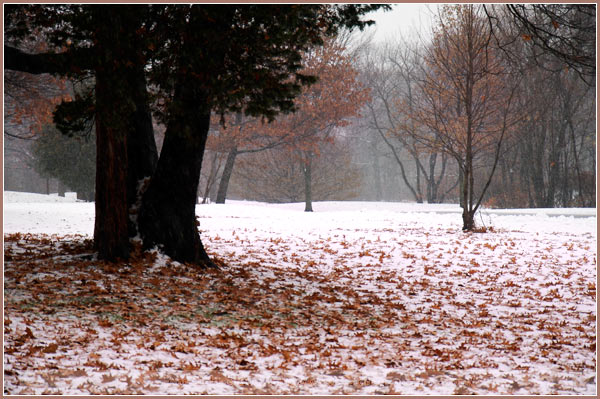 Wintry Emotion
At 9 am, I woke up feeling rested. Unlike other mornings at the same time, I noticed that it was rather quiet. As I was still lying in bed, I turned over to my side to warm myself against P.'s body. To my surprise, he had already risen and was downstairs preparing breakfast. I stretched my legs down towards the foot of the bed and cracked open the window to feel the chilly winter air gush in. Too cold. I stuck my head under the covers and fell back asleep in the warmth of P.'s body heat still in the bed. And when I woke up next, the house was silent and he had gone to work. I finally opened my eyes, and smiled. I could recognize the type of light coming through the blinds still down. I knew that today was going to be the day; I could sense it everywhere.
Snow was on its way.
What is there to dislike about winter? Shoveling snow, getting your feet wet, having the tips of your fingers cold despite wearing thick winter gloves, waking up to a gray sky for many days in a row? Possibly. These are pretty good reasons. But I personally like to remind myself of what there is to love about winter. For me? Everything. When some people crave beach and sun, I long for wintry snowy landscapes.
"I don't understand your thing about winter," my friend K. told me when I said that I was dying for snow to arrive.
There is everything to love about my thing for winter.
I imagine going out for a walk in the snow and noticing the marks left by my long footsteps; feeling the snowflakes gently brush my skin and melt within seconds; smelling the healthy brisk air that turns my nose and cheeks pink red, and mainly, paying attention to the stillness around me. Have you noticed how loud summer is in comparison? Then, I look forward to baking, drinking hot chocolate, making large pots of hearty soup, and then, I start to do all of these again.
Because it feels as good the second day as it did the first.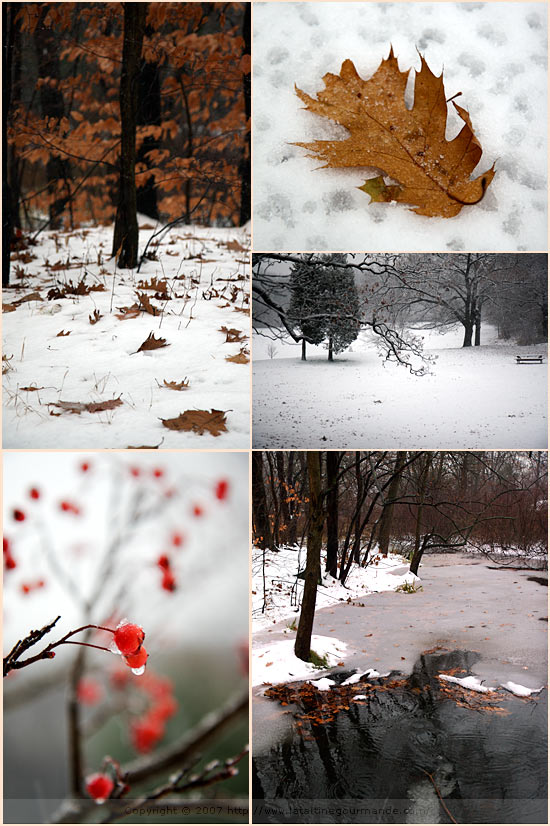 I love when winter welcomes the first snow of the season. Every year, I get as excited as I did the year before. Not surprisingly, as soon as the first snowflakes started to slowly fall outside, I felt a strong urge to bake, go for a long walk in the park nearby, play in the snow, and take pictures. I did every single one of these. And when I came home, I had a homemade soup waiting for me. With it, I prepared two hearty tartines.
I used two slices of a seeded multi-grain bread, and topped each slice with St Maure cheese. I put the tartines under the broil, enough time for the cheese to melt, and then I topped them with prosciutto and thin slices of pears. Since I had prepared a vegetable soup the night before — with whatever-I-had-in-the-fridge vegetables, as often is the case on Sunday nights: parsnips, celeriac, potato and squash, seasoned with cumin and coriander — I only needed a dollop of crème fraîche and fresh chopped coriander to complete my lunch. The same morning's quietness filled the space. Within thirty minutes, everything was covered by a thin coat of snow.
"I want to go out again," I thought when I was almost finished with my lunch.
I quickly cleaned the table, and as I was leaving the kitchen to put my coat and walking shoes on, I grabbed a slice of the pistachio* dark chocolate brownies that I baked earlier in the morning, using amaranth and quinoa flours. It was already my second batch within two days.
* I added the special pistachios recently purchased. You cannot get greener than that!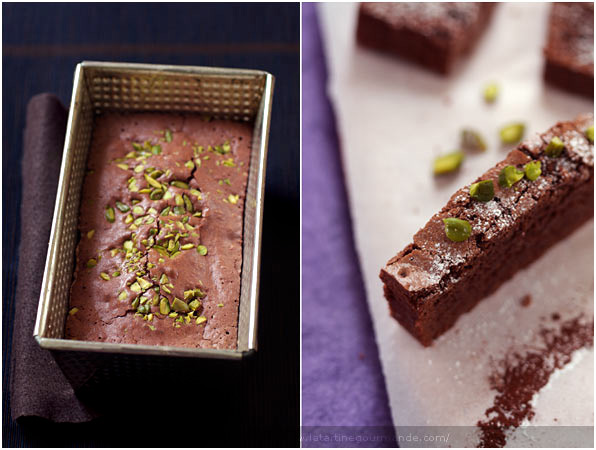 Gluten-Free Pistachio, Dark Chocolate Brownies
"It's supposed to snow for two days,"P. told me when he came home, earlier than usual.
I have to hope so. Then I can start all of the previous again.
I am sure that they will taste just as good.
Even if it will no longer be the first day of winter when it happens.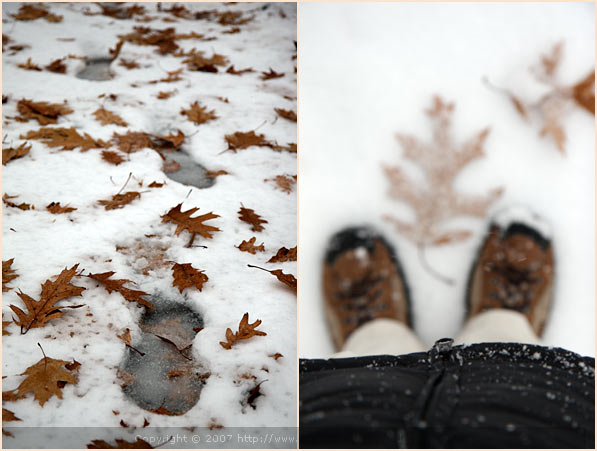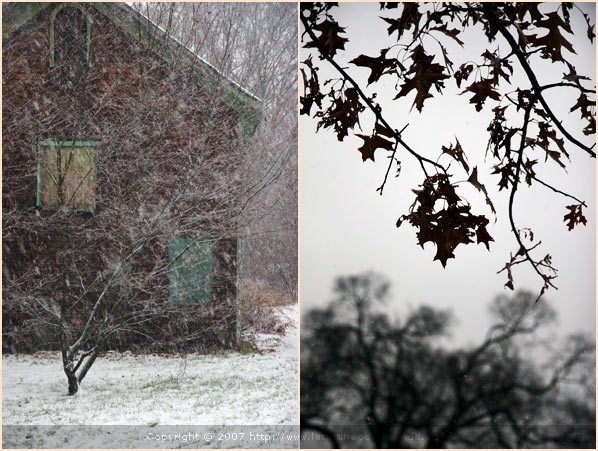 Prosciutto, St Maure and Pear Tartines
(For 4 tartines)
You need:
4 slices of country or multi-grain bread
2 slices of prosciutto, cut in halves
1/2 pear, sliced
Lemon juice
Coriander
Piment d'Espelette
8 slices of St Maure
Steps:
Slice the pear and squeeze lemon juice, to prevent from turning brown. Keep.
Toast the bread slices.
Place 2 slices of St Maure on each slice of bread.
Place the slices of bread on a baking sheet, and place under broil for 3 min or so. Keep an eye to make sure that it does not burn. Remove when the cheese starts to melt, and is starting to take a nice golden color.
Top with half a slice of prosciutto.
Top with 2 slices of pear. Add coriander and a dash of piment d'Espelette. Eat with your favorite soup.
Le coin français
Tartines au prosciutto, St Maure et poire
(Pour 4 tartines)
Ingrédients :
4 tranches de bon pain de campagne, ou multi-grains
2 tranches de prosciutto, coupées en deux
1/2 poire, tranchée
Jus de citron
Coriandre fraîche, hachée
Piment d'Espelette
8 tranches de St Maure
Étapes :
Coupez la poire en tranches fines. Ajoutez quelques gouttes de jus de citron, afin que les tranches évitent de noircir. Mettez de côté.
Faites griller vos tranches de pain.
Posez deux tranches de St Maure sur chaque morceau de pain.
Placez sous le gril pendant environ 3 min. Surveillez afin d'éviter que le pain ne brûle. Retirez une fois que le fromage est fondu et à peine doré.
Placez le prosciutto dessus.
Garnissez avec deux tranches de poire. Ajoutez de la coriandre fraîche hachée, et un soupçon de piment d'Espelette. Dégustez avec votre soupe préférée.