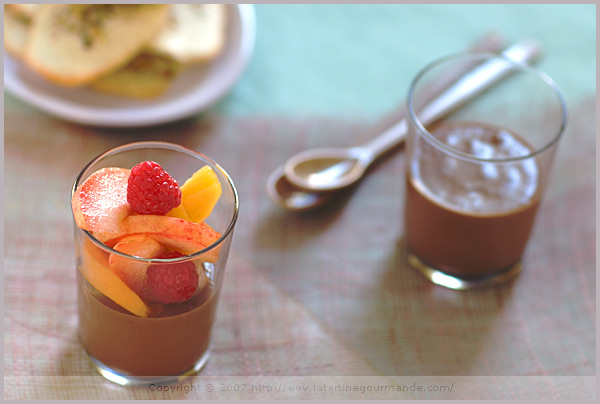 Dark Chocolate Custard and its Colored Seasonal Fruit
"Is the recipe on your blog?" my friend H. asked after he finished his dessert, cleaning his glass so thoroughly that it clearly showed that he would happily have gone for a second serving. But for once, I actually did not make more than the number in our dinner group. There were only six desserts for the six of us sitting around our long dining-room table on last Friday night.
"Not yet, but it will be soon," I replied, excited to find out that he had really enjoyed it.
"Where did you buy these cookies?" he added, with his mouth full. "I love them!"
I smiled. He was really enjoying the dessert, yet so simple to put together!
"Ah ben c'est moi qui les ai faits!" (I made them!) I answered. "They are called langues de chat in French, literally cat's tongues."
H. was sitting next to me and I just felt like starting to explain and talk about the dessert, carried away by the fact that he was interested and all ears.
"C'est très simple en fait," I said (it is really simple).
Simple and extremely satisfying, of the type of dessert where one or two extra spoonfuls always seem to be necessary, as proven by H. desperately dipping his spoon deep in the glass, in the hope of finding more. For a second, I even thought that he might have done just like my dog used to do: lick the bottom.
"It is just a simple custard, you know, with dark chocolate, milk, cream, egg yolks and sugar. The important thing is to never let the cream boil, otherwise it is over," I went on.
H. looked at me and burst loudly into a laughter. "It is over," he said, repeating my words. "I love the way you say this. It is over!"
"C'est vraiment fini!"
"So can you have little bubbles?" he then asked seriously.
It was my turn to look at him and laugh. "Bubbles? No H.! Bubbles means boiling. Didn't I just say it should never boil?"
Of course you can always save a custard (rattraper une crème anglaise) if it boils (quand elle tourne), that is when the egg yolks boil. To do so, simply pour the cream in a glass bottle and shake energetically for 2 to 3 min, or place it in a cold recipient and whip with an electrical mixer. The custard will be smooth and creamy again.
A few days later, I received an email from T., H.'s wife, to thank us for dinner. And this was how it ended:
"H. is actually trying to make the dessert as I am writing" .
I wonder how it went — considering H. did not then have the full recipe — and whether he actually let the cream make bubbles or not!
I have asked but H. has not yet answered.
I wonder now…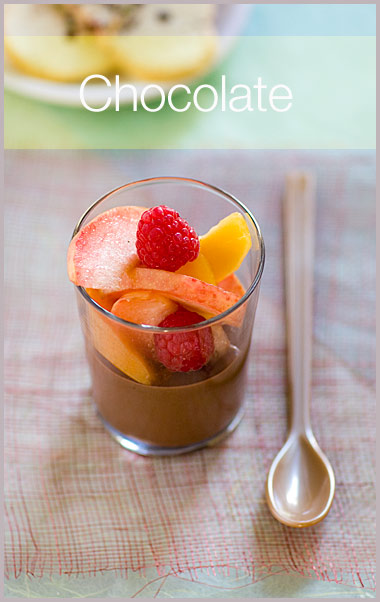 Dark Chocolate Custard and Colored Seasonal Fruit
(For 6 servings)

You need:
6 egg yolks*
1/2 cup (3 1/5 oz) organic blond cane sugar
4 1/4 oz dark chocolate, 70% or 64% cocoa, according to taste (I used Valrhona)
1 2/3 cups whole milk
1/2 cup minus 1 Tbsp heavy cream
Colored seasonal fruits as you prefer, such as raspberries, blueberries, peaches, plums or apricots
* you will use the egg whites for the Langues de chat, Cat's Tongues
Steps:
Break the chocolate in pieces and melt in a double boiler (or place in a bowl over a pot full of simmering water).
In a pot, heat the cream and milk on medium heat, until first gentle boil. Stop.
Beat the egg yolks with the sugar until white and airy.
Add the melted chocolate to the egg/sugar mixture. Mix well.
Add the hot milk/cream and continue to mix with a wooden spoon.
Pour the cream in the pot again. Heat on low to medium to thicken the cream (do never let boil), never ceasing to mix. The cream is ready when it coats the spoon.
Pour the cream in small glasses or ramekins and let cool completely before covering with plastic wrap and placing in the fridge. The cream thickens even more when it cools and is cold.
When you are ready to serve, slice your fruit and serve with the chocolate custard, and cat's tongues (vanilla and Matcha tea, recipe soon to follow).
Le coin français
Pots de crème au chocolat noir et ses fruits colorés de saison
(Pour 6 personnes)
Ingrédients :
6 jaunes d'oeuf*
90 g de sucre de canne
120 g de chocolat noir à 64 ou 70 % de cacao, selon goût (j'ai utilisé Valrhona)
400 ml de lait entier
100 ml de crème liquide
Fruits colorés de saison selon envie, tels que framboises, mûres, pêches, prunes ou abricots
* vous utiliserez les blancs d'oeuf pour confectionner les Langues de chat
Étapes :
Cassez le chocolat grossièrement en morceaux et faites le fondre au bain-marie.
Dans une casserole, faites chauffer le lait et la crème sur feu moyen.
Battez les jaunes d'oeuf avec le sucre jusqu'à blanchiment.
Ajoutez le chocolat fondu au mélange oeufs et sucre, et mélangez bien.
Versez le lait chaud et continuez à mélanger avec une cuiller en bois.
Remettez la crème au chocolat dans une casserole sur le feu, et faites épaissir sur feu doux à moyen en remuant constamment, sans jamais laisser la crème bouillir. La crème est prête une fois qu'elle nappe la cuiller.
Versez la crème dans des petits verres ou des ramequins, et laissez-la refroidir complètement avant de la filmer et de la mettre au frigo. Elle épaissit en refroidissant.
Au moment de servir, coupez vos fruits et servez-les avec la crème, et des langues de chat vanille et thé matcha (recette à venir)
Technorati Tags: La Tartine Gourmande, Food Photography, Food Styling, Dark Chocolate, Crème Anglaise, Custard, Valrhona Chocolate, Langues de chat, Cat 's Tongues, French Dessert