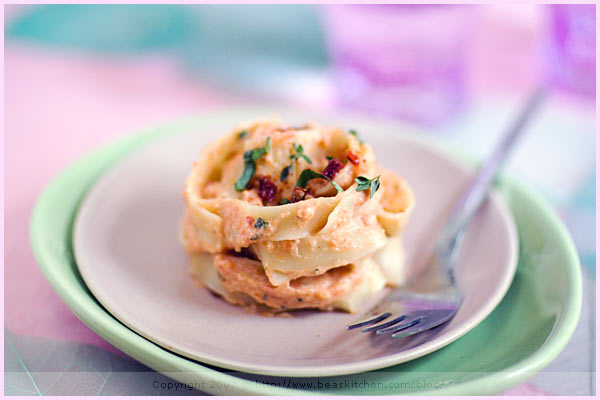 I was only eight when my mum's dad, my grand-father E., passed away. He was way too young. I was too. He worked in a mine in the eastern part of France for his entire life, and I remember eagerly waiting for him to come back from work whenever we visited him and my grand-mother in the nearby village, where my mum was born. The house is still there, and the long vegetable garden going down a slope too. I remember him for his great sense of humor, his endless generosity expressed by a soft smile always beaming from his face, the beautiful drawings he sketched with a pencil, his key chain collection neatly hung in the small back room by the kitchen — he did not know this but I was dying to own it — the long hours we spent together watching the Zorro series on their black and white television, the knack (Alsatian cooked pork sausage) he would never fail to sneak into our children's hands whenever we walked to Mr S., the village's butcher, and then I remember him for his magical pasta trick. Or this was how my brother and I ended up calling it. Le truc magique de pépé avec les pâtes. When we stayed over for dinner, if we were not eating my grand-mother's tasty pommes de terre rôties (roasted potatoes), we often ate pasta. Des spaghetti. He would put some in his mouth and with his hands carefully placed on the tips of his ears, he would skillfully start to turn them slowly, fooling us into believing that this movement made the spaghetti disappear in his mouth. It went all in. While this happened, my brother and I had our eyes wide open, not able to detach them from the snail-paced movement of the pasta. We loved to see him do this and at each time, we were rolling on the floor laughing. It did not matter that he was doing it once, twice or three times. We never grew tired of watching him repeat his trick. Of course, the best thing for us was to mimic him, and by doing so, whenever we visited, we ate a lot of spaghetti.
I am not sure whether this is when my love for pasta started, but if it is, I am actually extremely thankful because it makes me think of my grand-father and how much I miss being around such a funny, adorable and sweet man. Although I clearly remember the pasta trick and the disappearing spaghetti, I cannot recall anything about the sauce that came with it. Was it made with tomato, cream, or did we use to eat the pasta plain with butter? After I thought about this about a week or so ago, I decided to make a tomato sauce because that evening — unlike today — the weather was still a little cool, and both P. and I had a craving for pasta. I wanted to make a sauce that would be creamy but not too much, both sweet and sour, tasty but not covering the delicate taste of the tagliatelle I had purchased fresh. While I am sure my grand-mother would have used cream at the time, ricotta worked as a perfect substitute for me, giving a slightly grainier texture to my sauce. I flavored it with thyme and a touch of white wine, adding sun-dried tomatoes to freshly blanched ones for a subtle yet stronger tomato flavor. I know, I know, the season of tomatoes is not yet plentiful, but all I can say is despite that, my tomato sauce was delicious. In fact, all that really mattered that evening is the feeling I had when P. and I sat down to start eating dinner. I placed our plated pasta on our table mats and I smiled. I thought of my grand-father and his magical pasta trick, only wishing we could have shared a bowl of pasta together like we used to before, perhaps even watching Zorro on TV.
P. would have loved to meet him, I know. And pépé would have made us laugh, once more.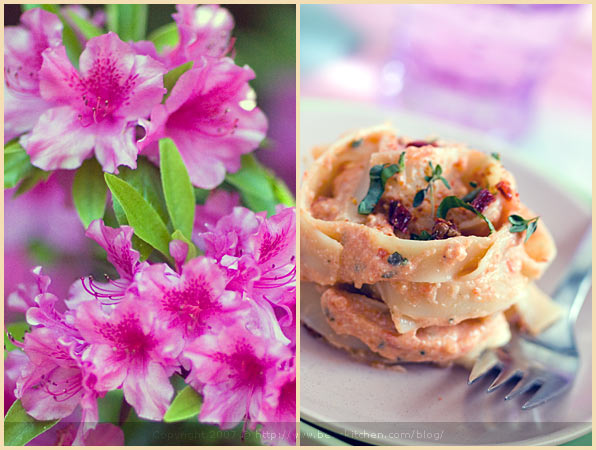 Thyme-Flavored Tomato, Ricotta Sauce
(For 4 people)
You need:
2 lb tomatoes (6 medium-sized tomatoes)
1 cup fresh whole milk ricotta
2 Tbsp olive oil
Nice Bunch of fresh thyme
3.5 oz red onion, sliced thinly
2 garlic cloves, crushed
1 Tbsp sun-dried tomato paste
A few sun dried tomatoes in oil (about 5)
1 Tbsp whole cane sugar (I used Rapadura)
1/4 cup dry white wine
Piment d'Espelette (optional)
Salt and pepper
14 oz pasta, tagliatelle, linguini or spaghetti
Steps:
Boil the tomatoes for 1 min and rinse them under cold water. Peel and seed them. Dice them.
Heat 3 Tbsp olive oil in a sauté pan and when hot, add the crushed garlic and sliced onions. Cook for a few min without browning.
Add the tomato paste and cook for 1 min until well coated, stirring constantly.
Add the tomato pieces and diced dried tomatoes. Mix and season with salt and pepper, and add the sugar. Cook on medium to low heat for 2 to 3 min.
Add the thyme twigs and pour the white wine. Cook uncovered for about 20 min, on low to medium heat. Keep an eye so that you does not stick to the bottom.
Remove from the heat and purée in a food processor.
Add the ricotta and continue to mix to obtain a nice grainy cream. Check the seasoning and add freshly chopped basil.
Cook your pasta following the instructions on your package and coat them with the sauce. Add more basil and optionally, some piment d'Espelette.
Le coin français
Sauce tomate et ricotta parfumée au thym
(Pour 4 personnes)
Ingrédients :
700 g de tomates (6 tomates moyennes)
250 g de ricotta au lait entier
3 càs d'huile d'olive
1 beau bouquet de thym frais
100 g d'oignon rouge, haché
2 gousses d'ail, écrasées
1 càs de concentré de tomates séchées
Quelques tomates séchées à l'huile (environ 5)
1 càs de sucre de canne entier (J'ai utilisé du Rapadura)
60 ml de vin blanc sec
Piment d'Espelette (facultatif)
Sel et poivre
400 g de pâtes, type tagliatelle, linguini ou spaghetti
Étapes:
Ébouillantez les tomates pendant 1 min et rinsez-les sous de l'eau très froide. Pelez et épépinez-les, puis coupez-les en petits dés.
Faites revenir l'ail écrasé et l'oignon rouge émincé dans 3 càs d'huile d'olive.
Ajoutez le concentré de tomates et faites suer pendant 1 min, en mélangeant bien.
Ajoutez ensuite les dés de tomate avec les tomates séchées coupées en petits dés. Mélangez, salez et poivrez, et ajoutez le sucre. Faites revenir pendant 2 à 3 min sur feu moyen à doux.
Ajoutez quelques brins de thym effeuillé et versez le vin blanc sec. Faites cuire à feu moyen à doux pendant 20 min, à découvert. Surveillez pour que cela n'attache pas.
Retirez du feu et mixez les tomates en purée dans un robot.
Ajoutez la ricotta et mixez pour obtenir une belle crème. Rectifiez l'assaisonnement puis ajoutez le basilic frais ciselé.
Faites cuire vos pâtes en suivant les instructions sur votre paquet et enrobez-les de sauce. Ajoutez du basilic ciselé et une touche de piment d'Espelette (facultatif).
Technorati Tags: Food Styling, La Tartine Gourmande, Food Photography, ricotta sauce, pasta