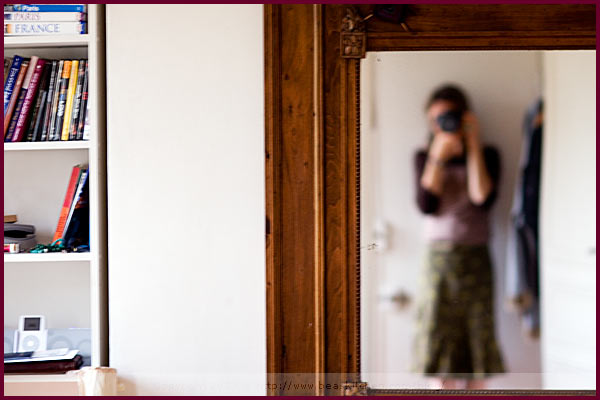 Staying at Friends', dans le 6ème
"Tu es venue un mois trop tôt," (You came one month too early) my mum said when I told her about my plan to take the train from Saint-Avold to Paris. Something I do often when I come back home.
"Pourquoi ?" I asked.
"La ligne TGV Est sera mise en service en juin," (The Eastern Fast Train Line will be in service in June).
I had totally forgotten. And, it is true that had I known, I might have considered coming later. Not that I actually minded the three-and-a-half hour train ride to Paris from my parents' since with my Ipod — oh yes, P. made me such a dreamy music selection, as he knows so well to do — my notebook and multiple food magazines, time flew by. But if I could have brought my travel down to one and a half hours, why not after all. Besides, I love traveling on le TGV* , which is a treat I rarely have.
*For those of you who do not know, TGV stands for Train à Grande Vitesse (Fast train)
So you will have to excuse me but I have to tell you about Paris, because after all, it is one my favorite cities. My dad still does not understand why. He is not interested in Paris whatsoever. Me? Oh yes, I am!
I arrived in the French capital as planned, ready for three days of exploring and walking its historic narrow streets. How many people have already walked on the same pavement, I always wonder? Armed with a good pair of walking shoes — and a credit card, of course — on my list were friends to visit, new people to meet and some shopping to do. I had the hope to find a wealth of food delicacies and kitchen utensils to bring back with me. This time, I would not care about luggage weight restrictions or what type of food to bring back. This time, I would take risks with customs and see what happens — and buy an extra piece of luggage if need be. And what a time I had, despite the rain! I was able to keep everything I had purchased, still not believing that the dog I am used to seeing sniffing around by the airport luggage belt missed to smell what I had in my bags. I guess my wrapping technique worked.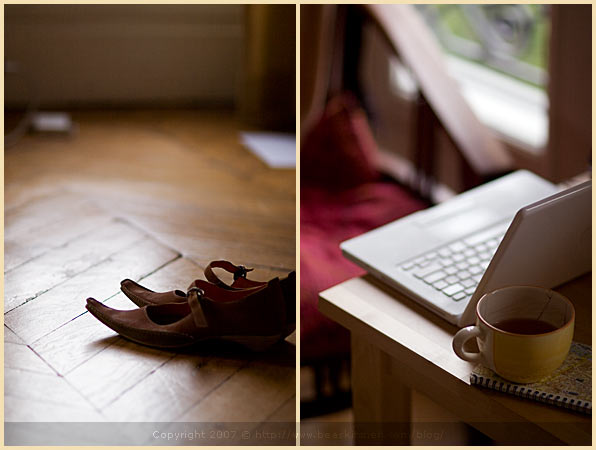 My Early Mornings in Paris
Every time I visit Paris, I am lucky to stay with M. and A., two long time friends who live right on Boulevard Saint Germain near Saint Michel, in the 6th arrondissement. Although I have also stayed in hotels before — and even liked them — I do not think that there is a better way to enjoy a short stay in Paris than spend time in a real lived-in place. M. and A. have been living there for quite a few years now. He lives on the second floor. She is on the 4th. I keep telling both of them that they need to find a way to put their hand on the 3d floor as well and we keep joking about it, wondering what to do to make this happen.
It is perhaps the third or fourth time that I stay at M.'s apartment, feeling homey and more comfortable each time, developing habits even. There, I can enjoy lazy breakfasts taken at the small wooden table nested by the large tall window, typical of Parisian apartments. There, I am able to wake up slowly to a never stopping, lively world going by in the busy street down below. While in France, I have noticed that my breakfasts are actually not typically French. Only perhaps for the jam, loaves of bread sliced in large tartines and the butter. What else do I eat au p'tit déj? This time, I mumbled on du fromage de chèvre frais (fresh goat cheese), des fraises Gariguette (strawberries) and quinoa cereal. And, if I could have eaten more, I would have.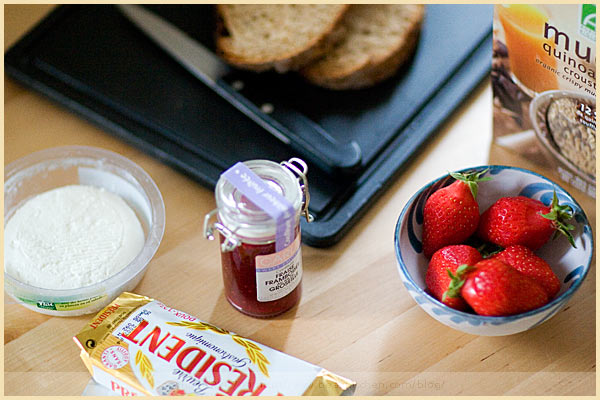 Le petit-déjeuner
You will have to agree with me, I know. Spending only three days in Paris is too short when there is so much to see and do in this gigantic city. But with experience with these stolen trips here and there, I have learned to manage to accomplish plenty. And this time, it all started with a stroll in the neighborhood on the first afternoon followed by tea taken at Rose Bakery, in the 9th arrondissement where I met Fred. The first highlight of my Parisian trip.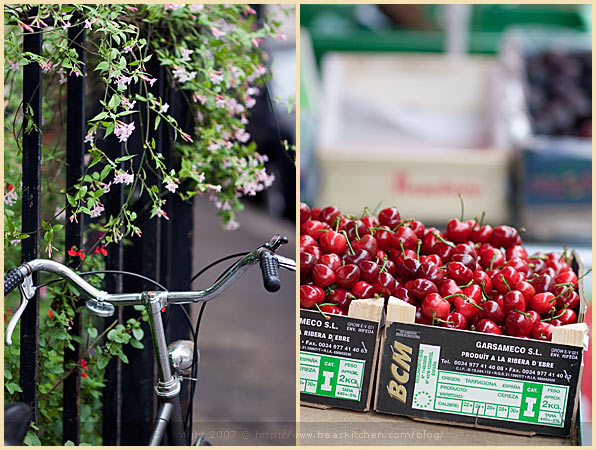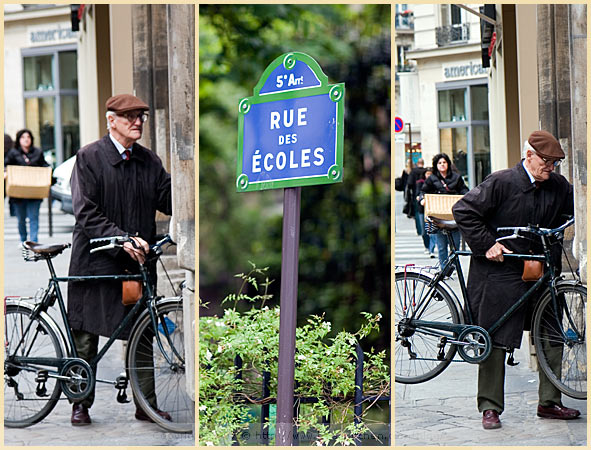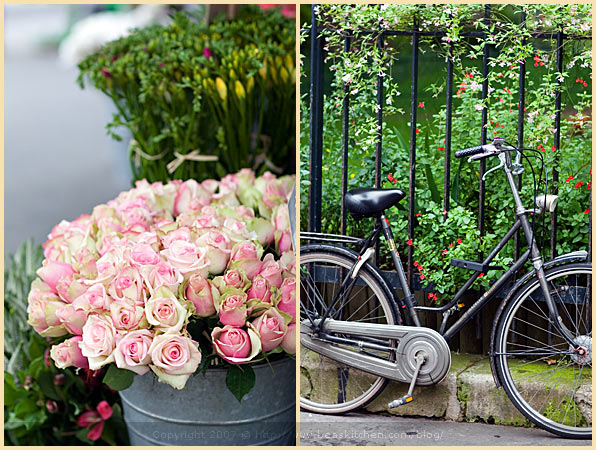 A Stroll in the 5th and 6th
Of course, I had heard a lot about this English-inspired bakery — and I even own their cookbook — and like many of you I am sure, I was curious to see and experience the place. And I was not disappointed.
When Fred and I arrived a little after 5 pm, not much food was left. This, however, did not stop us. We ordered tea and coffee, and I decided to nibble on granola and plain yogurt. "C'est tout ce qui vous reste ?" (Is it all that is left?) I asked the English-speaking man behind the counter. "Ben oui, presque" (Yes, almost). Not very original, you might think, but oh boy for me, it was heaven. And do you know why? Because this is exactly the type of healthy snack I might have had at home, at this time of the day.
I liked Rose Bakery. Walking along the steeper rue des Martyrs in the 9th arrondissement, had I not known the bakery was there, I might actually have missed it despite the few metallic chairs and tables found in front. We were welcomed by a casual friendly staff, even if it took some time before anyone noticed us. In fact, both Fred and I were unsure of their system. Sit at the table and wait for someone to help us out? Walk to the counter to order food?
Rose Bakery is small and simple in décor, with muted colors on the walls and floor. True, we were not able to taste much of their food — and so I will need to go back, won't I? — but seeing a takeout counter full of fresh produce by the wall on the left as we entered made me feel that it was just like this: fresh organic ingredients used in a food that would be similar to my lunches taken at home. I imagined savory tarts with vegetable, fresh salads — oh yes, I tried their carrot salad — homemade cookies, scones and teacakes of all sorts. After spending a delightful chatty time spent with Fred, I knew that I would be back, but next time, for lunch.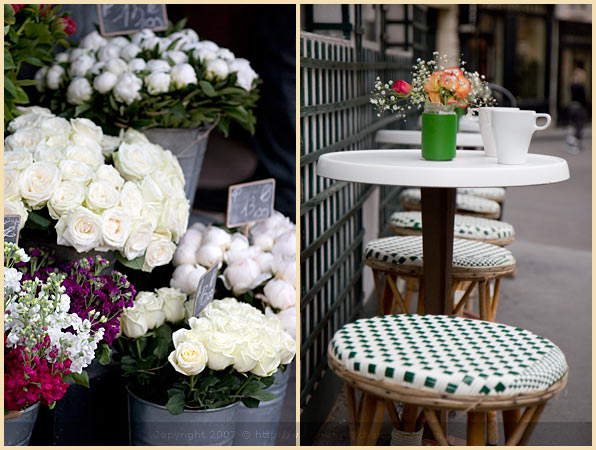 I went on to explore Paris and its numerous and interesting shops, making a few stops in papeteries and kitchen stores where I loaded on sheets of colorful paper and kitchen gadgets of all sorts. I bought clothes and shoes too — oh yes, maybe you do not care about shoes and clothes, do you? But what would Paris be if a girl could not indulge in some girlie shopping there too?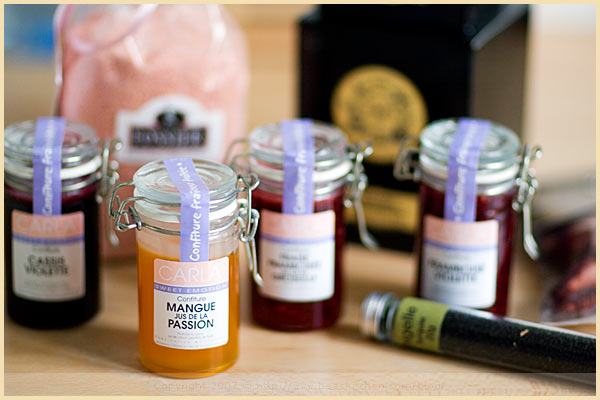 Delicacies
The next day, I had lunch with David. Another highlight of my trip. We met at Cuisine de Bar, a friendly small restaurant on rue du Cherche Midi, located next to the boulangerie Poilâne. I had been there a few times before. Cuisine de Bar serves savory tartines (open faced sandwiches) of all sorts, with numerous toppings like cheese, meat, sardines or vegetables. A lovely simple combination could be tomato with basil. I chose mine with Saint Marcellin. Would you be surprised if I told you that David and I were so engrossed in our conversation that we could have stayed there for hours. But Paris was calling us and we left to take a walk to La Grande Épicerie du Bon Marché nearby, where I had already stopped the day before. He wanted to refill on his favorite beurre demi-sel (What is the name of this butter again?) and I was looking for more delicacies to bring home. I tried to find violet essence for a friendly reader, but to no avail. Instead, I left with chocolate curuçao tagliatelles. At that point, I had totally forgotten about customs people when I would return to the US. Weight restrictions? Easy! I would buy an extra bag. I am a girl with many resources.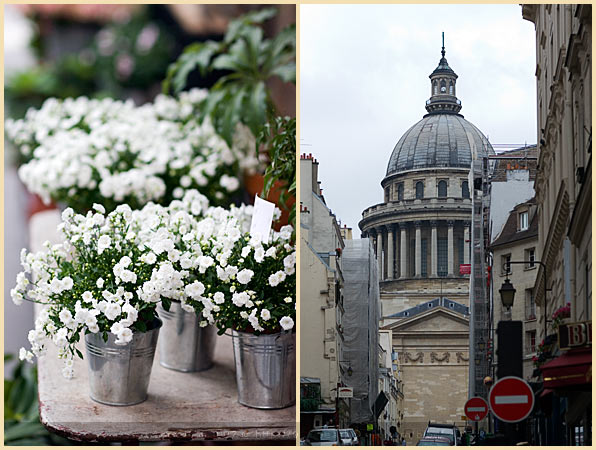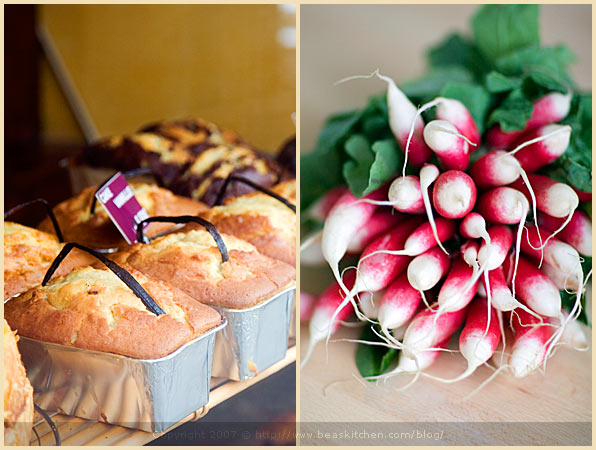 And I walked and walked, from one store to another. By the evening, I was loaded with more bags of all sizes, not resisting to buy a fresh bunch of pink and white small radishes I wanted to snack on later. With a little Fleur de sel, or the traditional butter and bread, perhaps. Why can I not find these in the US?
That evening, I was meeting Pascale at Ze Kitchen Galerie for dinner. I had not heard before about this restaurant tucked at the end of rue des Grands-Augustins in the 6th — where was I during all this time? — but what a fantastic address to remember, and I am so thankful that Pascale suggested it.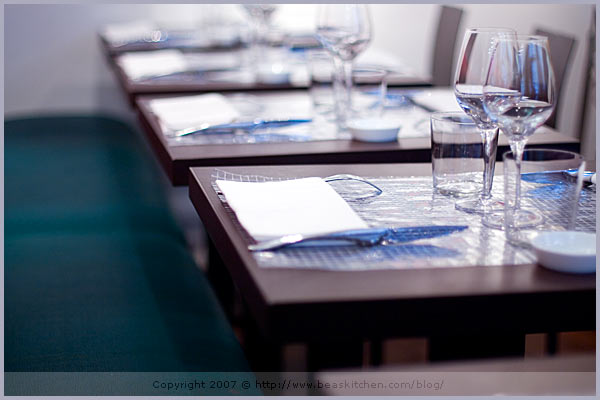 Ze Kitchen Galerie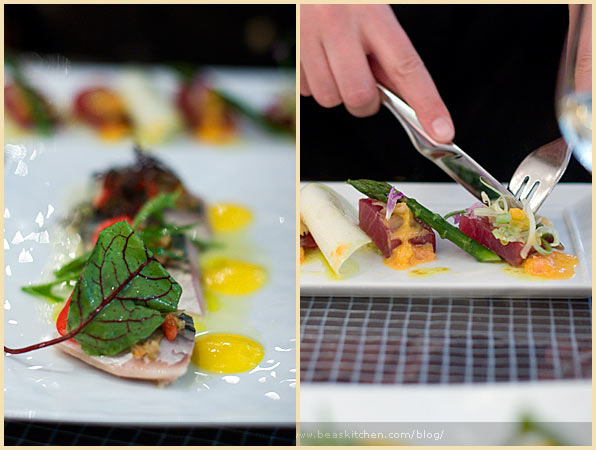 We almost missed the place when we walked by it. Where was it, we told each other. "Vous n'êtes pas les premières," (you are not the first ones) the man who greeted us told us when we finally managed to find number 4. We could not help but smile. The restaurant next door was surely happy about this.
"C'est marrant, cela ne fait pas très parisien, tu ne trouves pas ?", Pascale told me after we had been sitting at our table for a few minutes (funny, it does not look very Parisian, don't you think?). I looked around me and tried to see what she meant. And she was right. It had to do with the décor, modern as it turned out, and the fact that a taste of the food made you travel far away. Unlike typical smaller Parisian bistro-type places, Ze Kitchen Galerie unveils tall walls covered with colorful contemporary paintings by Daniel Humair or Tony Soulié, to name a few. The ceilings are unusually high too in this spacious restaurant. After walking in, you are first greeted at a counter that you might confuse for a hotel reception. Coats are checked in a coat room before a professional friendly staff member escorts you to your table. The food? Exotic and surprising. Delightfully presented too.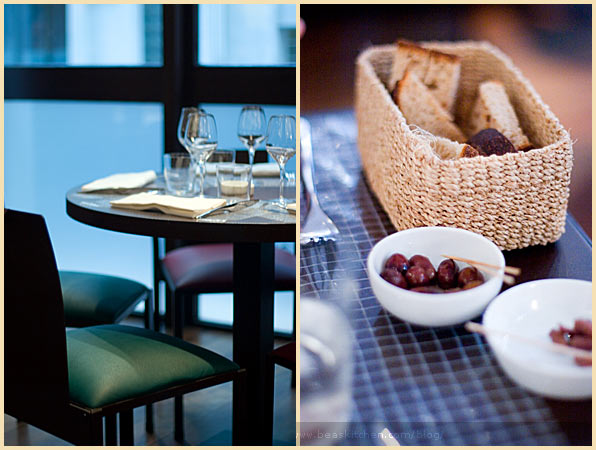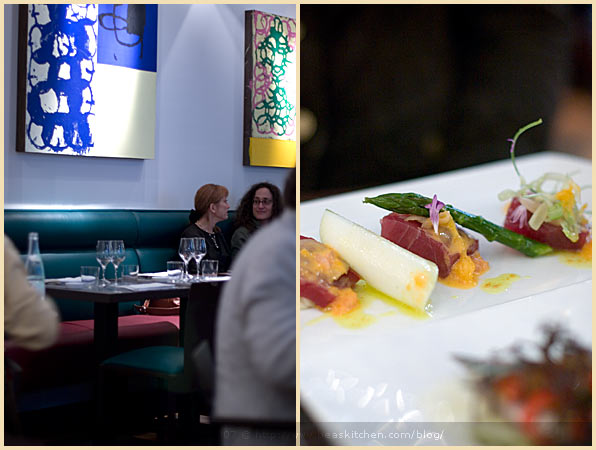 "C'est surprenant. Qu'est-ce que c'est ?" we both exclaimed after the first bite of our respective appetizers. I had chosen raw tuna, Pascale raw mackerel. Everything seemed to awaken a new sense, making us travel to foreign countries. By looking at the menu, you would discern the Asian trend right away. Chef William Ledeuil, protégé of Guy Savoy — uses lemongrass, wasabi, yuzu, goyave, galangal, ginger, tarama, coriander, curcuma, lime oil, mangos and passion fruit like I have not seen anyone else do before. He creates foamy émulsions (espumas) of all sorts, sweet or savory, and cooks young lamb, raw fish, octopus, sea bass, vegetables or fresh pasta with a talent that perspires in every dish. Fusion and contemporary for sure. But mostly a food extremely fresh and seasonal. I can still taste the white chocolate passion fruit mousse I had, served with lemongrass, strawberries, and litchee sorbet. What a treat!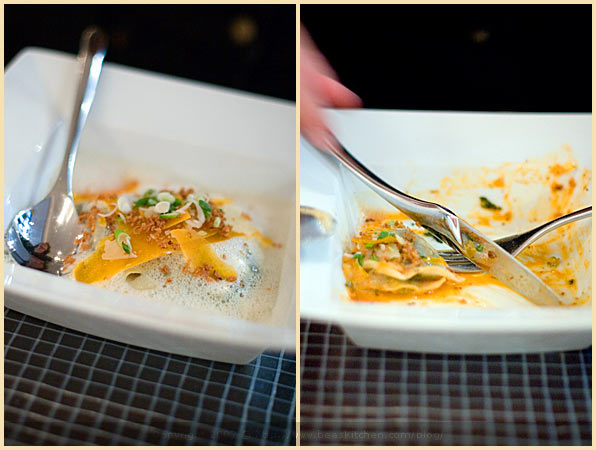 Ravioli and Old Mimolette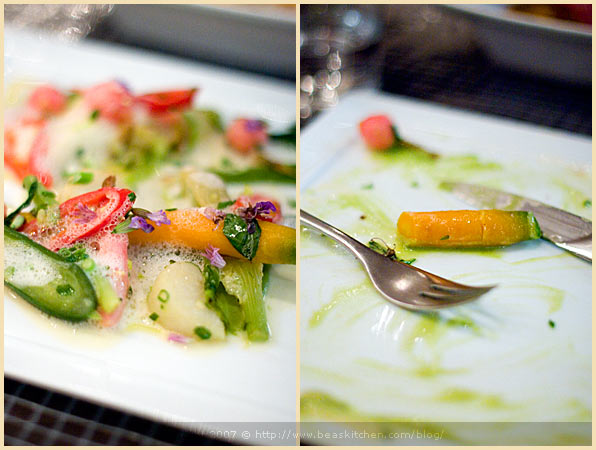 Légumes croquants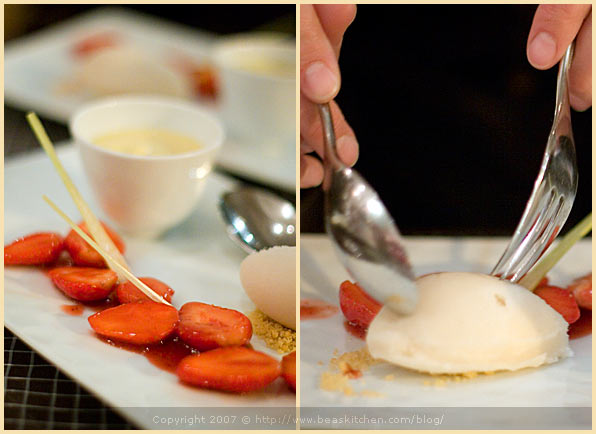 White Chocolate and Passion Fruit, Lemongrass Strawberries and Litchee Sorbet
In fact, I need to make a confession. I liked this restaurant so much — and had such a nice time with Pascale there — that I came back the next evening. Our waiter smiled at me when he saw me again, the second day. "On vous change de table tout de même," he even added (let's change your table, at least). I know, I know! You will think that there are so many dining options in Paris that this was pure madness. De la folie! But wait! I had an excellent reason. I wanted to share this experience once more, making sure it would be as good the second time. And what not but to do this with one of my best friends who had come all the way from Utrecht to spend the day with me. When we left, I promised her that I was going to try to make the delicious dessert that both of us tasted again and loved (a work in progress, but you can see a sample in pictures below) . And oh yes, let me say it once more. The second day was just as good, if not better.
Needless to say that I left Paris happy, despite my airport misadventure. I already look forward to my next trip — I cannot wait to try this new TGV line — returning to Ze Kitchen Galerie, I know already. My sweet P. has to eat there! I know that he will also love it.
Addresses of Parisian Places I Visited
Rose Bakery
(bakery, and lunch and tea time)
46, rue des Martyrs
9th arrondissement
Cuisine de Bar
(restaurant)
8, rue Cherche-Midi
6th arrondissement
Ze Kitchen Galerie
(restaurant)
4, rue des Grands-Augustins
6th arrondissement
La Grande Épicerie du Bon Marché
(fine produce, épicerie fine)
38, rue de Sèvres
7th arrondissement
Lafayette Gourmet
(fine produce, épicerie fine)
40, blvd Haussmann
9th arrondissement
Mariage Frères
(teas)
13, rue des Grands-Augustins
6th arrondissement
Geneviève Lethu
(Kitchen supplies, dinnerware, Art de la table)
95, rue de Rennes
6th arrondissement
La Vaissellerie
(Kitchen supplies, dinnerware, Art de la table)
85, rue de Rennes
6th arrondissement