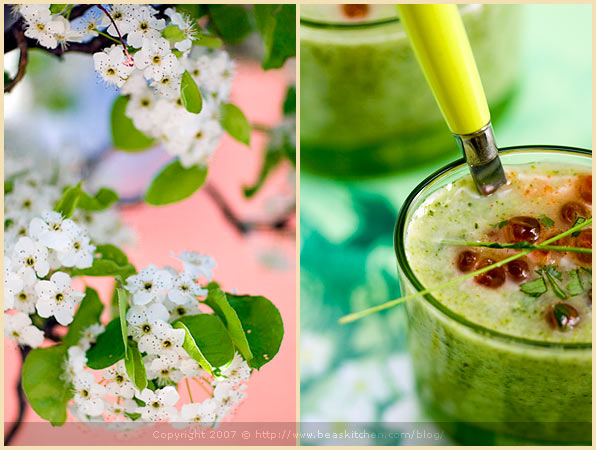 Broccoli Soup and Salmon Eggs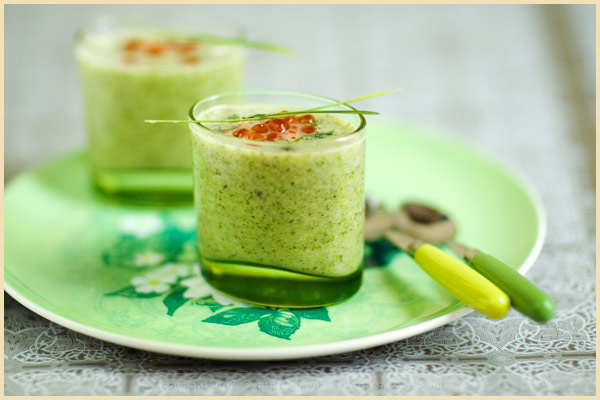 Eight hours later and I was back at Logan Airport, in Boston. For the first time, I thought that I was really going to miss my flight, even if I made sure to arrive at the airport early. Flying stand-by, I had to. When we pulled in front of terminal A on Friday morning, the chatty taxi driver mumbled something between his lips before turning towards me: "Ah c'est pas vrai, encore une fois, ils ont bloqué le terminal. Quel bordel ! Je vais vous laisser plus loin" (again, they closed the terminal. What a mess! I will leave you at the next one). What? Closed the terminal? When did they decide to do this?
I had heard about it before but never experienced the mess of Charles de Gaulle like this. To understand, you have to imagine the airport's terminal A fully evacuated, without warnings of anything, leaving passengers filling the road and curb because it was too crowded inside the next terminal to hold the mass of people, us. So we stood there with our loaded trolleys, ignorant of what was going on, because really, nobody told us. We waited. When I saw a man with a name tag around his neck walk by, I assumed he worked there and stopped him. He would know. "Qu'est-ce qui se passe ?" (What is going on?) I asked him. Scoop. An abandoned luggage, no, two in fact. They had to call the bomb squad. One hour later or maybe more, "boum"! Both luggage were destroyed, in the middle of the terminal. I can still remember the strong smell of sulfur we inhaled when we managed to return to the terminal. Maybe I waited for two hours in total. I am not sure anymore. It was not necessarily a bad thing you might think, except that after asking a few people working at the airport, including the check-in lady I walked to, I realized that this scene happens every day. "Today was a bit longer than usual," she replied when I inquired more about it. Every day? I was so surprised that I did not know what to feel. Wouldn't you think there must be another way?
But surprisingly, we made it fine, without major delays. After an easy flight aboard a mostly empty aircraft, I was soon back home, and glad. In my other home, to see P., get back into my kitchen to work on lots of new projects, and really looking forward to it.
It will most certainly take me a few days to settle in, that is when I stop waking up at four am every morning.
"Tu as envie de manger quoi ?" (What do you feel like eating?) I asked P. when I walked into the kitchen to prepare lunch.
"Quelque chose de simple"(something easy).
And, do you know what is something easy for me, to make and eat?
Soup.
"What is the green vegetable in it?" P. asked when I placed a bowl filled with steamy soup in front of him.
"Broccoli", I replied, feeling funny to even say it.
"Ah bon? Weird, you never cook broccoli!"
True. So maybe it is time to start and change this habit. This one is definitely an off-the-beaten-path broccoli soup.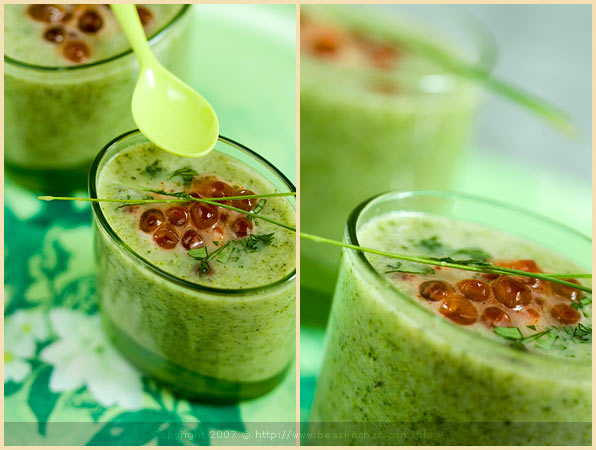 Thanks for my lovely green spoon, Pascale!
Broccoli Soup and Salmon Eggs
(For 4 appetizer servings, small bowls)
You need:
13 oz broccoli
1 leek, white part
2/3 cup coconut milk
1 tsp galangal powder
1 shallot
1 + 1/2 cups chicken broth
1 inch ginger root
2 Tbsp olive oil
4 tsp salmon eggs
Fresh coriander, chopped
Steps:
Clean the broccoli and blanch in boiling salted water for 1 min. Rinse under cold water.
Chop the leek, ginger and shallot.
Heat 1 Tbsp olive oil in a thick-bottomed pot and add the leek, shallot and ginger.
Cook for 1 min until softer and then add the galangal powder. Continue to cook for 1 min, until well coated and then add the broccoli. Continue to cook for about 2 to 3 min.
Add the coconut milk and broth and cook for about 10 min.
Season with salt and pepper and mix your soup using a blender.
Pour in individual bowls and add 1 tsp salmon eggs in each bowl, with chopped coriander. Finish with 1 tsp olive oil. Serve.
Le coin français
Soupe de brocoli et oeufs de saumon
(Pour 4 petites portions en entrée)
Ingrédients :
350 g de brocoli
1 poireau, partie blanche
150 ml de lait de coco
1 càc de poudre de galanga
1 échalote, hachée
350 ml de bouillon de poule
2,5 cm de racine de gingembre
2 càs d'huile d'olive
4 càc d'oeufs de saumon
Coriandre fraiche, hachée
Étapes :
Nettoyez et faites cuire les bouquets de broccoli dans de l'eau bouillante salée, pendant 1 min. Rinsez-les sous de l'eau froide.
Faites chauffer 1 càs d'huile d'olive dans une cocotte et ajoutez le gingembre, l'échalote et le poireau émincés.
Faites suer pendant 1 min puis ajoutez la poudre de galanga. Ajoutez ensuite le brocoli et faites suer encore pendant 2 à 3 min.
Ajoutez le lait de coco et le bouillon, et cuisez pendant 10 min.
Salez et poivrez, puis mixez la soupe dans un blender.
Versez dans des bols et ajoutez 1 càc d'oeufs de saumon par soupe, ainsi que la coriandre fraîche hachée. Versez un filet d'huile d'olive et servez sans attendre.